King Crimson jsou moje krevní skupina. Popravdě řečeno, bližší je mi to první období 1969-1974, třebaže i v osmdesátých letech zůstali progresivním hudebním sdružením par excellence.
Album In the Court of the Crimson King je pro mě zásadním počinem rockové hudební historie, které bych zařadil do první desítky svého virtuálního seznamu.
S albem se známe od sedmdesátých let a nikdy mi jeho hudební poselství nevyčpělo a nevybledlo a pořád ho vnímám jako jakýsi maják v té bouři hudebních stylů a žánrů. S tímto projektem byla zahájena nová rocková éra.
21 CENTURY SCHIZOID MAN (MIRRORS) – po záhadné tónokresbě se mocným způsobem přihlásí syrový riff, do kterého jako ze záhrobí zaznívá Lakeův preparovaný hlas a potom už skladba zběsile běží vpřed. Někteří hudební kritikové dávali do souladu syrový úderný riff s Black Sabbath… No, trochu mě to překvapilo, ale budiž.
Saxofony, rytmika a destruktivní kytarové tóny Roberta Frippa a McDonaldův mellotron. To je prostě poselství z jiných sfér. Tolik emocionality, vzteku, hudební agrese, neurózy na relativně malé ploše a ty úžasné vypreparované instrumentální pasáže, kde se pracuje s dynamikou a harmonickými proměnami. Famózní a geniální v každém směru! Nebyl to jazz, nebyla to psychedelie, nebyl to hard rock, nebylo to elektrické blues – byl to přírodní úkaz jménem King Crimson!
I TALK TO THE WIND – nádherná křehká balada. Očistná duševní lázeň po předešlém zemětřesení. Krásné flétny, jemné tikání činelů, utlumené rytmiky a krásně nostalgický zpěv. To je McDonaldův krásný autorský rukopis. Modulované flažolety kytary někde z pozadí.
Sinfieldův poetický text nás vzdaluje od všedních každodenností až do světa snových vizí. McDonaldova flétna nádherně zastupuje onen "vítr", stejně jako melancholické pocity Frippova hra tlumených tónů.
Nenapodobitelné… Třebaže skladbu umím na kytaru akordicky zahrát, vždycky mám pocit jakéhosi vnitřního studu, že to vůbec zkouším. Krásný zážitek!
EPITAPH – další silný příspěvek na projekt (slabý není žádný). Ten ortelný zvuk mellotronu s akustickou kytarou a vířením činelů otevírá pomalou meditativní část ponuré skladby. Ani nemůže být veselá. Tajemné gradování mellotronu a šeplavý Lakeův projev přináší neobvyklý zážitek. Je to mystérium, astrální obraz s těžkými mollovými akordy a to napětí a neklid, až leze člověku mráz po těle. Lake zpívá s poctivou vroucností a opírá se o vynikající text. Sinfield ovšem není jenom textař, je to básník! Dramatická proměna jako ve vážné hudbě Richarda Wagnera a jeho složitých hudebních opusech.
Fripp seká akordy s takovou zlověstností, jakoby deklaroval veškeré zlo světa. Velmi silný zážitek překračující hranice běžného vnímání až do nekonečna.
MOONCHILD – je poetické kouzlení s tématem. Snová očista po předešlé vizionářské expresi. Konejšivé, hladivé. Krásné rozklady akordické hry na Frippovu kytaru a opět to tikání na činely a občasné perkusivní údery do bubnů, tlumená flétna a subtilní hlasový projev Lakea.
The Dream a Illusion dokonale vystihují zvukomalbu mezi skladbami. Kontemplativní nálady jakoby neměly nikdy skončit (i když se občas v tom zvukoprostoru zvýrazní kytarovými improvizacemi, zvonečky a bubínky) a vy máte pocit, že nemůže nikdy skončit ani tohle hudební snění, ale…
THE COURT OF THE CRIMSON KING – náhle jste razantními bicími probuzení z letargie, pokud jste už nebyli na pokraji usínání a mocným soundem mellotronu, kytary, saxofonu a rytmiky se hlásí jako ceremonie závěrečná skladba, která vás uvádí na královský dvůr Karmínového krále. Baladickou část s akustickou kytarou a flétnou zastupuje Lake svým krásným hlasem a hymničnost představuje sborový vokál. Černokněžnicky působí i perkusivní zvuky bicích a opět se vrací ten mocný sound. V mezihře dostává prostor mellotron, cembalo a rytmika a následně je zde opět ten mocný sound rozostřeného zvuku.
Mám pocit, jako bych procházel v čase středověkem a nejasnou budoucností. McDonaldova flétna sice působí smířlivě a laskavě, jako zádumčivé Frippovy kytarové tóny a Lakeova baskytara, ale my už tušíme, že se zase vrátíme to těch tajemných harmonií a vnitřní úzkosti.
Opakující se schéma a dramatický harmonický rozpad vám bude znít ještě dlouho v uších.
Vystavět takovou kompoziční architekturu na konci šedesátých let chtělo mimořádnou vizi a tvůrčího génia. V době vydání nebyli hudební kritici a ani publikum připraveni akceptovat album jednoznačně, bylo hodně nadčasové. Nemyslím si, že by bylo úplně nejlepší, které King Crimson natočili, ale bez něho by vývoj britského progresivního rocku vypadal asi jinak.
Měl jsem štěstí. Už jako teenager jsem se pocitově dokázal vejít do kontur tohoto alba. Někteří moji kamarádi to nedokázali a přes Led Zeppelin, Black Sabbath a Deep Purple se nedokázali odpoutat k jiné hudební estetice. Netvrdím, že jsem album pochopil už jako osmnáctiletý, ale byl jsem schopen ho přijmout a vpustit do svého nitra a už tam zůstalo.
Hudební mimořádnost – plný počet hvězd bez diskusí!
Původně zveřejněno 10. 5. 2011
SKLADBY:
A1. 21st Century Schizoid Man (incl. Mirrors) 6:52
(Fripp/McDonald/Lake/Giles/Sinfield)
A2. I Talk To The Wind 5:40
(McDonald/Sinfield)
A3. Epitaph (incl. March For No Reason & Tomorrow And Tomorrow) 8:30
(Fripp/McDonald/Lake/Giles/Sinfield)
B1. Moonchild (incl. The Dream & The Illusion) 12:09
(Fripp/McDonald/Lake/Giles/Sinfield)
B2. The Court Of The Crimson King (incl. The Return of the Fire Witch & The Dance of the Puppets) 8:48
(McDonald/Sinfield)
Nahráno: Wessex Sound Studios, Londýn
Zvuková režie: Robin Thompson
Produkce: King Crimson
Autor obalu: Barry Godber
OBSAZENÍ:
Robert Fripp – kytara
Greg Lake – basová kytara, zpěv
Ian McDonald – flétna, klarinet, saxofon, vibrafon, klávesy, mellotron, vokály
Michael Giles – bicí nástroje, vokály
Peter Sinfield – texty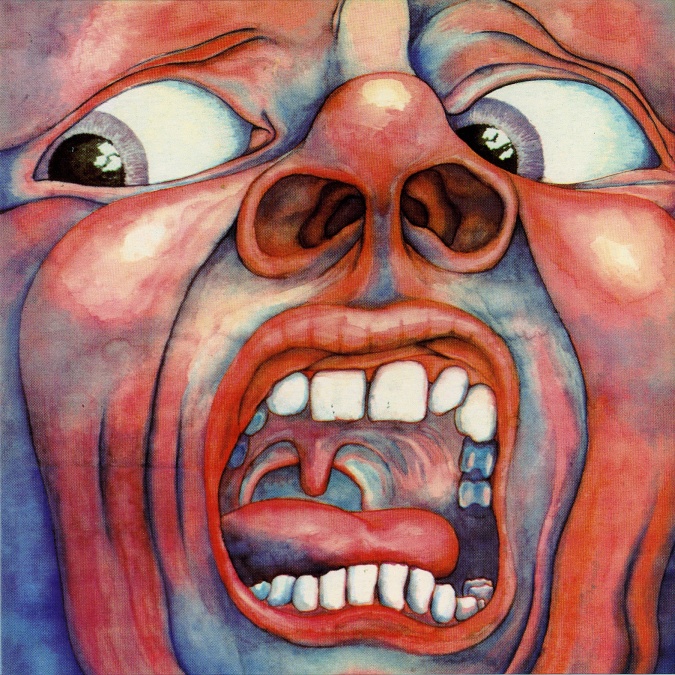 In the Court of the Crimson King
King Crimson
Prog Rock
Island Records
1969
LP
5