Ne, nečekal jsem, že by The Legendary Pink Dots přišli, po tolika letech působení v hudební branži a stovkách(!) vydaných alb (vezmu-li v potaz i další kapely Edwarda, kompilace apod.), v roce 2019 s něčím slabým, ale že přijdou s takto silným materiálem (stejně jako studiová sólovka Edwarda Ka-spela The Moon Cracked Over Albion z téhož roku), jsem tedy nečekal.
CD (trvající přes sedmdesát minut) vyšlo před velkým koncertním turné skupiny, o kterém Edward Ka-Spel barvitě informoval/informuje např. na Facebooku. Turné k 40. výročí existence kapely.
Další psychedelický výlet začíná skladbou Happy Birthday Mr. President. Do moderně elektronického rytmu (za který by se nemuseli stydět ani Leftfield) vstupuje interesantně španělská i elektrická kytara. Zajímavý začátek, i když Pink Dots umí i lepší. Parádními otvíráky hlavně v 90. letech byli proslulí. Následuje skladba Double Double, klidná, příjemně melodická píseň, po které přichází Junkyard, další moderně znějící skladba, s Edwardovým zpívaně vyprávěným příběhem. V podstatě podstatu skladby tvoří bicí, basa a různé noise ruchy, přesto se dá označit za písničku.
První delší věc, desetiminutová Itchycoo Shark/Isle Of Sighs, začíná jako další klidnější věc, založená na navrstvených klávesách, bez kytar a bicích. Edwardův zpěv je hodně posmutnělý. Elektrická kytara Erika Drosta na okamžik vykoukne a skladba se přesune do krásné druhé půle, začínající vybrnkávanou kytarou jak na raném albu Genesis. Jako bych slyšel Anthonyho Phillipse! Zpěv je opět smutný a hudba také. Zaujatě poslouchám, lehce udiven, že po kakofonické divokosti zatím vlastně ani stopy.
Ovšem potom přichází osmiminutová skladba Neon Calculators. Naprosto parádní rytmika, opět v moderně elektronickém hávu plném samplů, nikoli rockovém, připomínající trochu pro přirovnání některé tanečnější tendence Porcupine Tree z let 1993, 1994. Opravdu svěží kousek! V další delší kompozici My Land/Parallels poznávám známou, podivínštější tvář Edwarda Ka-Spela. Hudba je na hony vzdálená jakékoli líbivosti, melodie v ní je, ale hudební doprovod je hodně avantgardní, v druhé půli přecházející do klidnějšího psychedelického ambientu, v jehož poslední části je i zpěv Edwarda zase melodičtější, oproti úvodu.
Nicméně to nejlepší má teprve přijít! Skladba Maid To Measure (s textem, pohrávajícím si s vizemi budoucího sexu) zní trochu jako reinkarnovaný Syd Barrett, ostatně přirovnáván kvůli barvě svého hlasu je k němu Edward Ka-Spel od začátku. Mimochodem zajímavá byla také kdysi Edwardova odpověď, jaká alba Pink Floyd má nejraději. Řekl, že Piper At The Gates Of Dawn (jaké překvapení!) a The Wall… Ve skladbě Mantis konečně slyším ten typ melodie, kvůli kterým mám Edwarda tak rád. Je to romantické, posmutnělé, velice silné; po způsobu, jakým to umí jen Edward… Pro mě vrchol alba, resp. jeden z vrcholů.
Předposlední The Photographer je skladbou, kdy máte poprvé pocit, že posloucháte rockovou kapelu a přichází poslední kousek, Red Flag. To nejlepší na závěr, ano! Progresivní (vlastně se dá říct i progrocková) kompozice plná emocí, ve které ukazují Pink Dots svou silnou, stále kreativní tvář. Red Flag je skladba plná nedisharmonických přechodů, zobrazující je v plné síle. Pro mě druhý vrchol alba a kapela nemohla CD zakončit lépe. Navíc se ústřední melancholická melodie téhle skladby dostává těžko z hlavy. Minimálně na několik hodin mi tam vždycky zaleze jak šnek do ulity.
Psychedelické, temné až zlověstné, progresivní, zábavné i trochu pozitivní. I tak by se dalo shrnout toto album. I tak by se vlastně dala shrnout celá, poměrně bizarní, hudba The Legendary Pink Dots.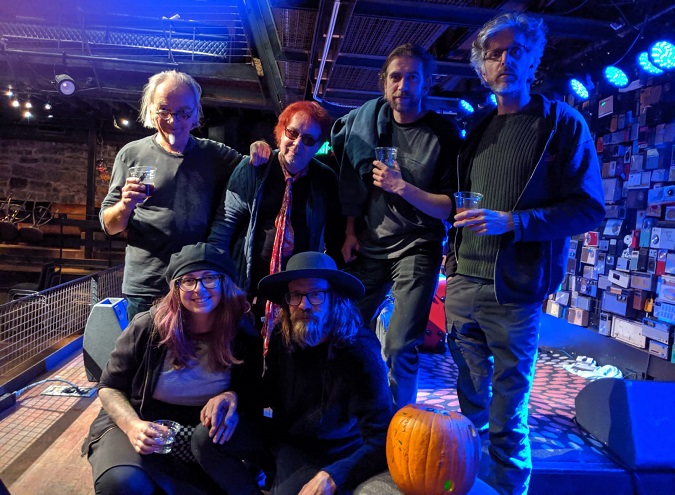 No a co píše k albu sám Edward Ka-Spel?:
"I v nejtemnějším dni. Dokonce i v nejdelší noci. I když se zdá, že nezbývá žádná naděje. I když procházíte kanály a vidíte jen příšery. I když trochu vy, trochu já, procházíte lesem temných hrozivých stínů a přemýšlíte, jestli velký stvořitel jednoduše kýchl na svíčku, kterou potřebujeme, aby nás dovedla k příjemným pastvinám. Dokonce i nyní, moji přátelé, existuje Anděl v detailu." 
SKLADBY:
01. Happy Birthday Mr. President (5:59)
02. Double Double (5:20)
03. Junkyard (4:10)
04. Itchycoo Shark / Isle Of Sighs (9:56)
05. Neon Calculators (8:04)
06. My Land / Parallels (10:42)
07. Maid To Measure (4:42)
08. Mantis (5:00)
09. The Photographer (6:35)
10. Red Flag (11:06)
SESTAVA:
Edward Ka-Spel – lead vocals, keyboards, synthesizers, broken things, devices, gadgets, interference
Phil Knight – keyboards, synthesizers, soundscapes, electronic devices, gadgets, technology,bicycle wheels, exotic sounds
Erik Drost – guitars (acoustic, electric, bass and Hawaiian)
Joep Hendrikx – electronics, effects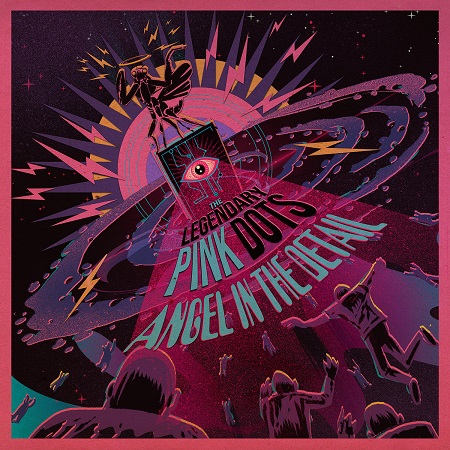 Angel In The Detail
The Legendary Pink Dots
Dark Ambient, Psychedelic Rock, Experimental
Metropolis Records
2019
CD, LP
10