Austrálska hudobná scéna vyprodukovala obdivuhodné množstvo skvelých kapiel. Medzi ne isto patrí aj tá s názvom Kings of the Sun, za ktorou stojí talentované bratské duo Hoadovcov. Ono tých bratských dvojíc je v austrálskych kapelách vcelku dosť: Youngovci (AC/DC), Brewsterovci (The Angels), či z tých novších napríklad Boyceovci (The Casanovas), Cesterovci (Jet), alebo O'Keeffeovci (Airbourne). Farrisovci (INXS) sú dokonca traja. My ale ostaneme pri Cliffordovi Hoadovi a jeho mladšom bratovi Jeffreym.
K tejto kapele som sa dostal o niečo neskôr. Najprv som nasával hudbu "svätej trojice" legendárneho austrálskeho vydavateľstva Alberts – AC/DC, The Angels a Rose Tattoo (plus The Choirboys, ich učňov). Doteraz si však presne pamätám na ten moment kedy, kde, a ako som sa dostal k hudbe Kings of the Sun (používa sa aj skrátený tvar KOTS). Končila zima, sedel som v práci na najvyššom poschodí Technopolu, a nadchýňal sa nad kvalitou a chytľavosťou piesní novoobjavenej kapely. Články z blogu, vďaka ktorému som Kráľov Slnka objavil, neklamali. Pár mesiacov na to som už sedel v pube na austrálskom Gold Coaste a so zakladateľom kapely Cliffordom Hoadom som kecal osobne. Na južnej pologuli práve začínala zima. Čochvíľa uplynie dekáda od tohto stretnutia, ktoré nám obom svojím spôsobom zmenilo život. Ale o tom tento článok nepojednáva…
The Young Lions
Počiatky kapely siahajú až do roku 1981. Vtedy sa v Sydney dali dohromady bubeník Clifford Hoad a gitarista Bob Spencer, ktorý práve skončil pôsobenie v kapele Jona Englisha.
Clifford je Queenslanďan a predtým hral vo viacerých lokálnych kapelách na Gold Coaste, ako napríklad Ratpack. Bob Spencer bol v tom období už stálica austrálskej hudobnej scény, po pôsobení v kapelách ako Finch či Skyhooks. S Cliffordom sa stretli už v roku 1977. Bob mal deň voľna medzi vystúpeniami Skyhooks a tak sa zašiel pozrieť na koncert v Surfers Paradise. Clifford bol v hľadisku tiež a dali sa do reči. Neskôr v ten večer si aj spoločne zadžemovali.
Keď sa začiatkom roka 1981 rozhodli založiť kapelu, dali jej názov The Young Lions. Keďže nemali speváka, Clifford poslal po svojho mladšieho brata Jeffreyho, ktorý sa stal frontmenom a druhým gitaristom. Prvú formáciu kapely doplnil basák Marlon Holden.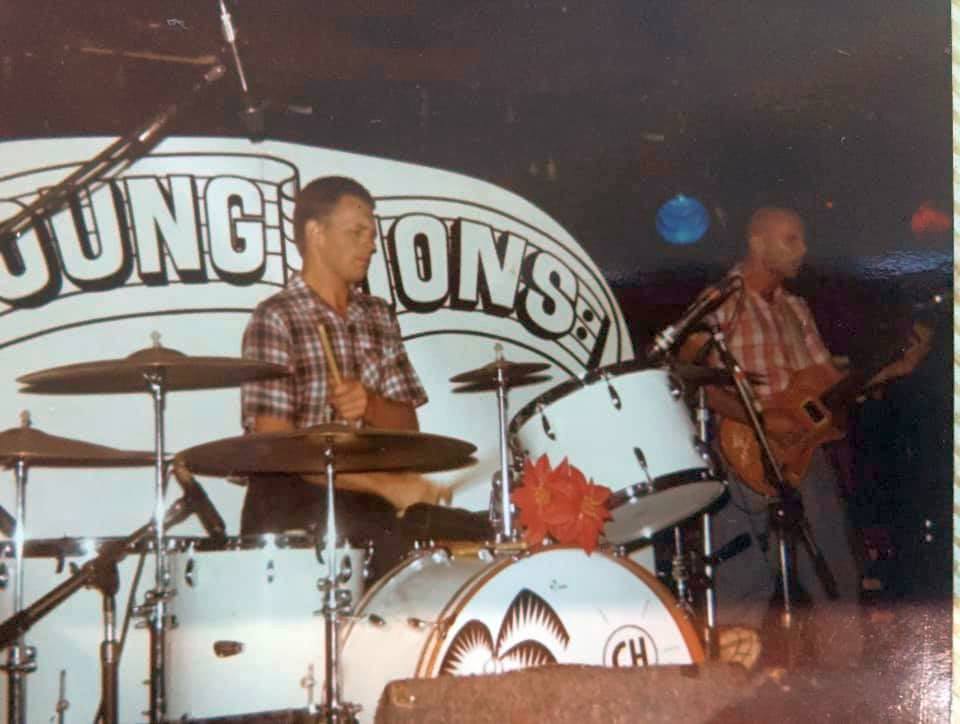 Imidž Mladých levov spočiatku tvorilo oblečenie amerických big band kapiel z 50. rokov. Kapela odohrala dve austrálske turné a otvárala koncerty pre tak zabehnuté kapely ako INXS, Rose Tattoo, The Church, Kevin Borich, Sherbet, Dragon, The Angels, Eurogliders, The Swingers, Hoodoo Gurus či The Saints.
Počas prvej polovice 80. rokov sa zostava kapely viackrát zmenila. Bob Spencer po pár rokoch opustil kapelu, aby sa do nej neskôr vrátil aj s basákom Johnom McKinnonom, ktorý nahradil Holdena. Keď Spencer opustil kapelu druhýkrát, bolo to už natrvalo. Na pozícii sólového gitaristu ho vystriedal Tommy Poulter. Písal sa rok 1985. Bola to zároveň posledná formácia The Young Lions.
Kings of the Sun
V polovici 80. rokov sa kapela premenovala na Kings of the Sun po tom, ako Clifford videl v televízii rovnomenný film s Yulom Brynnerom. Kapela vtedy sídlila v sydneyskej štvrti Tamarama.
Ďaľšia zmena zostavy sa udiala v prvej polovici roku 1986, kedy KOTS podpísali nahrávaciu zmluvu s Mushroom Records (po Albert Productions druhé legendárne austrálske vydavateľstvo). Tommy Poulter opustil kapelu a Johna McKinnona vystriedal basák Anthony Ragg.
Prvý singel
Apríl a máj strávila zostava Hoad-Hoad-Ragg v štúdiu nahrávaním viacerých kompozícií bratov Hoadovcov. Sólové aj rytmické gitarové party nahral spevák Jeffrey Hoad, čo sa neskôr stalo tradíciou. Za singel bola zvolená pieseň Bottom of My Heart, ktorú koprodukoval americký producent David Kershenbaum. Stranu B doplnil song s názvom Bad Love (obe piesne boli neskôr nahrané v pozmenených verziách aj pre debutový album). Zvyšné nahrávky z tohto obdobia doteraz neuzreli svetlo sveta.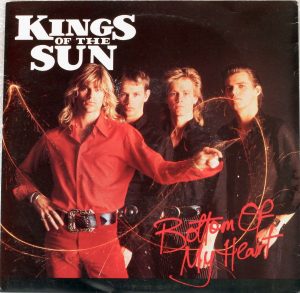 K singlu bol natočený aj videoklip, v ktorom vystúpila aj mladšia sestra bratov Hoadovcov Belinda a nová akvizícia na pozícii sólového gitaristu Ron Thiessen (Uncanny X-Men). Clifford hrá na hranatých bicích, ktoré vyrobil v spolupráci s Billom Buickom, špeciálne pre natáčanie. Clifford o hranatých bicích:
"Vyzerajú senzačne, ale zneli ako mokrý kartón. Postihol ich zlý osud keď predrali dieru do čalúnenia môjho milovaného Valianta. Pár dní na to som ich rozdrúzgal sekerou. Bodaj by som ich stále mal!"
Málo známym faktom je, že v skutočnosti boli nakrútené dva videoklipy. V pôvodnom vystupoval Tommy Poulter na sólovej gitare a bol nakrútený v absolútnej tme, narozdiel od druhého, i keď koncept zostal rovnaký. Originálny klip zostáva v trezore.
Singel Bottom of My Heart síce v austrálskom hudobnom rebríčku Kent Music Report veľa vody nenamútil, ale dostal sa do Top 50 (#47). Kings of the Sun s ním vystúpili v populárnej televíznej hudobnej relácii Countdown, ktorá bola v Austrálii vysielaná na týždennej báze v 70. a 80. rokoch a spopularizovala mnoho domácich kapiel (Austrália mala historicky veľmi bohatú ponuku hudobných relácií; medzi ďaľšie významné patrili napríklad GTK, Sounds, Nightmoves, Rock Arena či Hey Hey It's Saturday).
Doma nie je nik prorokom
Napriek tomu ponuka nahrať album od Mushroomu neprišla. Situácia dospela až do takého stavu, že kapela bola rozhodnutá ukončiť svoje pôsobenie po odohratí koncertnej šnúry. Do jej konca zostávalo iba vystúpenie v klube Sydney Cove Tavern, ktoré zhodou okolností navštívil šéf A&R oddelenia newyorského vydavateľstva RCA Records Simon Lowe. Ten bol v Austrálii hľadať nové talenty a KOTS v ten večer ponúkol kontrakt.
V roku 1987 tak bratia Hoadovci spolu s Anthonym Raggom (Ron Thiessen skupinu opustil predtým než ju podpísalo RCA) pristáli v New Yorku, aby započali práce na debutovom albume.
Kapela sa dostala pod krídla Marka Eichnera, ktorý bol A&R zástupcom RCA pre jej prvé tri albumy, a manažéra Freddyho DeManna zo spoločnosti DeMann Entertainment, ktorý okrem iného manažoval aj Michaela Jacksona a Madonnu.
Prvý album
Debutový album Kings of the Sun bol vydaný v októbri 1988 a produkoval ho legendárny Eddie Kramer (Jimi Hendrix, Led Zeppelin, KISS, Ace Frehley, Rolling Stones), ktorý sa skupine ponúkol po vypočutí jej demonahrávky.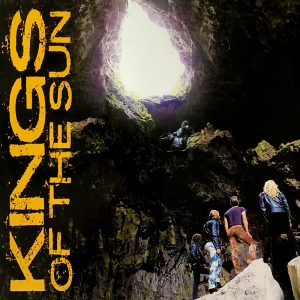 Album sa nahrával na severe štátu New York v dvoch štúdiách. Prvá polovica nahrávania sa uskutočnila v BearTracks Studios v Sufferne a zvyšok v Bearsville Studios v Bearsville, kúsok na západ od Woodstocku. Album zmixoval Dave Thoener (AC/DC, John Waite, Bon Jovi) v newyorských štúdiách The Record Plant. Zostavu KOTS následne doplnil na pozícii sólového gitaristu Glen Morris.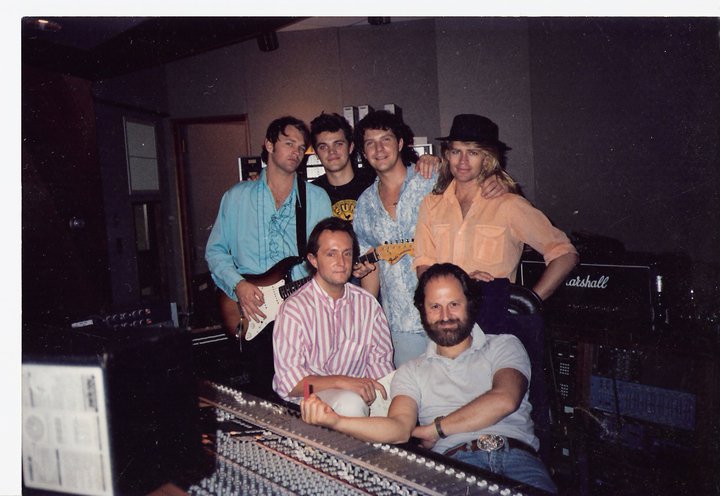 Singel Serpentine sa umiestnil na 19. pozícii amerického rebríčka Billboard Mainstream Rock, zatiaľ čo v domovskej Austrálii z toho bolo iba 48. miesto. Druhý singel Black Leather sa umiestnil na čísle #98 v americkom rebríčku Billboard Hot 100. Doma bol prijatý opäť vlažne a dotiahol to iba na miesto #53. Oba single dostali videoklipy, avšak Black Leather bol na MTV zakázaný kvôli svojej vyzývavosti (čo dnes vyznieva totálne smiešne, avšak nebol to ojedinelý prípad amerického puritánstva). Album samotný figuroval 16 týždňov v rebríčku Billboard 200 a jeho maximom bola priečka #136.
Zaujímavosťou je, že pieseň Wildcat sa na LP verzii nenachádza. Tá bola vydaná iba na CD verzii debutu a v Austrálii ako B strana singla Serpentine, keďže sa páčila šéfovi Mushroomu Michaelovi Gudinskému. A to sa ešte v archívoch nahrávacej spoločnosti povaľuje ďaľší song z nahrávania debutu, ktorý sa zas páčil šéfovi RCA Bobovi Buziakovi…
Osobne si myslím, že sa jedná o našlapaný rockový album s chytľavými songami a okrem singlov sú ďaľšími favoritmi Kevinom Borichom inšpirovaný Tom Boy, Vicious Delicious s výborným refrénom, či Medicine Man s indiánskou tematikou.
Turné ako na húpačke
Kapela dostala ponuku odohrať americké turné Monsters of Rock s Van Halen na čele, čo však odmietla, ako aj ponuky od Poison či Roda Stewarta. Napokon v USA odohrala turné s Joeom Satrianim, po ktorom nasledovalo turné po Európe, kde otvárali koncerty pre KISS na ich Crazy Nights Tour namiesto Yngwieho Malmsteena. Turné začali v Modene, kde vystúpili v rámci festivalu Monsters of Rock 1988, nasledoval Paríž, Škandinávia a Veľká Británia. Mnohí európski fanúšikovia si kapelu pamätajú vďaka tomuto turné dodnes.
Koncom roka sa vrátili do Austrálie, kde spolu s domácimi hviezdami The Angels vystúpili na turné Guns N' Roses. Počas tretieho koncertu turné v Sydney však boli neslávne vykopnutí z pódia primadonou Axlom Roseom. Ten očividne neuniesol poznámku Clifforda Hoada v miestnom periodiku On the Street, kde sa vyjadril, že Guns N' Roses a Mötley Crüe vďačia za svoj imidž austrálskym rockovým legendám z Rose Tattoo.
V tradičnej koncoročnej ankete pre čitateľov britského magazínu Kerrang! sa Kings of the Sun umiestnili v kategórii "Nová skupina" na treťom mieste (po Guns N' Roses a Quireboys).
Full Frontal Attack
Prišiel rok 1989 a kapelu nakrátko opustili gitarista Glen Morris, ktorý skúsil šťastie s domovskými The Screaming Tribesmen, aj basák Anthony Ragg. Obaja sa však vrátili po nahratí druhého albumu.
Skladateľmi v kapele boli vždy bratia Hoadovci, takže po kreatívnej stránke KOTS neutrpeli žiadnu ujmu. Album s názvom Full Frontal Attack bol nahraný v lete 1989 v legendárnych Cherokee Studios v Los Angeles a vydaný až o celý rok neskôr, v auguste 1990. Produkoval ho William Wittman a mixoval opäť Dave Thoener v newyorských Electric Lady Studios a Battery Studios. Basové linky v štúdiu nahral Gary Lee zo spriatelenej kapely Neverland.
Druhé LP obsahuje pravdepodobne najväčší hit kapely s názvom Drop the Gun. Videoklip k nemu obsahuje havarovaný Dodge Charger a aj trocha akcie od Jeffreyho Hoada. Song bol dokonca zvažovaný aj pre film Robocop 2.
Turbulencie v RCA
V čase vydania albumu vystriedal Boba Buziaka na poste prezidenta RCA Records Joe Galante a s novou metlou prišli škrty a reštrukturalizácia. Kings of the Sun sa tak ocitli na okraji záujmu a album nedostal moc peňazí na propagáciu. Napriek tomu sa singel Drop the Gun udržal v Billboard rebríčku Mainstream Rock 10 týždňov a dosiahol na 30. priečku, vďaka záujmu poslucháčov rockových rádií. Ako druhý singel bol vydaný Lock Me Up a v domovskej Austrálii Mushroom vydalo I Get Lonely ako ďaľší singel, ale oboje veľa vody nenamútili. Album ako taký sa v americkom rebríčku Billboard 200 udržal iba 7 týždňov a dosiahol na 130. pozíciu, čo bol lepší výkon ako debut, ale bez silnej podpory vydavateľstva nemal šancu. Full Frontal Attack bol zároveň posledným albumom, ktorý vydavateľstvo RCA Records vydalo na vinyle.

Druhý album KOTS má oproti debutu agresívnejší zvuk a táto vysokooktánová rocková nádielka šliape na plné obrátky od začiatku do konca. Titulná pieseň má perfektný refrén, ktorý pri počúvaní chcete kričať na plné hrdlo. A každý kto počul Drop the Gun len uznanlivo kýval hlavou. Anglický hudobný kritik Chris Welch opísal hudbu kapely ako:
"Plnokrvný, triezvy, bluesový rock n' roll aký žiadna americká kapela nebola schopná vyprodukovať čo mi pamäť siaha!"
Kings of the Sun odohrali v lete 1990 koncertnú šnúru s Bruceom Dickinsonom na jeho severoamerickom turné Tattooed Millionaire. Nasledovalo austrálske turné s kapelou The Screaming Jets začiatkom roka 1991. Duo Morris-Ragg natrvalo opustilo kapelu v roku 1992.
Vzkriesenie bez šance
Po tom, ako nahrávacia spoločnosť chcela KOTS pustiť k vode ju kapela zažalovala za nedodržanie kontraktu na tri albumy. BMG napokon prikývlo a poskytlo financie.
Album s názvom Resurrection sa opäť nahrával v Los Angeles – bratia Hoadovci v tom období už pár rokov žili v Malibu. Ako producent bol vybraný Danny Kortchmar (Don Henley) a nahrávanie prebiehalo v A&M Studios. Kvôli kreatívnym nezhodám ale dostal kopačky a Hoadovci album dokončili s Markom Dearnleym (AC/DC, Krokus), ktorý s nimi koprodukoval dva posledné songy a album aj mixoval. Nahrávanie bolo dokončené v Paramount Recording Studios. Väčšinu basových partov nahral Angličan Phil Soussan (Ozzy Osbourne), na zvyšných dvoch piesňach hrá Američan Brad Spurr, ktorý sa následne stal aj členom kapely.
Album ponúkol už tradičný počet tucet kompozícií bratov Hoadovcov, ale tí mali v zálohe dostatok songov pre nahratie dvojalbumu. Zvyšných šesť skladieb z predprodukčného dema bolo vydaných v limitovanej edícii cez webstránku kapely v roku 2018 pod názvom Built For Speed – Resurrection Demo Sessions.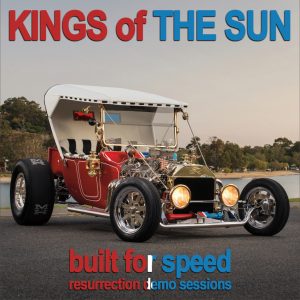 Za zmienku stojí, že počas nahrávania albumu bol frontmen Jeffrey Hoad pozvaný kapelou Mötley Crüe aby sa zúčastnil konkurzu, keďže hľadali náhradu za Vincea Neila. Ten odmietol o tom čo i len uvažovať.
Návrat domov
Po piatich rokoch strávených v Spojených štátoch sa tak bratia Hoadovci vrátili na rodnú hrudu. Album Resurrection sa dočkal vydania v máji 1993 a aj to iba v Austrálii. Mushroom zafinancoval náklad 1000 kusov CD (dnes sú považované za zberateľské kusy).
Kapela bola zredukovaná na trio, s Bradom Spurrom na base. Stihli natočiť aj video k druhému singlu Road to Nowhere, ktorý vyšiel v júli. Clifford Hoad vo videoklipe uháňa v jeho Roadrunneri, ktorý ho o pár rokov neskôr skoro pripravil o život. Ako prvý singel bol v apríli vydaný song Trapped Inside Your Heart.
Veľa fanúšikov Kings of the Sun považuje tretí album za ich najlepší. Pritom mnohí o tomto albume ani len netušili v dobe jeho vydania. Ja ho osobne radím na druhé miesto za Full Frontal Attack a pred debut. Clifford šliape ako dobre namazaný stroj a podľa mňa na prelome 80. a 90. rokov bezpochyby patril nielen k austrálskej, ale aj svetovej špičke. Hneď úvodný song odštartuje ako odtrhnutý z reťaze a jazda pokračuje. Taký Flaunt It by mali hrať v každom strip klube. How to Pick Up Girls je ďaľší majstrovský kúsok – ktorá kapela vám poradila ako v desiatich krokoch zbaliť kočku? First Thing About Rock and Roll (I Remember) pojednáva presne o tom prvom pocite, ktorý isto každý z čitateľov Rockovice zažil vo svojom živote. Takmer liečivé účinky na stav po rozchode má počúvanie Sweet Revenge. No a tým čo radi šliapu na plynový pedál bude povedomé záverečné číslo o obľúbených chlpatých – Fuzz. Aj s riffom evokujúcim policajné sirény.
KOTS absolvovali v marci a apríli austrálske turné ako špeciálni hostia Jimmyho Barnesa. Po skončení koncertnej šnúry sa Brad Spurr vrátil späť do USA.
Bombs Away
Novým basákom sa stal Austrálčan Dean Turner a kapela s ním v roku 1995 nahrala singel Bombs Away. Clifford Hoad objasňuje:
"Nahrali sme ho za jeden večer s Brettom Johnsonom z rádia Sea FM v '95-om. Má klasický tvrdý riff a popevkový hymnový text kritizujúci rozhodnutie francúzskeho prezidenta Chiraca testovať jadrové zbrane v Pacifiku."

Bombs Away (1995)
Sprievodný videoklip bol sfilmovaný s pomocou Miami State High School z Gold Coastu, ktorú Hoadovci navštevovali. Singel bol vydaný nezávisle, v limitovanom množstve a všetok výťažok šiel na podporu queenslandskej pobočky Australian Surfriders Foundation na Gold Coaste.
Basová linka tejto protestnej pesničky u mňa vždy evokuje scénu s obrazovkou radaru/sonaru na ktorom sa približuje raketa/torpédo k svojmu cieľu.
Od Kráľov k Bohatým a slávnym
Dá sa povedať, že singlom Bombs Away sa skončila klasická éra KOTS. Skladateľská studňa bratov Hoadovcov však ani zďaleka nevyschla.
Počas austrálskej zimy 1997 trio nahralo album, ktorý stojí na pomedzí medzi klasickou érou KOTS a novým projektom. Ale o tom až o chvíľu. Album s názvom Daddy Was a Hobo Man!! bol nahratý takmer celý naživo v štúdiu, bez harmónií a trikov. Iba bicie, basa, gitara a spev – presne ako kapela znela naživo v tej ére. Zvuk je drsnejší a predznamenáva novú éru. Na svoje vydanie však čakal dlhých štrnásť rokov, kedy sa nahrávky znovu objavili, a tak ho v roku 2011 Clifford Hoad vydal. Take Off Your Pants and Dance je jedno z mojich obľúbených čísiel. 27 Operations je óda na Pamelu Anderson a záverečná Rivers Run Dry je veľmi melancholická, vykresľujúca frustráciu, akoby predznamenávala koniec.
Kings of the Sun v máji 1998 odohrali tri koncerty so Sammym Hagarom, ktorý vystupoval v Austrálii na turné Marching to Mars. Kapela bola opäť kvartet, s dvojicou Quentin Elliott (sólová gitara) a Chris Lewis (basa). Táto zostava hrala aj nové piesne ako napríklad Higher Power alebo Stagefright, ktoré neboli nikdy nahrané v štúdiu. V tomto období Clifford Hoad havaroval so svojím Plymouthom Road Runner a úplne ho odpísal. On sám vyviazol iba s pár šrámami. Po skončení koncertnej šnúry s názvom Rollover Again '98 si kapela dala pauzu.
13. apríla 2001 sa KOTS dali opäť dokopy, aby odohrali koncert ako predkapela KISS na štadióne Carrara na ich domovskom Gold Coaste. Zostavu Hoad-Hoad-Elliott doplnil na base Craig Pesco. Bolo to posledné spoločné vystúpenie bratov Hoadovcov pod hlavičkou Kings of the Sun.
The Rich & Famous
Po krátkej odmlke sa Clifford a Jeffrey Hoad vrátili na scénu ako The Rich & Famous, čo im umožnilo posunúť ich limity ako skladateľov. Ich rovnomenný debut, ktorý si produkovali sami, bol nahraný počas leta 2002 a zimy 2003. Clifford Hoad o albume:
"V lete 2002 sme Jeff a ja vošli do štúdia, odhodlaní nahrať definitívnu poprockovú klasiku. Odpútaní od limitov nášho heavyrockového dedičstva, s prehodenými nástrojmi – Jeff na klávesoch a gitare, a ja na saxofóne. Na albume počuť umeleckú slobodu a sebaobjavovanie, skĺbené do tejto nádhernej scenérie pesničkovej tvorby bratov Hoadovcov."

The Rich & Famous (2004)
Album samovydali v roku 2004 a Dean Turner sa vrátil na post basáka pre živé vystúpenia.
Zatiaľ čo prvý album Bohatých a slávnych bol pre bratov experimentálnym krokom, v poradí druhý, nazvaný Like a Superstar, znamenal návrat ku heavyrockovým koreňom. Je agresívny, drsný a s punkovým nádychom. Album vyšiel v roku 2006 a jeho obal, inšpirovaný známym americkým obrazom Nighthawks, namaľoval Dean Turner, ktorý je aj talentovaným výtvarníkom (tí všímavejší spozorujú okrem členov kapely aj známe hviezdy šoubiznisu). U mňa tento album figuruje v rámci tvorby R&F na prvom mieste.
Posledný album z tejto éry kapely vyšiel iba o rok neskôr (2007) a dostal názov Stand Back… Prepare to Be Amazed!!! Hudobne pokračuje tam, kde predchádzajúci skončil. Zaujímavosťou je hlavný vokál staršieho brata Clifforda v piesni I Wanna Rock, a takisto 24-minútové bubenícke sólo na jeho vzácnych bicích Hayman Dallas Arbiter Iceberg Series z roku 1974, ktoré si sám zreštauroval a počas Rich & Famous éry používal.
Rozkol
V roku 2011 vyšiel posledný materiál pod hlavičkou Rich & Famous. Jednalo sa o kompiláciu s názvom Airborn Love Spirits, ktorá obsahuje tri nahrávky z roku 2001 (dve z nich dovtedy nevydané) a kompletný album Resurrection, ktorý bol dlho nedostupný.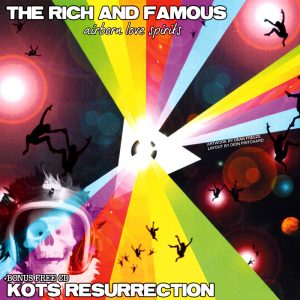 V septembri toho istého roku bol Jeffrey Hoad pred Brisbaneským najvyšším súdom uznaný vinným z produkcie a prechovávania drog (marihuana) a odsúdený k podmienečnému trestu 12 mesiacov.
V júli 2012 Clifford Hoad oznámil, že bude pokračovať s novou formáciou Kings of the Sun bez jeho brata Jeffreyho, ktorý odmietol jeho ponuku zreformovať kapelu. Bratia Hoadovci sú od tej doby odcudzení.
Kráľ pokračuje sám
V marci 2013 nová zostava KOTS vstúpila do štúdia producenta Govindu Doylea, aby nahrala najnovšie kompozície Clifforda Hoada. Quentin Elliott sa vrátil ako sólový gitarista a Dave Talon (Rollerball) sa stal novým rytmickým gitaristom. Clifford sa okrem bicích ujal aj speváckeho postu, keďže spieval podporné vokály na všetkých predchádzajúcich albumoch a aj hlavné v dvoch piesňach (spolu s Jeffreym v Shot Me an Arrow a sólo v I Wanna Rock). Basové party na albume nahral Govinda Doyle, ktorý album koprodukoval a mixoval s Cliffordom Hoadom.
Album Rock Til Ya Die bol vydaný 5. septembra 2013 prostredníctvom webstránky kapely a je návratom ku klasickému austrálskemu rocku. DJ Neil Rogers z melbournského rádia 3RRR sa o albume vyjadril nasledovne:
"Najlepší hardrockový album z tejto krajiny za posledných 25 rokov."
K albumu bolo natočených 5 promo videí, ktoré kombinujú hudobný klip s rozhovormi v dokumentárnom štýle, v ktorých Clifford Hoad rozpráva príbeh za jednotlivými piesňami. Switchblade Knife sa dočkal videoklipu v máji 2014.
Návrat do Európy
Kapela vo februári a marci odohrala tri zahrievacie koncerty v domovskej Austrálii – dva v Melbourne a jeden v Brisbane. Zostavu na base doplnil Darren Marlow a na druhých bicích Baron von Berg. Clifford tak mohol počas koncertov alternovať medzi bicími a svetlami reflektorov vpredu na pódiu.
KOTS sa vďaka svojim lojálnym škandinávskym fanúšikom dostali aj na Sweden Rock 2014, keďže vyhrali hlasovanie a mali možnosť vystúpiť na tomto prestížnom festivale. A tak 6. júna 2014 kapela odohrala po vyše 25 rokoch koncert na starom kontinente. Bolo to však bez druhého bubeníka, a krátko po festivale sa táto formácia kapely rozpadla úplne.
Krok späť a dva vpred
Clifford to však nezabalil a za rok dal dokopy novú zostavu, v ktorej dal príležitosť neznámym hráčom ako Rowie Riot (sólová gitara) a Shar Roxxon (klávesy, gitara, podporné vokály). Nacvičoval s nimi jeho nové kompozície a keď boli pripravení, v štúdiu nahrali s majstrom zvuku Jheffom Baileym dostatok materiálu pre dva albumy. Na base dodatočne vypomohol veterán austrálskej scény Laurie Marlow (Heaven, Boss, Black Label).
Prvá polovica materiálu vyšla na albume Razed on Rock v roku 2016. Album ponúka pestrú paletu songov a Cliffordove aranžmá ovplyvnené jeho širokou vinylovou kolekciou. Struck by Lightning šliape ako parná lokomotíva, Fallen Rockstar je inšpirovaná mnohými padlými hviezdami, ktorých kariéry vyhasli ako padajúce hviezdy. Braveheart by kľudne mohol použiť Mel Gibson v jeho rovnomennom kasovom trháku. No a Whips Me like a Horse má basovú linku, ktorá by uhnala na smrť aj toho koňa.
Druhá polovica vyšla o rok neskôr pod názvom Playin' to the Heavens (2017) a obsahuje ešte odvážnejšie kompozície, ako napríklad skoro osemminútový epos Space (We're not Alone). Medzi moje najobľúbenejšie ďalej patrí Misguided Missile so skvelou strednou časťou, alebo Livin' on Rock n' Roll.
KOTS v tomto období odohrali zopár koncertov, z ktorých som osobne videl tri (Coolangatta, Sydney a Brisbane) počas austrálskej jesene 2017 a popritom robil kapele aj bedňáka. Spať v dodávke zaparkovanej na ulici v Sydney, medzi aparatúrou a bicími, to človek len tak nezažije. Ani teriganie sa diaľnicou z Gold Coastu do Sydney a naspäť. A to viacerí bedňáci zo starej školy, ktorých som v minulosti v Austrálii stretol toto žili roky a denne, naprieč celým kontinentom protinožcov, v zlatých časoch tamojšej scény. Je to tvrdý chlebík, pre skutočných milovníkov hudby. Na base alternovali Laurie Marlow a Doug Slack-Smith. Napokon sa aj táto formácia kapely rozpadla.
Chudobní a neznámi
Za zmienku stojí, že Cliffordov mladší brat Jeffrey obnovil kapelu The Rich & Famous s Deanom Turnerom na base a druhým Deanom Reesonom na bicích a v roku 2017 vydal päťpiesňové EP s názvom Take Us to Your Leader. Po pár lokálnych vystúpeniach sa zo scény vytratili.
Kráľ dnes
Clifford Hoad toho času vlastní značku Kings of the Sun a múza ho kope stále, pretože už má dosť kompozícií na ďaľší album. Či sa však zrealizuje a s kým, to je v tejto chvíli hudbou budúcnosti…
Diskografia
1986 – Bottom Of My Heart [singel]
1988 – Kings Of The Sun
1990 – Full Frontal Attack
1993 – Resurrection
1995 – Bombs Away [singel]
2004 – The Rich & Famous *
2006 – Like A Superstar *
2007 – Stand Back… Prepare To Be Amazed!!! *
2011 – Airborn Love Spirits *
2011 – Daddy Was A Hobo Man!! [nahrané v r. 1997]
2013 – Rock Til Ya Die
2016 – Razed On Rock
2017 – Playin' To The Heavens
2017 – Take Us To Your Leader [EP] *
2018 – Built For Speed – Resurrection Demo Sessions [1991]
* vydané ako The Rich & Famous
Oficiálna webstránka kapely: kingsofthesunband.com