Hoci od vydania debutu Charon ubehli dva roky, moravskí metalisti INGOTT nezaháľali a prakticky vzápätí začali pracovať na "dvojke", pretože v medzičase vydali 3 single – Ex Libris / Adieu potvorám (2017), Nežer sníh / Časy konce a konec časů (2018) a Zbytečný flám / Sketa (2018). Všetky skladby sa objavili aj na druhom štúdiovom albume Na cestě do nebe stavil jsem se v pekle, ktorý prišiel na svet 1. januára 2019. 
Moja stará japonská mašinka ukazuje čistý čas 47:58, ktorý je rozložený do 15 kúskov – poctivá hard &heavy nálož. Bez toho, aby som znižoval zásluhy zvyšku kapely, znova je to Jura Šperl – spevák, gitarista a výhradný autor hudobného i textového materiálu, ktorý dokázal udržať latku kvality INGOTT opäť riadne vysoko. Sám seba sa pýtam, kedy to všetko stíha, keď zároveň maká aj v skupine Limetal?! Ja osobne mám voči nemu veľké resty… Jura, prepáč!
"A přijdou časy konce a konec časů… Prvního dne o hodině třetí se ozve mocný hlas z nebeské klenby, purpurový mrak přitáhne ze severu, za ním hromy a blesky a na zemi se snese krvavý děšť. Druhého dne bude země vytržena ze svého místa a dým velkého ohně projde bránou nebeskou. Třetího dne budou propasti pozemské hřmotit ve čtyřech koutech vesmíru. Cimbuří báně nebeské se otevřou, vzduch se naplní sloupy kouře a bude páchnout síra až do hodiny desáté. Čtvrtého dne brzy zrána se propast rozžhaví, pohrne se z ní hřmot a všechny domy se zhroutí. Páteho dne o hodině šesté se rozpadne světelná síla slunce a na zemi bude tma až do večera a hvězdy a měsíc nebudou vykonávat svůj úřad. Šestého dne o čtvrté hodině hvězdná báně pukne od východu k západu a andělé budou škvírou shlížet na zemi a všichni ze země budou moci vidět, jak andělé shlížejí na zemi. Všichni lidé pak utečou do hor, aby unikli pohledu čistých andělů. A sedmého dne přijde Kristus ve světle Otce svého. A dojde k soudu nad dobrými a k jejich nanebevzetí do věčné blaženosti těl i duší."
(Umberto Eco, Jméno růže)
Nedá mi, aby som pri česko-slovenskej kapele nespomenul sk*rvenú západnú propagandu. Ideme sa pokakať zo všetkého z tej strany sveta – hamburgery sme začali žrať na kilá, kto nepije akúsi viski, ten je spodina. Kto nevelebí USA, pomaly nemá nárok ani dýchať. A kto nespieva svetovým jazykom, ten nestojí ani za zmienku. Jasné – všetci máme červený diplom z angličtiny, ktorý sme získali na Karlovej univerzite a tým metlákom z cudziny všééétko rozumieme. Nezabúdajme, že aj doma máme vydarené produkty! SKVELÉ TEXTÁRSKE PERO Juru Šperla – plne sa stotožňujem s názorom jedného českého recenzenta, ktorý napísal, že jeho texty nestačí počúvať, hoci mu je veľmi dobre rozumieť, musíte ich aj čítať….
Na kratučké hororové a hovorené "intro" plynulo nadväzuje nakladačka Reje pekel. Mne to pripomína jeden judášsky spolok. Z textu trojky, po maličkej úprave, pochádza názov albumu a za hudbu by sa nemusel hanbiť ani pirát Rolf Kasparek so svojím korábom Running Wild. Krásne pokojné klávesy, k tomu jemný prednes Juru, to je úvod Rakviem, aby sa časom dostal k slovu hard and heavy s nádychom Black Sabbath z éry Ronnieho Jamesa Dia, alebo ak chcete, hard and heavy v štýle kapely Dio. A takto by som mohol pokračovať až do konca. Každému fanúšikovi hard rockovej a heavy metalovej hudby musí byť jasné, čo album ponúka…
Vyzdvihnem ešte vydarenú baladu Časy konce a konec časů a záver v podaní Ex libris. Určite nie som taký sčítaný, ako frontman INGOTT, text skladby je však excelentný – odkazuje na významné svetové diela, ako napr. Portrét Doriana Graya (Oscar Wilde), Havran (Edgar Allan Poe), Othello (William Shakespeare), Sophiina voľba (William Styron), Meno ruže (Umberto Eco), Vyhoďme ho z kola von (Ken Kessey), ale aj na Bibliu…
Pri svojom pokuse o recenziu Charon som vtedy napísal: "Mám strach, že INGOTT si nasadil latku kvality poriadne vysoko a bude mať čo robiť, aby ju prekonal…" Som skutočne rád, že moje obavy sa nepotvrdili a skupina veľmi kvalitným spôsobom nadviazala na vydarený debut. Chalani, díky!!!!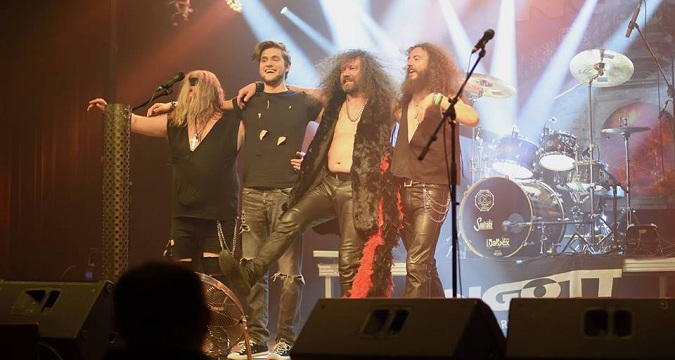 SKLADBY:
01. Vyhnali chlapa z ráje
02. Reje pekel
03. Na cestě do nebe
04. Rakviem
05. Havran
06. Jeremy
07. Barová moucha
08. Časy konce a konec časů
09. Buldozer
10. Nežer sníh
11. Bílý muž má černý den
12. Zbytečný flám
13. Adié potvorám
14. Sketa
15. Ex libris
ZOSTAVA:
Jura Šperl – gitara, spev
Martin Maco Szczur – gitara, zbory
Jiří Poty Potáč – basa, zbory
David Dave Klement – bicie, zbory
+
Jarda Bartoň – gitara
Borek Nedorost – klávesy
Standa Valášek – vokál
Na cestě do nebe stavil jsem se v pekle
INGOTT
Heavy Metal, Hard Rock
INGOTT
2019
CD
15