"Tak co, je to jak GENESIS?" ptám se lačně Oťase. "Lepší!" lakonicky odvětí můj burzovní spolupachatel, co si čerstvý úlovek, LP Script For a Jester's Tear od MARILLION, poslechl jako první z nás.
Nedivte se tomu patosu, psal se březen 1983, syntíkové nové vlny se valily ze všech stran, kdo z classic rockerů neutekl k metalu, anebo výlučné avantgardě, neměl pomalu co poslouchat.
A najednou se zjevila majestátní hudba v duchu gabrielovských GENESIS. Fish a spol. široko daleko zviditelnili scénu, která se už nějakou dobu rozvíjela v šerosvitu ostrovního undergroundu. Do dvou let jsme objevili další skvosty, vedle minule připomenutých TWELFTH NIGHT a NEUSCHWANSTEIN, to byli hlavně kralevicové PENDRAGON, PALLAS a I.Q.
PENDRAGON
Kapelu ZEUS PENDRAGON založil student Nick Barrett (kytara, zpěv) v roce 1978, tedy uprostřed rachotu vrcholící punkové vlny, v ospalém desetitisícovém jihozápadoanglickém městečku Strout. Patřil mezi velké fanoušky CAMEL a GENESIS.
"Jeden kamarád byl posedlý YES, a najednou, doslova ze dne na den, mi oznámil, že se chystá celou svou sbírku spálit, protože slyšel SEX PISTOLS!", vypráví příhodu, jež dokonale ilustruje onu překotnou dobu. A pokračuje: "Hlava mi to nebrala, taky jsem měl rád punkový postoj a spoustu další muziky, ale opravdu jsem nechápal ty, co opouštěli své dlouhodobé oblíbence."
Už jako PENDRAGON si mládenci postupně budovali jméno v rámci svého regionu. Stali se vedle PALLAS, IQ, TWELFTH NIGHT, SOLSTICE a MARILLION součástí jakési nové podoby rockového undergroundu. V roce 1982 uvedli MARILLION Barrettovy PENDRAGON coby svůj support v londýnském Marque klubu, místě, kde všichni tehdejší muzikanti toužili hrát.
MARILLION záhy vystřelili k hvězdné kariéře, jeden by řekl, že další neoprogeři, jak se jim začalo říkat, se lehce vyvezou spolu s nimi. Omyl. Na PENDRAGON žádná EMI nečekala. S pomocí manažera Johna Arnisona, jenž současně koučoval Fishe a spol., založili svůj vlastní label Elusive Records, na němž vydali v roce 1984 svou první EP Fly High Fall Far a zanedlouho i LP The Jewel.
"Byli jsme úplně švorc," vzpomíná Barrett, "stěží jsme se skládali na benzín naší dodávky, spávali na podlaze u neznámých lidí, jeden z nich se pochlubil, že v jeho obýváku přenocovali kdysi i U2. 'Když to mohlo být dobré pro Bona, tak to musí stačit i nám,' řekli jsme si. Teď to zní skoro romanticky, tehdy nám ale do smíchu nebylo. Na samé dno jsme klesli v roce 1986, kdy EMI zamítla podílet dál se na našem druhém albu. Přišli jsme navíc o celý management, návštěvy koncertů začaly klesat, rozvážel jsem chleba, vstával ve tři ráno. A ke všemu nás nenáviděl tisk. Byli jsme fakt nasraní, svůj hněv jsme ale naštěstí přetavili na tvůrčí energii," rozohnil se Nick ještě po letech.
Systém DIY, čili udělej si sám, začal přinášet první plody. Od EMI získali zpět své pásky, jež po doplnění pár novými skladbami vydali v roce 1988 na vlastním labelu Toff coby druhé album Kowtow, na němž se vedle Nicka Barretta a basáka Petera Gea poprvé objevuje třetí zásadní člen PENDRAGON, starý Nickův přítel z dětství, klávesák Clive Nolan. V roce 1991 následovala trojka The World. V té době byl však neoprog po krátkém vzedmutí ve Velké Británii de facto mrtev, scénu opanoval grunge.
Nebyli by to PENDRAGON, aby se opět nevzepřeli osudu. "Náhoda tomu chtěla, že jsme dostali nabídku z Polska. Vůbec jsme netušili, jak jsme tam populární. Piotr Kaslowki pašoval naše LP a vysílal je na rozhlasové stanici Varšava 3. Bylo to neuvěřitelné, skoro jako náboženský obřad, takovou radost jsem na tvářích lidí nikdy neviděl," vzpomíná Barrett na první polské koncerty v roce 1994.
Po bezmála dvaceti letech na scéně se PENDRAGON začalo dařit umělecky i obchodně. Pátého alba The Masquerade Overture se i bez podpory velkého labelu prodalo na 60 000 kusů. "Koupil jsem dům v Ascotu, vybavuji si, jak jsem stál u okna a přemítal: 'Nakonec se to vyplatilo.' Nevyplatilo, do roka jsem byl bez manželky i bez domu," posteskne si Barrett, "nebyl jsem schopen nic nového napsat, měl jsem blok," uzavírá smutně. Jak ale víme, tak nakonec svou citovou frustraci "porazil" tím nejlepším způsobem, albem Not Of This World (2001), završujícím klasické neoprogové období PENDRAGON.
Nick Barrett se poté vrhl na experimentování, eklekticky přebíral různé vlivy, od nu-metalu po hip-hop. Alba Believe (2005), Pure (2008) a Passion (2011) vyvolala spoustu kontroverzí. Sám Nick přiznává, že PENDRAGON v onom období nejspíš přišli o řadu fanoušků. Možná i proto na Men Who Climb Mountains (2014) stočil kormidlo PENDRAGON zpět k epickému zvuku devadesátých let. Dvacetileté výročí The Masquerade Overture oslavila kapela speciálními koncerty.
PALLAS
Kořeny skotské skupiny sahají až do roku 1977, kdy došlo k personální rošádě ve školní (Aberdeen University) skupině RAINBOW, založené v roce 1974, a následně i změně jména. PALLAS předskakovali na universitní půdě mj. THIN LIZZY, THE DAMNED, Shakinu Stevensovi.
Tím, že byli daleko od jihoanglické prog scény, vytvořili si PALLAS svébytný sound, v němž kombinovali prvky artrocku a hardrocku. O menší rozruch se postarali svým temným opusem The Ripper o masovém vrahovi Sutcliffovi, viz kazeta Arrive Alive z roku 1981. Z tehdejší sestavy fungují dodnes baskytarista Graeme Murray a kytarista Niall Mathewson.
V osmdesátých létech se i PALLAS po vzoru MARILLION, potažmo gabrielovských GENESIS, vyžívali v kostýmních představeních. Koncepční The Sentinel nahrávali s producentem Eddym Orfordem, jenž spolupracoval mimo jiné s YES a ELP. S výsledem nebyli spokojeni, a tak došlo po jeho odchodu k přemixování. Byla to současně poslední účast zpěváka Euana Lowsona. K mikrofonu nastupuje v roce 1986 Alan Reed a zůstává u něj bezmála čtvrtstoletí. Povedené album The Wedge (1986) opět boduje v albové UK Top 50, nicméně promo podpora firmy není téměř žádná.
Murray loví v paměti: "Měl jsem schůzku s chlápkem z EMI, a zeptal se ho, proč mají MARILLION daleko větší mediální propagaci než my. Řekl mi: 'Hele, Graeme, musíš pochopit, že MARILLION jsou pop kapela, a vy jste heavy metal.' A já si pomyslel, 'Panebože, jsme v průšvihu!'" Nakonec došlo k předběžné dohodě s EMI, že jim nebude bránit v odchodu k Polygramu. Shodou okolností ale PALLAS zůstali bez labelu…
Ztratili víru v sebe sama, a na celou dekádu a půl přestali de facto existovat. Jen samodoma kazeta Sketches (1989) dokazuje, že PALLAS úplně nezanikli. Teprve v druhé polovině devadesátých let oživili činnost a v roce 1999 vydávají album Beat The Drum. Následují v ustálené sestavě: The Cross & The Crucible (2001), The Dreams of Men (2005) a XXV (2011).
Rozvoj internetu umožnil účinně propojit kapelu "bezlabelově" přímo s fanouškovskou základnou na celém světě. Když v roce 2010 nahradil Paul Mackie u mikrofonu Alana Reeda, pochvaloval si: "Podpora progrockové komunity je opravdu úžasná, cítil jsem vřelé přivítání."
PALLAS se nacházeli na prahu nového období. "Často jsme měli pocit, že jsme příliš progresivní pro rockové fanoušky a příliš rockoví pro prog fans," vysvětluje Murray, "album 'XXV' bylo záměrně koncepční, volně navazovalo na 'The Sentinel'. 'Wearewhoweare' je svobodnější, na nic se nevážeme," uzavírá. "Psát jednoduché a účinné skladby je ta nejtěžší věc," dodává Mathewson.
IQ
IQ založili kytarista Mike Holmes a klávesák Martin Orford po rozpadu jejich původní skupiny THE LENS v roce 1981. Krátce po příchodu vokalisty Petera Nichollse a bubeníka Paula Cooka vydávají kazetu Seven Stories Into Eight, v roce 1983 debutové LP Tales From The Lush Attic, o dva roky později The Wake.
K němu jsem před pěti lety do Sparku napsal: "Druhé album, 'The Wake' z roku 1985, je jediným, které uspělo i v britské prodejní stovce. Dodnes je považováno za vrchol 'gabrielovského' období IQ, kdy se Peter Nicholls převlékal do kostýmů a masek, a i svým zpěvem napodoboval svůj vzor, seč mu síly stačily. Plošší barevnost a chybějící šansoniérskou vroucnost nahrazoval pevnými rovnými tóny. Skladby jsou výrazně melodické, většinou poklidné, žádné exhibice, jen pár zdobných čeřených přechodů. Nejsilnější kusy dílo rámují, 'Outer Limits', 'The Thousand Days' a 'Headlong' snesou přímé srovnání s čímkoliv z žánru."
Samotní aktéři, Mike Holmes a Peter Nicholls, vzpomínají na album jako na pokus o příběh, kdy hlavní postava zemře na konci úvodní Outer Limits a téma smrti rezonuje celým albem. Peter si vzpomíná, že iniciačním momentem byla povídka Edgara Alana Poa Předčasný pohřeb. Je rovněž autorem přebalu. Jak připomíná, tvář na přebalu není jeho, jde víceméně o omalovánku tváře hlavní hrdinky filmu Boj o oheň.
Zajímavé je i to, jak se Mike s Peterem seznámili. Bylo to v roce 1976, stylově na koncertu GENESIS v rámci jejich turné k novince Trick Of The Tail v Bingley Hall ve Staffordu. Stovky fanoušků čekaly ve vedru, až se hala otevře, Peter se dal jen tak mimoděk do řeči se svým sousedem, vyměnili si adresy, začali si psát, ostatní je historie…
Po vydání The Wake Peter Nicholls odchází, důvodem bylo jeho odcizení se ostatním z kapely, jak sám přiznává. Pro léta 1985-1990 jej nahrazuje Paul (P.L.) Menel. Je paradoxní, že právě v té době získávají IQ smlouvu u Phonogramu. Obě alba s Menelem, Nomzamo (1987) a Are You Sitting Comfortably? (1989) uvedly IQ do povědomí i za hranicemi domovské Anglie. Paul Menel a Tim Ezau opouštějí IQ v roce 1990.
Krátce po Peterově návratu do sestavy došlo k tragédii, když nový baskytarista Les 'Ledge' Marshall spáchal sebevraždu.
Nadlouho (1991-2005) stabilizovaná sestava: Mike Holmes, Martin Orford, Paul Cook, Peter Nicholls a John Jowitt, vydala celou sérii kvalitních alb: Ever (1993), Subterranea (1997), remake Seven Stories int '98 (1998), The Seventh House (2000), Dark Matter (2004). Vesměs šlo o velkolepě pojaté projekty, ze kterých ostatně kapela žije dodnes při vydávání výročních reedic a souběžném pódiovém prezentování, někdy i za účasti původních spoluhráčů.
Nová studiová tvorba posledních let bohužel doplatila na četné personální změny a vyschlou autorskou mízu. Například album Frequency (2009) je bohužel jen tuctový progrock, stonásobně klonovaná nolanovština, kompoziční rozbředlina, chutná a vzhledná jak rozteklá zmrzlina.
PANOŠI
LAHOST: Z východoanglického Norwiche pochází další zcela zapomenutá skupina, odkazující na GENESIS – LAHOST. Po rozpadu melodiků AIRBRIDGE ji založili klávesák Stephen Bennett a baskytarista Sean Godfrey. Po řadě konkurzů dvojici doplnili: kytarista David Valentine-Haggart, bicmen Fudge Smith a zpěvák Mark Spencer. Kolekce demáčů, singlů vyšla v roce 1992 na CD pod názvem Erotic Antiques. Pár slov zakladatele, Stephena Bennetta, najdete na jeho osobních webových stránkách.
QUASAR: Londýnští QUASAR byli projektem Keitha Turnera. Vesmírná UFO tématika debutového alba Fire in The Sky (1981) se opírala o poměrně technicky zdatnou instrumentaci, slabinou byl tenký hláseček Paula Vigrasse a některé infantilní aranžérské nápady, různé kosmické hvizdy, apod. Mdlým a plochým kompozicím nepomohly ani zdatné výkony muzikantů.
Příchod Tracy Hitchings posunul QUASAR o jeden level výše. Ani to nepomohlo a druhé, opožděně vydané album Loreli (1989) bylo zároveň poslední s Tracy. Kapela se na patnáct let odmlčela, Keith vystupoval jen občas sólově. QUASAR obnovil před deseti roky v San Franciscu s novými muzikanty, aktivní jsou dodnes.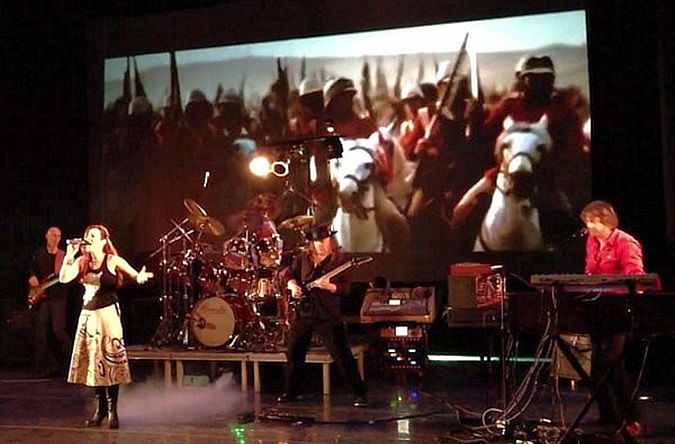 SOLSTICE: Kytarista Andy Glass založil SOLSTICE v roce 1980 a dodnes je jediným zakládajícím členem v sestavě. Skupina ze středoanglického města Milton Keynes navazovala na tradice skupin jako RENAISSANCE, tedy s dívčím vokálem v popředí.
SOLSTICE zejména zpočátku, viz debutové LP Silent Dance (1984) se Sandy Leigh u mikrofonu, navazovali na sound raných YES, ostatně slavičí hlas Jona Andersona neměl k dívčímu nikdy daleko. Kapela se poprvé rozešla již v roce 1985. Andy Glass od té doby čas od času dá dohromady novou sestavu, s níž něco nahraje. Kvalita jednotlivých alb je proměnlivá.
Dalo by se samozřejmě pokračovat dál a dál, hloub a hloub, na pár jmen se nedostalo, namátkově: IT BITES, HAZE, CARDIACS…, ale čekají nás devadesátky, kdy neoprog zavelel k útoku po celém světě.