Zpráva z netu: "Ve středu 4. 11. 2020 jsme ztratili našeho kolegu a přítele, čaroděje Kena Hensleyho, bez něhož by kapela Wonderworld nebyla. On nás dal dohromady. Smutná zpráva o jeho smrti nás zasáhla, proto jsme se rozhodli nahrát album na jeho počest. Vybrali jsme několik písní, které jsme s ním v průběhu let hráli naživo. Datum vydání alba je stanoveno na 15. 12. 2021.
Tohle je pro tebe, Kene!"
S notnou dávkou nedůvěry obvykle přistupuju k podobným tributním skutkům, tady ji ale hned zpočátku nahlodal fakt, že by měl být dílem trojice, jež pod značkou Live Fire s Kenem odehrála nejednu sezónu a vydala velmi dobré album Trouble (2013), živák Live In Russia (2019), plus tituly Faster (2011) a Live (2013) v sestavě ještě bez Tirantiho, jenž svým příchodem vysoko zavěšenou laťku ještě přizvedl. Navíc tak učinil způsobem, který bral dech, jak jsem se měl možnost opakovaně přesvědčit i naživo.
Po ohlášeném přerušení spolupráce jsem pravil, že by byla věčná škoda, aby tahle vikingsko-italská parta nepokračovala dál, aniž bych měl sebemenšího tucha o plánech na projekt Wonderworld. Tím víc potom potěšila zpráva o chystaném albu power tria a jeho dalších dílech. Pocta hudební legendě, příznačně nazvaná Live Fire, se stala čtvrtým v pořadí.
Zvolený titul odkazující k nedávné minulosti přímo spojené s Hensleym se pro řadu zasvěcených informátorů stal důvodem k tomu, aby album ohlašovali coby koncertní, bo přece "live". Šlendrián holt kvete v každém čase a prostoru, ale čert ho vem. Podstatný je obsah, který tvoří jedenáct pečlivě vybraných a s citem i umem nově nahraných skladeb z repertoáru Uriah Heep i Kenova pozdějšího období.
Zdařilost kompilace uvedené titulní instrumentálkou násobí vhodně zvolené řazení jednotlivých skladeb. Jako celek tak materiál působí nesmírně soudržně, starým věcem navíc neschází potřebná energie, nový střih nezavání narychlo spíchnutou křečovitostí, ale naopak jim ohromně sluší. Z každé noty možno cítit dokonalou znalost materiálu, potřebnou vyhranost i respekt k autorovi. Potvrzením uvedeného i vítaným bonusem budiž nevšední zakončení uriášovských klasik Look At Yourself a Gypsy.
Snad tedy ani není divu, že při závěrečném duetu The Longest Night s Hensleyho pěveckou účastí se dostaví o poznání intenzivnější prožitek než při poslechu skladby ze společného díla Trouble.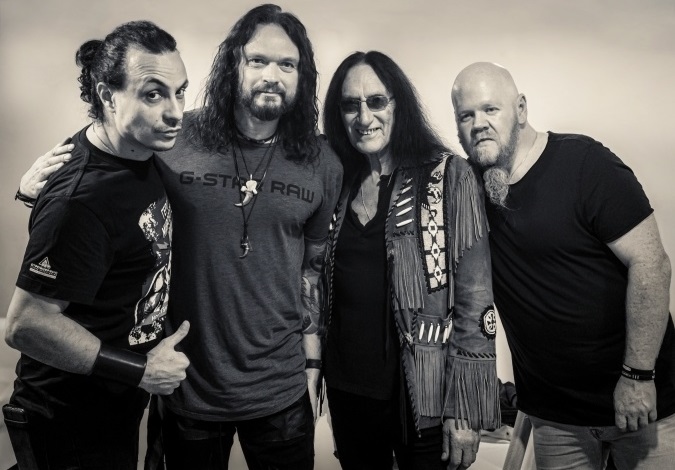 Album Live Fire totiž přináší víc, než bych jako pure vyznavač původních verzí čekal. Nejen že je po všech stránkách vkusným holdem muzikantovi, který si důstojnou připomínku zaslouží jak málokdo další z branže, ale sbírku jeho silných, časem prověřených melodií představuje v nečekaně svěží formě. Že vznikala s pomocí neúspěšné crowdfundingové kampaně, během níž se vybralo pouze 58 % z potřebné částky, je smutným dokladem zhůvěřilosti dnešní doby.
SKLADBY:
01) Live Fire (Live Fire, 2021)
02) Ready To Die (Trouble, 2013)
03) Sunrise (The Magician's Birthday, 1972)
04) Easy Living (Demons And Wizards, 1972)
05) The Curse (Faster, 2011)
06) Circle Of Hands (Demons And Wizards, 1972)
07) Look At Yourself (Look At Yourself, 1971)
08) July Morning (Look At Yourself, 1971)
09) The Last Dance (The Last Dance, 2003)
10) Gypsy ( …Very 'Eavy…Very 'Umble, 1970)
11) The Longest Night (Trouble, 2013)
Autorem skladeb je Ken Hensley, s výjimkou A1 (Ken Ingwersen)
Produkce a mix: Ken Ingwersen
SESTAVA:
Roberto Tiranti – zpěv, baskytara
Ken Ingwersen – kytara, zpěv
Tom Fossheim – bicí
&
Einar Thorbjørnsen, Lars Andre Kvistum, Christian Nystrøm – klávesy
PS: Norský kytarista, producent a majitel Panser Studia v Oslu Ken Ingwersen je s využitím surrealistických fotografií Eltona Fernandese i spoluautorem 3/4 působivých přebalů z diskografie Wonderworld. Tenhle je jedním z nich.
Live Fire
Wonderworld
Hard Rock
Key music
2021
CD
11