V roce 1967 byla britská skupina Cream již pevně usazena na domácí scéně, její vystoupení byla vyhledávána jinými hudebníky a hudebními fajnšmekry, kteří tušili, že skupina svou prvotinou Fresh  Cream ještě neřekla své poslední slovo. A jak bývalo v té době zvykem, bylo načase domácí pozici ještě potvrdit koncertováním v kolébce blues, tedy ve Spojených státech amerických. Fenomenální trio se sice nezúčastnilo průkopnického festivalu v Monterey, avšak pobyt ve státech využilo k nasávání nových hudebních, i nehudebních vlivů a především v květnu v newyorském studiu společnosti Atlantis k nahrání materiálu pro druhou desku, kterážto pod názvem Disraeli Gears spatřila světlo světa v listopadu téhož roku.
Na desce je jedenáct nezapomenutelných kousků, z nichž většina, celých devět, pochází z vlastních zdrojů. Konečně i kytarista Eric Clapton se stává plnohodnotným autorem vedle do té doby dominujícího Jacka Bruce. Zatímco debut překvapil hutným zvukem a zajímavým předvedením několika bluesových standardů, zdejakoby si skupina řekla, že se nenechá ničím a nikým omezovat. Bluesová formule se pro většinu skladeb stává pouhým východiskem a odrazištěm k novým, neprozkoumaným formám. Nad výslednou hudbou se vznáší tu lehčí, tu těžší opar onoho památného léta lásky kombinovaný s různými halucinogeny. Výsledný zvuk je ještě hutnější, což vyvolává větší pocit tvrdosti. Tady se naplno ukazují možnosti hraní ve třech s patřičnou dávkou hráčské virtuozity a entuziasmu.
Je zbytečné rozebírat jednotlivé skladby, to nechám povolanějším. Od úvodní písně Strange Brew až po závěrečný tradicionál Mother's Lament se jedná o jednu hudební lahůdku a laskominku vedle druhé. Většině znalců se samozřejmě vybaví nesmrtelný hit Sunshine of Your Love, skladba, která se stala vzorem pro mnoho následovníků z oblasti rodícího se hard rocku a na jejíž hypnotizující ústřední riff jistě přísahalo několik generací rockových kytaristů. Sám Clapton je autorem nádherné písně Tales of Brave Ulysses, v níž se svojí kytarou kouzlí velice citlivě jeden zajímavý ornament za druhým. Jack Bruce svým sametovým, lehce zastřeným hlasem dodává celé písni náznak tajemna, aby se pěvecky vyřádil v následujícím kousku SWLABR. Clapton nezůstává pozadu a postupně doslova svou kytaru rozkváká. Mou nejoblíbenější skladbou z celého alba je nádherná We're Going Wrong, pomalá táhlá píseň s vynikajícím Bruceovým zpěvem. Bubeník Baker se zde překonává, vlastně celá skladba zpočátku drží jen na bicích a basové lince. Jakmile se však Clapton do toho opře, tak celá trojice doslova rozpoutá peklo. Vidět to v tom sedmašedesátém naživo, to by byla paráda.
Cream ukázali, že i v pouhých třech lidech se dá hrát neskutečně zajímavá muzika. To dokazovali především během svých koncertů na obou stranách Atlantiku. Je věčná škoda, že ega tří vynikajících instrumentalistů a skladatelů spolu nedokázala dlouho vydržet. Ale asi věděli, proč se po dvojalbu Wheels of Fire rozešli. Možná tušili, že už to opravdu nemá cenu. Nám zůstalo alespoň několik výtečných desek, k nimž by byla škoda se občas nevrátit a nepřipomenout si doby, kdy vznikalo v hudbě mnoho zajímavého.
Skladby:
Strange Brew
Sunshine Of Your Love
World Of Pain
Dance The Night Away
Blue Condition
Tales Of Brave Ulysses
Swlabr
We're Going Wrong
Outside Woman Blues
Take It Back
Mother's Lament
Sestava:
Eric Clapton – kytara, zpěv
Jack Bruce – zpěv, basová kytara
Ginger Baker – bicí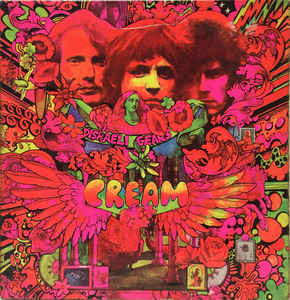 Disraeli Gears
Cream
Psychedelic Rock, Blues Rock
Polydor
1967
LP, CD
11