Box Set Universal Music Italia s.r.l. – 0602527319346  /2010/
Klávesově orientovanej symphonic prog, s prvky klasické hudby a jazzu. Při pohledu na tříčlennou sestavu a obsazení klapky, kytara a buben člověka napadnou jisté asociace s Emerson, Lake & Palmer a taky že jo. Jejich vliv je nepřeslechnutelnej a z italské scény mi to připomíná např. Le Orme, Triade, nebo The Trip.

Album Papillon kráčí směrem vytyčeným už předcházejícím Passio Secundum Mattheum, ale je po všech stránkách lepší a dokonalejší. Nebo mi to tak aspoň – narozdíl od valné většiny recenzentů na progarchives – připadá. Natáčelo se v září 1973, vyšlo koncem téhož roku a takřka celou první stranu původní LP zabrala titulní, dvacet minut dlouhá skládanka rozdělená do osmi strof, kterou doplnila ještě krátká instrumentálka Divertimento. Na druhé straně je to podobné a třídílnou suitu Patetica doprovází instrumentální, jazzem křísnutá skladba Strutture.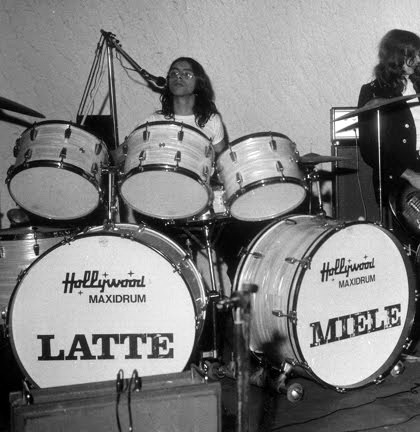 Stejně jako v případě debutu, tak i tady se Latte e Miele pokusili zhudebnit koncepční příběh, ovšem tentokrát s pohádkovým námětem. Vypráví o dřevěné loutce, která se na městském tržišti zamiluje do lidské dívky, které svou neopatrností nechtěně ublíží a je za to odsouzena k trestu smrti. Během výkonu rozsudku se loutka promění v malého chlapce a ten se ztratí uprostřed jásajícího davu. Příběh je to jednoduchý a kapela se při jeho psaní inspirovala osudy pohádkovejch postaviček Pinocchia, nebo Petruschky.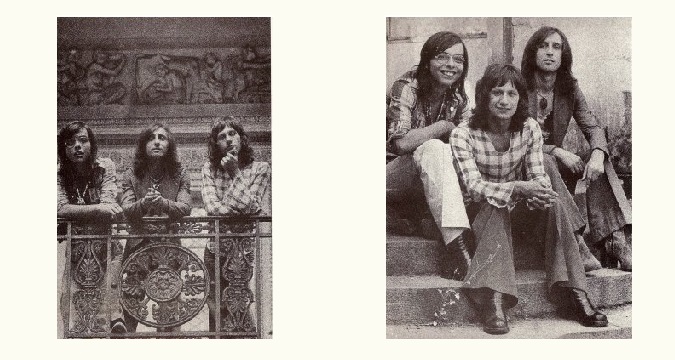 Je radost poslouchat, jak se to pohádkové téma podařilo otisknout do atmosféry a vokálních harmonií. Když se po úvodní, Emersonem inspirované palbě Overture ozvou sametově hebké tóny dechových nástrojů, ke kterým se přidá Dellacasův, chlapecky vysoký hlásek se svým "Girando in baraccone, Papillon, grandi occhi neri e da Pierrot…", rozbuší se mi srdce a tep vylítne někam do červenejch čísel. Vokály tvoří jen krátké předěly, aby se v tom příběhu posluchač dokonale neztratil, jinak je to jízda téměř instrumentální. Energická, technicky dokonalá, s fantastickou produkcí a křišťálově čistým zvukem.
První výraznější změna přichází až s pompézní a symfonickým orchestrem podepřenou kapitolou L'incontro (Setkání). Úžasnej moment, připomínající alba Contaminazione (Il Rovescio della Medaglia), nebo Milano Calibro 9 (Osanna). Ovšem Papillonovo štěstí netrvá dlouho a následuje jeho zatčení, L'arresto. Hudba dostává úplně nový rozměr a díky těkajícímu rytmu a nervydrásajícímu zvuku houslí se stává daleko agresivnější, než tomu bylo doposud. Netrvá to však dlouho a nespravedlivě odsouzený Papillon čeká na vykonání rozsudku. Smutek prýští z každé noty a klavír připomíná zvuk padajících slz, ale postupně gradující bolerko La trasformazione už má opět symfonickej šmrnc a v jeho závěru zazní i něco, jako chlapecký pěvecký sbor. Dvě minutky dlouhá, jazzem křísnutá instrumentálka Divertimento k suitě Papillon nepatří, ale je pěknou tečkou za první polovinou alba a připomíná mi něco od ELP…
Máte rádi classical rock ? Já jo a třídílná kompozice Patetica je tím nejesenciálnějším classical rockem, jakej si dokážu vůbec představit. O tzv. vážnou hudbu jsem se přitom nikdy nijak zvlášť nezajímal, ovšem odjakživa se mi líbily její, do rock'n'rollu implantované prvky. V metálu třeba u Great Kat, nebo Mekong Delta a později jsem si oblíbil to, co dělali ELP, Ekseption, Beggars Opera, Egg, nebo Collegium Musicum. V Patetica slyším docela jasně fragment z Vivaldiho "Čtvera ročních období", ale těch odkazů je tam – podle dostupných zdrojů – víc a nejčastěji skloňovanými jmény jsou Čajkovskij a Beethoven. Ovšem pořád je to ještě především rock a v Parte seconda nechybí ani pořádné sólo na bicí. Vlastně téměř celá druhá strana desky je instrumentální (trocha zpěvu je pouze v Parte terza) a potvrzuje to i závěrečnej jazz Strutture.
Je to prvotřídní art rock, ke kterému se rád vracím a desku řadím k tomu nejlepšímu za italskej rok 1973. Původní album bylo vylisováno v dostatečném množství a ještě dnes se dá sehnat relativně snadno, ovšem levné není. Reedic vyšla celá řada, ale většina je jich už staršího data a s jejich dostupností v obchodech to může být všelijaké. Moje CD je součástí box setu Progressive Italia Gli Anni '70 Vol. 4, hraje parádně a jsem moc rád, že ho mám.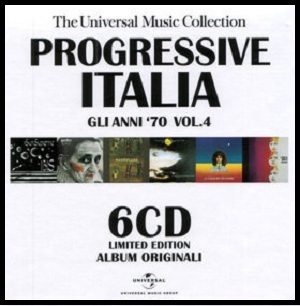 Latto A:
1. Papillon – 19:50
    a. Overture – 1:09
    b. Primo quadro: "La fuga" – 2:04
    c. Secondo quadro: "Il mercato" – 3:23 *
    d. Terzo quadro: "L'incontro" – 3:58
    e. Quarto quadro: "L'arresto" – 2:51
    f. Quinto quadro: "Il verdetto" – 1:32
    g. Sesto quadro: "La trasformazione" – 3:45
    h. Settimo quadro: "Corri nel mondo" – 0:48
2. Divertimento – 2:02
Durata totale: 21:52
Latto B:
1. Patetica – 16:42
    a. Parte prima – 4:30
    b. Parte seconda – 6:21
    c. Parte terza – 5:51
2. Strutture – 3:52
Durata totale: 20:34 
CD version:
01. Papillon: Overture – 1:09
02. Primo quadro: La fuga – 2:04
03. Secondo quadro: Il mercato – 3:23
04. Terzo quadro: L'incontro (Rimani nella mia vita) – 3:58
05. Quarto quadro: L'arresto – 2:51
06. Quinto quadro: Il verdetto – 1:32
07. Sesto quadro: La trasformazione – 3:45
08. Settimo quadro: Corri nel mondo – 0:48
09. Divertimento – 2:02
10. Patetica: Parte prima – 4:30
11. Parte seconda – 6:21
12. Parte terza – 5:51
13. Strutture – 3:52

Testi di Marcello Giancarlo Dellacasa, musiche di Oliviero Lacagnina 
SESTAVA:
Marcello Dellacasa – chitarra, voce
Oliviero Lacagnina – tastiere
Alfio Vitanza – batteria, percussioni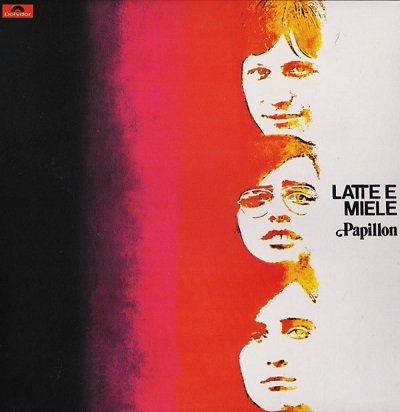 Papillon
Latte E Miele
Prog Rock
Polydor
1973
LP
4
Box Set Universal Music Italia s.r.l. – 0602527319346 /2010/