Přiznám se zcela bez mučení, že skupinu Kestrel jsem "znal" jenom podle názvu z nějakého dávného katalogu, ale s její hudbou jsem se nikdy předtím neseznámil. Můj bývalý kolega a dobrý kamarád (poměrně specializovaný na art rock a progressive rock) z Rádia Hey 96,8 FM mě před lety s touhle kapelou seznámil blíž a tak jsem měl možnost poznat i hudbu, kterou v polovině sedmdesátých let natočili.
Zároveň mě bylo řečeno, že o Kestrel se velmi těžce shánějí jakékoliv informace a také že on se nedopátral nějakých detailních informací, které by osvětlily historii téhle kapely. A tak jsem zdrženlivý v nějakých postojích v rámci členské základny kapely a soustředím se jenom na hudbu samotnou. Obal alba, seladon s orlím zobákem, působil netypicky a snad měl tento výtvarný koncept demonstrovat nějaké skryté (naopak názorné) sdělení. Především je tady ale hudba a o tu se s vámi teď pokusím rozdělit.
THE ACROBAT – Velebný, až chrámový sound a flangerovaná kytara, pak náhle drsný úder na bicí a hned poté se rozběhne hudební struktura, v níž se snoubí výrazná melodická složka se zajímavými harmoniemi. Hlas zpěváka Toma Knowlese zní suverénně, sebevědomě a klene se nad písní, v níž jsou důrazně nahrané bicí a basy. Vokální stavba je poměrně složitá. Vnímám zde podíl hammondek, clavinet, elektrické piano a ejhle, nečekaná změna a přesouváme se do jazzových nálad. V téhle chvíli si uvědomuji, že by tahle píseň mohla být zařazena do kapel Canterbury scene, nebýt těch pronikavých kytarových partů, které následují. Plnokrevná skladba s řadou zajímavých nápadů a proměn. Model hudby sedmdesátých let, který staví na stavbě vokálních partů let šedesátých. "Akrobat" je velmi příhodný název, protože při poslechu mám pocit opravdu řady proměn takřka krkolomného ražení. Přesto ale neklesáme do nějaké úporné avantgardy a melodické principy zde jednoznačně kralují, ukončené dlouhým tónem mellotronu.
WIND CLOUD – Poeticky znějící skladba. Hlas se mírně zjemní. Cinkání zvonků, cembala svírají zpozadí hammondky a máme zde krásné vokální party s řadou prolínajících se tónů. V něčem je zde cítit rané Genesis, Caravan, mírně i Moody Blues, ale nebráním se v jejich hudbě slyšet i vokální podíl Crosby, Stills And Nash. Kytarové party jsou uměřené s klouzavým zastřeným soundem. Ovšem cembalo (spinet) zní svým kovovým tónem historizujícím podílem staré hudby. Je to v podstatě písnička se silným melodickým základem, ale výtečně proaranžovaná a dokreslovaná sférickými doteky nekonečna. Velmi příjemné na poslech.
I BELIEVE IN YOU – Úvod mě totálně zmátl. Tady mám pocit, že sem vstoupili Focus se svojí Sylvií. Je to ale zase jen na chvíli. Pak zde máme zase výtečně zazpívanou skladbu s pevným, jasným a srozumitelným hlasem, v něčem mi mírně připomíná Johna Wettona. Také basy jsou pořádně zaostřeny a společně s bicími výrazně ční do prostoru. Hammondky Johna Cooka jsou opět v akci, ale jako součást hudebního aranžmá, nezabírají nějaký sólistický prostor. Přesto cítím, že na ně hraje velmi erudovaný hráč. Kytarové sólo se zmocní prostoru v mezihře. Už jsou zde výtečně zaranžované sbory a harmonické proměny nekončí. Velmi dobře sehraná hudební jednotka.
LAST REQUEST – Klavírní intro, hlas zpěváka ubere na energii a velmi vroucně vyzpívává svoje pocity. Pak jakoby byl ozářen prudkým světlem, dá průchod emocím a opře se do projevu. Poté se hudba i jeho projev zklidní. Zvraty ale nekončí a rockové principy se zde prosazují s mocnou harmonickou strukturou. Hammondky mají výrazný nástup a drží celou skladbu pohromadě společně s opravdu výtečným vokálním podílem. Ta hudba působí jako les světel, které někdo virtuálně zhasíná i rozžíhá a mezitím reostatem tlumí. Tohle je muzika pro velké pódium a velké scénické efekty. Hudba a zpívané party ale nepůsobí nějak pateticky a vemlouvavě. Všechno je zpívano s neuvěřitelnou lehkostí a samozřejmostí. Vstoupí sem ovšem smyčce, možná až příliš výrazně proříznou harmonii a ukončují tenhle hudební opus.
IN THE WAR – Bytelný rytmický základ důrazných basových tónů a bubenických attacků. Ke slovu přichází akustická kytara se svými průzračnými tóny a vzápětí je střídána sólem zkreslené elektrické kytary. Instrumentace přechází na elektrické piano a pak sem vstupuje velmi netypické rytmické akcenty, které roztříští harmonickou posloupnost. Další běhy už náleží hammondkám a kreativním obrazům v tónových proměnách. Smyčce a klavírní party se zpívaným projevem jsou jakýmsi posmrtným obrazem předjímání válečných hrůz, doplněné strašidelným dozvukem lidského hlasu. Rytmické postupy sem pustí fusion music po britském způsobu. Velmi dobře se tyhle změny poslouchají a ani na chvíli nejsem odváděn do hájemství nudy nebo bezradnosti. Hudební proměny posluchače udržují v neustálém napětí a musím smeknout před řadou tolika kumulovaných nápadů na více než sedmiminutové ploše. Nástup mellotronu jakoby zastřešil virtuálním mrakem celou náročnou kompozici a dostáváme se téměř na symfonickou polohu.
TAKE IT AWAY – Dravý rockový nástup kytarového tématu a důrazné bubenické nástupy, kooperující s ostináty baskytary, jsou vynikající. Zase míří moje pochvala a respekt k vokální stavbě. Vůbec, Kestrel dokazují, že jsou nejen skvělí instrumentalisté, ale i vokalisté a ve spojení s rytmickými principy tady dochází k výtečnému propojení všech tří základních hudebních aspektů. Bzučení synthesizerů navodí cestu hlubinami nekonečného oceánu poháněnému dravou rytmikou. Její principy jsou identifikovatelné pojetím hry, ale dravost a řada breaků "způsobují" jízdu v první třídě. Jízdu, která se bez bezpečnostního pásu rozhodně nedoporučuje.
END OF THE AFFAIR – Dravý bubenický nástup a kvílivá zkreslená elektrická kytara s basovými protirytmy jsou opravdu famózní. Náhle prudká změna. Klavírní party a mírně zasněný, ale přesto jasný vokální vstup mi připomíná Ruperta Hinea. Kytara je mírně prošlapována wah wah pedálem, jednotlivé instrumenty se na sebe krásně napojují a nijak se vzájemně nevytěsňují. Mohli by to být v jistém slova smyslu Caravan, které bych tipoval, neznaje informaci o kapele Kestrel. Kytara má kvílivý a místy až destruktivní sound, ale přesto respektuje melodickou stavbu, kam vstupuje jako prudký záblesk ostrého světla. Pak už mellotron dokresluje harmonii vokálně výtečně pojednaných sborů. Klavírní party mají v sobě zajímavou melancholii.
AUGUST CAROL – Konec je zahájen s velkou dravostí a energickou nekompromisností. Dobře proaranžované od začátku do konce s jedinečnou melodickou linkou. Tenhle typ skladby už lze nazvat rukopisem, podle kterého by se dala kapela z větší části identifikovat. Kytarové mezihry s klávesami jsou pevnými spojovacími můstky, které se s námi nehoupou nad propastí a vedou nás neomylně za svým harmonickým ideálem. Baskytarové party jsou opět hodně zdůrazněny a zase jsme konfrontování s rychlými kytarovými party až do závěru. Tady se ještě přihlásí samostatný bubenický nástup a hned po něm hladivý mellotron. Majestátní harmonické proplouvání mezi mračnou oblohou proti zářícímu slunci nekonečným oceánem prostoru. Tady se ona artrocková vznešenost rozevře se všemi náležitostmi, doprovázená kvílející elektrickou kytarou, jako naříkající orel, který byl zraněn střelou a cítí že nedoletí. Zvolna se tak celé téma vzdaluje v prostoru.
Musím konstatovat, že jsem hudbou na eponymním albu skupiny Kestrel nadšen. Marně přemýšlím, proč byla v rámci historického vývoje upozaděna vlivem známějších a slavnějších Genesis, Yes, Pink Floyd, Emerson Lake And Palmer, ale i vlnou Beggars Opera, Caravan, Strawbs a dalších nejmenovaných. Není to žádný župní přebor. Výteční hudebníci, zpěváci, zajímaví aranžéři a tvůrci dost silných kompozičních celků. Neznám, jak už jsem zmínil, osudy a důvody, proč tahle kapela neprorazila, nicméně tohle album je pro mne dílem mistrů a plný počet hvězdiček je namístě.
SKLADBY:
1. The Acrobat (Dave Black) 6:45
2. Wind Cloud (Dave Black) 4:41
3. I Believe In You (Dave Black) 4:10
4. Last Request (Dave Black) 4:50
5. In The War (Dave Black) 7:32
6. Take It Away (Dave Black) 4:11
7. End Of The Affair (John Cook) 4:51
8. August Carol  (Dave Black)   7:18
SESTAVA:
Tom Knowles – lead vocals
Dave Black – guitar, vocals
John Cook – keyboards, mellotron
Fenwick Moir – bass
Dave Whittaker – drums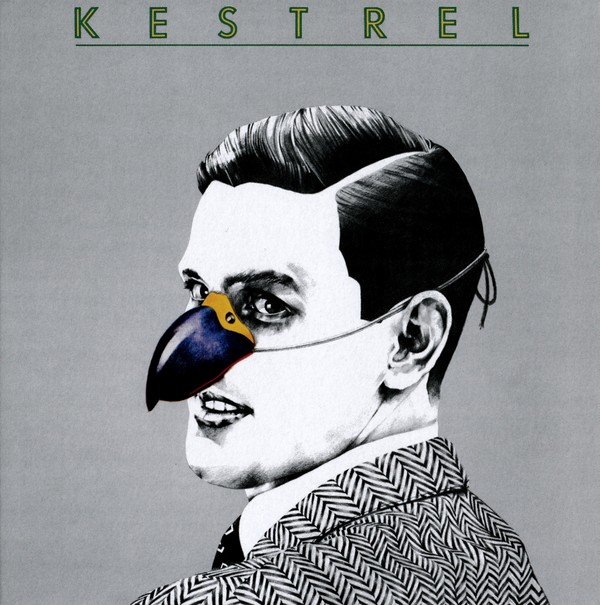 Kestrel
Kestrel
Prog Rock
Cube
1975
LP
8