CD Black Widow Records – BWRCD 051-2  /2010/
Děcka odvezte k prarodičům, manželku schovejte do sklepa, zatlučte okna a zabedněte dveře. Připravte si krucifix, paličku česneku a křídu, kropenou svěcenou vodou. Přichází Jacula!
Skupina Jacula pochází z Milána a v roce 1969 (někdy se uvádí i rok 1968) ji založil kytarista a skladatel Antonio Bartoccetti. Debutovala v roce 1972 albem Tardo pede in magiam versus (The Rogers – TRS 010001), ale podle samotného Bartoccettiho už o tři roky dřív nahrála desku s názvem  In cauda semper stat venenum. V rozhovorech, které se dají porůznu posbírat Antonio uvádí, že ji natočil v malém studiu na okraji Londýna pro obskurní label Gnome Record, kterej ji pak vydal pod katalogovým číslem AR 299 ve striktně limitovaném nákladu 333 kopií. Ty Bartoccetti rozdal zájemcům o esoteriku a různým náboženským sektám, ovšem do dnešních dnů se žádná z nich nedochovala a tak to svoje tvrzení nemůže nijak doložit. Nu, a fanoušci na různých internetových fórech o tomhle "bájném" albu čile spekulují – bylo? Nebylo?
Bartoccetti projekt Jacula ukončil v roce 1973 a už o rok později fungoval jako leader skupiny Antonius Rex. S Jaculou to vypadalo na navždy uzavřenou kapitolu a reedice alba In cauda semper stat venenum, která se na trhu objevila v roce 2001, způsobila malou senzaci. Vydala ji italská nezávislá společnost Black Widow Records a to ve dvou verzích – na vinylu, v limitované edici 299 očíslovaných a podepsaných kopií a na CD. Ovšem termín "reedice" je v tomhle případě hodně nadsazenej, protože už po prvním důkladnějším poslechu musí být každému, aspoň trochu soudnému fanouškovi jasné, že tohle nemá s rokem 1969 nic společného. Ta placka zní naprosto současně a velmi dobře je to poznat především u perkusních nástrojů. Jejich digitální zvuk bije do uší a jsem přesvědčenej o tom, že to jsou jen klávesové efekty. Také Bartoccettiho kytara má zkreslení, kterého by v roce 1969 nedosáhl ani náhodou. Jeho povídání o tom, jak se mu ho podařilo vytvořit pomocí kytary Gibson SG Standart, zesilovače Vox AC-30 (umístěným v kovové bedně) a s mikrofonem, vloženým do perforované krabice je sice zajímavé, ale k pravdivé skutečnosti bude mít nejspíš pořádně daleko. Album In cauda semper stat venenum ve verzi z roku 2001 tak není reedicí, ale spíš remakem. A to jen v případě, že ta jeho původní verze skutečně existovala…
Bartoccetti skupinu zakládal s cílem dělat co možná nejsugestivnější a nejděsivější kravál a podobně zaměřeného kumpána našel v osobě výstředního varhaníka Charlese Tiringa. Třetím do party se stala Bartoccettiho partnerka Doris Norton a jako čtvrtého člena Antonio uvádí Franze Parthenzyho, který posloužil jako "médium". Jméno Jacula si kapela zvolila podle postavy upírky ze stejnojmenné, komiksové série a logo s obalem alba jim udělal jeden z jeho tvůrců, ilustrátor Travers. Jak znělo původní album z roku 1969 se můžu tak akorát dohadovat a tak pár slov aspoň k jeho "reedici".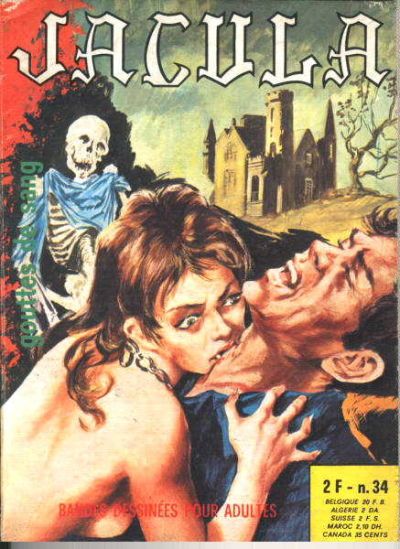 Album In cauda semper stat venenum je temné, jak mraky před bouřkou a jeho rajcovně strašidelnou atmosféru vytvářejí především chrámové varhany, se vstupy Bartoccettiho brutálně zkreslené kytary. Basa je hodně upozaděná a o jednoduchý, rytmický doprovod se dělí různá cingrlátka, tympány, nebo basový buben. Zpěv jako takovej se na albu nevyskytuje, Bartoccetti si vystačí jen s chmurnými monology v italštině, nebo latině. Někdy si vystačí jen se dvěma, dokolečka se opakujícími slovy (Triumphatus sad), jindy je to jeho povídání delší (Magister dixit, In cauda semper) a působí docela magicky.
Materiál je to velmi vyrovnanej, ale jednoho velkého oblíbence tady mám a tím je až metalově nařachlá Triumphatus sad. Zvuk kytary je naprosto zabijáckej a skladba, jako taková, si v ničem nezadá s úvodním trackem debutového alba legendárních Black Sabbath. Nevím, co by na to řekli lidé v roce 1969, ale pokud z prvních koncertů Black Sabbath utíkali se strachem v očích, tak z Triumphatus sad by si sedli na zadek a oněměli hrůzou. Při správně zvolené hlasitosti se pode mnou rozhoupe podlaha a u hromobití tympánů si vždycky představím umolousaného, přitroublého čerta z Troškovy pohádky, jak mlátí vybělenou stehenní kostí do kotle s vroucím vývarem. Pochopitelně hovězím.
Výbornej je i instrumentální trauermarš Ritus a takovou specialitkou pak necelých sedm minut dlouhá Initiatio. Ta se obejde jak bez funerálního soundu kostelních varhan, tak bez Bartoccettiho mumlání. Hlavními nástroji jsou piano a syntezátory, které doprovází burácení kotlů a hlas Doris Norton. Ovšem je to takovej ten zpěv beze slov, kterej supluje jen další hudební nástroj. Zajímavé jsou i obě kompozice přesahující desetiminutovou hranici. Jak Magister dixit, tak In cauda semper vynikají opravdu ponurou atmosférou, kterou umocňuje Bartoccettiho sugestivní přednes. Texty většinou neřeším, ale tyhle jsem si našel a co jsem tak pochytil, jsou o kouzlech a magii, ovšem chytrej z nich nejsem. Na druhou stranu neobsahují nic, z čeho bych měl mít těžký spaní.
Origoš cédéčka Jacula se prodávají docela draho, sedm stovek se mi za něj dávat nechtělo a tak jsem si musel pár let počkat. Nakonec jsem ho sehnal za slušnou cenu v aukci a jsem moc rád, že ho mám. Je to vydání (repress 2010) v klasické plastové krabičce, s transparentním držákem CD a katalogovým číslem BWRCD 051-2, ovšem ve verzi, jakou jsem jinde neviděl. Černobílý booklet je standardní dvoustránkou, ale navíc je tu ještě papírovej arch s povídáním v japonštině a OBI s logem labelu Belle Antique (MAR 01681). Docela záhada, ale to je v případě Jacula normál…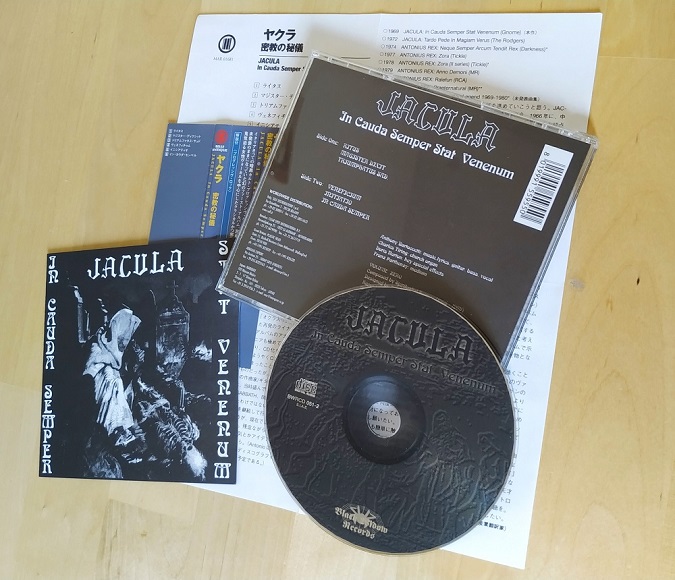 SKLADBY:
1. Ritus   4:06
2. Magister dixit   10:31
3. Triumphatus sad   3:35
4. Veneficium   2:22
5. Initiatio   6:48
6. In cauda semper   10:06
SESTAVA:
Anthony Bartoccetti – music, lyrics, guitar, bass, vocal
Charles Tiring – church organ
Doris Norton – key special effects
Franz Parthenzy – medium
NOTES:
Volume Zero
Composed by Spiritualists Seance (1966-1969)
Designed by Travers
Recorded at Gnome Studio (UK) (1969)
Mixed by Colin Coldweis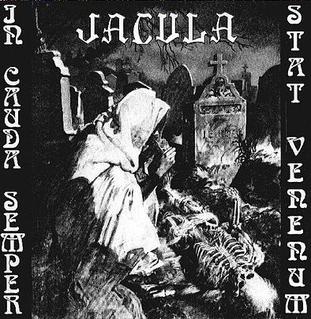 In Cauda Semper Stat Venenum
Jacula
Prog Rock
Black Widow Records
2001
CD, LP
6
CD Black Widow Records – BWRCD 051-2 /2010/