Otec mi, ako chlapcovi rozprával veľa o kapele Led Zeppelin – alebo začnem inak… Keď otec (na základe úspešného testu s albumami In rock a Look at yourself) zistil, že "jeho hudba" oslovuje aj mňa, začal vyťahovať rôzne staré kazety, kde mal nahrané to, čo v mladosti počúval. Teda rôzne old schoolové hard/blues rockové kapely. Rad prišiel aj na Led Zeppelin – tých mi spomenul medzi prvými (bodaj by nie, sú jeho srdcovkou). Mal nahrané prvé štyri legendárne albumy. No tu hneď musím povedať, že na Zeppelínov som si zvykal dlhšie, ako na Párplov alebo Uriášov. Zeppelínovské tvrdé a rýchle rockové pecky si ma získali ihneď, ale pomalšie bluesové skladby boli pre mňa ťažký oriešok. Mal som okolo osem rokov…
Debut Led Zeppelin určite posunul hudobný vývoj. Veď táto kapela ovplyvnila kvantum hudobníkov a jej prínos pre hudbu je tak obrovský. Napr. takí Sabbati (a to bola skupina, ktorá vznikala takmer v ten istý čas/!/, nehovoriac o množstve iných, ktorí sa LZ inšpirovali potom) len s utajeným dychom počúvali tento album, keď vyšiel a ich bubeník Bill Ward tvrdí, že pozorne počúval Bonzovu hru a preberal od neho jazzové prvky.
Úvodná Good times, bad times je vynikajúca štartovacia pieseň. Energická, pozitívna, skupina je perfektne zohratá, Jimmy tu má skvelé sólo. Na nasledujúcu pieseň Babe, I'm  gonna leave you som si ako chlapec ťažšie zvykal, neskôr sa mi však náramne zapáčila. Plant je tu fantastický. You shook me je excelentné spojenie rocku a blues. Klasika Willieho Dixona im vyšla perfektne. Dazed and confused je kus, ktorý ma totálne odrovnal. Famózna skladba! Nasledujúca, Your time is gonna come, nás po predchádzajúcej hudobnej smršti ukľudní.
Black mountain side je zaujímavá inštrumentálka. Žeby predzvesť kúskov na Trojke? Communication breakdown – považujem za jednu z naj piesní vôbec. Plant je v nej nenapodobniteľný, nedostihnuteľný. Page vytasí fantastický/!/ (a pre oblasť hard & heavy tak inšpiratívny) riff a vystrúha skvelé sólo. Krátka, ale mimoriadne silná, inšpiratívna pieseň. Učebnica riffovania. Nasleduje I can't quit you babe. Ďalšia Dixonovka, ďalší výborný bluesrock. Album uzatvára How many more times – skvelé ukončenie tohto diela. Svižná hardrocková záležitosť s excelentným Plantom za mikrofónom.
Poznám veľa vydarených debutov, ale takto namakaný nie je ani jeden. Pre mňa debut všetkých debutov. A vôbec… unikát!
Tracklist:
1. Good Times Bad Times (Page/Jones/Bonham) 2.46
2. Babe I'm Gonna Leave You (Page/Plant/Bredon) 6.41
3. You Shook Me (Willie Dixon) 6.28
4. Dazed and Confused (Jimmy Page) 6.26
5. Your Time Is Gonna Come (Page/Jones) 4.14
6. Black Mountain Side (Jimmy Page) 2.05
7. Communication Breakdown (Page/Jones/Bonham) 2.27
8. I Can't Quit You Baby (Willie Dixon) 4.42
9. How Many More Times (Page/Jones/Bonham) 8.28
Originally released as Atlantic 8216 on January 12, 1969
Recorded and mixed in October 1968 at Olympic Studios, London
Engineered by Glyn Johns
Produced by Jimmy Page
Executive producer: Peter Grant
Obsadenie:
Jimmy Page – electric guitar, acoustic guitar, pedal steel guitar, backing vocal
Robert Plant – vocal, harmonica
John Paul Jones – bass, organ, backing vocal
John Bonham – drums, tympani, backing vocal
&
Viram Jasani – tabla drums on Black Mountain Side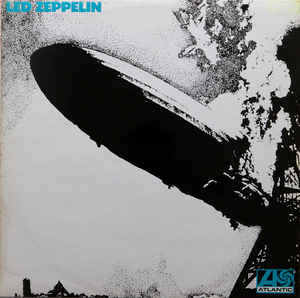 Led Zeppelin
Led Zeppelin
blues/hard rock
Atlantic
1969
8
Discogs