Beggars Opera je progresívna rocková skupina zo Škótska. Názov je odvodený z románu spisovateľa Johna Graya z r. 1728. Kapelu založil v r. 1969 gitarista Rick Gardiner v Glasgowe.
Na začiatku v skupine hrali Martin Griffiths (spev), Ricky Gardiner (gitara, spev), Alan Park (klávesy) a Marshal Erskine (bicie). Kapela prešla mnohými personálnymi zmenami, nahrala dosť albumov, ale zostávala v tieni známejších progresívnych rockových skupín.
Po podpise zmluvy s Vertigo Records nahrali debutový album Act One (1970). Obsahuje svižný organový progrock s dôrazným zvukom gitár. Dlhšia skladba Raymond's Road je poctou klasike, obsahuje Hammond spracovanie Mozartovho Tureckého pochodu, Bachovej Tokáty a fúgy d moll a Griegovej suity Peer Gynt.
Druhý album Waters of Change (1971) je postavený na vokáloch Gardinera a zdvojených klávesách Alana Parka a novej členky Virginie Scott (tiež vokály). V zostave skupiny Erskinea vystredal Gordon Sellar (basa, akustická gitara a spev). Deväť skladieb tvorí prekrásnu symfonickú paletu s mnohými sólami organu, mellotronu a peknej práce elektrických gitár.
Zdá sa, že na treťom albume Pathfinder (1972) Beggars Opera dosiahli vrchol tvorby: silné kompozície so striedaním klávesových nástrojov (mellotron, organ, klavír a čembalo), mocné gitarové vyhrávky a mnoho rôznych štýlov farieb (napr. škótsky folklór s gajdami).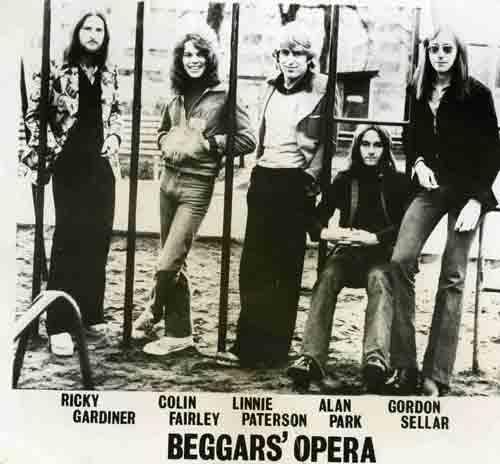 V skupine došlo k viacerým personálnym zmenám. Po nahratí posledného albumu Get Your Dog Off Me! (1973) sa redukovali na trio Gardiner, Park a Sellar.
V rokoch 1974–1975 nová verzia skupiny nahrala pre Jupiter Records  dva albumy:  Sagittary (v zložení Ricky Gardiner – sólo a basgitara, Pete Scott –spev, Virginia Scott – mellotron a Mike Travis – bicie) a Beggars Can't Be Choosers (Clem Cattini vystriedal  Travisa za bicími, ostatné zloženie rovnaké). Tieto nahrávky však nedosiahli úroveň predošlých albumov.
V roku 1977 vyšli dve zaujímavé LP platne. David Bowie a Iggy Pop si vzájomne vypomohli na svojich albumoch a k spolupráci prizvali aj Ricky Gardinera. Ide o Bowieho album Low a album Lust for Life Iggy Popa. Na tomto albume je hit The Passenger. Autorom hudby je Gardiner a tiež s Popom koncertoval na Idiot tour v r. 1977.
V r. 1980 bola skupina Beggars Opera nakrátko reformovaná Gordonom Sellarom a nahrali album Lifeline (Vertigo Germany).
V r. 1996 trio Linnie Patterson (spev), Gordon Sellar (basová gitara, spev) a Alan Park (klávesy) vydali album The Final Curtain.
V rokoch 2007–2012 prakticky stabilné trio  Ricky Gardiner (sólo gitara basgitara), Virginia Scott (klavír, mellotron, spev) a Tom Gardiner (bicie) vydali sedem albumov, čo nepochybne potešilo verných fanúšikov.
Oficiálna web stránka Beggars Opera.
DISKOGRAFIA:
1970 – Act One: Beggars Opera
1971 – Waters of Change
1972 – Pathfinder
1973 – Get Your Dog Off Me!
1974 – Sagittary
1979 – Beggars Can't Be Choosers
1980 – Lifeline
1996 – The Final Curtain
2007 – Close to My Heart
2009 – Touching the Edge
2010 – Suddenly Ahead Ahead
2010 – All Tomorrows Thinking
2010 – Lose a Life
2011 – Promise In Motion
2012 – Mrs. Caligari's Lighter
2012 – Nimbus – The Vertigo Years Anthology (2CD)

ZLOŽENIE SKUPINY:
1970 (album Act One)
– Martin Griffiths / vocals
– Alan Park / organ
– Raymond Wilson / drums
– Ricky Gardiner / lead guitar
– Marshal Erksine / bass guitar
1971 (album Waters Of Change)
– Ricky Gardiner / lead guitar, vocals, acoustic guitar
– Martin Griffiths / lead vocal, Cow Bell
– Alan Park / organ, piano
– Gordon Sellar / bass and acoustic guitar, vocals
– Virginia Scott / Mellotron, vocals
– Raymond Wilson / percussion
1972 (album Pathfinder)
– Martin Griffiths / lead vocals
– Alan Park / keyboards
– Ricky Gardiner / lead guitar and vocals
– Gordon Sellar / acoustic guitar & bass guitar and vocal
– Ray Wilson / drums
1973 (album Get Your Dog Off Me!)
– Ricky Gardiner / electric & acoustic guitar, vocals
– Gordon Sellar / bass guitar, vocals
– Colin Fairley / drums, percussion, vocals
– Alan Park / organ, electric piano, piano, Harpsicord, Mellotron, Moog
– Linnie Paterson / lead vocals
– Ray Wilson / drums (1, 2, 4, 7, 8, 10)
1974 (album Sagittary)
– Ricky Gardner / guitar, backing vocals
– Virginia Scott / keyboards
– Pete Scott / vocals
– Mike Travis / drums
1975 (album Beggars Can't Be Choosers)
– Ricky Gardner / guitar, bass guitar
– Virginia Scott / keyboards
– Pete Scott / vocals
– Clem Cattini / drums
1980 (album Lifeline)
– Gordon Sellar / guitar
– Linnie Paterson / vocals
– Alan Park / keyborads
– Colin Pattenden / bass guitar
– John Hollywood / drums
1996 (album The Final Curtain)
– Linnie Patterson / vocals
– Gordon Sellar / bass guitar, vocals
– Alan Park / keys
Od roku 2007 na všetkych albumoch stabilné trio:
– Ricky Gardiner / guitar, bass guitar
– Virginia Scott / piano, mellotron, vocals
– Tom Gardiner / drums