CD  BMG Japan, BVCM-37426 /2003/
Jediné album italských Cervello je výzvou, vhodnou pro fanoušky poněkud komplikovanějšího progrocku ve stylu Van der Graaf Generator, nebo King Crimson. Ty první připomíná ryk překrývajících se saxofonů, ty druhé jistá kostrbatost, nelibozvučnost, tíživej neklid a hrátky s dynamikou.

Uchopení (nikoliv pochopení) alba vyžaduje řadu poslechů a velkou dávku trpělivosti a ani tak to nebude sousto pro každodenní poslech. Pokud se zaměřím na italskou scénu, mohl bych ho přirovnat k podobně orientovaným a těžko, přetěžko vstřebatelným nahrávkám Palepoli (Osanna), nebo Ys (Il Balletto di Bronzo)…
Cervello (Mozek) byla jednou z mnoha kapel pocházejících z Neapole a v roce 1970 ji založil tehdy teprve sedmnáctiletej kytarista Corrado Rustici, mladší bratr Danila Rusticiho z Osanny. Debutovala v roce 1973 koncepčním albem Melos, které se však nesetkalo s větším prodejním úspěchem a tak se o necelej rok později rozpadla.

Řeckou mytologií inspirované album Melos vydala společnost Ricordi (SMRL 6119) a zdobí ho poměrně originální obal. Plechovka drcenejch rajčat na jeho přední straně se dá odklopit a v jejím výřezu se nachází černobílá fotografie členů skupiny omotanejch nějakou fólií. Na zadní straně obálky není nic jiného, než zelený hrášek a červeným písmem vytištěnej tracklist. A originální je nejenom futrál, ale i zvuk. Kapela totiž neměla klávesistu a výslednej sound je kombinací kytary, fléten (na kterou hráli čtyři z pěti členů kapely), saxofonů a vibrafonu. Zvláštní, klávesy připomínající efekty jsou pak dílem páru nějakých echo generátorů, ovládaných basovým pedálem.
Na šestatřicet minut dlouhém albu je sedm skladeb a jako první je tu poměrně nelibozvučná "Kozí píseň", Canto del capro. Kostrbatější začátek si už kluci vybrat nemohli a tak mi nezbejvá nic jiného, než stáhnout hlavu mezi ramena a počkat, až se to přežene. Skladba má nekřesťansky dlouhejch sedm minut a následující Trittico (Triptych) je ještě o chloupek delší, ale bacha, první tři minutky jsou bezva. Tady se konečně cítím, jako doma. Pastorální nálada, akustická kytara, andělské flétny a…
…v čase 3:03 dostanu pecku, jak od elektrického ohradníku. 21st Century Schizoid Man připomínající nátěr střídají disharmonické a ještě disharmoničtější vsuvky a i když to celé netrvá víc, jak mizernejch devadesát vteřin, přijde mi to jako věčnost. A tak se upínám aspoň k vysokému a znělému hlasu Gianluigiho Di Franca, kterej mi připomíná zpěv z debutového alba kapely Procession.
Následující a relativně melodická Euterpe (v řecké mytologii Euterpé, múza hudby, hry na flétnu a chórů v tragédiích, jinak dcera nejvyššího boha Dia a bohyně paměti Mnémosyné) by se dala považovat za malé zastavení, nebo přestávku, vhodnou k oddychu. Nicméně i z ní je cítit jistej, neurózu vyvolávající neklid a v podobném duchu se nese aj první polovina skladby Scinsione (T.R.M.). Já mám tedy mnohem raději tu druhou a to i přes to, že z ní lítaj jiskry. Do efektu, připomínajícího smyčce vstupuje zkreslenej brum prskající, jak Teslův transformátor a ukončenej teprve kvílivým sólem elektrické kytary. Působivé…
Titulek Melos je odvozeninou řeckého slova "Melòs", což znamená něco jako zpěvnost, nebo hudebnost a vskutku, v kontextu s obsahem alba jde o nejpřístupnější a nejmelodičtější písničku na desce. A to i přes to, že ani tady si kapela nedokázala odpustit spršku disharmonických sól na kytaru a saxofon. První čtyři minuty předposlední Galassia (Galaxie) se odvíjejí v poklidném duchu a překážkou je tak až podivně kostrbatá a ne-me-lo-dic-ká vokální linka. Ovšem nebyli by to Cervello, aby v závěrečné třetině skladby nepředvedli pořádnou větrnou smršť. Úplnou tečku za albem pak dělá minutku dlouhá, melodická drobnůstka Affresco (Freska). Pěkná, ale krátká.
Nejen u fanoušků, ale i u řady odborníků vysoko hodnocené album (aktuálně 21. místo v RPI žebříčku na Progarchives, 12. pozice v Top 20 na Italianprog) jsem si koupil teprve před několika týdny a věnoval se mu opravdu poctivě. Dokážu ocenit jak neotřelé hudební postupy, tak komplikovanou stavbu písní, jenomže co je to platné. Beztak mám nejraději melodie a tady jsem tvrdě narazil. Pro porovnání jsem se po delší době pustil do alba Lizard a jenom se ujistil v tom, o jak melodickou a posluchačsky přístupnou kolekci se jedná. 
Inu, hudební obsah mě sice nenadchl, ale samotnej nosič je moc pěknej. Tady se Japonci klasicky předvedli. Papírová mini vinyl replika je udělaná přesně podle originálu, tedy i s tou v úvodu recenze zmíněnou odklápěcí konzervou. Uvnitř je ještě papírovej přebal s texty, do kterého je zasunutej kotouček chráněnej další, tentokrát plastovou fólií. Nechybí ani skládací booklet v japonštině a OBI. Cédéčko vyšlo jako součást edice "Strange Days Presents: BMG Italian Rock Paper Sleeve Collection" a jeho zvuk se mi zdá krapet přehulenej, ale dobrej.
Lato A
1. Canto del capro – 6:40
2. Trittico – 7:27
3. Euterpe – 4:36
Lato B
4. Scinsione (T.R.M.) – 5:50
5. Melos – 5:03
6. Galassia – 5:55
7. Affresco – 1:12
SESTAVA:
Gianluigi Di Franco: voce, flauto, piccole percussioni
Remigio Esposito: batteria, vibrafono
Corrado Rustici: chitarra solista, flauto dolce, flauto traverso, vibrafono, voce
Giulio D'Ambrosio: sassofoni elettrici (contralto e tenore), flauto, voce
Antonio Spagnolo: basso, chitarra acustica a dodici e sei corde, flauto dolce, pedaliera, voce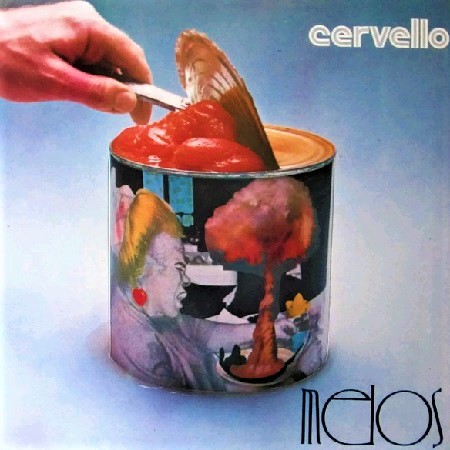 Melos
Cervello
Prog Rock
Ricordi
1973
LP
7
CD - BMG Japan, BVCM-37426 /2003/