Tomu, kdo se alespoň částečně seznámil s tvorbou kytarového mága Carlose Santany, nemohlo jméno druhého maníka u vesla, Neala Schona, uniknout. Člověk, který se od svého učitele rychle lecčemu přiučil, měl zakrátko daleko vyšší ambice a po pár letech strávených po Santanově boku, si založil kapelu vlastní. Pojmenoval ji Journey a ve stylu tehdy módního jazz rocku (druhá polovina sedmdesátých let), vytvořil společně se svým starým parťákem z latino dob, klávesistou Greggem Roliem, tři skvostná progresivní alba.
Koncem sedmdesátých let se však doba a hudební vkus především v Americe rychle měnil. Schon tohle všechno vnímal z první řady a nehodlal překotnému stárnutí soundu jeho kapely bezděčně přihlížet. Nově se rodící styly disco a pop music mu učarovali natolik, že svou stylově potápějící bárku nasměřoval právě k břehům rodícího se soft rocku. Pro své potřeby angažoval úplně jiný typ zpěváka, než jakým doposud byl právě Rolie. Tím správným mužem se nakonec stal Kaliforňan Portugalských rodičů, Steve Perry. Jeho zpěvný a v baladách zjevně sametově sladký hlas, si hned od počátku podmanil milióny zaoceánských fanoušků a debutní fošny Infinity se jen v USA prodalo přes tři milióny.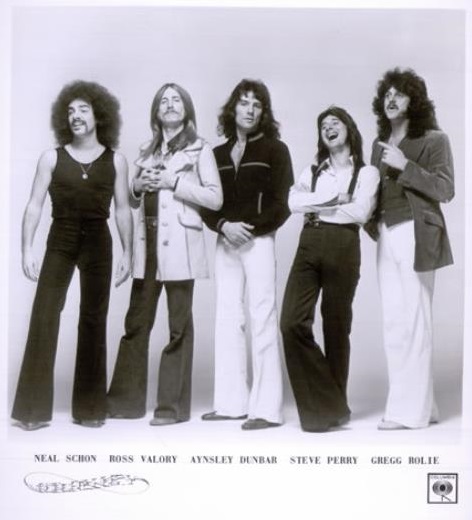 Což o to, deska je to úchvatná, o tom žádná, ale jaké asi muselo být v tehdejší době zděšení letitých Journey fans, když si desku doma poprvé přehráli. Řada z nich celý ansámbl hned poslala do kopru pro jeho zjevnou podbízivost a příklon k masám. Tehdejší modní záležitosti mohli jen těžko korespondovat s onou původní myšlenkou. Ale celé toto zklamání vyvážili obrovské zástupy nováčků, kteří Journey rázem označili jako svou další modlu. Z Nealovi party se přes noc staly hvězdy první velikosti a následující desetiletku neměli sebemenší problém vyprodávat i ty největší stadióny.
Deska Infinity patří k dílům, které jsou hity doslova přecpány. A co na tom záleží, že víc jak polovina z nich patří mezi balady. Hned úvodní Lights je velkou výpovědí romantika Perryho. Ani druhá Feeling The Way nepatří mezi rychlovky, ale rozdělené pěveckých party mezi Rolliem a Perrym, jí dávají jistý punc jedinečnosti. Oplodňovací Anytime už je typickým americkým šlágrem, který naštěstí vystřídá šmrncovní rychlovka Lă Do Dā. První stranu odkrojí asi nejlepší věc celé desky, náramně procítěná Patiently. B stranu otevře ladně cválající obrovský hit Wheel In The Sky, ve kterém Perry šponuje hlasivky do mrazivě opojných výšin. Balada číslo pět a standardní Somethin' To Hide, avšak daleko působivější je hlasově explodující Perry v osmé Winds Of March. Trochu do počtu se pak jeví předposlední Can Do a romantický závěr přinese tklivá, znovu příliš nespěchající jemnůstka Opened The Door.
Je obrovská škoda, že se vysoký standard této desky nepodařilo kapele zopakovat v letech následujících. I když prodejní čísla Journey-ovského katalogu přelomu sedmdesátých a osmdesátých let hovoří jinou řečí, z pohledu kvality, je Perryho debutní deska pro Journey jasně nedostižná. Oproti následujícím průměrům Evolution a Departure, se tak stává nanejvýš doporučitelnou.
SKLADBY:
01. Lights (3:10)
02. Feeling That Way (3:27)
03. Anytime (3:28)
04. Lă Do Dā (2:58)
05. Patiently (3:20)
06. Wheel In The Sky (4:12)
07. Somethin' To Hide (3:26)
08. Winds Of March (5:04)
09. Can Do (2:39)
10. Opened The Door (4:34)
SESTAVA:
Steve Perry – lead vocals (excl. 3)
Neal Schon – electric & acoustic guitars, backing vocals
Gregg Rolie – keyboards, lead (2,3) & backing vocals
Ross Valory – bass, backing vocals
Aynsley Dunbar – drums, percussion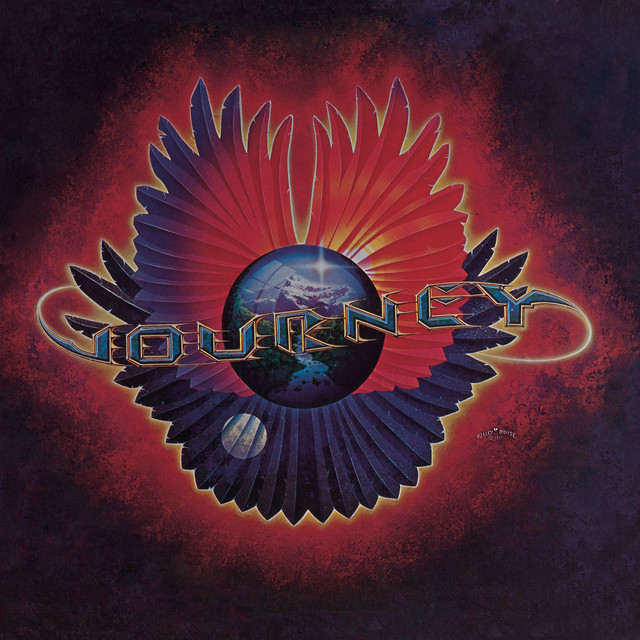 Infinity
Journey
AOR
Columbia Records
1978
LP
10