CD Black Widow Records – BWRCD 074-2  /2003/
Albem Praeternatural se uzavřela první etapa vývoje Antonius Rex. Podle zakladatele a leadera skupiny Antonia Bartoccettiho vyšlo v roce 1980 u privátního labelu Musik Research, ale jde o informaci, která se nedá nijak ověřit. Ostatně, jak už bývá u kapely zvykem…
Skupinu Antonius Rex založil filozof, skladatel a kytarista Antonio Bartoccetti v roce 1974 a během následujících let s ní natočil dvě oficiálně vydaná alba. V roce 1977 se na trhu objevilo eLPíčko Zora a o dva roky později ještě Ralefun. Ovšem sám Bartoccetti potvrzuje existenci dalších tří alb, vydaných ve striktně limitovaných nákladech a určených pro okruh nejvěrnějších fanoušků. Tím prvním mělo být Neque semper arcum tendit rex (údajně 1974), druhým Anno Demoni (údajně 1979) a třetím právě Praeternatural.

Antonius Rex, to je především manželský pár Antonio Bartoccetti a Doris Norton, ale na každé z oněch předcházejících desek jim pomáhal ještě někdo další. Za zmínku stojí třeba excentrický perkusionista a producent Albert Goodman, nebo Franco Mussita a Angelo Serighelli z kapely I Raminghi. Praeternatural je vůbec prvním albem Antonius Rex, které Bartoccetti s Norton upekli komplet sami a ve vlastní režii. Antonio natočil kytary s basou, Doris je podepsaná pod klávesami a rytmikou. Ta je pochopitelně naprogramovaná, ale kromě automatického bubeníka jsou slyšet ještě různé, perkuse připomínající efekty.
Podle discogs existují tři edice. Dvě vinylové a jedna na CD, všechny z roku 2003 a od nezávislého vydavatelství Black Widow Records. Já jsem si do sbírky koupil cédéčko s katalogovým číslem BWRCD 074-2 a na zadní straně obalu se píše:
Recorded at Zanibelli Regson Studio (Milan 1980)
Original LP master: 1980 Musik Research
(P) & (C) 1980 Musik Research
28 bit editing at Musik Research studios -2003-
No a včíl mudruj, protože po zvukové stránce mi to do roku 1980 moc nezapadá. První automatický bubeník byl sice vynalezen už v roce 1932, ale masivněji se začal využívat teprve během osmdesátých let a nechce se mi věřit tomu, že by byli zrovna Antonius Rex v tomle směru tak napřed. Na druhou stranu, Doris Norton byla opravdovou průkopnicí elektronické hudby a velmi schopnou zvukovou inženýrkou. V osmdesátých letech ji sponzorovaly společnosti Apple Computer, nebo Roland Corporation a v roce 1986 se stala oficiální konzultantkou firmy IBM Computer Music. Pod svým jménem jenom v letech 1981 – 86 natočila sedm sólových alb a i když to není úplně můj šálek čaje, mají (aspoň některá) něco do sebe. Pár skladeb jsem si z nich poslechl a zvukově se albu Praeternatural docela podobají, tak že by? Sám Bartoccetti je na album pyšnej a tvrdí, že ho v tom roce 1980 opravdu nahráli a dalo jim spoustu práce. Úplně vyloučit se to asi nedá a možná z té doby opravdu existují nějaké záznamy, ale vsadil bych na to, že před jejich zveřejněním v roce 2003 prošly výrazným faceliftem.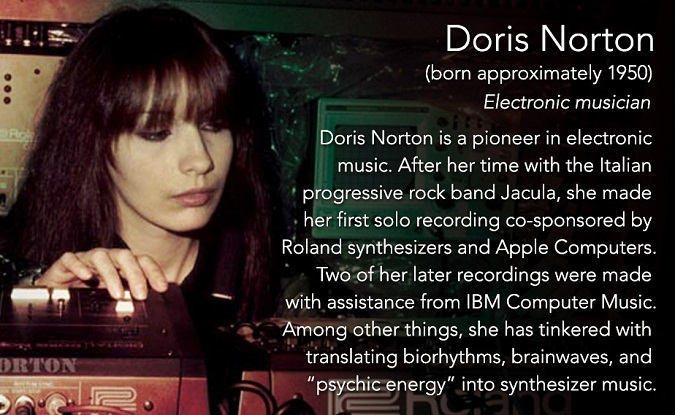 Hudba zaznamenaná v drážkách Praeternatural je prakticky instrumentální, psychedelická a místy až hororově temná. Čas od času se odněkud z hlubin vynoří sugestivní přednes Antonia Bartoccettiho a celé to stylově navazuje na materiál obsažený v nahrávkách Neque semper arcum tendit rex a Anno Demoni. Jediným, výrazně odlišným prvkem je využití automatického bubeníka. Rytmika na starších albech byla opravdu jednoduchá a občasné vstupy strojově přesného bicího automatu jsou určitým oživením a vítanou změnou.
Úvodní Halloween je stylově tepanou vstupní branou do intenzivní noční můry. Antonius Rex se snaží vytvářet ponurou, strašidelnou atmosféru a daří se jim to pomocí repetitivních figur a hlubokých tónů syntetických smyčců. Jistou dramatičnost navíc podtrhují tympány a dunivé údery basového bubnu. Ve své první polovině se skladba loudá a plazí, jako Meresjev, ovšem potom nabere tempo a konečně se přidá i Bartoccettiho brutálně zkreslená kytara, s pořádně štiplavým sólem navrch. Její zvuk je opravdu zabijáckej a tak si znovu pokládám otázku, je tohle opravdu nahrávka z roku 1980?
Sotva dvě minutky dlouhá Falsum et violentia, s krátkým monologem Antonia Bartoccettiho, je vydařenou adaptací ústřední melodie slavného hororu Johna Carpentera "Halloween" (1978) a po ní už je tady první opravdový vrchol alba, titulní skladba Praeternatural. Zprvu děs, hrůza a ultrametály, ovšem s překvapivým vyvrcholením v podobě prvotřídního klávesového sóla Doris Norton v závěrečné třetině skladby. Jak se říká u nás na západě, tohle žeru…
Po dalším krátkém, děsivém intermezzu Montsegur Legend je tady albový vrchol číslo dvě, téměř jedenáct minut dlouhá Capturing Universe. Nebýt té brutálně zkreslené kytary, tak je to gothic rock jak vyšitej, se strojově přesným rytmem naprogramovaných bicích. Efekt mnišského sboru, spolu s přizvukujícími klávesami a krouhající kytarou jsou bezva a skladba je to chytlavá tak, že bych si uměl dost dobře představit i její taneční remix.
Závěrečná  Invisible Forse je – díky všelijakejm ruchům, pazvukům a klávesovým efektům – především psychedelická. Údery tympánů a basového bubnu působí dost znepokojivě a citlivější jedinci by se mohli aj trošičku bát. Kytaru tady neslyším žádnou, nejspíš je to celé udělané na keyboardech a předpokládám, že si s těmi mašinkami vyhrála hlavně Doris Norton. Není to špatné, ale chybí mi tady nějakej výraznější nápad, nebo zřetelnější hudební linka. Takhle ta kompozice, i díky přepálené stopáži, působí samoúčelně a míří do ztracena…
Bonus track Vox Populi bych snad raději ani nezmiňoval, protože jde o naprostou zbytečnost. Celých devět minut není slyšet nic jiného, než skučení větru, do kterého mužský hlas v angličtině předčítá biografii Antonius Rex. Cédéčko mám ve sbírce několik let, ale Vox Po(pa)puli vypínám ještě předtím, než dojede.

CD od Black Widow je v klasickém jewel boxu a dvanáctistránkový booklet obsahuje kredity, jednu barevnou fotografii Antonius Rex a celou řadu dalších, žánrových obrázků (staré hrady, ložnice, sochy, okna a tak). Je to výborná, trochu strašidelná muzika s výtečným zvukem a to já rád. Za čtyři.
SKLADBY:
1. Halloween (the land of magic) – 10:08
2. Falsum et violentia (2418) – 2:07
3. Praternatural (downnormalpraeter) – 8:48
4. Montsegur Legend (esoteric trance) – 2:18
5. Capturing Universe (vlad tepes sabbah) – 10:47
6. Invisible Forse (in the dark – ite missa est) – 11:42
Bonus track on 2003 CD release:
7. Vox Populi (divinitatis vox) – 8:48
SESTAVA:
Antonio Bartoccetti – music, lyrics, vocal, guitars, bass
Doris Norton – music, keyboards, synth, drums
Instruments:
Antonio Bartoccetti – Gibson SG Standart, Gibson Les Paul Custom, B.C.Rich Series, Ovation, Roland guitar synth, Vox AC30
Doris Norton – Piano Wurlitzer, Moog Minimoog, ARP Odissey, Roland System 700, Fairlight CMI, Pinchi Church Organ
Praeternatural
Antonius Rex
Prog Rock
Music Research
1980
LP
6
CD Black Widow Records – BWRCD 074-2  /2003/