CD "32th Anniversary Edition", Black Widow Records
BWRCD 118-2  /2009/
Lidé jsou různí a tenhle Antonio Bartoccetti je opravdu "svůj". Většina by ho měla za extravagantního blázna, ale já bych byl trochu smířlivější. Řekněme, že je poněkud výstřední… 
Narodil se 18. prosince 1946 a už od mládí ho zajímala filozofie, ezoterika a s ní související mystéria a záhady. V roce 1968 založil hudební projekt Jacula, se kterým o rok později natočil experimentální album In cauda semper stat venenum. Rozhodně to není hudba pro každého, což uznal aj sám Bartoccetti a tak nechal vyrobit jen pár stovek kusů, které rozdával zájemcům o ezoteriku a různým církevním spolkům. Tenhle neúspěch ho však nezlomil, znovu se zavřel do studia a v roce 1972 vydal oficiální debut – a labutí píseň v jednom – Tardo pede in magiam versus. Bartoccetti musel na vojnu  a s Jaculou byl amen.

Během základní vojenské služby už Bartoccetti přemýšlel o novém projektu a v roce 1974 sestavil – spolu se svou životní partnerkou Doris Norton – kapelu Antonius Rex. Svoje první album nahráli pro label Vertigo, ale ten ho odmítl s tím, že je příliš temné. LP Zora z roku 1977 je tak vůbec první ofiko vydanou nahrávkou Antonius Rex. Album se natáčelo v domácím studiu, v šíleném kvaltu a jenom kvůli penězům, které mladá rodina nutně potřebovala a na výsledku je to znát. Dnes se o něm Antonio vyjadřuje s pohrdáním a despektem, ale zase taková katastrofa to není…
První náklad, s komiksově laděnou "rajcovní obálkou" vnadné dirigentky řídící zpráchnivělej orchestr, obsahoval jen čtyři skladby. O rok později následoval dolis (již v jednoduchém, černém obalu) s jednou skladbou – Gnome – navíc. Byla zařazena na začátek alba a přesně tak začíná aj moje cédéčko od Black Widow. Je to chytlavá elektro-pop-rocková skladba v takřka diskotékovém rytmu, s trochou nesmělého zpěvu ve špatné angličtině a pěknými vstupy akustických kytar. Líbí se mi a připomíná mi tvorbu podobně zaměřenejch krajanů Goblin. Nástup instrumentálky Necromancer předznamená monolog v italštině a když se vzápětí ozve ten nejprimitivnější rytmus bicích, jaký si dokážete vůbec představit (Goodmanovi sice nechybělo nadšení, ale jinak byl ryzím amatérem), jdu do kolen. Ruku v ruce se zahuhlaným zvukem to zní jak demo kapely z Horní Dolní, ale pozor! Jakmile se připojí jazzový klavír Doris Norton, celé se to pročistí a skladba najednou dostane úplně nový – a vůbec ne špatný – feeling.
Za nejnudnější položku na desce považuji následující Spiritualist Seance. Název skladby přesně vystihuje její obsah a prakticky celou plochu deset minut dlouhé seance vyplňují liturgické varhany. Vyvolávání duše zemřelého v jejím závěru mi nepřijde ani zajímavé a už vůbec ne strašidelné, ale kapánek otravné. Lepšímu prožitku navíc brání i hodně špatnej zvuk. Naštěstí jde o výjimku a hned následující skladba Zora je velmi pěkná. Zpěvu je v ní znovu jen tolik, aby se neřeklo a v uvolněné instrumentální části dojde na ukázkovou spolupráci kytary a kláves. Pěkné jsou aj bicí a tak si říkám, že buď se Goodman naučil tak rychle bubnovat, nebo to za něj nahrál někdo jinej.
Historie skladby Morte al potere je spjata ještě se skupinou Jacula. Pod názvem U.F.D.E.M. vyšla na albu Tardo pede in magiam versus (1972) a to není všechno. Pod jiným názvem – 1999 Mundi Finis – se už o rok dřív objevila na singlu dalšího a ne tolik významného projektu páru Bartoccetti – Norton Invisible Force. Tohle je tedy její třetí podoba a je vskutku děsivá. Sugestivní varhany a především nervydrásající vokál Doris Norton z ní dělají těžko rozlousknutelnej oříšek…
Tady původní vinyl končí, ovšem moje "32th Anniversary Edition" nabízí navíc ještě takřka deset minut dlouhou pecku Monastery. Pochází z roku 1980 a je to sakra znát, protože jak po stránce kompoziční, tak zvukové se zbytku alba úplně vymyká a naznačuje, kudy se bude ubírat další cesta Antonius Rex. Celá klávesová instrumentálka se točí kolem velmi pěkného klavírního motivu, podporovaného "beglajty" pořádně zkreslené kytary. Vpřed ji ženou naprogramované bicí a je to velmi, velmi chytlavé. Dokonce tak, že bych si dokázal dost dobře představit aj její taneční remix.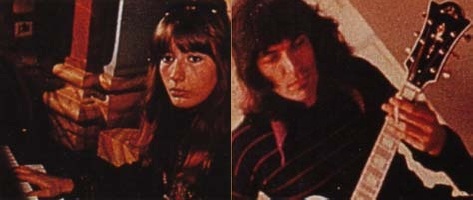 Na obalu vypsané obsazení je poněkud zjednodušené a omezuje se na sestavu Bartoccetti (kytary), Norton (klapky) a Goodman (bicí). Ovšem aj při letmém poslechu je slyšet baskytara, flétna, nebo vokály. Tož jsem trochu zapátral a Augusto Croce na svých stránkách uvádí ještě jména dvou spolupracujících hudebníků navíc. Měli by jimi být Franco Mussita a Angelo "India" Serighelli z kapely Il Raminghi, ovšem proč nejsou nikde uvedeni netuším.
První vydání z roku 1977 (Tickle TLPS 5013) vyšlo v nákladu 3 000 kusů. Sehnat se dá, ale je to drahé. Druhý náklad, s jiným obalem a jednou skladbou navíc už byl vyšší – rovných 5 000 kopií. Na cédéčku se to prvně objevilo v roce 1994 prostřednictvím Mellow Rec. a pak v roce 2009 díky vydavatelství Black Widow. Jejich rozkládací (triple gatefold) digipak je luxusní a byl by ozdobou jakékoliv sbírky. Ta obálka je parádní a naditý booklet obsahuje spoustu raritních (a také stylizovaných) fotografií.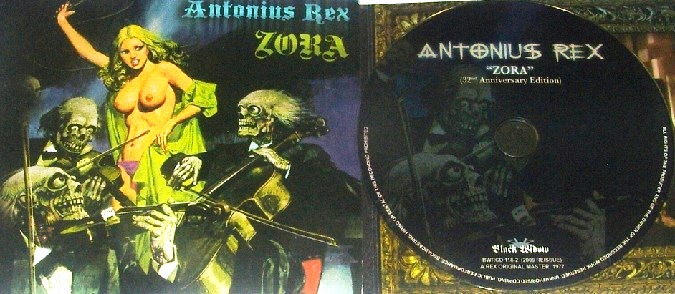 Zora je takovou Popelkou diskografie Antonius Rex a Bartoccetti se k ní nehlásí, ale mě se líbí. Tři hvězdy jsou však akorát, vyšší hodnocení si nechám propříště…
SKLADBY:
1. Necromancer
2. Spiritualist Seance
3. Zora
4. Morte Al Potere

32th Anniversary Edition (2009):
1. The Gnome (6:12)
2. Necromancer (6:28)
3. Spiritualist Seance (10:03)
4. Zora (7:42)
5. Morte Al Potere (6:18)
6. Monastery (9:39)
SESTAVA:
Antonio Bartoccetti: Gibson SG – 956700, vocals
Doris Norton: Mini Moog, Pinchi Organ, Hammond, vocals
Albert Goodman: Gretsch drums
Zora
Antonius Rex
progressive rock
Tickle
1977
LP
4
CD - "32th Anniversary Edition", Black Widow Records BWRCD 118-2 /2009/