Kenneth Keith Downing Jr. je spojený s legendárnou kapelou Judas Priest a hoci som už dávno plánoval recenziu ich posledného ohnivého silového albumu Firepower, nenašiel som čas a silu nosiť drevo do lesa Robovi Halfordovi a spol. Veď o judášoch je plný internet a zdalo sa mi to zbytočné a ospevovať výborný Firepower ešte zbytočnejšie.
Zrazu sa objavil iný kazateľ a ako my hovoríme "padol z čista-jasna". Nuž, slovo dalo slova a už som neváhal. Prinášam na svetlo božie horúci zemiak metalového neba. Pri rozmýšľaní o Downingovej kapele KK's Priest a recenzii jeho novej platne som zvažoval koľko miesta budem venovať Judas Priest. Naživo som videl Judas Priest štyrikrát a márne čakám na ich koncert v Bratislave, na ktorý mám už dlho kúpené lístky (už ani neverím, že z toho niečo bude). Prvý koncert, ktorý som videl, bol aj s Downingom a bol to najlepší koncert zo štyroch, ktorý som od nich videl a zažil. Ich živé koncerty sa mi vždy viac páčili ako LP platne a iba ťažko som sa k nim dostával a počúval ich. Vždy mi stačila dlhotrvajúca spomienka na koncert v Bratislave, alebo Viedni. Práve preto som sa rozhodol, že nebudem Downingovu poslednú platňu hodnotiť v pozadí jeho minulej kapely. Nebudem sa ani zameriavať na to, kto, kedy a prečo spôsobil, že K. K. Downing je na scéne ako pohrobok judášov. Schválne som použil toto meno, lebo názov jeho kapely je jednoznačne orientovaný na Judas Priest. Neriešim, venujme sa hudbe.
Kenneth Keith Downing Jr. sa narodil 27.10.1951 vo West Bromwich (Anglicko). Už ako malý chlapec sa učil hrať na gitaru, bol samouk. S Judas Priest vydal všetky albumy od debutového Rocka Rolla (1974) až po Touch of Evil Live (2009). Je tvorcom dvojgitarového zvuku kapely s Glennom Tiptonom. Svoju hru spoločne stále zdokonaľovali a používali rôzne techniky hrania. Koho zaujímajú podrobnosti je toho plný internet. Po odchode z Judas Priest si Downinga nechcem všímať. Jeho hudobná kariéra je bohatá a zabrala by veľmi veľa stránok a bolo by čo čítať. Pre nás je dôležitý rok 2020. Vtedy oznámil, že dáva dohromady svoju novú skupinu a bude pripravovať album. Stalo sa a dnes ho predstavím.
K. K. Downing založil novú skupinu s gitaristom A. J. Millsom (ex Hostile), basgitaristom Tony Newtonom (ex Voodoo Six) a s bývalými členmi Judas Priest (neslávneho), spevákom Timom "Ripper" Owensom a Lesom Binksom za bicími. Bubeník Binks sa pred nahrávaním albumu zranil a nahradil ho Sean Elg ((ex Deathriders, Cage). Táto zostava nahrala metalový album.
KK's Priest – Sermons Of The Sinner (2021)
1. Incarnation
Úvod najnovšieho diela kapely KK's Priest je rozhlasová hra s atmosférou dramatického počasia s dunivým hromom a hrôzostrašným hlbokým hlasom kazateľa, ktorý prednáša svoj text, ktorý v dĺžke menej ako minúta končí kostolným chorálom mnícha. Hudobne nie je čo hodnotiť, je to prostá jednoduchá úvodná atmosférová vsuvka do metalového albumu. Bude zrejme slúžiť na koncertoch na nástup kapely na pódium a po doznení sa opona zdvihne a…
2. Hellfire Thunderbolt
V končiacej atmosférickej búrke začína rocková gitara. Prvoplánová dvojkopáková zrýchlená odpaľovačka na metalovej línii. Vysoký škriekajúci hlas speváka sa snaží zniesť z oblohy pekelný oheň. Niet pochýb, že sa budeme pohybovať vo vysokej škole metalového rocku. Starček Downing zaryl siedmy krížok do gitary, ale asi to dnes nikomu nebude vadiť. Prvá pieseň albumu má zboriť všetky hudobné steny a robí to dobre. Začal Thunderbolt úderom hromu a tak isto aj končí.
3. Sermons Of The Sinner
Titulná skladba je ešte rýchlejšia ako prvá a je to drvivá smršť metalu. Dominantné bicie sú jasne údernou silou kapely. Jačavý spev Tima "Rippera" Owensa je trošku nad mojou čiarou, ale keď sa to kapele páčilo, budiž. Razantná pieseň je znovu postavená na rýchlom tempe, nechýba rozvláčny úvod so sólom bicích Seana Elga, do ktorých vkročí riffujúca Downingova gitara. Kontruje mu čo sily stačia druhý gitarista A. J. Mills. Pieseň má viac hudobných vrstiev a voľne prechádza hudobnými náladami. Záver je, samozrejme, zase na plný plyn a od metalovej kapely sa v titulnej skladbe nedá čakať nič iné, ako totálny metal s nadmerným pátosom a nostalgiou na dávne časy.
4. Sacerdote Y Diablo
Ešte sme neskončili, vážení, štvrtá, vlastne tretia hudobná vec je zatiaľ najmelodickejšia a dve gitary konečne nahadzujú zvuk, ktorý je dobrý, pekný a ľúbivý. Myslím, že zatiaľ jedna z tých lepších a táto metalka sa mi páči. Nič netreba riešiť, hrajú ako besní, možno mi trošku vadí rovnaký zvuk bicích, menej by bolo viac. Bubeník chcel byť často spomínaným mužom vo zvuku kapely. Súčasný zvuk, nič svetoborné, ale poctivá rachotiaca nahrávka. Fakt sa mi toto páči a ak by to bol singel, som za. Ripper nejačí a to je asi to, čo skladbu robí dobou. Na konci zvoní zvon a muzike je koniec.
5. Raise Your Fists
Downingáci nahodili dvojgitarové riffovačky, melodické a zaujímavé. Ak chcete hopsať, teraz vstyk a poďme na to. Konečne to, čo som čakal, žiadne hranie sa na umenie a mohutný, hrmotný zvuk s romantickou pretvárkou. Jasná skladba s pekným motívom, bubeník už nerobí monotónnu zvukovú kopákovú stenu a dá vyznieť gitarám. "Rippyho" už prestala baviť jačavosť, a tak je znovu pesnička metalovou lahôdkou. Fakticky nemám čo hovoriť a treba iba počúvať a využiť pár minút stopercentne dobrej muziky. Chytám sa krásočiek v gitarových momentoch, vstrebávam bicistu, ktorý ide kooonečne tak ako má, netrhá blany a neláme paličky. Sóličko (asi Downing) a znovu refrén. Paráda.
6. Brothers Of The Road
Znovu metalová kapela, ktorá vie čo a ako hrať. Po rozvláčnom a trošku problematickom úvode, to roztáčajú stále viac a viac. Chcem byť jedným z tých bratov na ceste a rád nasadnem a pôjdem tam, kde ich volá srdce. Určite začiatočný spev v úvodných skladbách bol omyl a keby som mal tú moc, tak by som spev prehral do týchto spevákových polôh. Je to naozaj dobrá pieseň, všetko sedí a všetci hudobníci sú krásne rozložení v priestore. Dá sa čítať a umiestniť každý nástroj. Znovu veľmi dobrá vec.
7. Metal Through And Through
Zvoľnili sme na začiatku, ale oddych netrvá dlho, krátke zrýchlenie a potom napínavý, dramatický spev s gitarou, ktorý ho robí veľmi zaujímavým. Pomalšie, ale veľmi dobré, dvojgitara je naozaj úžasným nástrojom a vždy som rád, ak počujem v tejto sfére majstrov šesťstrunného zázraku. Ako by som to vedel dopredu, chlapi sa pustili do gitarového sóla. Vychutnávam si ho. Dobre, dobré, veľmi dobré. Ripper je akýsi umiernený a citlivý, metalový básnik s cukrovou polevou. Chlapec vie spievať, to sa musí nechať. Dostávame sa do slaďákového tempa, razancia sa nestráca, nakoniec sa ale všetko končí refrénom, živým a dobrým.
8. Wild And Free
Už to nebude asi iné, spev na začiatku bez nástrojov a potom znovu rýchlosť nad rýchlosť. Je to zrejme tak ako má byť. Táto pieseň je znovu typická pre metal, ale ja nejačím radosťou. Snažím sa nájsť nejaký záchytný bod, ale strácam pôdu pod nohami a zrejme to už bude iba strohé konštatovanie. Hrajú perfektne, výborne, všetko je skvelé a dobre podané, ale skladba predtým sa mi páčila viac. Tentokrát spieva zborovo asi celá kapela.
9. Hail For The Priest
Toto je tiež rozprávačská pieseň s pomalým úvodom. Po spievanom názve skladby sa kapela rozbieha spoločne a nastupuje do zaujímavej pesničky. Mám radosť, že už po prvých taktoch môžem sumarizovať, že je to znovu úderka a metalový skvost. Tentokrát mi vyššia poloha hlasu vôbec nevadí a obdivujem bravúrnosť gitaristov, bubeníka i basistu, ktorého som dosiaľ nespomenul. Na mohutné struny brnká Tony Newton a je tak nenápadne dobrý, až ho kopákový šialenec Sean Elg zahltil. Po metalovej nakladačke ideme do voľného pádu poslednej pecky.
10. Return Of The Sentinel
Neviem čím to je, ale vždy keď počujem gitary, ktoré v dvojici harmonicky určujú celkový zvuk skladby, som plný očakávania. Keď sa mi zvuk páči, nemám iné východisko. Začnem premýšľať koľkokrát to museli skúšať, aby dosiahli perfektnosť. Alebo je to len tak? Normálne zahrajú z prvej a hotovo? Myslím, si, že po tomto symbolickom návrate (Return…) sa k Downingovej hudbe rád vrátim. Pieseň je dobrá a znovu ponúka viac melódií a nálad. Metalovú nakladačku, akustický feeling a dramatický nepokoj. Tim "Ripper" Owens sa tu ukáže ako zaujímavý a dobrý spevák s rôznymi polohami. To sa mi páči.
Ako ste videli, neriešil som podobnosť/nepodobnosť s Judas Priest. Urobil som to zámerne a ani som nečítal predtým žiadnu recenziu na album, ktorý som opísal. Nechcel som byť ničím a nikým ovplyvnený. Tým pádom môj súkromný názor na KK's Priest je názorom jedného človeka. Album Sermons Of The Sinner je veľmi dobrý, perfektne zvládnutý a majstrovsky urobený. Nemám mu čo vyčítať a aj tie moje nespokojnosti sú malicherné a časom možno nebudú podstatné. Skladby, ktoré sa mi celkovo nepáčili, boli v minimálnom počte a opätovné viacnásobné počutie by urobilo nápravu. K. K. Downing má 71 rokov a je mi cťou, že som mohol jeho piesne a gitarovú perfekcionalitu doma počuť a tešiť sa z toho, že napriek svojmu vysokému veku ponúkol dielo, ktoré má toľko života v sebe, že by nikoho nenapadlo riešiť jeho vek. Prajem mu, aby mu elán a metalová dravosť vydržala a teším sa na nové veci v jeho podaní. Ak máte radi metal a tento druh hudby sa Vám páči, smelo do toho, vypočujte si ho. Nebudete banovať. Moje hodnotenie 4 hviezdičky z 5.
ZOSTAVA:
K. K. Downing – gitary (2020 – súčasnosť)
Tim "Ripper" Owens – hlavný spev (2020 – súčasnosť)
A. J. Mills – gitary (2020 – súčasnosť)
Tony Newton – basgitara (2020 – súčasnosť)
Sean Elg – bicie (2021 – súčasnosť)
NOTES:
Artwork – Andy Pilkington
Composed By [All Sermons Composed By] – K. K. Downing
Engineer [Engineered By] – Anthony Wall, Tony Newton
Management – Andy Gould
Mastered By – Ade Emsley
Mixed By – K. K. Downing, Tony Newton
Producer [Produced By] – K. K.
Record Company – Explorer1 Music Group
Mastered At – Table Of Tone Mastering Ltd.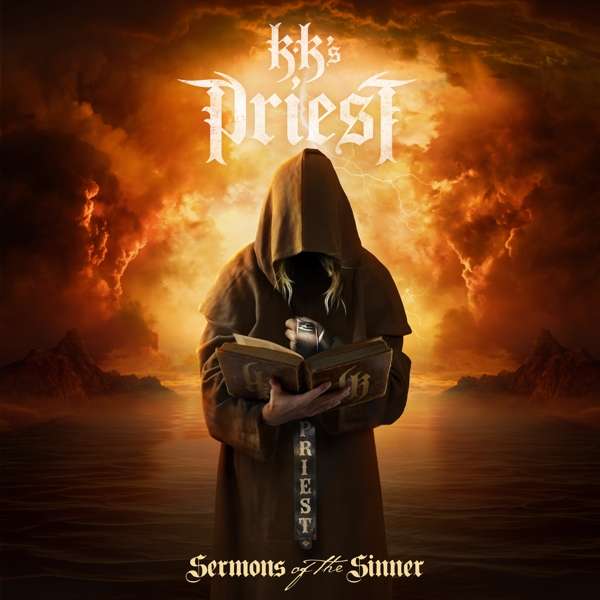 Sermons Of The Sinner
KK's Priest
Heavy Metal
EX1 Records
2021
CD, LP
10
LP, red vinyl limited, EX1R21017-1