Příběh Barclay James Harvest se začal odvíjet na severozápadě Anglie v roce 1964, kdy John Lees (kytara) a Stuart 'Woolly' Wolstenholme (klávesy), spolužáci z oldhamské umělecké školy, založili kapelu The Sorcerers. Z ní později vzešli The Keepers, kteří se v roce 1966 sloučili s dalším regionálním uskupením Heart And Soul And The Wickeds, v němž působili Les Holroyd (baskytara) a Mel Pritchard (bicí). Spojený band The Blues Keepers zpočátku působil v šestičlenném obsazení, teprve postupem doby z něj vykrystalizoval stabilní kvartet, který se v létě 1967 plně zprofesionalizoval a pod novým názvem Barclay James Harvest, složeným z náhodně vybraných slov, absolvoval v Middleton Baths v Manchesteru první veřejné vystoupení.
Místní podnikatel a první manažer kapely John Crowther jim zařídil pobyt na usedlosti z 18. století Preston House, kde vytrvale zkoušeli a připravovali vlastní materiál, jak dokládá krátký dokument pro Granada TV.
23. dubna 1968 poprvé natáčeli pro pořad Johna Peela, jediného rozhlasového dýdžeje, který se časem provysílá až k Řádu britského impéria, a o tři dny později vychází první singl Early Morning/Mr. Sunshine, zrozený v londýnských Chappell Studios a ve Stockportu. A-strana byla variací na úspěšnou A Whiter Shade Of Pale od Procol Harum a bez ohledu na řadu příštích songů podepsaných celou kapelou, již napořád zůstane jedinou skladbou, která skutečně vzešla ze spolupráce všech čtyř členů souboru.
Nikdo nečekal, že na dlouhých čtrnáct měsíců půjde o jediný realizovaný projekt Barclay James Harvest, bo další příležitost přinesl až podpis smlouvy s novým sublabelem EMI, legendární značkou Harvest, kde se 20. června 1969 uvedli singlem Brother Thrush/Poor Wages v produkci slovutného Normana Smithe (Beatles, Pink Floyd), přičemž si studiovou spolupráci se skupinou premiérově odbyl i jejich spolubydlící z farmy Robert Godfrey (varhany a doprovodné vokály).
První zahraniční vystoupení formace absolvovala v německém Kölnu 3. dubna 1970 v rámci Progressive Pop Festivalu, kterého se v tamní Sporthalle zúčastnila celá řada zavedených značek v čele s Procol Harum, Deep Purple, Jeronimo, Nice, či Kinks.

A  5. června konečně vychází eponymní albový debut s účastí The Barclay James Harvest Symphony Orchestra pod Godfreyeovým vedením. Produkci měl ve studiích na Abbey Road opět na starosti Smith, nahrávalo se v zimě, album je ale pestré a různorodé jak podzim. Otevírá ho hardrockový song Taking Some Time On, narazit možno na rokenrolový kus Good Love Child i pohled do symforockové budoucnosti prostřednictvím When The World Was Woken (zamýšlené původně pod titulem When The World Has Woken, teprve chyba na obalu alba dala vzniknout vžitému názvu). Jasným favoritem fanoušků i spoluhráčů, kteří jej hodnotí jako nejoblíbenější skladbu z debutového alba, však zůstává Leesův strhující dvanáctiminutový epos Dark Now My Sky inspirovaný knihou Silent Spring americké bioložky Rachel Carson, která dala svou prací impuls ke vzniku hnutí na ochranu životního prostředí.
Dílo sklidilo veskrze pozitivní recenze, pramálo se však promítly do jeho prodeje, a podobně se vedlo i dalším dvěma studiovkám z následujícího roku.
Pod názvem Once Again vyšlo 5. února 1971 album, které přineslo vícero songů, jimž se v následujících letech podaří pevně zakotvit v koncertním playlistu. Jednou ze stálic byla majestátní She Said, jíž dalo vzniknout spojení dvou Holroydových skladeb z podnětu Woollyho, jenž dostal na druhém albu tolik prostoru za mikrofonem, jako už nikdy příště. Zvlášť v případě velkolepé ódy na Leesovu nastávající Mocking Bird a nespoutané Ball And Chain (ve studiu zčásti zpívané do papírového kelímku), která se vymyká všemu ostatnímu z tvorby Barclay James Harvest, se s úkolem popasoval nadmíru zdatně.
Připomenout třeba i účast Alana Parsonse (Lady Loves) nebo Lennonovy kytary (Galadriel) při nahrávání, stejně jako existenci kvadrofonní verze, která se na trhu objevila v červenci 1973.
Než se skupina uprostřed léta vrátila do studia, došlo k důležité změně u režisérského kormidla, když odejitého Godfreye vystřídal Martyn Ford.
Nic se však nezměnilo na skutečnosti, že také album Barclay James Harvest And Other Short Stories z listopadu 1971 obsahovalo několik mimořádných čísel. Ať už jde o Wolstenholmeovy teskné písně Someone There You Know a Ursula (The Swansea Song), Leesovu sarkastickou glosu o ex-manažerovi Johnu Crowtherovi Blue John's Blues nebo song The Poet, čekající na své uplatnění čtyři roky. Především ale obě skladby, které desku orámovaly – úvodní Medicine Man, inspirovaný románem Raye Bradburyho Something Wicked This Way Comes (přestože kapela nebyla úplně spokojena s aranžemi a později ho znovu nahrála na B-stranu Thank You) a závěrečná apokalyptická vize After The Day, která patřila zejména v dobách s orchestrem mezi nejoblíbenější koncertní kusy.
Velkolepá živá vystoupení dokázala nadchnout publikum, větší albový úspěch ale skupině přinesla až kompilace s převahou singlového materiálu Early Morning Onwards ze září 1972, jejíž černý obal s texty na zadní straně byl pro obtížnou čitelnost titulu po několika měsících nahrazen bílým, se zřetelným nápisem.
Jen o pár dnů později přichází kapela pod pseudonymem Bombadil se singlem Breathless/When the City Sleeps. Leesova (zde jako Terry Bull) instrumentálka i Wolstenholmeův (Lester Forest) příspěvek se po třiceti letech dostanou mezi bonusy reedičního vydání alba Baby James Harvest, které původně spatřilo svět 10. listopadu 1972.
Sami členové kapely o něm často mluvili jako o rozpolceném díle, bo skupina byla během nahrávání netradičně rozdělena, když Lees, Holroyd a Pritchard natáčeli ve Strawberry Studios ve Stockportu, zatímco Wolstenholme s orchestrem především v Londýně. I čtvrtá deska ale má své vrcholy. Patří mezi ně Holroydovy skladby Crazy (Over You) a One Hundred Thousand Smiles Out o izolaci astronauta ztraceného ve vesmíru, tím nejvyšším je však apel proti násilí z pera Johna Leese Summer Soldier. A za zmínku jistě stojí i nápad se zhudebněným albovým poděkováním (Thank You) a finálová Moonwater (Poco Adagio), kterou Woolly věnoval Gustavu Mahlerovi, jehož práce na něj měla velký vliv.
S návrhem působivého obalu přišel Ian Cassie,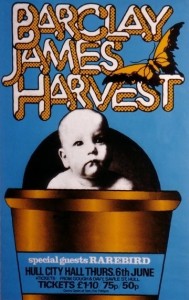 jeden z tehdejších manažerů kapely, jehož záměr naplnil fotograf Julian Cottrell použitím snímku své nic netušící dcery Boo.
Navazující britské miniturné s Camel orámovaly dvě netypické akce. První z nich Barclay James Harvest podnikli na podzim v rozporu s rezolucí OSN o bojkotu režimu apartheidu, když v rámci South African Tour odehráli devatenáct koncertů po celé Jihoafrické republice, což doma nezůstalo bez odezvy. Wolstenholmeova slova to potvrzují: "Když jsme se vrátili, radikálové z univerzity v Leedsu se rozhodli, že nás vyškolí. Když jsme tam hráli, lidi museli projít řadou demonstrujících, aby se dostali dovnitř a pak se dočkali asi pěti bombových hrozeb po telefonu a vždycky museli všichni ze sálu. Příšerný výkon, když skupina opustí jeviště po každém čísle…"
Druhou nevšedností byl týdenní zájezd do Jugoslávie v březnu 1973, s úvodním vystoupením ve slovinské Lublani, kde je doprovázeli Slade, tč. na vrcholu popularity. Proti plánu se však další pokračování evropského turné odehrávalo bez účasti 36členného orchestru, na jehož nákladech se nahrávací společnost dále odmítla finančně podílet. Jeho provoz skupinu téměř zruinoval a napjaté vztahy s EMI nakonec vyústili v její rozchod s labelem Harvest.
Nastalou krizi, hrozící koncem kapely, odvrátil podpis smlouvy s britskou divizí Polydoru, kde koncem května 1974 vychází singl Poor Boy Blues/Crazy City jako předzvěst nového alba.
Pátá studiovka Everyone Is Everybody Else, která se na pultech objevila 14. června, je mnohými (vč. autora těchto řádků) vnímána jako umělecký vrchol Barclay James Harvest. Skupině vynesla další pozvání od Johna Peela do vysílání BBC Radio 1, často ji však hrálo i kultovní pirátské Radio Caroline, mezi jehož posluchači se těšila ohromné popularitě. Možno na ní slyšet hned několik věcí, které patří k tomu nejlepšímu, s čím formace ve své bohaté historii přišla. Členové kapely však nebyli s konečným výsledkem spolupráce s vyhlášeným producentem Rodgerem Bainem (Black Sabbath, Judas Priest, Budgie) zcela spokojeni, což se týkalo především v minulosti odkládané nesmrtelnosti Child Of The Universe.
Přitom právě úvodní Leesův majstrštyk spolehlivě zapůsobí už při prvních slovech: "I'm a child of South Africa – I'm a child of Vietnam – I'm a child of Northern Ireland – I'm a small boy with blood on his hands…". Ve vteřině mám chuť adoptovat všechny potřebné černoušky, poskytnout azyl jihoasijským sirotkům a navěky usmířit nesmiřitelný katolíky s protestantama. A ten zvláštní pocit spoluúčasti na albovém i světovém dění neodezní až do samého závěru. Jen znovu zesílí při The Great 1974 Mining Disaster, inspirované klasikou Bee Gees a stávkou britských horníků, nebo u osvědčeného koncertního čísla Crazy City s famózními vokály či u dalšího protiválečného songu For No One, jenž svou naléhavostí připomene Lennonovu bájnou God.
A to se na album nevešel např. Wolstenholmeův prvotřídní příspěvek Mæstoso/A Hymn in the Roof of the World, který je jedním z bonusů reedičního vydání z roku 2003.
Prvním titulem v britském albovém žebříčku (#40) se však stalo až dvojalbum Live zachycující koncert v londýnském Theatre Royal 30. června 1974 a doplněný trojicí skladeb (Negative Earth, She Said a Paper Wings) z odloženého vystoupení na Liverpool Stadium o dva měsíce později (původně plánovaný termín liverpoolské akce 29. 6. byl zrušen pro vážné technické problémy). Do prodeje se tak dostalo až v listopadu za zvýhodněnou cenu 2,94 £ a představovalo pomyslnou tečku za první etapou historie kapely. Medicine Man je zde v prodloužené verzi doveden ke hranici dokonalosti.
Na předchozí úspěch se skupině podařilo navázat i dalšími alby. V říjnu 1975 vychází deska s mnohoznačným názvem Time Honoured Ghosts, která vznikala ve studiu His Masters Wheels v San Francisku v produkci/neprodukci Elliota Mazera: "Naštvalo mě mrhání talentem, když jsem ve Festival Hall viděl kapelu pohlcenou orchestrem, jak se lopotí s těmi příšernými úpravami," vysvětloval Mazer důvody, proč se rozhodl pro spolupráci s kvartetem. "Ale nakonec jsem je kvůli čtyřměsíčnímu vytížení Youngovým Time Fades Away v podstatě ani neprodukoval. I tak se ale potvrdilo, že dovednosti Barclay James Harvest odpovídají schopnostem velkých umělců."
Jeho producentský kolega Bill Dare navrhl obal, který se stal jedním z nejoblíbenějších v celé diskografii Barclay James Harvest.
Je dílem amerického malíře a ilustrátora Maxfielda Parrishe, na jehož původní malbě Harvest se tu vůbec poprvé objevila "motýlí žena", nové logo kapely od Geoffa Halpina.
Hned úvodní Leesova In My Life, jeho náramné sólo ve Sweet Jesus, song Hymn For The Children, který je apelem proti rasismu a diskriminaci a tématicky navazuje na starší čísla Child Of The Universe, Summer Soldier a Dark Now My Sky, ale i romantická Moongirl nebo nápaditá pocta Beatles Titles, patří k nejsilnějším momentům vyrovnaného alba, které se v Británii vyšplhalo na 32. místo albového žebříčku.
Samostanou zmínku potom zaslouží píseň Jonathan. Holroyd se tentokrát nechal inspirovat proslulou novelou Jonathan Livingston Seagull amerického spisovatele Richarda Davida Bacha z roku 1970, která se záhy stala světovým bestsellerem. V normalizačním Československu byla zakázána (do češtiny ji v roce 1984 přeložil Zdeněk Hron), k vidění však byl stejnojmenný snímek režiséra Halla Bartletta z roku 1973 s hudbou Neila Diamonda, který se u nás stal kultem.