Nezažil som priamo ten nádherný pocit z objavovania a počúvania jednotlivých diel Black Sabbath, autentickosť a atmosféru 70-tych rokov minulého storočia, takých krásnych a plodných pre hard rockovú muziku. K väčšine štúdioviek birminghamských chuligánov som sa dostal neskôr, počas "vojnových" rokov v ďalekom Chebe. Nástupom CD nosičov som v 96-tom kúpil všetky remasterované štúdiovky a opäť naplno vychutnal silu týchto skvostov.
Spomínam na dlhé večery a pokusy o preklad doprovodných slov Hugha Gilmoura, veľká túžba dozvedieť sa niečo z histórie skupiny. Debutový album. Obrátený kríž vo vnútri obalu, vedľa text. Nepodpísaný. Autor neznámy? Nejaká stará anglická poézia? O čom vlastne je Black Sabbath? Čo môžem napísať a neopakovať dávno povedané? Na internete záplava recenzií, odborných i fanúšikovských. Čo vymyslieť? Skúsim si pomôcť obalom, obsahom i vlastným, voľným prekladom básne.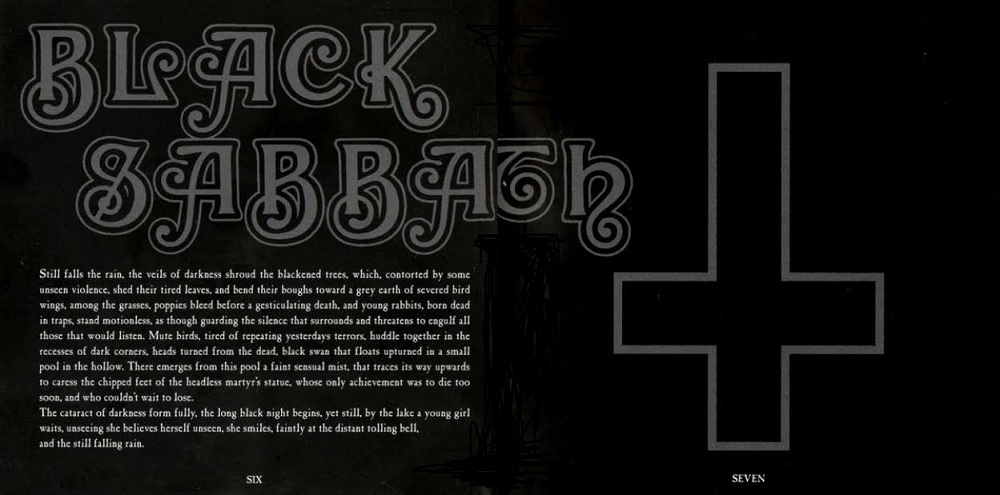 Ticho. Vodopád dažďa. Rubáš tmy zahaľuje načernalé stromy. Vo svojom vnútri ukrývajú nejedno násilie duchovného sveta. Pod jeho ťarchou zhodili unavené listy, konáre ohýbajúc k sivej zemi. Divé maky v tráve krvácajú, akoby predpovedali skazu. Malé králiky, narodené pre smrť v pasciach, strážia doterajšie ticho. Starý mlyn bez pohybu, držiaci ochrannú ruku nad anglickým vidiekom. Čierna labuť s hlavou ponorenou v kalnej vode, z ktorej stúpa chlípny opar. Smeruje nahor, hladiac ubolené nohy bezhlavej sochy mučeníka. Tomu jedinému bolo dovolené umrieť skôr a nepocítiť následky dnešnej noci. Havran tróniaci na bútľavej vŕbe, nemý od úžasu. Tuší, niečo sa deje. Šedý zákal tmy. Dlhá noc začína. Zatiaľ vládne desivé ticho. Napätie je ťaživé. Na brehu mladá deva. Čierny plášť ju robí tajomnou, takmer neviditeľnou. Usmieva sa, pri zvuku zvona. Vie, čo ju čaká? Stále padá dážď. Hromobitie. Temnota hrozí pohltiť všetkých, ktorí jej podľahnú. A stále padá dážď. Zvon. Čierny sabbath začína…
Ďalšie slová sú vari zbytočné, titulná skladba definuje všetko to, čím bol, je a navždy zostane fenomén menom Black Sabbath – temná hard rocková klasika, originálnosť, jedinečnosť, štýlotvornosť, tajomnosť, výnimočnosť, záhadnosť. Zabudol som na niečo? Bill, Geezer, Ozzy a Tony splodili dielo, ktoré dodnes fascinuje zástupy hudobníkov i fanúšikov, starších i mladších ročníkov. Jeho obal a obsah sa odvtedy snažia napodobniť mnohé skupiny, s väčším i menším úspechom. Prvý však môže byť len jeden. Tým je album Black Sabbath, narodený v piatok, 13. februára 1970.
Black Sabbath 6:21
The Wizard 4:24
Behind the Wall of Sleep 3:38
N.I.B. 6:06
Evil Woman, Don't Play Your Games With Me 3:25
Sleeping Village 3:46
Warning 10:32
Ozzy Osbourne – vocals, harmonica
Tony Iommi – guitar, slide guitar
Geezer Butler – bass
Bill Ward – drums
Ďalšie informácie o albume: Discogs.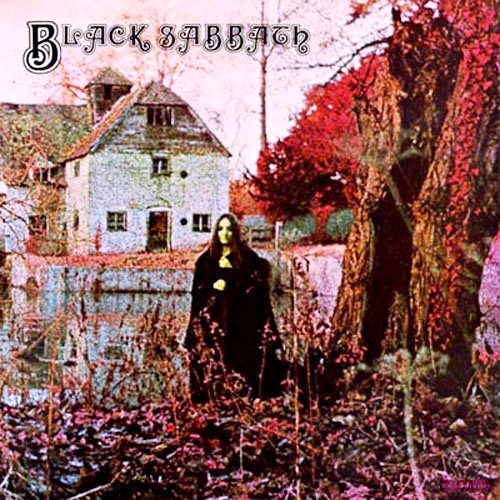 Black Sabbath
Black Sabbath
hard rock
Vertigo
1970
7
CD - Essential, 1996