Nottinghamskou formaci Whichwhat přinesla doba, kdy "každý klub i hospoda měly živou hudbu", jak o roce 1968 psáno v bookletu reedičního CD.
Sestava Wayne Ford (kytara), Terry Penn (baskytara), John Bednall (bicí), Mick Brown (saxofon, flétna) se zpěvákem Eddiem Youngem (vl. jm. Theodore Demetriou) se pod vedením Phila Smithe z místní agentury Banner Productions brzy vypracovala mezi lokální elitu představovanou soubory Sons And Lovers a Six Across a získala smlouvu na album u Beacon Records amerického producenta Miltona Samuelse.
Připravenost na budoucí výzvy kapela prokázala mezi březnem a prosincem 1969 čtveřicí singlů, které se umístily v holandské hitparádě Top 20 (mnohde zmiňovaný úspěch v Japonsku a Austrálii se nepodařilo hodnověrně ověřit).
S několika songy kvintetu ve studiu vypomohl klávesák Walt 'Wally' Savage a pro nahrání alba byl bubenický post nabídnut Stephenu Johnu Harrisovi z čerstvě rozpadlých Woody Kern.
Předzvěstí desky byl pátý singl s albovými kousky Vietnam Rose/Shame And Solution, jenž vyšel v říjnu 1970, měsíc před uvedením titulu Whichwhat's First na trh, a jen tři měsíce poté, co se skladbou z A-strany neuspěli její autoři Harry Vanda a George Young v jednom ze svých post-Easy projektů Tramp.
To už ale Harris do řad Whichwhat znovu nepatřil, bo se rozhodl využít své schopnosti na jiném hudebním poli. Na jeho místo nastoupil John Barlow a Savage se stal oficiálně šestým členem skupiny.
Svěží a pestré album charakteristické Brownovými dechy, říznou Fordovou kytarou, rytmikou šlapající jak přesýpací hodiny a slibným projevem v Egyptě narozeného vokalisty, ovšem nezopakovalo dílčí singlový úspěch a kapela s koncem roku 1970 utlumila činnost.
Na startu další sezóny ještě Young, Penn, Brown a Savage s novými spoluhráči Melem Monksem (kytara) a Rayem Marshallem (bicí) natočili znamenitý song The Wind Out Of Nowhere, který se ale objeví až po čtvrtstoletém čekání na LP kompilaci Incredible Sound Show Stories, Vol. 2 – When The Tangerine Strikes Twelve (1996). V týmu následně došlo k výměně dechaře Browna za dvojici Kip Wilkes (saxofon, flétna) a Jim Marsden (trubka), historie Whichwhat však znovuvydáním singlu Vietnam Rose – tentokrát s předělávkou slovutné Lawdie Miss Clawdie – definitivně končí.
Titul Whichwhat's First vyšel na CD poprvé až v listopadu 2006 v Japonsku, širšímu okruhu posluchačstva album zpřístupnila pirátská firma Flawed Gems o čtyři roky později.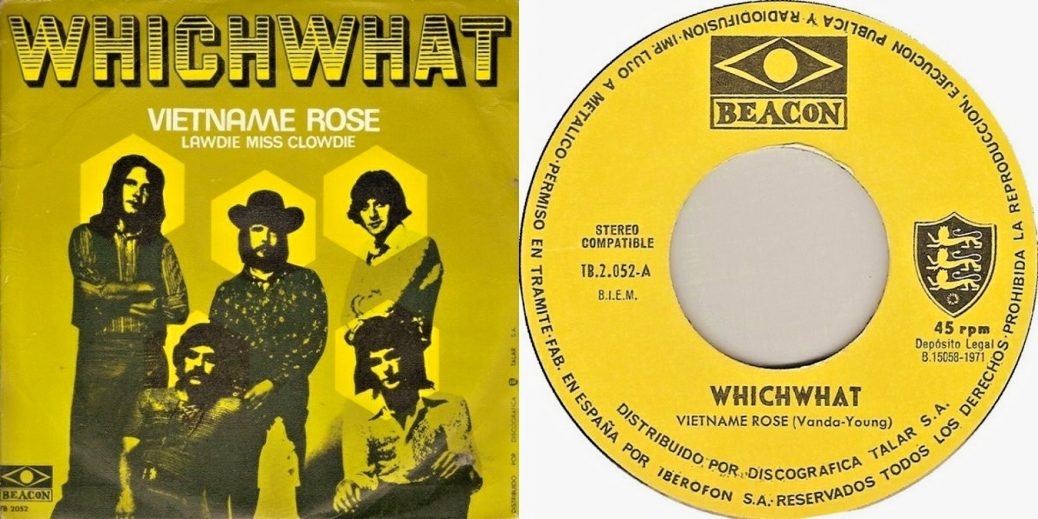 Walt Savage se stal v roce 2000 součástí reunionu jiné nottinghamské legendy Sons And Lovers, Eddy Young podle některých zdrojů přesídlil do australského Melbourne.
Nositel zvučného jména Steve Harris se přes krátkodobá působení v souborech Barracuda a Amazorblades (1977/78) stal vyhledávaným jazzovým bubeníkem. V roce 1987 nastoupil do jazz-funkových Pinski Zoo, od roku 2001 vedl vlastní projekt ZAUM. Zemřel po krátké nemoci 11. ledna 2008 v Dorchesteru.
DISKOGRAFIE (vše na značce Beacon Records):
1969 – SP Gimme Gimme Good Lovin'/Wonderland Of Love
1969 – SP In The Year 2525/Parting
1969 – SP Why Do Lovers Break Each Other's…/When I See Her Smile
1969 – SP I Wanna Be Free/It's All Over Again
1970 – SP Vietnam Rose/Shame And Solution
1970 – LP Whichwhat's First
1971 – SP Vietnam Rose/Lawdie Miss Clawdie