Stala sa už z toho taká malá tradícia. Pri každej návšteve Sydney nezabudnem zájsť do podniku vo štvrti Penshurst s názvom Tonino's. Jedná sa o pizzeriu, ktorú dlhé roky prevádzkoval Tony Currenti, ktorý je už na dôchodku a opraty po ňom prevzal jeho syn Anthony. Čitateľ sa teraz isto spýta: "A ktože je ten Tony Currenti?" Dovoľte mi teda tohto pána predstaviť…
Zo Sicílie do Sydney
Tony je sicílsky rodák, ktorý sa do Austrálie presťahoval v roku 1967 s rodičmi a súrodencami ako 16-ročný, bez znalosti angličtiny. Keď sa o dva roky neskôr jeho rodičia rozhodli vrátiť späť do Talianska, Tony už mal osemnásť a hral na bicie s kapelou po Sydney. Mal ambíciu živiť sa hudbou, takže zostal.
V roku 1972 s kapelou Inheritance nahral prvý singel s názvom Kookie (rockovejšia cover verzia originálu nemeckej kapely Sandwich, ktorý vyšiel rok predtým). Na podnet legendárneho dua Vanda & Young si grécky spevák kapely zmenil meno na Jackie Christian a pod týmto názvom kapele vyšiel v lete singel Rosy. Produkoval ho známy austrálsky popový producent Peter Dawkins. Následne sa kapela premenovala na Grapevine a koncom roku vydali ďaľší singel s názvom Join Together. Kto predpokladal, že sa jednalo o cover hitu kapely The Who, predpokladal správne.
Vanda & Young
Stretnutie s legendárnym duom Harry Vanda & George Young sa ukázalo ako osudové. Kapela sa premenovala na Jackie Christian & Flight a v roku 1974 nahrala dve skladby od spomínaného dua s názvom Love a The Last Time I Go To Baltimore. Vydavateľstvo Alberts ich vydalo ako singel a špeciálne B-strana je parádny náter. V Kanade singel vyšiel na Polydore s odlišným názvom kapely Jackie Christian & Target.
Kapela nahrala aj ďaľší kúsok z tvorby dua Vanda & Young nazvaný Love Fever. Producentom však nesedel vokál Jackieho Christiana a tak song dostal spevák Ray Burgess. Ten iba nahral nový hlavný vokál (inak je celá skladba vrátane podporných vokálov pôvodná verzia Tonyho skupiny Flight) a pieseň sa po vydaní v roku 1975 dostala do austrálskeho rebríčka Top 30.
Úspech sa však Jackie Christian & Flight vyhýbal a neskôr sa kapela rozpadla.
AC/DC potrebujú helfnúť
Tony sa postupne stal štúdiovým bubeníkom pre projekty dua Vanda & Young a jedným z prvých bola výpomoc vtedy začínajúcej kapele AC/DC. Tá práve nahrávala v Albert Studios svoj debutový album High Voltage (1975) a vtedajší bubeník Peter Clack mal problémy s nahrávaním v štúdiu (song Baby, Please Don't Go mu trval niekoľko dní). Tony tak za pár nocí v štúdiu s kapelou nahral celý album, s výnimkou už spomínanej prvej skladby. Neskôr ešte s kapelou nahral aj titulný song High Voltage, ktorý sa už ale na album nezmestil a bol vydaný dodatočne ako singel. Následne sa objavil aj na druhom albume kapely s názvom T.N.T. (1975).
Tony dokonca dostal ponuku stať sa členom AC/DC, a to až dvakrát! Oba razy odmietol s tým, že bol verný svojej kapele Jackie Christian & Flight a keďže bol stále ešte aj talianskym občanom, s AC/DC by nemohol absolvovať turné po Európe, pretože by musel narukovať.
Stevie Wright a ďaľšie projekty
Tony hrá väčšinu bicích aj na albume ex-Easybeats frontmana Stevieho Wrighta s názvom Black Eyed Bruiser (1975). Rok predtým údajne nahral aj posledný part 11-minútového trojdielneho eposu Evie. Song sa stal najúspešnejším singlom toho roka a údajne aj celosvetovo prvým rebríčkovým hitom s takou dlhou stopážou. Perličkou je, že v prvej časti s názvom Let Your Hair Hang Down si strihol gitarové sólo Malcolm Young (AC/DC) a v tretej I'm Losing You zas Harry Vanda (The Easybeats).
Medzi ďaľšie nahrávky s Tonyho bicími, z takmer bezodnej studnice tvorby dua Vanda & Young, patria hity Yesterday's Hero (1975) či I Hate the Music (1976), ktoré naspieval John Paul Young. A je dosť možné, že Tony Currenti hral aj na megahite Love is in the Air (1978).
Tony bol obľúbeným bubeníkom Georgea Younga, pretože vedel zahrať rytmy, ktoré od neho požadoval. A tak počas tých pár rokov absolvoval veľa nahrávania v Alberts ako štúdiový hudobník a často ani nevedel o aký projekt sa jedná, a kedy (a či vôbec) vyjde. Takisto je vysoko pravdepodobné, že hrá aj na čisto štúdiovom projekte už spomínanej kreatívnej dvojice, ktorá vydávala albumy pod pseudonymom Flash and the Pan (1978). Debut obsahoval hity ako Hey St. Peter, Walking in the Rain či Down Among the Dead Men.
Od bicích k peci a naspäť
Tony chvíľu hral aj v kapelách The 69'ers a Winter. V roku 1979, krátko po tom ako sa oženil, však s hraním nadobro sekol a otvoril si v Sydney pizzeriu. A tomuto biznisu sa venoval až pokým ho v roku 2013 "nespopularizoval" spisovateľ Jesse Fink, ktorý napísal bestseller s názvom The Youngs: The Brothers Who Built AC/DC.
Tony si v roku 2014 opätovne sadol za bicie na pódiu a odvtedy s AC/DC cover kapelami odohral vystúpenia v Sydney a aj pár turné po Európe (Veľká Británia, Španielsko, či Taliansko). Tento rok by mal absolvovať v Európe rozlúčkové vystúpenia.
Ja som sa s Tonym prvýkrát osobne stretol (vďaka Jessemu Finkovi) v roku 2016 na škótskom festivale Bonfest, kde spolu s bývalým basákom AC/DC Markom Evansom odhaľovaľ ako čestný hosť sochu Bona Scotta. Inak, aj na Slovensku máme memoriál Bona Scotta – jeho reliéf v Parku rockových velikánov v Šamoríne. A ten tam osadili dokonca skorej než obe jeho sochy v austrálskom Fremantli a škótskom Kirriemuire.
U Tonyho s Bobom
Ako som už spomínal na začiatku, odvtedy sa vždy pri návšteve Sydney zastavím u Tonyho na pizzu a dobrý pokec. Ako aj v decembri minulého roka. Tentokrát to bolo o čosi špeciálnejšie, pretože som mal so sebou parťáka a vodiča zároveň – Tonyho rovesníka zo zlatej éry austrálskej scény Boba Spencera.
Kto sa vyzná do austrálskeho rocku, tomu meno Bob Spencer netreba predstavovať. V skratke len spomeniem zopár kapiel v ktorých hral: Finch, Skyhooks, The Young Lions, The Angels, The Temple Gods a ešte donedávna aj Rose Tattoo. S kapelou The Angels bol aj uvedený do austrálskej hudobnej siene slávy ARIA.
S Bobom Spencerom máme spoločných známych a poznáme sa už pár rokov – v roku 2018 sme si prvýkrát osobne dobre pokecali pred a po vystúpení Rose Tattoo vo viedenskom klube Viper Room. A pri mojej poslednej návšteve Sydney dokonca došlo aj na návštevu uňho doma. Kde sme v jeho novom domácom štúdiu strávili dve veľmi pekné popoludnia.
Ale späť k Tonymu. Pizza je uňho vždy skvelá a nebolo tomu inak ani teraz. A popri tom počúvanie spomienok dvoch veteránov zo zlatej éry austrálskej hudobnej scény – na nezaplatenie!
"Prosto hraj ako Tony!"
Tony sa nedávno dozvedel, že bubeník Phil Rudd mal zo začiatku problém prispôsobiť sa štýlu AC/DC a George Young ho v štúdiu často musel usmerňovať. Raz naňho údajne zhúkol: "Prosto hraj ako Tony!" Čím samozrejme myslel štýl Tonyho Currentiho. Tony tak vlastne položil pre Phila základy ako hrať v AC/DC. Čo je samozrejme pre Tonyho veľký kompliment.
Ani Bob Spencer nemal problém tomu uveriť, pretože si pamätal Phila Rudda ešte ako bubeníka kapely Buster Brown, ktorý sa chcel podobať na Johna Bonhama. A keď ho neskôr počul hrať s AC/DC nemohol uveriť vlastným ušiam – úplne iný bubeník!
Nečakaný bonus
Čas pri historkách uplynul rýchlo a pred odchodom nám Tonyho syn Anthony, ktorý pizze piekol, spravil aj spoločnú fotku. Keďže Tony zo zdravotných dôvodov už nemôže šoférovať, ponúkli sme mu odvoz domov. A dočkali sme sa nečakaného, ale o to cennejšieho bonusu. Tony nám ukázal jeho bicie Ludwig, ktoré si v zlatej ére kúpil a nahral na nich všetky štúdiové veci – vrátane AC/DC.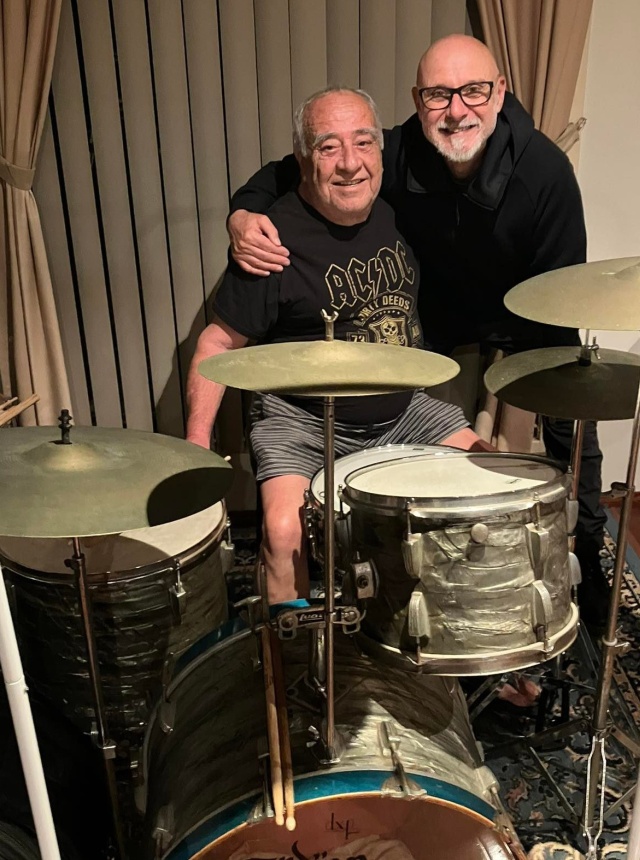 Celé tie roky boli uložené v pivnici a keď Tony počas minulej dekády oprášil paličky, vytiahol ich späť na svetlo sveta a dal si ich opraviť, keďže bolo na nich dosť hrdze. Všetko je v pôvodnom stave a hardvér má krásnu patinu. Rozhodne ide o bicie, ktoré sú hodné toho, aby boli vystavené v múzeu austrálskeho rocku.
"Vidíme sa v Taliansku, Tony!"
Tony nás ešte vyprevadil k autu, kde sme sa rozlúčili s nádejou, že sa tento rok stretneme na jednom z jeho plánovaných rozlúčkových vystúpení v Taliansku.
O pár dní neskôr mi Tony poslal poďakovanie a fotku už zarámovaného darčeka odo mňa, ktorý tak rozšíril jeho bohatú kolekciu spomienok na stenách pizzerie. Zlomok týchto spomienok má tak súvis aj s jedným Slovákom.