"Topolovo piáno je nádherně lyrické, fantazírující a romantické," píší na stránkách hudebního vydavatelství Indies Records a je to stručná, leč velice výstižná charakteristika. 

Tomuto albu jasně vévodí zklidněný klavír zklidněného Filipa Topola, lehce doprovázený bicími Davida Skály a baskytarou Luďka Horkého. Téměř nic jiného na albu neuslyšíme (co se hudebních nástrojů týče – nepočítám Topolův zpěv), výjimkou je úvodní skladba Znaj se sví známí (s povedeným ironickým textem), kde se překvapivě (mám takový dojem) sám Filip Topol razantně opře do elektrické kytary (ano!).
Mnohem víc než o nějakou undergroundovou muziku (to, co si pod ní člověk většinou představí) se jedná o originální, niternou hudbu připomínající vážnou hudbu dob klasicismu a romantismu a také je v ní trochu toho pesimisticky hegerovského šansonu (smutek není tak vidět a slyšet, posouvá se někam "dovnitř", skrývá se).
Filip Topol na tomto albu neuvěřitelně hudebně vyzrál. A i textově se jedná (podle mě) o vrchol Filipova básnického talentu… utíkajícího od určité dejme tomu sociální tématiky do náruče sovovsky konejšivé přírodní lyriky. Je to ve výsledku hořce krásné a dovolím si právě něco takového, jako je album U sousedů vyje pes, nazvat ryzím Uměním.
Kraťoučká ústřední klavírní skladbička U sousedů vyje pes je věnována tehdy aktuálně zemřelému Mejlovi Hlavsovi – oba hudebníky pojilo, když ne asi přímo přátelství, tak ale evidentně minimálně vzájemná úcta. Topol tehdy přiznal, že nebýt Mejlovy smrti, uvažoval by nad veselejším vyzněním celého alba…
Zvuk je na české poměry mimořádně křišťálově čistý, kvalita nahrávky je opravdu velice nadprůměrná. Album mi trochu, trošinku připomíná Wakemanovu desku Sea Airs – pokud máte rádi Wakemanovy čistě klavírní nahrávky, můžete snad zkusit i tohle album.
Téměř hodinu trvající album bylo nahráno v červenci 2001, Filip Topol tehdy žil bez alkoholu, neboť byl po náročné operaci slinivky a nutno podotknout, že mu/jeho hudbě to prospělo. Albu není co vytknout, ať se podívám kamkoli – vtipný obal – pes štěkající noty – je malůvkou samotného Filipa Topola, soustředěný výkon, úžasné texty (chtěl jsem nahodit nějaké ukázky, ale uvědomil jsem si, že bych musel/chtěl uvést skoro vše, tak jsou ty texty dobré), již zmíněná zvuková kvalita nahrávky a především hudba samotná, mající melodii, bez staré undergroundové divokosti, ale přesto vůbec nesklouzávající někam do lákavých vod banálního popíku.
Desetiminutová instrumentální Malá smuteční hudba, to už vlastně ani nejsou Psí vojáci, jen Filipův klavír a jeho výlet do čistě vážné hudby.
Maximálních pět hvězdiček je podle mě (minimálně pro mě) bez debaty a věřím tomu, že čas ukáže, že mám pravdu – vzhledem k rozporuplným reakcím kritiků zejména v době vydání alba (Psí vojáci se nevyvíjejí, Psí vojáci se uzavírají do sebe apod.). Mimochodem – před dvaceti, třiceti lety by také nikoho nenapadlo, že Rambo jednou bude mít na csfd červený čtvereček a některé akční filmy že budou dávat na ČT 2…
SKLADBY:
01. Znaj se sví známí (06:32)
02. 2.2. (04:00)
03. O příměří (9:25)
04. O cestě (3:05)
05. Ty taky (3:34)
Malá Smuteční hudba (9:43)
06. I Adagio – Moderato – Adagio (6:26)
07. II Largo (3:17)
08. U sousedů vyje pes (0:34)
09. O holubech a hře (4:06)
10. O rybníku, břehu a prstenu (3:41)
11. O noci (6:17)
12. Ráno snu (2:48)
SESTAVA:
Filip Topol – piano, zpěv, texty
David Skála – bicí nástroje
Luděk Horký – basová kytara, kytara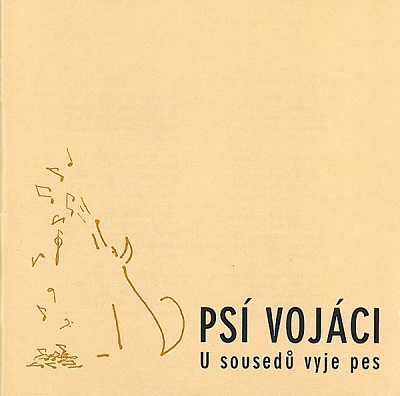 U Sousedů Vyje Pes
Psí Vojáci
Alternative Rock
Indies Records
2001
CD
12