V časoch, keď som sa veľmi intenzívne venoval rockovým vykopávkam, moje vnemy narazili na švajčiarsku hard rockovú úderku Toad. Bolo to niečo, čo ma naozaj zaujalo a oslovilo. Dovolím si tvrdiť, že jej prvé dva albumy – Toad (1971) a Tommorow Blue (1972) – si nezaslúžia zapadnúť prachom. Tí, ktorí si potykali s priečinkami hard a blues rock, by si ich nemali nechať ujsť.
Kým napíšem zopár slov k debutovému albumu, načriem do histórie a priblížim vznik tejto skupiny, ktorá sa sformovala v roku 1970. Nebudem spomínať všetky zastávky jej členov, ale pre zaujímavosť pridám niekoľko detailov zo životopisu hudobníkov, lebo stoja za povšimnutie. Výborný gitarista Vic Vergeat, pôvodom Talian, mal v roku 1969 za sebou krátku epizódu s britskými "bláznami" Hawkwind, ale nakoľko s nimi nenašiel spoločnú notu, vrátil sa do Švajčiarska, ktoré bolo od 15 rokov jeho domovom. Tam sa dal dokopy s rytmickou dvojicou Werner Fröhlich–Cosimo Lampis, ktorá sa podieľala na zaujímavej LP Cottonwoodhill (1971) od medzinárodnej skupiny Brainticket, radenej do krautrocku. Pridal sa k nim ešte spevák Benjamin Jäger. Ako samotný Vic spomína, pred prvým plánovaným vystúpením stále nemali meno, a tak majiteľ miestneho klubu vo švajčiarskom kantóne Ticino na nich naliehal, aby niečo vymysleli. Vic sa jedného dňa zatúlal do parku, v tráve zbadal ropuchu a legenda bola na svete. Skupina sa zapáčila majiteľovi miestnej značky Hallelujah a tento milý človek ju poslal nahrávať do Londýna, kde sa dostala do chýrnych De Lane Lea Studios. A ak by sa vám to poniektorým málilo a Toad chcete šmahom ruky odhodiť do žaburinca, vedzte, že za mixážnym pultom sa oháňal chlapík menom Martin Birch. Stále nič? Tak potom Vám niet pomoci a vráťte sa k Moravanke.
Samotný album ponúka 7 kúskov ťažkotonážneho hard rocku, okoreneného blues. Veľmi zaujímavý je spevácky prejav Benjamina Jägera, ktorý sa k tejto hudbe hodí prenáramne. A ďalšia vec, ktorú treba jednoznačne vyzdvihnúť, je gitarová hra Vica Vergeata, ktorý ten svoj nástroj žmýka bez štipky milosrdenstva a ja sa nestačím čudovať, kedy som to všetko stihol naučiť, veď mal vtedy okolo 19 rokov. Rytmická sekcia zdarne sekunduje, a tak tu máme veľmi chutnú tvrďácku nakladačku v dĺžke 44 minút.
Zo skladieb musím vyzdvihnúť Fröhlichov úvodný, vyše osemminútový, epos Cotton Wood Hill. Tá moja pamäť, kde som len ten názov čítal!? Rovnako tak vypichnem A Life That Ain't Worth Living, druhý zárez v poradí, ktorý takmer od začiatku do konca nasadí stredné tempo a pasuje mu to. Tank je Vicovo sólo, ale basa a bicie sa nedajú zahanbiť – radosť počúvať. Bluesovka They Say I'm Mad uberie notu z plynu a Benji, ktorý si počas predošlého čísla odskočil do bufetu, sa môže smelo rovnať s hviezdami žánru – veľmi vydarené číslo. Life Goes On, ďalší Wernerov epos, má tentokrát dvanásť minút a rozhodne nenudí, práve naopak, pričom ponúkne aj jemné akustické pasáže. V Pig's Walk kapela zapne na vyššie obrátky, doslova sa vyblázni a ja si s radosťou vychutnám Vicove ťažkotonážne kudrlinky, Wernerove figúrky i Cosimovo sóličko. Na záver sa Toad vráti k akustike a srdiečko nám pohladí jemnučká kráska The One I Mean – vydarené ukončenie tejto spanilej jazdy.
Pre zaujímavosť dodám, že tesne po nahrávaní sa Jäger rozhodol odísť a Ropucha zostala v trojici, keď si spevácke party podelili Vic a Werner. Osobne som prekvapený, pretože Benji sa k tejto hudbe hodil ako povestné a otrepané slovné spojenie "riť na šerblík". Podľa toho, že sa v roku 1977 podieľal na albume Pictures švajčiarskej skupiny Island, usudzujem, že ho to ťahalo k inému druhu muziky, nakoľko Ostrov zvykne byť prirovnávaný k britskej veličine Van Der Graaf Generator.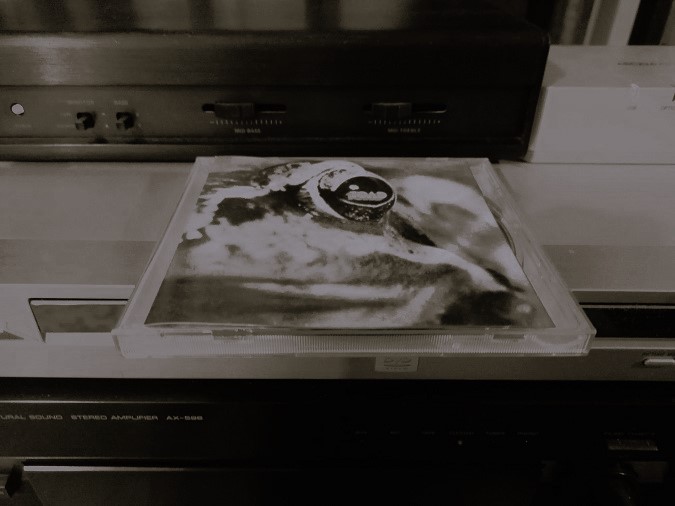 V dobe, keď ma pochytil nákupný amok menom Second Battle, pre neznalých kultové berlínske vydavateľstvo, už som mal v zbierke pirátske CD od Flawed Gems, preto som zvážil všetky pre a proti – hlavne finančného rázu – a rozhodol sa na veci už nič nemeniť. Podstatná je muzika. Ak máte radi hard rock, skúste, myslím, že nebudete ľutovať.
SKLADBY:
1. Cotton Wood Hill  /Werner Fröhlich/  8:32
2. A Life That Ain't Worth Living  /Vic Vergeat/  3:28
3. Tank  /Vic Vergeat/  3:27
4. They Say I'm Mad  /Vic Vergeat, Werner Fröhlich/  6:46
5. Life Goes On  /Werner Fröhlich/  11:58
6. Pig's Walk  /Vic Vergeat/  7:26
7. The One I Mean  /Vic Vergeat, Werner Fröhlich/  2:34
ZOSTAVA:
Benjamin Jäger – vocals
Vic Vergeat – guitars
Werner Fröhlich – bass
Cosimo Lampis – drums
NOTES:
Recorded at De Lane Lea Studios London.
Engineer – Martin Birch
Producer – Chris Schwegler
Toad
Toad
Hard Rock, Blues Rock
Hallelujah
1971
LP
7
CD - Flawed Gems, GEM 124 /2014/