Třetí, opět beznázvové, album Vladimíra Mišíka a Etc… bylo dlouho očekáváno. Kolovaly o něm zvěsti a čekalo se od něho asi ještě víc než od předešlých dvou opusů. Po letech zákazu, kdy bylo rozhodnuto, že stop pro Mišíka bude až do zapomnění, se hodně lidem zhroutil domácí hudební sen.
Mišík byl bez přehánění živý mýtus. Etc… byli v r. 1982 na vrcholu svého instrumentálního mistrovství, popularity a suverenity. Najednou udeřila tvrdá pěst komunistického režimu a hon na rockové čarodějnice udělal tečku za velmi plodným a umělecky úspěšným obdobím. StB monitorovalo jeho koncert ve vyprodané pražské Lucerně a jako záminku k zákazu si vzalo porušení koncepce schváleného koncertního programu. Mišík neprovokoval, zůstal sám sebou a projevil svůj názor bez lidské připosranosti, která byla dána jiným jeho kolegům na hudební scéně. Nebylo to žádné salonní rebelantství, ale odvaha, protože byl ženatý, měl rodinu a musel uvažovat nejen jako kumštýř, ale i jako živitel v sociálních rozměrech. Prostě, v sále operovalo několik "bretschneiderů", kteří čekali na svou příležitost. Bohužel, ukázalo se, že to shnilé udavačské jablko leželo mezi Mišíkovým týmem lidí – naštěstí ne mezi hudebníky! Ostatně pojednává o tom kniha Ondřeje Bezra…
Viděl jsem v zimě 1984 koncert, kdy se Mišík objevil po letech aplaudován davy lidí ve společnosti kytaristy Václava Veselého, houslisty Honzy Hrubého a Jana Spáleného hrajícího na klavír. Bylo mu povoleno vystoupit samostatně, ale oficiálně všichni "porušili" příkaz, zahráli si jamovým způsobem a bylo to zažehnutí téměř zhaslé svíčky…
V r. 1986 se konečně objevilo dlouho očekávané album. Kdo čekal vzkříšení té staré poslední sestavy – byl zklamán. To ale neznamená, že by Etc… utrpěli nějakou uměleckou porážku. Vůbec ne. Byl zde vynikající baskytarista Vladimír "Guma" Kulhánek, staronový houslista Jan Hrubý, který s sebou přivedl "nerockového" klávesového hráče Petra Skoumala, bývalý Marsyas – violoncellista Jaroslav "Olin" Nejezchleba (v určitém slova smyslu derivát Hrubého), překvapivě hardrockový kytarový matador Stanislav Kubeš (Jiří Schelinger a S.L.S.) a neznámý bubeník Pavel Skala.
Album mělo krásný úvod. To entrée bylo výtečné a DOBRÉ RÁNO, to byli Etc… se vším všudy. Skupina měla vždycky skvělé bubeníky – Pavel Skala a později Milan Krček, byly v jistém slova smyslu slabiny kapely. Skala byl vytipován Kulhánkem jako vhodný bubenický adept. Jeho hra sice byla přesná, ale už poučená trendy osmdesátých let, kde bylo málo přechodů a polyrytmických obrazců, ale spíš jednodušší styl s důrazem na druhou dobu. To mě trochu zarazilo. Stanislav Kubeš byl výtečný kytarista s rockovým feelingem, ale s ním se do Etc… nevrátilo elektrické blues, spíš poctivé rockové tažení. Skoumal na album přinášel drobné jednotlivosti a dodával skladbám onu písňovou charakteristiku, navíc neměl důvod vyčnívat a byl součástí celku. Takže, posílily housle a smyčce – kapela dostala nový sound. Spíše písňový s rockovými základy.
MALÁ PANÍ je funk jako víno a Kulhánek demonstruje svou výtečnou baskytaru, bicí už tak neoslňují. Zato je tady výborný Kainarův text, hovořící o věcech, kterým se lidé spíš vyhýbají.
DOPIS je reggae, povinná a možná až zbytečná výbava tolika kapel osmdesátých let u nás. Hrubého housle kolorují skvělé tóny a dokonce navodí atmosféru tanga. Tahle skladba Mišíkovi moc nesedla.
VANDA A ŽANDA – Přímočarý kytarový rock podle všech pravidel s textem v ironických narážkách. Mezihra přinesla rytmické proměny a muzikantské kouzlení ve velmi slušných obrazech.
SAMOTÁŘI a BLUES O KŘESTNÍCH LISTECH jsou zajímavé věci, mají atmosféru a reálné ztvárnění, ale přece jenom nedosahují úrovně kainarovských zhudebněných věcí na prvním a druhém albu.
Vynikající je závěr. TMA STÉKÁ DO KALUŽÍ. V textové výpovědi asi nejsilnější přínos na albu. To už není blues, ani rock, to je moderní šanson se silným emocionálním prožitkem.
Blues zůstalo zakotveno spíš v pocitech než v samotné hudební formě, taky možná Skoumalovy klávesy ředily sound a se Skalovými bicími otupovaly ono ostří. Hrubý, Kubeš a Nejezchleba byli ovšem zdatnými instrumentalisty a Mišík, třebaže měl šrámy na duši, zůstal sám sebou, energetický potenciál nějak výrazněji nepoztrácel, i když mu přibylo něco šedin. Ale byl zpátky a do osmdesátých let se vrátil jako rock star, která nevyhasla. Na Dědečkovy texty si ovšem bylo třeba zvyknout. Bylo v nich více sarkasmu, posun k jinému typu poezie, spíš k francouzským pojetím, ale Mišík se s nimi dokázal velmi dobře vyrovnat. Byla to prostě jiná, ale přesto věrohodná tvář navrátivšího se rockera.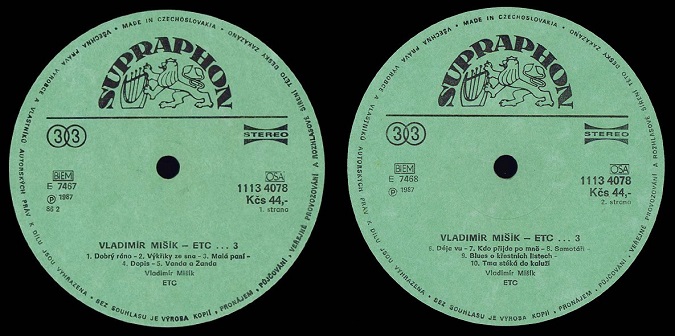 Přestože na albu je hodně silných míst, uberu mu hvězdičku a dávám čtyři. Není to žádný dramatický propad, ale reakce na hudbu, která vycházela už z estetiky osmdesátých let, kdy se nekladl tolik důraz na prokreslování detailů, ale spíš na přehledné melodie a zjednodušenou rytmickou údernost. Několikrát mě napadlo, co by se stalo, kdyby Etc… vyměnili bubeníka a přivolali zpět Jiřího Šusteru, ale ten už v té době hrál v Neckářových Bacilech.
SKLADBY:
01. Dobrý ráno 6:18
/Jan Hrubý, Jiří Dědeček/
02. Výkřiky ze sna 3:08
/Petr Skoumal, Jiří Dědeček/
03. Malá paní 5:10
/Jan Hrubý, Vladimír Kulhánek, Vladimír Mišík, Josef Kainar/
04. Dopis 3:10
/Vladimír Mišík/
05. Vanda a Žanda 3:22
/Stanislav Kubeš, Pavel Šrut/
06. Déjà vu 4:28
/Petr Skoumal, Pavel Šrut/
07. Kdo přijde po mně 3:40
/Petr Skoumal, Jiří Dědeček/
08. Samotáři 4:46
/Vladimír Mišík, Josef Kainar/
09. Blues o křestních listech 4:28
/Jan Hrubý, Vladimír Mišík, Josef Kainar/ 
10.Tma stéká do kaluží 2:58
/Jan Hrubý, Vladimír Kulhánek, Vladimír Mišík, Václav Hrabě/
NOTES:
Nahráno v únoru 1986 ve studiu Hrnčíře.
SESTAVA:
Vladimír Mišík – vocals
Vladimír Kulhánek – bass guitar
Jaroslav Nejezchleba – cello
Pavel Skala – drums, percussion
Stanislav Kubeš – guitar, mandola
Petr Skoumal – keyboards
Jan Hrubý – violin
3
Vladimír Mišík & ETC...
Folk Rock, Pop Rock, Classic Rock
Supraphon
1986
LP
10