Železnú pannu (Iron Maiden) si kúpilo viac ako 100 miliónov ľudí a pozná ju snáď každý, kto počúva rockovú hudbu. Heavy metaloví Iron Maiden pôsobia na hudobnej scéne už neuveriteľných 46 rokov a sú ikonami rockovej histórie. Nemusia už nikomu nič dokazovať a už vôbec ich nemusí trápiť, či sa ich nová LP bude predávať.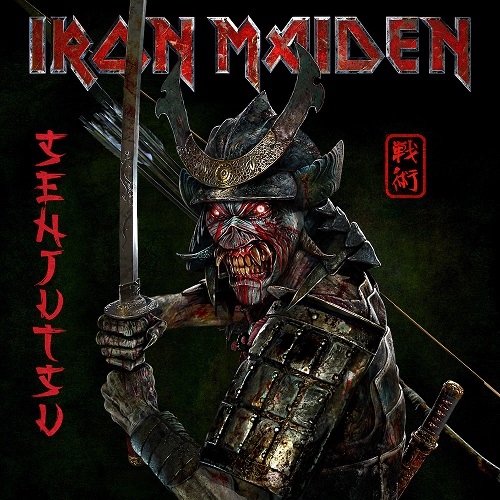 Hneď na úvod napíšem, že už po prvom vypočutí 3LP som bol úplne unesený a nadšene prijal ich novú vec Senjutsu. Dielo má 82 minút, je to náročné počúvanie. Jedným dychom však doplním, že celú ich tvorbu nepoznám a nie som oddaným fanúšikom. Mám iné prioritné skupiny a Iron Maiden vnímam iba okrajovo. K napísaniu recenzie ma donútilo počutie ich posledného eposu vydaného v tomto roku. Senjutsu začala skupina nahrávať v roku 2019, počas prestávky koncertného turné v Paríži, v štúdiu Guillaume Tell Studio. Producent bol ten istý ako na predposlednom albume The Book of Souls, Kevin Shirley.

Obal platní je graficky skvostný, s maskotom Eddiem so samurajským mečom. Otvárací obal skrýva nádhernú dynamickú kresbu Eddieho v útoku. Ilustroval Mark 'The Tinkerer' Wilkinson. Iron Maiden album nahrali v zostave, ktorá sa nemení už od roku 1999. Vtedy sa do skupiny vrátili spevák Bruce Dickinson a gitarista Adrian Smith. Doplnili Dave Murraya, Steve Harrisa, Nicko McBraina a Janicka Gersa.

V staronovej zostave vydali 6 štúdiových albumov. Najnovší Senjutsu je siedmy v poradí a celkovo 17-ty štúdiový album skupiny. Pri nahrávaní ich trápili zdravotné problémy speváka Bruca, ktorý sa trápil s diagnózou vážnej choroby hrtana a podstúpil aj operáciu bedrového kĺbu. Album vznikal počas kovidovej pandémie. Skupina tvrdí, že sa to neodráža v piesňach a nie je to koncepčné dielo. Je to zmes piesní, ktoré spoločne nahrali. Hoci sú pod piesňami menovaní autori, album sa nahrával s prispením všetkých hudobníkov a vo veľmi tvorivej a priateľskej atmosfére. Myslím si, že keď si album vypočujete, dáte mi za pravdu. Nahrávky sú vyšperkované a je cítiť, že skupina hrá pre radosť. Mám z toho úplne iný pocit ako z recenzie posledného albumu Yes – The Quest, ktorú som len nedávno napísal. Jednoducho realitu neoklamete a pozorný poslucháč nájde pravdu skrytú v atmosfére piesne (albumu).
Iron Maiden – Senjutsu (2021)
1. Senjutsu (8:20) Smith/Harris
Úvodná hymnická samurajská skladba zaujme už na prvé počutie. Zvuk nahrávky je temný a posadený nižšie. Typický zvuk dvoch/troch gitár a celkový sound nikoho nenechá na pochybách. Je to Iron Maiden, tak ako ich poznáme. Text piesne je inšpirovaný dávnovekým Japonskom, kde rôzne kmene medzi sebou bojovali. Skladba sa valí dopredu a všetci hrajú výborne. Nedá sa vybrať ten najlepší hráč. Majú za sebou už tak veľa koncertov, albumov, že môžu hrať v čiernočiernej tme a budú ako jeden muž. Rozvážna skladba, kde každý nástroj sa dá čítať ako každé písmenko v šlabikári. Nič netrčí, nič nevyčnieva. Jednoducho skvelá, perfektná vec. Do posledného skrytého malinkatého atómu, ale viditeľného pod mikroskopom. Počujem "We can hear far away are the sound of distant drums" a úplne súhlasím. Počujem vás, pekelníci Iron Maiden, a idem zdvihnúť zástavu na hradby a budem bojovať do posledného samurajského dychu. Volám: "Som na vašej strane. Dostali ste ma, zvíťazíme a budem tiež bubnovať na slávu víťazom."
2. Stratego (4:59) Gers/Harris
Rýchlejšia údernejšia skladba, dvaja gitaristi nás bezpečne sprevádzajú melodickou linkou. Bicie sú veľmi dobre snímané, je počuť všetko na čo sa buchne, alebo cinkne. Je to aj preto, lebo Diskinson spieva hlbšie položeným hlasom. Text vychádza z vojnového prostredia. Na tejto platni sú texty v bojovom duchu a Stratego nie je výnimkou. Nechce sa mi rozoberať rôzne náznaky, alebo odkazy na niečo v texte, čo mi nie je celkom jasné. V tomto smere máme výhodu, lebo od mala sme najprv vnímali anglickú hudbu po hudobnej stránke a až potom prišla reč na texty.
3. The Writing On The Wall (6:13) Smith/Dickinson
Táto skladba bola vydaná ako singel a je postavená na silnej melódii. Začína akustickou vzdušnou gitarou, aby sa vzápätí pridala riffujúca gitara, ktorá je podporená celou kapelou. Úvodné akcenty mi pripomínajú (nezabite ma) Scholtzových Boston až do času 1:10, kde sa to zlomí a nastupuje naozajstný Iron Maiden so zdvihnutou zástavou Bruca Dickinsona na púšti bez vody, o smäde, ale s víťazným pocitom bojovníka. V refréne píšem na stenu "Iron Maiden", hoci to kapela nemá v texte bojovej piesne a volám na jazdcov, ktorí idú opodiaľ a prosím ich, zachráňte tých vagabundov, ktorí ostali nažive. Je to naozaj hitová vec a dal by som 11 hviezdičiek z 10, keby som nevedel, že ešte prídu lepšie veci. Sú to "starí prďolové", ale aká je to hudobná "love" aj na staré kolená. Skladba má iba jednu melódiu, ktorá sa mení v podaní sólujúcich gitár, bicie sú absolútne skvelé, trošku strácam basovú gitaru, ale sound údernej singlovky je "numero uno".
4. Lost In A Lost World (9:31) Harris
Devätminútový "stratený svet" začína byronovsky rozprávaným spevným príbehom v podaní (už ste ma zabili za Boston?) vokalizujúcich Uriah Heep za oponou. Čas 2:30, uriášovská predkapela dohrala a mizne v elektrizujúcej gitare od našej "japonskej kapely" Senjutsu. Nicko McBrain si rozložil bicie tak priezračne, že môžete začať písať noty do bubeníckej osnovy. Tento mladý starček má skvelý cit a možno si spomeniem aj na Neila Pearta a dám Kanaďanovi v duši posledné zbohom. Jedna z vecí, ktorá ma na tomto albume berie od začiatku do kolien, sú bicie, nebudem zatĺkať. Gitary režú skladbu na kúsky v perfektnom slede, basová gitara v elektrizujúcom rytme s bicími. Spev Dickinsona má rôzne farby a nálady. Chlapec aj s diagnózou ťažkej choroby podáva skvelý výkon. Ťažko môžem opísať túto skladbu, stokrát opísané sa nikdy nevyrovná raz počutému. Dlhočizná skladba servíruje priestor pre ukážku dokonalého súzvuku všetkých zúčastnených. Epos buráca silou hromu, heavy metal v kráľovskej podobe. Možno sa predsa len nestratíme v tom stratenom svete plnom otázok a prirovnaní. Ak sa mraky rozplynú, nájdeme sa. Posledný nech zhasne!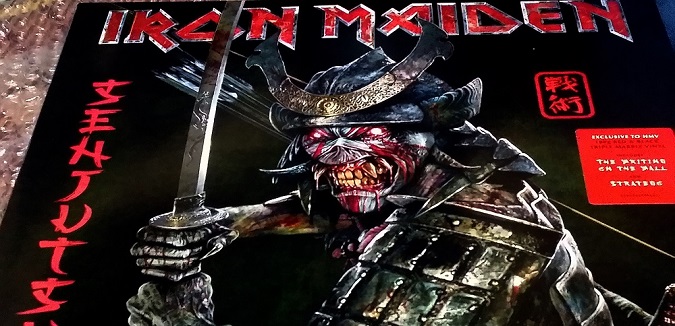 5. Days Of Future Past (4:03) Smith/Dickinson
Najkratšia skladba 3LP albumu je jednoduchou rockovou peckou. Rýchla a priamočiara s Dickinsonovým textom o budúcej minulosti. Budúca minulosť sa akosi stáva častou témou nových rockových pesničiek. Čo už všetci zabudli, že "All you need is love?" Dofrasa! Krkolomný časový nezmysel sa láme v texte skladby a hovorí obrazne o láske, pre ktorú je (Dickinson) uväznený v horiacej klietke a čakaní na deň zúčtovania, ktorý nikdy neskončí a o večnom živote. Smithov riff. Koniec.
P. S.: Prosím Vás, požičajte mi eury, vrátim Vám to v budúcej minulosti. Bankový účet poskytnem rád a okamžite.
6. The Time Machine (7:09) Gers/Harris
Stroj času nikoho nemôže nechať na pochybách, že to bude pieseň o cestovaní v čase. Dickinson sa stavia do pozície osoby, ktorá sa stretáva s bohmi aj keď tvrdí, že nie je kazateľ, ale iba obyčajný muž. Jeho príbeh je zrejme veľmi zlý, lebo nikto si nemôže predstaviť to, čo videl a vykonal. Kecá a kecá a len sľubuje, lebo nakoniec aj tak nič nepovie a neprezradí. Takzvaný o… Skladba výborne šliape v rytme, ktorý udávajú bicmen McBrain a basgitarista Harris. Trojica gitár vpredu hrá známu šablónu, dve dvojhlasne podporujú Dickinsonov spev, a tretia robí rôzne okrasné doprovodné kudrlinky. Motívy z predošlých nahrávok, ale mne to nevadí, kašlem na to.
7. Darkest Hour (7:20) Smith/Dickinson
Skladba začína šumom mora s čajkami (efekt atmosféry, ktorá sa často objavuje v hudbe). Ďalšia hymnická pieseň s bojovným textom. V pátraní na internete som našiel zmienku o tom, že táto pieseň je inšpirovaná Winstonom Churchillom. Nebol to dokonalý muž, ale v čase, keď to bolo potrebné, išiel tvrdo za svojím cieľom a ničoho sa nebál, postavil sa prekážke čelom. Presne ako v texte piesne, "zasiali ste vietor, žnete veternú smršť pred príchodom temnej hodiny". Skladba má ponurý text, ktorý je znovu v obrovských obrazových dimenziách. Celý album je takto koncipovaný a slová piesní nie sú ohraničené žiadnym reálnym priestorom. (V tejto je to inak, je to Albion). Ak však ste schopní preložiť si a porozumieť textom, je Senjutsu od Iron Maiden o level lepší a budete chápať mohutnosť ich hudobného prejavu.
8. Death Of The Celts (10:20) Harris
Pomalý emotívny úvod so sláčikmi a akustickou gitarou, je krásne nahraná a tie struny spievajú. Čo sa bude diať v keltskej smrti? Bruce začne rozprávať svoj príbeh. Nicko jemne prízvukuje a gitary sa pridávajú do mierneho rytmu tajomnej skladby. Znovu vstávajme bojovníci a bojujme za slobodu. Iron Maiden ma znovu pozvali a volám: "áno priatelia, máte o jedného bojovníka viac". Sólo na gitaru ma však zatiaľ usádza hlbšie do kresla a nechám sa opantať krásnou predohrou trojice gitár. Nestačím vnímať každú zvlášť. Netreba, veď aj na bojisku vyhrávajú tí, ktorých je viac. A nás je veľa. Kapela skvele hrá, je to skvost pre uši, pohladenie na duši. Práve sa odohráva to, čo som spomínal v úvode. Vedel som, čo príde a ono to naozaj prišlo. Perfektná vec. Všetky možné hviezdy dávam na zlatý podnos, lebo sa chcem zavďačiť skupine, ktorá tak skvelo hrá. Desať minút? Ako rýchlo to utečie. Mikrominikvapka v plastickom kýbli vody. Mám aj pozinkovaný, takže v pozinkovanom kýbli vody. Sme metalisti a nie plastikoví panáci. Ten záverečný riff a skladba doznieva, škoda.
9. The Parchment (12:39) Harris
Znovu jemný podmanivý úvod s orchestrom a gitarou. Bude to Ravelovo Bolero? Bicie sú naozaj skvelé a hrajú s podporou basy a gitár v harmónii. Gitara kopíruje Bruceov spev a ostatní držia temnú náladu. Neviem, kto sóluje, kto hrá doprovod. Je mi to jedno, možno skalní "iroňáci" budú vedieť. Beriem zvuk skupiny ako bezchybnú súhru muzikantov. Skladba je slabšia ako predošlá. Nevidím a nepočujem v nej tú iskru, čo mi zahriala dušu. Nie je však slabá, to v žiadnom prípade. Zvoľna prechádza do iného motívu. Gitary sa zrejme v sólach striedajú, páči sa mi predohra pred Dickinsonovým spevom. Je nástojčivý a odhodlaný. Jeho hudobný výraz je dokonalý, hlbšie posadený hlas je zrozumiteľný a ľahko sa identifikujú slová. Chýba mi krajší a lepší refrén. Na tak dynamickú kapelu je udivujúce, že sa nástroje dajú čítať každý samostatne. Po cvale celej bandy návrat na úvodný motív.
10. Hell On Earth (11:19) Harris
Trojkompozícia Steva Harrisa skončí "peklom na zemi". Prvý obraz, ako v predošlých dvoch piesňach, je citlivý, jemný, akustický, s podporou sláčikov. Nicko brejkom na bicích preberie spiacu kapelu. Bude to hudobná pecka s ľúbivou melódiou. Gitaristi režú do strún a basa s bicími ide jednoducho výborne. Dickinson nasadil vyšší tón a snaží sa ťahať nebeské výšky. Jasný a jednoduchý motív sa zrejme bude hnať celých 11 minút skladbou v rôznych premenách. V polovici trošku zvoľníme, predsa sú to starí páni a ten rýchly nájazd nemusel dopadnúť dobre. Vokálna vložka s pumpujúcou basou, ale iba chvíľu, páči sa mi bubnovanie na hi-hat a Dickinson podáva najlepší výkon na celej 3LP. Záver ako predtým. Návrat na úvodný motív piesne.

Vydýchavam a tlieskam. Skvelé! Vstal som 6 krát z gauča pre otáčanie strán LP a celkom som sa narobil, ale stálo to za to. Športovať treba vždy a všade, hoci len šúchať nohami. Idem si dať tabletku 250 gramovej čokolády na doplnenie energie a možno švacnem aj jedno pivko.
Iron Maiden v tomto epose sú pre mňa príjemným prekvapením. Páčil sa mi už ich predošlý album, vydaný pred niekoľkými rokmi. Senjutsu hodnotím ako ukážku múdreho, perfektne zahraného heavy metalu v podaní hudobných majstrov. Nenašiel som jedinú chybu alebo hocičo iné, čo by mi prekážalo. Zvuk nahrávky je výborný. Mám nápad. Blížia sa Vianoce 2021, skvelý darček pod stromček. Nie je nič jednoduchšie ako zhodnotiť bez zaváhania: 5 hviezdičiek z 5.
Iron Maiden:
Bruce Dickinson – spev
Steve Harris – basová gitara, klávesy
Adrian Smith – gitara
Dave Murray – gitara
Janick Gers – gitara
Nick McBrain – bicie
Engineer: Denis Caribaux
Mastered by Ade Emsley
Producer Kevin Shirley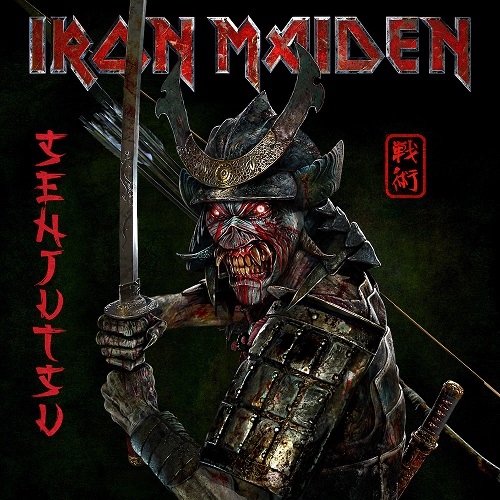 Senjutsu
Iron Maiden
Heavy Metal, Hard Rock
Parlophone
2021
3LP
10
3LP Parlophone 0190295015916 3LP limited red /2021/