V živote nie je súdené každému vyniknúť, hoci svoju prácu robí s obrovským zápalom. Rovnako tak aj v muzike. Veľakrát nestačí iba talent, ale i potrebná dávka šťastia. 
Tak nejako som zauvažoval pri počúvaní albumu Lemmings, ktorý vydala anglická skupina Bachdenkel, pochádzajúca z Birminghamu. Je pre mňa nevysvetliteľnou záhadou, že táto veľmi chutná porcia psychedelie a progresu, zaznamenaná už roku 1970, nedostala šancu v čase svojho zrodu. Na svoju príležitosť čakala až do roku 1973, kedy už boli karty rozdané a presadiť sa z exilu bolo prakticky nemožné. Kapela totiž "odišla" do Francúzska a tam album aj pôvodne vyšiel. 
Hľadal som nejaké informácie a dozvedel sa veľa zaujímavých vecí z pozadia. Napríklad, v 8–stopom štúdiu Wagram, ktoré patrilo pod parížsky Europa Sonor, sa chalani tak zažrali do roboty, že im na páske neostalo miesto pre vokály. S pomocou priateľa Karla Beera sa napokon presunuli do väčšieho, 16–stopového štúdia. Avšak kapela sa zadĺžila a prakticky sa z toho nespamätala. Boli tu mnohé pokusy predať materiál niektorej nahrávacej spoločnosti, ale pri prehrávkach a nástupe gitary v skladbe An Appointment With The Master vraj väčšina agentov zdúchla – ťažko povedať, čo čakali, môžeme iba hádať, ale zrejme neboli pripravení na takú energiu! Trocha to nadnesiem a zauvažujem, že skupina si pre nich nakoniec našla vhodné pomenovanie prostredníctvom albumu. Lumík (Lemming) – hlodavec, podobný hrabošovi, žijúci v Arktíde – je v angličtine a nemčine synonymom pre človeka, ktorý nerozmýšľa samostatne, čiže po našom – tupá ovca. V dnešnej dobe nič výstižnejšie ani neexistuje…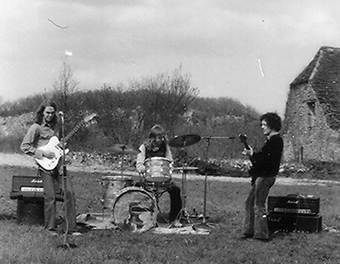 Ako sa dá odmietnuť vydanie takého diela?
Nedokážem na to odpovedať, pretože Lemmings má všetko. Dovoľte, aby som si pomohol myšlienkou jedného recenzenta z Francúzska, ktorá mi z minulosti utkvela v pamäti. Podľa môjho názoru nahrávku dokonale vystihol. Budem parafrázovať: "Lemmings má v sebe to najlepšie, čo v tej dobe bolo k dispozícii – silu Led Zeppelin, odvahu King Crimson, temnotu Van Der Graaf Generator, genialitu Pink Floyd, virtuozitu Yes i popovú krásu The Beatles…" Myslím, že ďalšie slová sú zbytočné. 
Na zoznámenie s Lemmings si spomínam ako dnes. Ešte sa úvodná skladba Translation ani poriadne nerozbehla, už som CD hľadal v "ešopoch". Tesne pred nosom mi niekto uchmatol vydanie od Ork Records (2007), nakoľko mi Švajčiar dodatočne objednávku stornoval. Vtedy som služby všelijakých bazárov nevyužíval, preto sa moje sklamanie nedá ani opísať. Časom všetko prebolí a dnes si vystačím s pirátskym vydaním od Minority Records (2009), na ktorom je pribalený aj Сталинград, druhý a zároveň posledný album Bachdenkel z roku 1977.

V roku 1970, keď dnešné progresívne celebrity ani nevedeli, kde je v hudbe sever, pritom sa teraz vyhrievajú na slniečku a žnú ovácie i toliare za svoje zásluhy na poli rockovej muziky, mala skupina Bachdenkel sakramentsky dobre našliapnuté. Žiaľ, nie každému je súdené…
P. S.:
Kapela album venovala Williamovi Fodenovi (*1860 – †1947), slávnemu americkému gitaristovi, skladateľovi a učiteľovi.
SKLADBY:
1. Translation (Swinburne/Beer) 4:17
2. Equals (Beer/Kimberley) 1:53
3. An Appointment With The Master (Beer/Kimberley) 5:19
4. The Settlement Song (Smith/Swinburne/Beer/Kimberley) 11:23
5. Long Time Living (Smith/Swinburne/Kimberley) 2:20
6. Strangerstill (Smith/Swinburne/Beer/Kimberley) 6:55
7. Come All Ye Faceless (Smith/Swinburne/Kimberley) 9:05
NOTES:
Recorded in the studios Europa Sonor, Paris, June – August 1970.
Engineers – Claude Marteneau, Didier Perrier, Pierre Guichon.
Painting [Original Lp Cover Painting] – Luciano Lanati.
Bachdenkel wish to thank Richard Tobin.
Producer, Mastered By [Sound Mastering] – Karel Beer.
ZOSTAVA:
Colin Swinburne – guitars, organ, piano, vocals
Peter Kimberley – bass (6-string), piano (2.), vocals
Brian Smith – drums, vibraphone (5.)
+
Karel Beer – organ (7.)
Lemmings
Bachdenkel
Psychedelic Rock, Prog Rock
Philips
1973
LP
7
CD- Minority Records /2009/