Presto Ballet je druhá a méně známá kapela amerického kytaristy Kurdta Vanderhoofa. Ten v polovině osmdesátých let založil heavy/power metalovou squadru Metal Church, která zanedlouho získala status ikony tohoto žánru. Avšak už po druhé nahrávce se Kurdt stahuje do pozadí, jeho místo obsazuje bedňák Metallicy John Marshall a kapela servíruje fanouškům dodnes nejoblíbenější desku Bleesing in Disguise. Od této chvíle Kurdt pouze komponuje a stává se šedou eminencí, která se následující léta drží v povzdálí. Do hry se vrací až při comebacku své kapely s deskou Masterpeace v roce 1999 a až do dnešních dnů drží kovový kostel v aktivní činnosti. K velké spokojenosti fanoušků se na místo zpěváka dokonce po více jak dvaceti letech vrátil ztracený syn Mike Howe.
Kurdtova láska k melodické hudbě, art-rocku, A.O.R., pompéznímu rocku a kapelám jako jsou Styx, Kansas, Boston, Asia a další se v tomto tisíciletí přetransformovala v založení nového spolku nazvaného Presto Ballet. Jeho prostřednictvím tak mohl světu ukázat i svou druhou, mnohem méně drsnou tvář, vytesanou z úchvatných melodií a dech beroucích klávesových ploch. Kapela rázem vstoupila do širšího podvědomí, proslavila se svou oblibou analogového zvuku a nahrávání na přístrojích pracujících v podobném režimu. Do dnešních dnů stihli vydat šest studiových nahrávek (jedna je sice označována jako mini, ale svou délkou podobnou ostatním nahrávkám (ty se většinou drží staré zažité míry okolo čtyřiceti pěti minut) se řadí mezi ty "klasické". Každou po sobě jdoucí dvojici desek nazpíval jiný zpěvák, což znamená, že na minulé i loňské novince se představuje dle mého nejlepší člověk, co kdy v řadách kapely účinkoval – Chuck Campbell. Na ostatních postech dochází k častějším výměnám, snad s výjimkou klávesáka Kerryho Shackletta, pro něhož je tato nahrávka už čtvrtou v pořadí.
Začátek desky je energičtější a razantnější, než na jaký jsme byli doposud od kapely zvyklí. První dvojice skladeb se po historické ose otáčí až kamsi k debutní nahrávce a za její ráz a charakter má odpovědnost především zvuk a způsob hry Kurdtovy kytary. Klávesám se tady dostává malinko menšího prostoru, což ale vůbec nevadí. Skladby jsou napsány chytře a entusiasmus, se kterým se zde setkáváme, zní velice lákavě. V půli Out of Mind (It's Outta Sight) přichází ladný akustický zlom, v němž vyniká Chuckova hlasová barevná škála. Druhou Earthbound odklepává precizní rytmika bubeníka Charlie Lormeho. Skladba má tah a šťávu, sedmdesátkové klávesy rozehrávají rychlé běhy a v sólování se střídají s kytarou. Od třetí Tip of the Hat se dají Presto Ballet přesněji identifikovat a nová nahrávka už lehčeji zařadit po bok předešlých, pro progresivisty nesmrtelných alb. O slovo se hlásí akustické kytary, klávesy dostávají širší manévrovací schopnost a nálada skladeb, tempo i dynamika se mění skutečně často.
Čtvrtá I Just Drive začíná jako klavírní romantická selanka. Znělý klavíristův úhoz lahodí uchu, a když se po chvíli přidá i akustika a zbytek ansámblu, posluchači postupně vyrůstá pod prsty úžasný song. Hard Times for Dreamers je dynamickou přehlídkou svižné a moderní progrockové techniky bez nějakých známek opotřebení nebo klišé zajetého stylu. No a nejdelší I am Wire je pro změnu dokonalým atmosférickým klenotem plným změn nálad, působivých aranžmá, pestrých instrumentálních motivů s trochou toho tajemna a mystiky. Už teď jej můžeme zařadit mezi ty nejlepší songy kapely.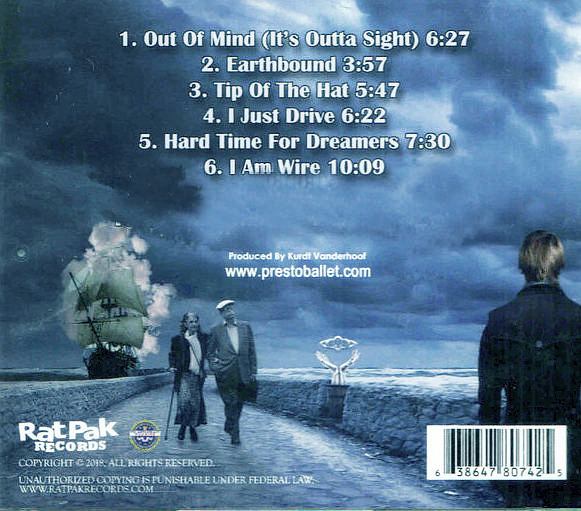 Kurdt Vanderhoof spolu s Chuckem Campbellem stvořili velmi povedeného následovníka alb předešlých – novinka jim co se týče pestrosti a nápaditosti šlape pořádně na paty. Mezi šesticí kvalitních a vysoce vyrovnaných alb Presto Ballet se jen těžko hledá nějaká výraznější nebo snad dominantnější nahrávka. Spíš je na každém jedinci, která že je ta jeho nejoblíbenější.
SKLADBY:
1.  Out Of Mind (It's Outta Sight) (6:29)
2.  Earthbound (3:57)
3.  Tip Of The Hat (5:47)
4.  I Just Drive (6:22)
5.  Hard Times For Dreamers (7:30)
6.  I Am Wire (10:09)
Bonus download track with LP edition:
7. Brand New Minute (4:57)
Bonus track on CD edition:
7. The Man with the Plastic Face (7:00)
SESTAVA:
Kurdt Vanderhoof – guitars
Chuck Campbell – vocals
Kerry Shacklett – keyboards
Bobby Ferkovich – bass
Charlie Lorme – drums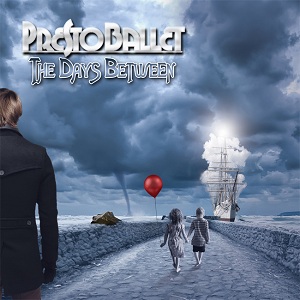 The Days Between
Presto Ballet
Prog rock, AOR.
Rat Pak Records
2018
CD, LP
6