CD Sony Music ‎– 88875000962   /2014/
Skupina Nuova Idea pochází z Janova a na italské hudební scéně působila v letech 1970-1973. Během necelých čtyř let natočila tři velká alba (včetně celé řady singlů) a patří tedy k těm relativně známějším a úspěšnějším. Jenomže co si budeme povídat, žádnou velkou díru do světa s nima neudělala… 
Debut In The Beginning vyšel v roce 1971 a i přes svou kolísavou kvalitu bývá řazen mezi nejzásadnější nahrávky italského art rocku. Dlužno dodat, že především díky "datu narození" a dvacet minut dlouhé kompozici Come, Come, Come…. O rok později jej následovalo koncepční album Mr. E. Jones, ale nesporným vrcholem tvorby skupiny je až teprve placka Clowns, vydaná v roce 1973. Ta přinesla poměrně originální fúzi heavy progu se symfonickým rockem, prošpikovanou všelijakými, na první poslech bláznivými prvky.
Nuova Idea měla našlápnuto ke slušné kariéře, ale v rozletu ji brzdila značně proměnlivá sestava, kterou prošlo i několik (později) známých jmen – např. kytarista Marco Zoccheddu, který se pak objevil v Osage Tribe, nebo jazzrockových Duello Madre a zmínil bych také klávesistu Giorgia Usaie, bo kytaristu a zpěváka Ricky Belloniho, kteří zakotvili u New Trolls. A u posledně jmenovaného se ještě na chvilku zastavme: Belloni působil v kapele Il Pacco a k Nuova Idea se přidal koncem roku 1972. Okamžitě se zapojil do tvůrčího procesu a do drážek alba Clowns tak otiskl svoji nesmazatelnou stopu. Jeho přiškrcenej a jak rašple ostrej vokál je k nepřeslechnutí a stal se jedním z hlavních poznávacích znaků skupiny. Mnoha fanouškům je trnem v oku, ale mě vyhovuje. Jednak je to opravdu unikát a druhak – k té muzice pasuje, jak nočník na prdel.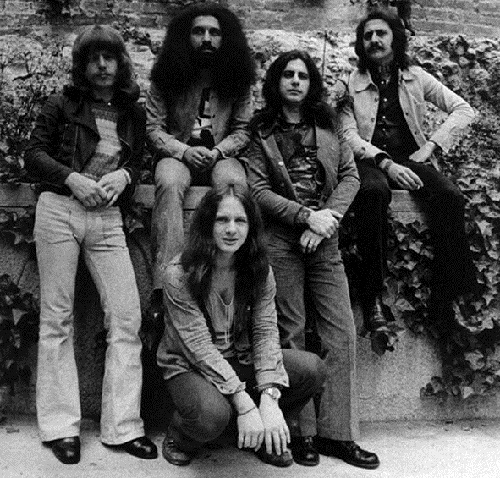 Přesně pětatřicet minut dlouhé album Clowns obsahuje pět skladeb a disharmonické žestě v jeho úvodu připomínaj nástup Atom Heart Mother, ovšem pak už je to originál každým coulem. Všech pět členů kapely umělo zpívat a hned v úvodní Clessidra to dokazují v pěkně secvičených sborech, ale Belloni sólo je prvně slyšet až v průběhu následující Un'Isola. Její načechranej a baladu naznačující rozjezd je jenom šikovným, sotva dvě minuty dlouhým úhybným manévrem, protože pak se to zvrtne v pořádnej mazec. Opulentní hardrockovej hodokvas, ze kterého cítím britskou školu a inšpiraci u kapel typu Deep Purple, nebo Uriah Heep. V krapet jednodušší, ale o to výbušnější skladbě Il Giardino Dei Sogni exceluje Belloni a jeho naříkavě umečenej projev vás buď pobaví, nebo naštve. Mě to první, ovšem žerty stranou. Přichází nekorunovanej král alba…
…kterým je impozantní, členitá a takřka jedenáct minut dlouhá Clown. Jejím základem je energickej hard rock, na kterej však kapela naroubovala ještě všehochuť fragmentů posbíranejch kde se dalo. Co dům dal. Od krátkého výstupu rozvrzanejch houslí a nejpopulárnější cirkusácké melodie všech dob, až po dětský pěvecký sbor, honky tonky piáno a sólo na trubku. Prostě parádní jízda, vyšperkovaná originálními prvky a vokálem jak břitva. Poslední, baladická a symfoničnem opředená Una Vita Nuova je už jen takovým příjemným rozloučením a polibkem na dobrou noc.
Původní album vyšlo u labelu Ariston Progressive a má nádhernej obal, jehož autorem je Gianni Zanini. Král a klaun s obličeji těsně u sebe vytvářej iluzi přesýpacích hodin, jejichž náplň je složená ze spousty nahých lidských těl. Vinylová reedice vyšla jenom jednou (v roce 2009) a v limitované edici k tomu, ale sehnat se dá za zhruba třicet Euro. S cédéčky je to trochu lepší, to od Sony Music obsahuje klasickej čtyřstránkovej booklet s reprodukcí originálního futrálu, tracklistem a sestavou.
Dnešní doba přeje comebackům a tak není divu, že se znovu vrátila – byť nakrátko – i Nuova Idea. V letech 2011-2012 odehrála několik koncertů a v sestavě Zoccheddu, Belloni, Usai a Siani (s výpomocí několika hostů) natočila i živé DVD. To vyšlo v roce 2014 a jeho součástí jsou také všechna televizní vystoupení z let 1971-73. Musím přiznat, že teprve při shlédnutí live verzí skladeb Clessidra  a Un'Isola jsem si uvědomil, jak komplexní a na živou prezentaci náročná hudba to je. Nuova Idea ji však podávají tak přístupným a samozřejmým způsobem, že si toho ani nevšimnete…
SKLADBY:
1. Clessidra (5:29)
2. Un'Isola (8:05)
3. Il Giardino Dei Sogni (5:21)
4. Clown (10:42)
5. Una Vita Nuova (5:23)
SESTAVA:
Ricky Belloni – eletric & 12-string guitars, violin, crotales, vocals
Claudio Ghiglino – guitar, shaker, vocals
Giorgio Usai – Hammond & Eminent organs, Moog, Hohner clavinet, piano, bells, bongos, vocals
Enrico Casagni – bass, recorder, sounds, vocals
Paolo Siani – drums, timpani, crotales, congas, tam-tam, guiro, triangle, vocals
+
Flaviano Cuffari – tam-tam
Emilio Soana – trumpet (4)
Clowns
Nuova Idea
Prog Rock
Ariston Progressive
1973
LP
5
CD Sony Music ‎– 88875000962 /2014/