CD Vinyl Magic – VM 021  /1990/
Fanoušky nejlépe hodnoceným albem italské skupiny Nuova Idea je Clowns z roku 1973. O dva roky starší, celkem po zásluze přehlíženej debut  In the Beginning moc slávy nepobral, ale už kvůli kompozici Come, come, come… stojí za poslech. Ta nabobtnala na úctyhodných 20 minut a vypl(e)nila celou jednu stranu původního vinylového alba…
Skupina Nuova Idea vznikla v roce 1970 z pozůstatků janovské beatové formace Plep a zakládající sestavu tvořili Marco Zoccheddu, Claudio Ghiglino (oba kytara), Giorgio Usai (klapky), Enrico Casagni (basa) a Paolo Siani (bicí). Ještě téhož roku se skupina zúčastnila rozhlasové soutěže Un disco per l'estate a toho následujícího vystoupila na slavném hudebním festivalu Viareggio Pop, kde si zahrála po boku Delirium, Flea on The Honey, Il Rovescio delle Medaglia, The Trip, Osanna, Stormy Six, PFM, nebo Formula Tre. Jenom dodám, že šlo o jednu z vůbec prvních, takhle koncipovaných hudebních přehlídek a vystoupilo na ní 24 kapel z celé Itálie. Nuova Idea představila skladbu Come, come, come… a label Ariston ji zařadil na albovou kompilaci Al Festival Pop Viareggio 1971 (AR/LP/12053). Je zajímavé, že vedle Nuova Idea dostali příležitost už jen Stormy Six a dnes takřka neznámí, z Parmy pocházející Top 4.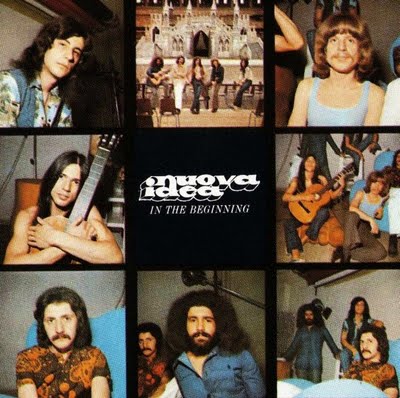 Skladba Come, come, come… se stala i základem debutového alba In the Beginning, vydaného společností Ariston Records (AR/LP/12061) v září roku 1971. Deska vyšla ve velmi pěkném, rozkládacím obalu a – údajně – bez vědomí samotných hudebníků, kteří to zjistili až při pohledu do výkladní skříně místního music shopu. Na svou dobu pokrokové album bohužel trpí odbytou produkcí, kolísavým zvukem a – zejména – jistou stylovou roztříštěností. Dlouhá a členitá veleskladba na první straně desky, versus pár plytkejch songů na straně druhé…
Musím přiznat, že právě Come, come, come… (Vieni, vieni, vieni..) mě dostala na první dobrou a vlastně jen kvůli ní jsem si tohle album nakonec aj koupil. Na italskou desku z roku 1971 je to fakticky pecka a Nuova Idea do ní narvali všechno možné. Jak tvrdej hard rock, tak pohodu u kafe s pořádnou porcí chytlavejch melodií a výtečně sladěnými vokály (zpívá celá kapela). Nechybí ani povinné sólo na bicí, včetně jazzové vsuvky a kravál v explozivním finále je takovej, že mi v kvelbu chrastěj kostlivci ve skříni a rezonují dvojitá skla plastových oken. Líbí se mi i Shakespearem, respektive tragédií Macbeth inspirovaný text, který začíná slovy "Ano, zabil jsem Duncana a zaujal jeho místo na skotském trůnu…" Myslím, že překladu z google translatoru by v tomhle případě rozuměl úplně každej.
Na druhé straně původního vinylu jsou čtyři kratší písničky a nejraději mám v pořadí druhou La mia scelta. Ve středním tempu šlapající, úsečně riffující hard rock s kravským zvoncem, břinkajícím klimprem a kytarou ostrou, jak žiletkovej drát. Vyšla rovněž na samostatném singlu, kde ji doprovázel víceméně akustickej slaďák Non dire niente… (Ho già capito). I ten pořád ještě ujde, ale skladby Realtà a především Dolce amore mě fakt nebavěj. Obě shazuje opravdu mizernej zvuk a tu druhou jmenovanou navíc ještě "sixtýs" naivita, která z ní stříká na všechny strany. Šumí to a praská, jak hřebíkem zedraná deska a zkreslené, do vejšek tahané falzety mi dávají pořádně zabrat. Nejhůře hrajícím studiovým albem v mé sbírce bylo po dlouhá léta  Appunti per un'idea fissa krajanů Capsicum Red, ovšem In the Beginning mu v tomhle směru šlape docela na paty…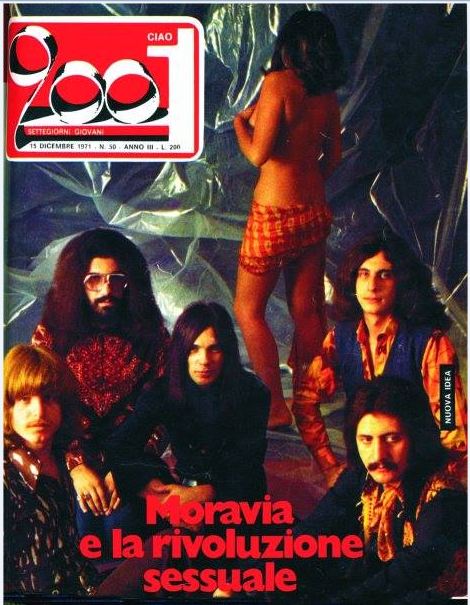 Původní vinyl se mezi sběrateli prodává za nějakých 150 Euro, ale k sehnání by mohla být nová reedice od Sony z roku 2015. Já jsem si koupil CD od Vinyl Magic (1990) s jednoduchým, čtyřstránkovým bookletem, který je vlastně reprodukcí obálky originálního alba. Názvy skladeb obsahuje, ale sestavu skupiny bychom na něm hledali marně. Producent Gianfranco Reverberi byl tak trochu tajnůstkář a říká se, že pro něj kluci z kapely anonymně nahráli rovněž mýty opředená LP The Underground Set a The Psycheground Group.
Skladbě Come, come, come… bych nedal méně, než čtyři, ale druhou stranu desky slyším za slabší dvě. Výsledek je jasnej – 3.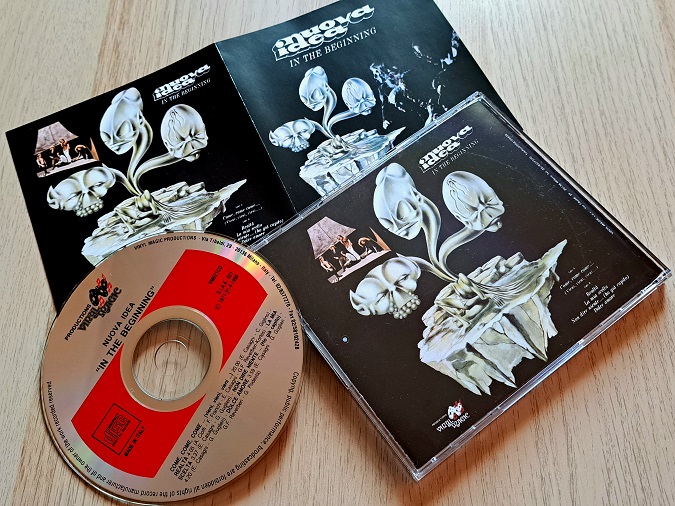 SKLADBY:
Lato A
1. Come, come, come… (Vieni, vieni, vieni…) – 20:00
Durata totale: 20:00
Lato B
2. Realtà – 4:05
3. La mia scelta – 3:37
4. Non dire niente… (Ho già capito) – 4:20
5. Dolce amore – 3:59
Durata totale: 16:01
SESTAVA:
Marco Zoccheddu – chitarra, voce
Claudio Ghiglino – chitarra, voce
Giorgio Usai – tastiere, voce
Enrico Casagni – basso, flauto, voce
Paolo Siani – batteria, voce
In the Beginning
Nuova Idea
Prog Rock
Ariston
1971
LP
5
CD Vinyl Magic – VM 021 /1990/