Rodící se česká rocková scéna se v šedesátých letech minulého století mohla pyšnit několika výraznými hlasy, které se staly pro hudební scénu té doby charakteristickými a přímo signifikantními. Stačí se podívat na dvě významné skupiny té doby, tedy Flamengo a The Matadors. V nich se objevily persony jako Viktor Sodoma, Karel Kahovec, Petr Novák a Vladimír Mišík. Zatímco první dva víceméně semlela doba a Novák se snažil s tu menšími, tu většími potížemi pokračovat ve své tvorbě, Mišík vstoupil do nové dekády jako člen nejslavnější sestavy Flamenga z období Kuřete v hodinkách. Zde se setkává s tvorbou básníka Josefa Kainara a s poezií jako takovou.
V roce 1976 Vladimíru Mišíkovi obklopenému skupinou Etc… vychází první sólové album. Zpěvák na prahu třicítky sestavil velice silnou kolekci devíti písní, z nichž mnohé za tu dobu již vlastně zlidověly. To platí především o písni Stříhali dohola malého chlapečka, zhudebněném Kainarovu textu o ztrátě bezstarostného dětství a veškerých mladistvých iluzí. A vůbec texty na albu jsou tím, co předkládaný materiál povyšuje nad tehdejší běžnou produkci, mnohdy plytkou a obsahově prázdnou. Z Kainarovy tvorby se ještě dostalo na báseň o milencích, kteří se milovali, jen když se měli rádi. Mišík dodal bluesovou melodii a píseň Obelisk se pro mě stává tím nejsilnějším kouskem na desce. Hynek Žalčík dodal text k hudebně nejkomplikovanější skladbě Biograf a silně meditativní písni – aspoň tak to vnímám – Syn Daidalův. Mišík jako jediný autor hudby otextoval rozvernou píseň Jednohubky a také nejtvrdší skladbu na albu, velice výživnou a výrazným zpěvem ozdobenou píseň Bazarem proměn.
Hudebně se jedná o značně různorodý materiál, ať už se jedná o hard rock, folk rock, blues, někdy až s mírnými přesahy do country. Zpěvák se ukazuje v té nejlepší formě a dokazuje, že po těch jedenácti letech na scéně neztratil nic ze svého charismatu, pouze přidal do odstínu a barvy svého hlasu prožité zkušenosti. Když se navíc ještě obklopil spoluhráči, s nimiž si rozuměl jak po hudební, tak po lidské stránce, nemohlo nevzniknout dílo výjimečných kvalit, k němuž se budu vždy rád vracet.
Skladby:
1. CESTA DO DĚTSTVÍ (V.Mišík/V.Merta)
2. KDE JE MŮJ STŮL (V.Mišík/P.Kopta)
3. JEDNOHUBKY (V.Mišík)
4. BAZAREM PROMĚN (V.Mišík)
5. PROČ TA RŮŽE UVADÁ (V.Mišík/J. Suchý)
6. STŘÍHALI DOHOLA MALÉHO CHLAPEČKA (V.Mišík/J.Kainar)
7. BIOGRAF (V.Mišík/H.Žalčík)
8. SYN DAIDALŮV (V.Mišík/H.Žalčík)
9. OBELISK (V.Mišík/J.Kainar)
Obsazení:
VLADIMÍR MIŠÍK / zpěv (1-9), el. kytara (1), akust. kytara (2,3,6-9), 12-ti strunná kytara (5), kazoo (3), brumle (5)
PAVEL FOŘT / el. kytara (1, 2, 4, 7, 9), akust. kytara (3), 12-ti strunná kytara (6, 8)
PETR POKORNÝ / el. kytara (1, 3, 4,7-9)
JAN HRUBÝ / housle (3), el. housle (3, 7), tamburína (8)
VLADIMÍR PADRŮNĚK / bas. kytara (1, 3, 4, 7-9)
ANATOLI KOHOUT / bicí a percussion (1, 5, 7-9)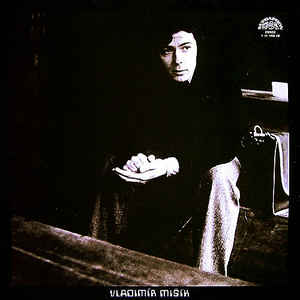 Vladimír Mišík
Vladimír Mišík & ETC...
Prog Rock, Acoustic
Supraphon
1976
LP
9
CD Supraphon – SU 6358-2