CD Vinyl Magic, Bla Bla V.M. 050  /1995/
Capsicum Red měli raketovej start, ale celkem brzy jim došla šťáva a po krátkém letu vlastní setrvačností se z vrcholu trajektorie zřítili do úplného zapomnění… 
Celé to vlastně spískal skladatel, producent a majitel nahrávací společnosti Bla Bla Records Pino Massara, kterej si chtěl "vyšlechtit" vlastní rockovou star a do oka mu padl zpěvák a kytarista skupiny Prototipi Bruno "Red" Canzian. Ten se nenechal dvakrát pobízet a v roce 1971 natočil (sice pod hlavičkou Capsicum Red, ale s partou najatých studiových hudebníků) svůj první singl Ocean/She's A Stranger. Ten sklidil poměrně slušnej úspěch a to i díky tomu, že byl použit jako ústřední melodie TV show "…e ti dirò chi sei". Nutno dodat, že zájem o "skupinu" ze strany fanoušků a hudebního tisku se Massara snažil přiživovat smyšlenejma historkama o anglickém původu jejích členů a docela mu to vycházelo.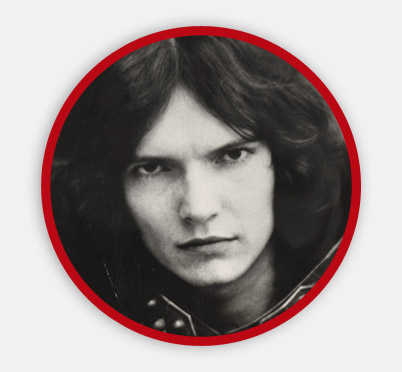 Následující singl Tarzan/Shangri-Là se nahrával dokonce v Londýně a Canziana doprovázeli mládenci z kapely Stone Crows, ovšem ohlasy na něj byly už poněkud vlažné. Pro živé vystupování však bylo nutné postavit regulérní skupinu a první sestavu tvořili Canzian (kytara, zpěv), Mauro Bolzan (klávesy), Paul Podda (bicí) a Valter Gasparini (basa), kterého však prakticky vzápětí nahradil Paolo Steffan. K poslední změně v obsazení skupiny došlo v roce 1972, když Paula Poddu vystřídal Roberto Balocco (ex Panna Fredda) a hned nato celá parta napochodovala do studia a natočila své první (a zároveň aj poslední), Emersonem a The Nice inspirované album Appunti Per Un'Idea Fissa. Jenomže to zcela propadlo a už o necelej rok později byl s Capsicum Red ámen. Red Canzian se mihnul u Osage Tribe, ale nakonec zakotvil u poprockových Pooh a zadělal si tak na dlouhou a úspěšnou kariéru. Paolo Steffan založil popové duo Genova & Steffan, se kterým natočil a vydal jediné album v roce 1976 a po ostatních členech Capsicum Red se slehla zem…
Album Appunti Per Un'Idea Fissa vyšlo v roce 1972 a jeho náplní je Emersonem a The Nice ovlivněnej classical rock s klávesami v hlavní roli. Prakticky celou první stranu původního elpíčka zabrala adaptace Beethovenovy klavírní sonáty Patetica a protože já podobné předělávky rád, moc jsem se na ní těšil. Ale ouha. Celá (pochopitelně instrumentální) suita působí nějak nevzrušivě, odevzdaně a bez šťávy a tvorbě britské legendy se nevyrovná ani v nejmenším. Táhne se to jak stoletá válka a někdy kolem páté minuty o ni začínám ztrácet zájem. Neříkám, že tu není pár dobrejch momentů, ale je jich zatraceně málo a prožitku zrovna neprospěje ani zahuhlanej a plochej zvuk. O tak trochu amatérsky působícím výkonu zainteresovaných hudebníků ani nemluvě…
Dvě minutky dlouhá Lo Spegnifuoco pokračuje v podobném duchu a ani by mě nenapadlo, že k původní sonátě už jaksi nepatří. Je to trochu nedotaženej classical rockovej dupák, kterej skončí dřív, než se stačí pořádně rozvinout. Canzianův vokál se tak prvně objeví až v písničce Equivoco. Sice nesmělej a téměř šeptem, ale je tam. Její klavírní úvod naznačuje baladu a nic na tom nezmění ani pár hlučnejch vsuvek. Pořád je to však nějaké rozhárané a teprve u patřičně tklivého cajdáku (s energickým vyvrcholením) Rabbia & Poesia si říkám konečně, konečně dobrá skladba, protože její melodie i hudební doprovod jsou opravdu pěkné. Pro mě vrchol alba (i když je to coververze) a vzestupnou tendenci potvrzuje i závěrečná řachanda Corale. Zkreslené varhany a řádně nabroušená kytara jí propůjčují takřka hardrockovej nátisk a časté změny nálady, rytmu a tempa z ní dělají druhou nejzajímavější položku alba. Jenom ten zvuk, ten je fakt děsnej…
Přídavkem jsou oba desce předcházející singly a až na trochu naivního Tarzana jsou to celkem milé melodické písničky, které hrajou líp než samotné album. Jeho rozevírací obal s několika kolážemi je parádní, ale to je tak jediné, co se tady dá chválit. Ten zvuk je opravdu špatnej a hůř vyprodukovanou studiovou nahrávku jsem snad ještě neslyšel. Moje CD reedice z roku 1995 obsahuje osmistránkovej booklet s replikou původního obalu, texty písniček a nějakým tím povídáním v italštině. Je pěkná, ale na víc než na dvě (a půl) hvězdičky to nevidím.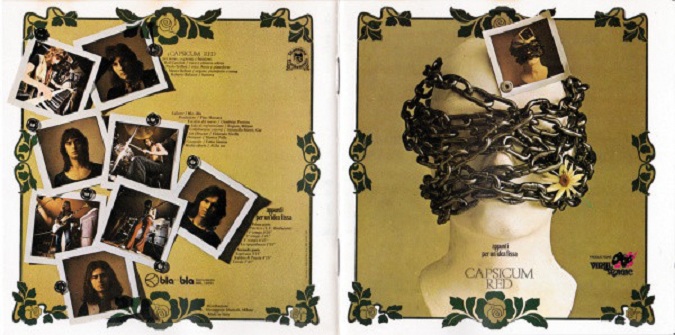 SKLADBY:
1. Patetica:
—1° Tempo
—2° Tempo
—3° Tempo (14:24) (Ludwig Van Beethoven)
2. Lo Spegnifuoco (1:55) (Ed De Joy)
3. Equivoco (5:14) (Conz, Ed De Joy)
4. Rabbia & Poesia (4:14) (Conz)
5. Corale (7:40) (Conz, Ed De Joy)
Bonus tracks on Vinyl Magic release:
6. Tarzan (3:04)
7. Shangri-Là (2:48)
8. Ocean (3:03)
9. She's A Stranger (3:20)
SESTAVA:
Red Canzian – chitarra , voce
Mauro Bolzan – organo Hammond , pianoforte , sintetizzatore
Paolo Steffan – basso , voce, pianoforte
Roberto Balocco – batteria
Nota: Ed De Joy è uno degli pseudonimi di Franco Battiato.
Appunti Per Un'Idea Fissa
Capsicum Red
Art Rock, Prog Rock, Symphonic Rock
Bla Bla
1972
LP
5
CD: Vinyl Magic, Bla Bla V.M. 050 /1995/