Máme tu album, ktorý od svojho prvého vydania na značke Pegasus v roku 1971 získal takmer mýtický status. Kapela bola duchovným dieťaťom Tonyho Duranta, speváka a hráča na akustické aj elektrické gitary, ku ktorému sa pridali basista Michael Day a bubeník Michael Gregory. Čo však robí toto dielo skutočne výnimočným, je fakt, že ponúklo aj ženské trio – Janet Rogers (husle, doprovodné vokály), Madeleine Bland (violončelo, klavír, harmonium, doprovodné vokály) a Vanessa Hall-Smith (husle, doprovodné vokály). Tieto dve trojice sa spojili a vytvorili skvelý spolok progresívneho folk rocku. Môžeme polemizovať, či Jeff Lynne alebo Roy Wood narazili na týchto ľudí skôr, ako sa rozhodli v ELO vydať veľmi odlišným smerom oproti The Move.
Nahrávka má v sebe zvláštny rozmar, zmyselnú anglickosť, čo je ťažké opísať. Občas mi Fuchsia pripomína The Incredible String Band, v iných momentoch viac Gryphon, potom je to mix psychedélie, aby vytvorila niečo, čo je neuveriteľne atmosférické a bezprostredné. Je to typ hudby, ktorú môžem počúvať celý deň. Tonyho spev je často v popredí, doplnený éterickými sprievodnými vokálmi, ktoré vytvárajú pozadie pre hudbu, ktorá dostane svoj priestor. Niekedy je na čele basa, inde zasa violončelo, takže jedna trojica podporuje druhú a naopak. Pred týmto vydaním som sa s albumom Fuchsia nestretol, ale vydavateľstvo Fruits De Mer Records (FDM) skvelým spôsobom ukazuje, ako sa majú uchopiť klasické albumy a s ozajstnou starostlivosťou, ktorú si zaslúžia, ich sprístupniť verejnosti.
Chcem zdôrazniť, že ide o opätovné oficiálne vydanie, čo je v týchto prípadoch riskantné. Rovnako fakt, že album je k dispozícii na vinyle. FDM ho rozšíril na dvojalbum s ďalšími skladbami. Celý balík obsahuje pôvodnú LP, ktorá vyšla na značke Pegasus vo Veľkej Británii a Francúzsku, plus druhý disk počiatočných ukážok a nové nahrávky starých piesní, vrátane 15-minútového dema nahraného kapelou predtým, ako podpísala zmluvu. K dispozícii je aj 15 minútové DVD s Tonym Durantom, ktorý hovorí o diele a o tom, čo sa s ním a Fuchsiou stalo po úvodnom vydaní. K tomu plagát originálneho obalu albumu o veľkosti 60 palcov štvorcových (cca. 152 cm2), ktorý nakreslila Anne Marie Anderson (navrhla aj Land Of Gray And Pink pre Caravan).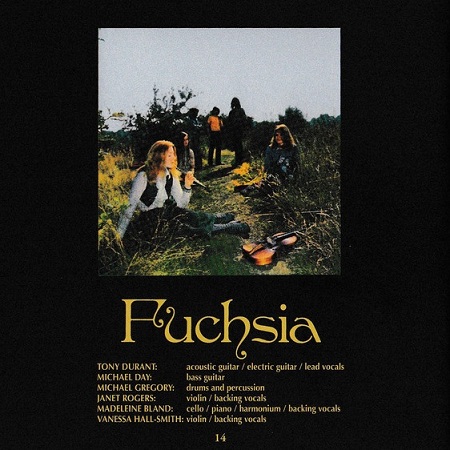 Na tejto LP je niečo neuveriteľne čarovné, také magické, že ju dokážem s ľahkosťou a opakovane prehrávať. Majestátna, úžasná, nevyhnutná a nenahraditeľná, je to hudba z dávnych čias, ktorá sa s príslušnou starostlivosťou opäť vrátila k životu.
SKLADBY:
01. Gone With The Mouse (4:59)
02. A Tiny Book (8:03)
03. Another Nail (6:57)
04. Shoes And Ships (6:14)
05. The Nothing Song (8:23)
06. Me And My Kite (2:34)
07. Just Anyone (3:33)
Bonus tracks on 2018 double-LP reissue:
08. Somnambulist (3:14)
09. Rocks And Books (3:21)
10. Fuchsia (original long demo) (15:10)
11. The Band (original demo) (3:20)
12. Ragtime Brahms (original demo) (4:56)
13. Fuchsia Song (acoustic) (4:08)
14. The Band (Me And My Kites version) (3:05)
15. The Waves (3:15)
Bonus DVD from 2018 double-LP reissue:
Tony Durant Interview (15:00)
ZOSTAVA:
Tony Durant – acoustic & electric guitars, lead vocals, composer
Michael Day – bass
Michael Gregory – drums, percussion
Vanessa Hall-Smith – violin, backing vocals
Janet Rogers – violin, backing vocals
Madeleine Bland – cello, piano, harmonium, backing vocals
Fuchsia
Fuchsia
Prog Rock, Folk Rock
Pegasus
1971
LP
7
2LP + DVD Fruits de Mer Records /2018/