"Čtverka" je, podle mého názoru, umělecky nejzásadnější album skupiny. Záměrně neříkám "nejlepší", protože to je v případě jejich tvorby ošidné. Postavil bych ho naroveň tvrdší "dvojce", ale je v řadě ohledů jiné a to je dobře. Naštěstí se po jeho vydání vývoj uvnitř Led Zeppelin nezastavil a i další díla přinášela zajímavá témata. Po předešlém albu už ve skupině zůstaly více ukotveny akustické balady, což bylo dobře, protože vyvažovaly dramaturgii a celkové pojetí.

BLACK DOG – Čarovné kytarové bublání, přichází ostrý hlas Planta a důkladně vymyšlený riff, který v unisonu nádherně propojuje Pageovu kytaru a Jonesovu baskytaru. Bonham rozjíždí svoje dusavé bicí. Klasický hardrockový model, který byl na počátku sedmdesátých let téměř posvátný. Plantův vokál, s mírným dozvukem hlasu, má v sobě napětí a tolik žádanou dravost. Preparovaný kytarový tón v sóle přináší novou barvu do soundu. Výtečné intro!
ROCK AND ROLL – Že rock and roll není ani v sedmdesátých letech nějaká mršina, dokázali Led Zeppelin hned ve druhé skladbě. Agresivní rytmická jízda bicích a baskytary, provázená řeřavou kytarou a nad tím se vznáší "krákoravý" Plantův hlas. Úžasný energetický potenciál, který získával na intenzitě zejména na koncertech. Pageovy kytarové playbacky dodávají útočné doprovody, ale i hezky vystavěné sólo a Jones navíc řádí na klávesách klavíru. Bezchybné!
THE BATTLE OF EVERMORE – Nádherná balada, kde se vedle akustických kytar ověvují i mandolíny, na které hrají Page a Jones. Klenutý sálavý vokál doprovází ještě výtečná Sandy Dennyová, zpěvačka skupiny Fairport Convention. Dodává do skladby průzračnost a čistotu. Chudinka, zemřela po nešťastném pádu ze schodů, je jí věčná škoda. I její sólové skladby měly velmi dobrou úroveň… To, co se dokázalo vložit do skladby přesvědčilo, že i akusticky uchopené téma nemusí být pro rockery odpudivé a "kotlíkové". Moc příjemné!
STAIRWAY TO HEAVEN – Už jsem to někde psal a směle to napíšu znovu. Ztotožňuji se s míněním hudebních kritiků, že sedmdesátá léta nejlépe deklarují tři skladby Child In Time (Deep Purple), July Morning (Uriah Heep) a Schody k nebesům. Zajímavé, že všechny pocházejí zhruba z jednoho období. Nádherně vystavěná balada s počátečními Pageovými rozlamovanými akordy a podmanivým Plantovým hlasem. Skladba postupně získává na dynamice a z baladického tématu přechází do úderného hardrocku. Kloubení dvanáctistrunné elektrické a šestistrunné kytary je geniální, stejně jako vedená harmonická struktura. Bonhamovy ďábelské breaky na bicí a intenzivní Plantův tlak na hlasivky přinášejí jedinečný dojem až do subtilního závěru. Další slova jsou zbytečná!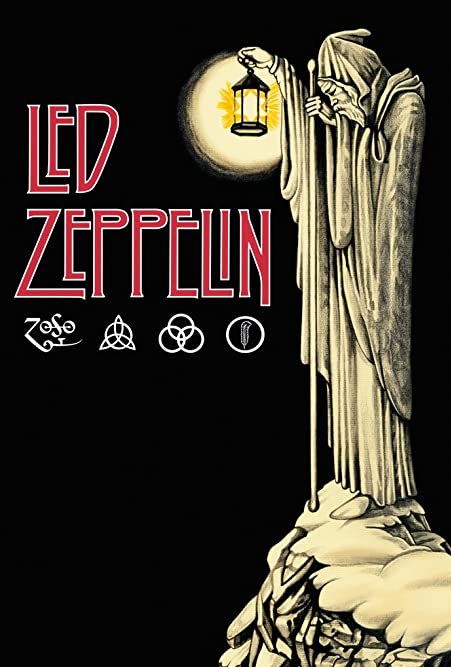 MISTY MOUNTAIN HOPE – Mechanicky se opakující riff má svou údernost a účinnost. Není zde žádná rafinovaná harmonická struktura, přesto máme co dělat s velmi propracovaným tématem, který vytváří ten neopakovatelný zeppelinovský sound, co rozpoznáte na míle daleko. Navíc stále motivuje nové skupiny, ať už s jejich odkazem zacházejí jakkoliv.
FOUR STICKS – Na podobně se opakujícím úderném riffu stojí i tahle rytmicky velmi preferovaná záležitost. Bonhamovy bicí mají patřičnou údernost, ale i hypnotickou účinnost, stejně jako kytarová a baskytarová unisona. Page je navíc prokresluje dalšími kytarovými playbacky a vrství tak do tématu nové nápady, zatímco Plant si pohrává s hlasem podle osobních emocí. Bzučivý zvuk elektroniky čeří kytarový sound, ale hypnotické tempo je neomylně přesné a šlape jako dobře seřízený motor.
GOING TO CALIFORNIA – Přichází balada. Akustické kytary a mandolína dodávají zklidnění, stejně tak i Plantův hlas má konejšivý charakter. Akordické výměny a tónové kouzlení. Robert vyzpívává svoje intimní pocity v touze po novém vztahu, který chce nalézt ve slunné Kalifornii. Page má smysl pro proporce a skladbu nezahltil dalšími nástroji. Díky tomu dodnes můžeme poslouchat příjemné nálady se vzdalujícími se vokály.
WHEN THE LEVEE BREAKS – Že už vám chybělo na albu blues? Tak už je tady. Bluesová zpěvačka Memphis Minnie "dodala" originál, který Led Zeppelin přearanžovali do rockového pojetí. Dunivá rytmika (opět to hypnotické sázení úderů propojené s baskytarou) a do toho protahované tóny elektrické kytary. Už je tu také Plantův hlas. Potvrzuje, že blues cítí do morku kostí a že na něm vyrůstal. Elektronicky preparované kytary získávají na elasticitě, třebaže zkreslení se neztrácí. Plant velmi účinně vsazuje do hry foukací harmoniku. Emocionální, živočišné a klasicky zeppelinovské. Co můžeme chtít víc? Plantův chraptivý hlas, vokál, se posléze ztrácí v hutném soundu, hnán neomylně až do finále.

Měl sem to štěstí, že jsem před několika lety jako redaktor na Rádiu Hey 96,8 FM uvedl tematický pořad o Led Zeppelin od začátku do konce a přidal pár zajímavých coververzí. Mělo to docela odezvu v éteru. Nepíšu to kvůli nějaké osobní slávě, ale kvůli tomu, že i po letech jsem zaregistroval, že Led Zeppelin nejsou a nebudou zapomenuti. To byla velmi příjemná zkušenost interaktivního charakteru.

Určitým typem pocty bylo, když se na mě obrátilo plzeňské nakladatelství NAVA a pověřilo mě supervizí nad knihou Keitha Shadwicka: Led Zeppelin – příběh skupiny a její hudby 1968-1980, kam jsem napsal i Ediční poznámku. Velmi mě tato důvěra potěšila a jsem hrdý, že jsem mohl Led Zeppelin poskytnout takto "svoje skromné služby". Ne kvůli mě, ale kvůli Led Zeppelin se na tuto knihu zaměřte. Je dobře napsaná a přeložená. Vřele doporučuji!
Album dostává mez mrknutí oka plný počet hvězdiček!
SKLADBY:
1. Black Dog (Page/Plant/Jones) 4:54
2. Rock and Roll (Page/Plant/Jones/Bonham) 3:40
3. The Battle of Evermore (Page/Plant) 5:51
4. Stairway To Heaven (Page/Plant) 8:00
5. Misty Mountain Hop (Page/Plant/Jones) 4:38
6. Four Sticks (Page/Plant) 4:44
7. Going To California (Page/Plant) 3:31
8. When The Levee Breaks (Page/Plant/Jones/Bonham/Memphis Minnie) 7:07
Originally released as Atlantic 7208 on November 8, 1971
Recorded in December 1970 – March 1971 at Headley Grange, Hampshire, with The Rolling Stones Mobile Studio and Island Studios, London
Mixed at Island Studios, London with Andy Johns (1,2,4); Olympic Studios, London with George Chkiantz (3); Olympic Studios, London with Andy Johns (2,5-7) & Sunset Sounds, Los Angeles with Andy Johns (8)
Engineered by Andy Johns
Produced by Jimmy Page
Executive producer: Peter Grant
SESTAVA:
Jimmy Page – acoustic guitar, electric guitar, mandolin
Robert Plant – vocals, harmonica
John Paul Jones – synthesizer, bass guitar, keyboards, mandolin
John Bonham – drums
Untitled
Led Zeppelin
Hard Rock, Blues Rock
Atlantic
1971
LP
8