Přelom šedesátých a počátek sedmdesátých let v socialistickém Československu byl neblahou dobou pro uměleckou profilaci talentovaných skupin a zpěváků. Přesto se podařilo natočit a téměř s odřenýma ušima vydat několik alb, které patří do zlatého fondu dějin rockové hudby. 
Michal Prokop – zpěvák a skladatel, který na sebe upozornil s rhythmandbluesovou skupinou Framus Five na řadě koncertů (a již dříve vydaným albem coververzí jazzových a bluesových standardů), patřil mezi výrazné pěvecké osobnosti, které dokázaly natolik vstřebat angličtinu, že jejich interpretace stála na věrohodném základě. Producent Hynek Žalčík, získán ideou natočit nové album, prosadil v r. 1970 natáčení skladeb ve studiu Mozarteum pro Supraphon. Celému projektu pomohla okolnost, že Žalčík oslovil básníka Josefa Kainara, který svým jménem zaštítil jeho realizaci.

Pilotní skladba MĚSTO ER zásadním způsobem ovlivnila celou koncepci alba (pokryla celou stranu A), zatímco strana B se skládala z jednotlivých skladeb kratšího formátu. Výrobní termíny desky se protahovaly tak, že album spatřilo světlo světa až v r. 1971. Po celou dobu hrozilo nebezpečí, že celý natočený projekt bude odložen k ledu a nebude realizován, což se naštěstí nesplnilo. Podobně jako v případě jiných rockových desek, i zde zapracovala socialistická cenzura. Jestliže nemohla napadnout text titulní skladby veřejně (Kainar byl režimní básník a navíc předseda Přípravného výboru Svazu československých spisovatelů), vzala si na paškál výtvarně zajímavý návrh obalu alba od Alana Pajera, který se vymykal socialistickým zvyklostem – motivy kostelů, chrámové lodi, hřbitova a soch. Nakonec obal zaštítila výtvarná koláž, starého terče s dírami po kulkách a se stylizovaným královským erbem (zhotoveným podle samolepky z etikety známkového vína) a majestátním Prokopem, kterou kulturní ideologové schválili.
Úvodní introdukce na varhany Hammond navodí téměř chrámovou atmosféru a je zároveň jakousi předehrou před daným tématem, na něž volně navazuje téměř dvacetiminutová kompozice MĚSTO ER. Krátký vstup na zobcovou flétnu předjímá aranžérsky silně pojaté téma, ve kterém se snoubí rock, blues, soul a jazz podle všech dobových pravidel. Skupina Framus Five doprovázená dechovou sekcí stojí na prahu hudebního pojetí skupin jako Blood Sweat And Tears, C.C.S. nebo Chicago. Sugestivní téma je podepřeno skvělým pěveckým výkonem expresivního Prokopa (obdivovatele zpěvu Ray Charlese, ale i Stevieho Winwooda), který Kainarovu poezii dokázal přijmout za sobě vlastní a přesvědčivě interpretovat na velmi vysoké úrovni. Přesné Jahnovy bicí nástroje (v přechodech cestujících ve stereofonním efektu prostorem) a kreativní Eliášova baskytara zdatně sekundují Trnkovým hammondkám a Andrštově už tehdy velmi nadějné elektrické kytaře, která stejně tak jako v rocku, blues i jazzu získala známku kvality. Snaha rockovou hudbu zintelektualizovat byla pro někoho vrcholem směřování k hudebnímu Parnasu, pro někoho zase příliš patetickým gestem nebo méně stravitelným počinem. Nicméně zde bylo dokázáno, že vývoj posunul rockové principy na úroveň vzdálenou na míle jednoduchému rock and rollu a že do budoucna se jeho ambice budou dále zvyšovat.
Druhou skladbu TYS KÁMEN otevírá Andršt nosným kytarovým riffem, zatímco rozpoutaný živel Prokop skladbu posouvá do soulové polohy, kde se cítí jako ryba ve vodě. Dechová sekce zdatně sekunduje Andrštově kytaře a Prokopovým pěveckým emocím, který píseň podepřel i svým zdařilým textem.
V zklidněnějším pojetí (s cíleným obratem k rhythm and blues) je pojímána skladba PLÁČU. V písni bylo ubráno (bohužel) na energii, naopak byly přidány ženské vokály a studiové smyčce, což atmosféru rozmělnilo. Framus Five zůstali neprávem jaksi upozadněni.
Skladba KAPELA má ležérní náladu (téměř kavárenského typu). Ironická nadsázka je v prvním plánu (snaha vzdálit se akademismu a vrátit se k civilnímu pojetí je zjevná), nicméně s ohledem na nedostatek prostoru v rámci vinylového formátu mohl Žalčík po dohodě s Prokopem zařadit nějakou silnější záležitost, zejména proto, že se zcela jistě předpokládalo, že další nahrávací frekvence pro Framus Five kulturní politika normalizace těžko schválí. Hodně posluchačů se nemohlo vyrovnat se skutečností, že se na albu, které tak zásadním způsobem ovlivnila pilotní dlouhá kompozice, mohla objevit skladba podobného typu, což mnozí lidé považovali za jistý druh dramaturgického omylu.
NOC JE MŮJ DEN ovšem vrací Framus Five na rhythmandbluesovou platformu. Trnka na varhany vytváří nosné pozadí melancholicky interpretujícímu Prokopovi a Andrštově stylotvorné kytaře, s mírně experimentujícím závěrem s podílem varhan a kytary.
Závěrečná instrumentální kompozice PERCEPTUA náladotvorným způsobem dává prostor Andrštově kytarovému pojetí jazzového blues, mírně ve stylu oktávového hraní Wese Montgomeryho. Nenápadná melancholická studie činí tečku za, na svou dobu, odvážným projektem, akcentovaným zejména úvodní skladbou.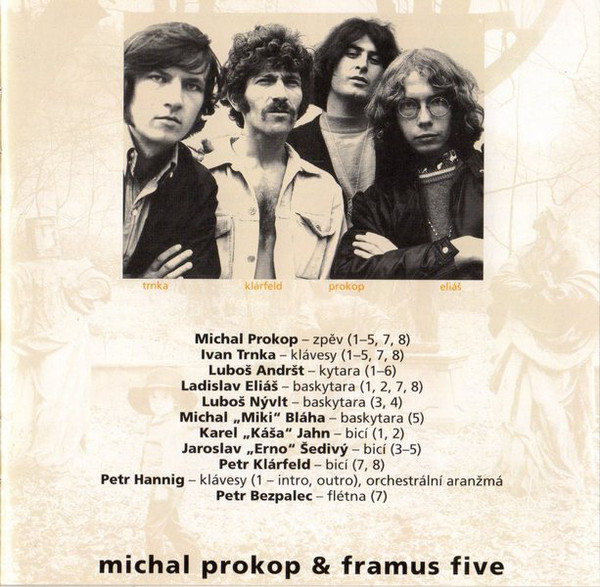 Album se rovněž nevyhnulo i personálním proměnám. Po prvních dvou skladbách odešli Jahn a Eliáš, protože řešili existenční záležitosti (do skupiny Josefa Laufera) a na baskytary se střídali v dalších skladbách Luboš Nývlt a Miki Bláha, zatímco za bicí nástroje zasedl pohostinsky legendární člen pražského Flamenga, Jaroslav "Erno" Šedivý. Zvuková režie byla velmi slušně pojednána Petrem Kocfeldou a Jiřím Brabcem,  hudební režie Janem Spáleným, které se i v dalších letech a na jiných albech ukázaly jako zdařilé a za daných možností jako nejlepší volba pro žádanou kvalitu.
Názory na Město Er se různily. Část posluchačů si přála album v koncepčním pojetí první strany vinylu, zatímco jiní by přijali emocionálnější a expresivnější variantu s vyřazením skladeb písňového typu. Prokop měl možná více prosadit i svoje autorské záměry, což by pojetí desky zcela určitě prospělo. Album však bylo prvním setkáním rockové hudby s poezií u nás na vinylovém formátu a stalo se tak jistým milníkem a další vizitkou Prokopova mimořádného pěveckého talentu, i když na mnoho let jeho konečnou stanicí ve světě rocku a odchodem do světa pop-music.
V r. 1999 se album dočkalo CD verze a bylo doplněno skladbami Modrá ryba (M. Prokop/V. Poštulka,) ) s Petrem Bezpalcem na příčnou flétnu, vzdáleně připomínající Jethro Tull ve spojení s rhythm and blues a baladou Co zbude z lásky (I. Trnka/V. Poštulka), s Trnkovými výtečnými varhanami, na bicí nástroje ovšem s Petrem Klárfeldem, propojující blues s jazzem. Kdyby byly zařazeny na původní formát, zajisté by zdařile dokreslily atmosféru dávného projektu.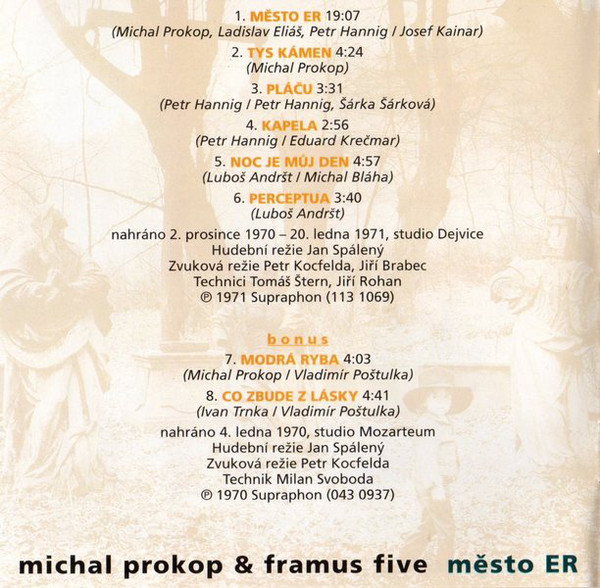 V rámci objektivity bych dal albu čtyři a půl hvězdy, ale protože takové hodnocení Rockovica neumožňuje, tak dám hvězd pět. Je to grandiózní projekt, který u nás do té doby neměl obdoby, třebaže skladba Kapela na mě působí jaksi nepatřičně, jakoby zabloudila na album nějakým omylem. Vymyslet ale takové téma jako pilotní skladba je ovšem opravdu počin, před kterým smekám. Koncepční projekty Jana Spáleného, Edison a Signál času, se dostaly v sedmdesátých letech ještě dál, ale Město Er je pořád jen jedno!
SKLADBY:
1. Město ER 19:07
(M.Prokop/L.Eliáš/P.Hannig/J.Kainar)
2. Tys kámen (M.Prokop) 4:24
3. Pláču (P. Hannig/Š. Šárková) 3:31
4. Kapela (P.Hannig/E.Krečmar) 2:56
5. Noc je můj den (L.Andršt/M.Bláha) 4:57
6. Perceptua (L.Andršt) 3:40
Bonusy – CD Sony Music / Bonton s. r. o., 1999:
7. Modrá ryba (M.Prokop/V.Poštulka) 4:03
8. Co zbude z lásky (I.Trnka/V.Poštulka) 4:41
SESTAVA:
Michal Prokop – zpěv (1 – 5, 7, 8)
Ivan Trnka – klávesy (1 – 5, 7, 8)
Luboš Andršt – kytara (1 – 6)
Ladislav Eliáš – baskytara (1, 2, 7, 8)
Michal "Miki" Bláha – baskytara (5)
Karel "Káša" Jahn – bicí (1, 2)
Jaroslav "Erno" Šedivý – bicí (3 – 5)
Petr Klárfeld – bicí (7, 8)
Petr Hannig – klávesy (1 – intro, outro), orchestrální aranžmá
Petr Bezpalec – flétna (7)
Město ER
Michal Prokop & Framus 5
Prog Rock, Blues Rock, Psychedelic Rock
Supraphon
1971
LP
6
CD - Sony Music / Bonton s. r. o., 1999