CD Akarma – AK 1029  /2005/
Melodický symphonic prog, vymalovaný pestrou paletou různých hudebních nástrojů a prošpikovaný prvky klasické hudby a jazzu. První (a na dlouhou dobu poslední) album skupiny Maxophone si na svůj úspěch muselo počkat, ovšem dnes bývá řazeno k nejlepším italským nahrávkám nejen za rok 1975, ale za celou sedmou dekádu vůbec…
Maxophone pocházejí z Milána a jako sextet vznikli na jaře roku 1973. Polovinu sestavy tvořili frekventanti hudební konzervatoře a zároveň multiinstrumentalisté, kteří se nezdráhali použít různé, pro rockovou hudbu netypické hudební nástroje – lesní roh, pozoun, klarinet, nebo vibrafon. Ve spolupráci s malým smyčcovým tělesem se tak skupině podařilo vytvořit originální symfonický zvuk, který ve své době neměl konkurenci a pokud máte rádi album Intorno alla mia cattiva educazione (1974) skupiny Alusa Fallax, tak tohle je něco podobného. Ovšem v kapánek ostřejším a energičtějším podání.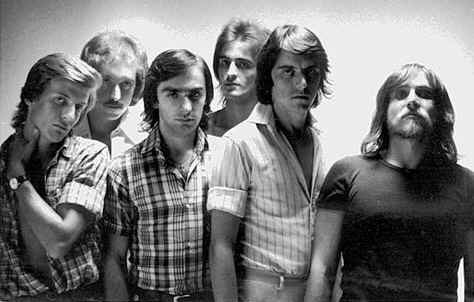 Smlouvu skupina podepsala s labelem Produttori Associati, kterej se však specializoval hlavně na filmové soundtracky a jazz. Maxophone tak byli – spolu s Duello Madre – jednou z mála rockových akvizic v katalogu firmy a zajímavým byl i post producenta, který obsadil Sandro Colombini. Ten si udělal jméno především díky své spolupráci s Banco del Mutuo Soccorso, ale mimo to je podepsanej i pod jedinou plackou skupiny Rocky's Filj.
Album se natáčelo od února, do dubna 1975 ve studiích Ricordi di Milano a jak producent, tak firma si od něho hodně slibovali. Jeho vydání odkládali, dokud venku nebude singl C'è un paese al mondo / Al mancato compleanno di una farfalla a kompletní deska ho pak následovala až teprve koncem kalendářního roku. V roce 1976 vyšly i její exportní verze v angličtině – v Německu, Kanadě a ve Spojených státech amerických a tím se na tehdejší italské rockové scéně nemohl pochlubit každej. Firma skupinu tlačila, kde se dalo. V březnu odehrála koncert pro švýcarskou televizi, předskakovala na koncertech superhvězdných Area a vystoupila i na prestižním jazzovém festivalu v Montreux, ovšem nakonec to nebylo nic platné. Alba se prodávalo zoufale málo a tak přišel nevyhnutelnej konec. V roce 1977 to Maxophone zkusili ještě s komerčněji orientovaným singlem Il fischio del vapore / Cono di gelato, ovšem po něm už se definitivně rozpadli…
Původní placka obsahovala šest skladeb a z mého pohledu nejlepší jsou ty úplně první a poslední. Tedy "singlovka" C'è un paese al mondo a devět minut dlouhá Antiche conclusioni negre. Obě obsahují pěkné vokální melodie a celou řadu zvratů a změn. Prolínání důrazných a pastorálně klidných pasáží je ukázkové (a naprosto přirozené), ovšem třešničkou na dortu je neodolatelné vábení lesního rohu. Prostě kumšt s velkým K.
Další výbornou peckou je v pořadí druhá Fase. Ta si s oběma výše uvedenými tracky v ničem nezadá a jedinej rozdíl je v tom, že je komplet instrumentální. A mě tady ten charismatickej a trochu nakřáplej hlas Alberta Ravasiniho docela chybí. První polovina následující písničky Al mancato compleanno di una farfalla je pastorálně klidná, ovšem potom se do toho vloží riff zkreslenejch varhan a skladba najednou dostává úplně jinej rozměr. Intenzivní, hlučná (byť krátká) masírka mi dává docela zabrat a tak přijde vhod pohlazení v podobě balady Mercanti di pazzie. Předehra v podání harfy Tiziany Botticini (fragment ze "Sonaty per arpa" Paula Hindemitha) je kouzelná a falsetem zpívané sbory doslova k sežrání. Nu, a o symfonickém outru ani nemluvě…
Poslední písničkou, o které jsem se dosud nezmínil je pátá Elzeviro. V necelejch sedmi minutách nabízí řadu odboček a překvapivých změn, ale v porovnání s ostatními mi připadá poněkud méně výrazná. Zvláštní je, že většina edic obsahuje prohozené pořadí tracků 4 a 5, tedy nejdříve Elzeviro a až teprve po ní Mercanti di pazzie, ale proč tomu tak je netuším. V textu vycházím ze svého vydání od Akarmy, které obsahuje ještě dvě skladby navíc a jak Il fischio del vapore, tak Cono di gelato pocházejí z posledního singlu Maxophone, vydaného v roce 1977. To symfonické aranžmá jim sice zůstalo, ale jsou o něco jednodušší a je znát, že k tomu původnímu albu nepatří. Ovšem aj tak jsem rád, že je vydavatel odněkud vyštrachal a přidal.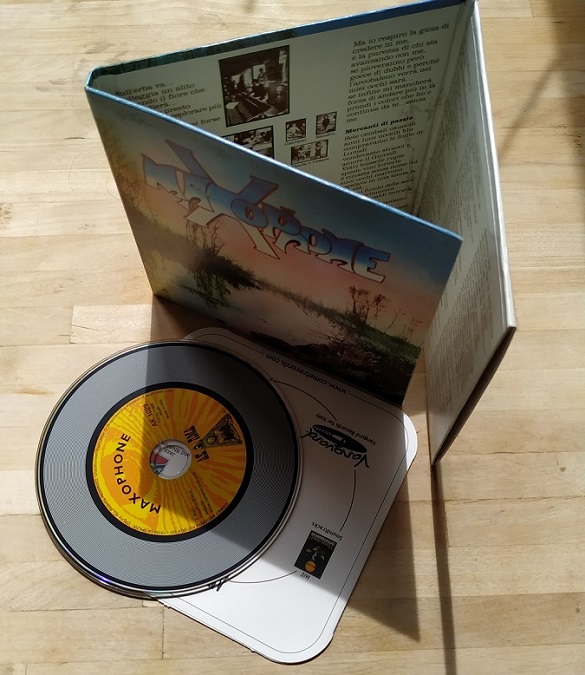 Trojitě rozkládací mini vinyl replika od Akarmy je ze silného kartónu a tak působí docela robustně, ale je pěkná. A to i díky obálce, kterou navrhli Wanda a Cesare Monti. Booklet sice neobsahuje, ale sestava, profil kapely, texty písniček a několik fotografií je vytištěnejch přímo uvnitř futrálu. Zvuk je dobrej, i když trochu zastřenej a nemůžu se zbavit dojmu, že mu něco chybí. Nicméně obsahově je to špica za 4,5. Lepších italskejch desek z roku 1975 moc neznám.
SKLADBY:
1. C'è un paese al mondo – 6:38
2. Fase – 7:05
3. Al mancato compleanno di una farfalla – 5:52
4. Mercanti di pazzie – 5:50
5. Elzeviro – 6:47
6. Antiche conclusioni negre – 8:55
Bonus tracks del 1977 presenti nell'edizione CD:
7. Il fischio del vapore – 4:53
8. Cono di gelato – 4:40
SESTAVA:
Sergio Lattuada – pianoforte, organo, piano elettrico, voci
Roberto Giuliani – chitarra elettrica, pianoforte, voci
Leonardo Schiavone – clarinetto, flauto, saxofono
Maurizio Bianchini – corno, tromba, vibrafono, percussioni, voci
Alberto Ravasini – basso, chitarra acustica, flauto dolce, voce solista
Sandro Lorenzetti – batteria
Alla realizzazione del disco hanno inoltre gli amici:
Tiziana Botticini – arpa
Eleonora De Rossi – violini
Susanna Pedrazzini – violini
Giovanna Correnti – violoncello
Paolo Rizzi – contrabasso
Maxophone
Maxophone
Prog Rock
Produttori Associati
1975
LP
6
CD Akarma – AK 1029 /2005/