CD VM 2000, btf.it, Fonit ‎– VM CD 103 /2005/
Půvabné album v typicky italském, melodickém stylu. Už je to pěknejch pár let, co jsem k němu "proklikal" na YouTube a ono mě hned s prvními tóny vystřelilo do art rockového nebe. To jsou přesně ty desky, které prostě musíte mít a tak jsem si prakticky vzápětí objednal aj originální mini vinyl repliku s CD…

Vznik skupiny Alusa Fallax se datuje do roku 1969 a s trochou nadsázky by se dala označit jako malej, rodinnej podnik. Sestavu tvořili bratři Augusto, Mario a Guido Cirlovi, které doplnili ještě Massimo Parretti a Guido Gabet. Kapela debutovala v roce 1969 singlem Dedicato a chi amo/Charleston 1923, kterej následovala další malá deska Tutto passa/Cade una stella. Ovšem s distribucí to bylo mizerné, s prodejem ještě horší a oba singly tak byly spíš zklamáním.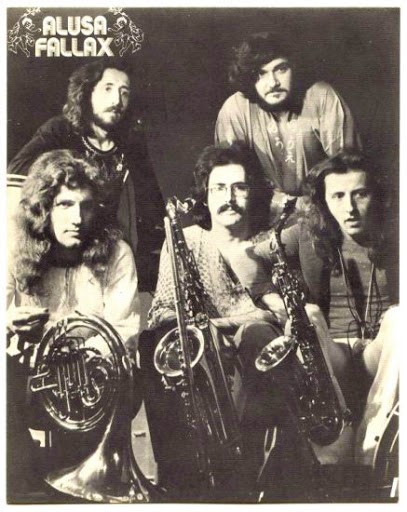 Kluky z kapely to však nerozhodilo, dál hráli po tanečních klubech a mezitím pracovali na daleko ambicióznějším materiálu, kterej chtěli prezentovat jako rockovou operu. Tou dobou už se v Itálii naplno rozhořela rocková revoluce a rovněž Alusa Fallax dostali pozvánku na několik významných hudebních festivalů. Za zmínku stojí jejich koncerty v Římě a Neapoli v létě 1973, ovšem za oficiální premiéru rockové opery Intorno alla mia cattiva educazione by se dalo považovat až teprve vystoupení před britskými Curved Air, v roce 1974. 
Koncepční art rockové album Intorno alla mia cattiva educazione vydala společnost Fonit Cetra v nákladu 5 000 kopií, ovšem jeho distribuce byla lokální a soustředěná především na region Apulie. Není divu, že v záplavě jiné muziky zapadlo a nezaznamenalo prakticky žádný ohlas. Alusa Fallax to sice zkoušeli dál, v roce 1977 (už jako Blizzard) natočili ještě komerční singl La soffitta/Tu donna, ovšem o dva roky později se definitivně rozešli…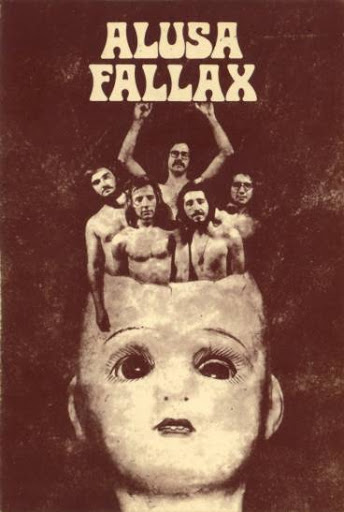 Album Intorno alla mia cattiva educazione obsahuje třináct skladeb v celkové délce necelých 45 minut. Na Itálii, kde ty LP desky mívaly většinou kolem půl hodiny docela nadstandard. Jednotlivé kusy na sebe plynule navazujou a pro orientaci v tracklistu nezbyde nic jiného, než sledovat displej přehrávače. Koncepční storka popisuje osudy chlapce poznamenaného přísnou rodinnou výchovou, který touží po vymanění se z jejího neblahého vlivu. Hudební náplň bych popsal jako vysoce melodický, pastorální symphonic prog, s charismatickým zpěvem v italštině a prvky klasické hudby. Dalo by se to přirovnat k prvním dvěma albům Premiata Forneria Marconi, nebo debutu Reale Accademia di Musica.
První polovina sedmdesátých let přinesla spoustu kapel, flétnujích podle vzoru Jethro Tull a ani Alusa Fallax nebyli výjimkou. Šprajcna je na desce slyšet opravdu často, ale občas se objeví aj saxofon, nebo – dokonce – lesní roh. Jeho využití mě vždycky potěší a při poslechu skladeb Fuori di me, dentro di me, nebo Per iniziare una vita si nemůžu nevzpomenout na debuty De De Lind, nebo Campo di Marte. Ovšem k dokonalosti lesní roh využili teprve Maxophone…
Muzika je to víceméně klidná, ale nechybí ani energické laufy a hlavně, pořád je to rock. Jedním z hlavních nástrojů je tedy elektrická kytara, kterou doprovázejí všelijaké, dobově znějící syntezátory. Nutno dodat, že ani jeden z inštrumentů nemá navrch a všechny se báječně doplňují. Není to tedy deska kytarová, ani vyloženě klávesová, ale od každého něco a s prakticky neustále přizvukující flétnou. Piano, nebo již zmíněný saxofon a lesní roh jsou jenom příjemným oživením a zmínit musím také charismatickej a lehce nakřáplej vokál Augusta "Duty" Cirla. Sice nemá až tolik prostoru, ale přitahuje k sobě zaslouženou pozornost a zvuk skupiny posouvá ještě o stupínek vejš.
Původní vinyl vyšel ve velmi pěkném "gatefold" formátu, ale bez podrobnějších údajů na obalu desky. Některé kopie tak dostaly ještě žlutou nálepku s informacemi o skupině a přesně tak vypadá i moje vinyl replika, vydaná ve spolupráci firem VM 2000, btf.it a Fonit. Uvnitř rozevíracího obalu je koláž z fotografií členů Alusa Fallax a texty, jedno z křidélek obsahuje v papírovém futrálu ukrytej nosič a druhé booklet. Ten má dvacet stran a nabízí profil skupiny, obsáhlej rozhovor s klávesistou Massimo Parrettim, texty písniček a celou řadu raritních fotek.
Je to výtečné album, které řadím k tomu nej za italskej rok 1974 a dost možná i k tomu nejlepšímu vůbec. Není tak dokonale vyprodukované a technicky virtuózní, jako Premiata Forneria Marconi, nebo Banco del Mutuo Soccorso, ale má neuvěřitelnej půvab a šmrnc. Pět hvězd.
SKLADBY:
01. Soliloquio – 3:02
02. Non fatemi caso – 4:22
03. Intorno alla mia cattiva educazione – 4:14
04. Fuori di me, dentro di me – 3:01
05. Riflessioni al tramonto – 3:04
06. Il peso delle tradizioni – 1:40
07. Carta carbone – 3:33
08. Perché ho venduto il mio sangue – 1:43
09. Per iniziare una vita – 4:20
10. È oggi – 2:51
11. È così poco quel che conosco – 2:55
12. Ciò che nasce con me – 4:11
13. Splendida sensazione – 5:43
SESTAVA:
Augusto "Duty" Cirla – percussioni, campane, flauto dolce, voce solista
Guido Gabet – chitarra elettrica ed acustica, voce
Massimo Parretti – pianoforte, organo, clavicembalo, ARP
Mario Cirla – flauto, sax tenore e contralto, corno, voce
Guido Cirla – chitarra bassa, voce 
Intorno Alla Mia Cattiva Educazione
Alusa Fallax
Prog Rock
Fonit
1974
LP
13
CD VM 2000, btf.it, Fonit ‎– VM CD 103 /2005/