CD Bella Casa – CASA12BOX /2012/
Box Set, CD 2
Italští Goblin prosluli především hudbou k filmům, ale zrovna album Roller soundtrackem není. Ačkoliv by jím mohlo klidně být*, protože je zcela instrumentální… 
Hypnotická repetitivní smyčka syntezátoru, pregnantní baskytara, sugestivní atmosféra a funerální varhany spolu s kvílivým nářkem elektrické kytary, to je titulní skladba Roller v kostce. Svým celkovým vyzněním – a nejspíš to nebude náhoda – mi hodně připomíná ústřední melodii z velmi úspěšného filmu (a debutového alba Goblin zároveň) Profondo Rosso. Podobně temný je i následující štych Aquaman, ale na rozdíl od předcházející kompozice mi tady chybí nějakej výraznější záchytnej bod. Vypíchnul bych tak akorát bluesově zabarvené kytarové sólo. Změna kurzu přichází s clavinetem a hybnou funky dupárnou Snip-Snap. Tato skladba je pro Goblin naprosto netypická a snadno dala by se zaměnit s něčím od Herbie Hancocka, nebo tuzemskejch Jazz Q.
V úvodu Il risveglio del serpente se ozve něco strašidelnejch zvuků, ale jinak jde o celkem poklidnou věc v podání akustické kytary a piana. Vrcholem alba a jedním z nejsilnějších posluchačských zážitků zároveň je ambiciózní pecka Goblin. To jsou prog rockové orgie s řadou změn nálady i tempa. Hodně se mi zamlouvá atmosférická pasáž v čase 4:40 – 8:20 a pak také lahodné sólo na bicí v závěru skladby. Původní album je velmi krátké a končí neméně členitým a rytmicky vycizelovaným kouskem Dr. Frankenstein, ale reedice od Bella Casa nabízí ještě dva bonusy navrch. Chi? – Part One a pokračování v podobě Chi? – Part Two. Jde o velice pěknou ústřední melodii ke stejnojmenné televizní sérii a je to takový chutný zákuseček k poněkud skromnému hlavnímu menu.
Disk je součástí povedeného box setu a tak je zasunutý jen v jednoduché papírové obálce. Naštěstí s původní ilustrací tak, jak ji vidíte v náhledu pod recenzí. A červenej rarášek na bílém pozadí se vyjímá opravdu pěkně. Zvuk je v pohodě, ale určitě by mohl být i o něco plnější a šťavnatější…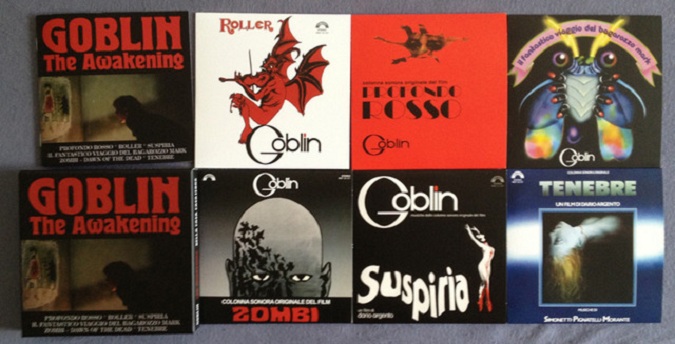 Je to velmi dobré album a jistě by se neztratilo v žádné prog rockové sbírce, ale o rok starší prvotina ve mě zanechala dojem o něco větší. Tedy za čtyři.
*O pár měsíců později se několik skladeb z alba skutečně objevilo ve filmu. Snip-Snap ve snímku Patrick (1978) a pecky   Roller,  Aquaman a Dr. Frankenstein v horroru George A. Romera  Wampyr (1977).
SKLADBY:
1. Roller  (4:41)
2. Aquaman  (5:24)
3. Snip-Snap  (3:38)
4. Il risveglio del serpente  (3:29)
5. Goblin  (11:09)
6. Dr. Frankenstein  (5:56)
Bonus Tracks:
7. Chi? Part One /Single A/  (3:20)
8. Chi? Part Two /Single B)/  (3:22)
SESTAVA:
Agostino Marangolo – Drums, Percussion
Fabio Pignatelli  – Electric Bass, Bass [Ripper]
Massimo Morante  – Electric Guitar, Acoustic Guitar
Maurizio Guarini  – Electric Piano [Fender Rhodes 88 & 73, Hohner Pianet], Synthesizer [Moog], Clarinet [Clarino], Piano
Claudio Simonetti – Organ [Vzo Mascioni], Clavinet [Hohner], Synthesizer [Logan, Elka, Minimoog], Piano
Roller
Goblin
Prog rock
Cinevox
1976
LP
6
CD: CD Bella Casa - CASA12BOX /2012/