Tak nějak mohla vypadat debata soudruha příslušníka a pouličního důvěrníka ve čtvrté cenové po upocené šichtě. Socialistická realita sedmašedesátého totiž nebyla zdaleka tak veselá a volnomyšlenkářská, jak by se z dosavadních dílů série o nejvýznamnějším roku rocku mohlo zdát.
Doznívala brutální akce Vlasatci, kterou bolševik tuzemák rozpoutal v šestašedesátém za pomoci do ruda kovaných soudruhů příslušníků (VB/SNB). Probíhala ve třech liniích: k vlasům se natvrdo přilepily trestné činy výtržnictví a příživnictví. Nějakými důkazy se sběř v zelených uniformách ani takzvaní soudci v umatlaných talárech nezdržovali.
Padaly nejenom kadeře, ale taky nepodmíněné tresty. Opravdu, stačilo 20. září 1966 protestovat proti brutálnímu celorepublikovému zásahu VB s násilným odvlékáním a stříháním tisíců teenagerů a mladých mužů, vykřikovat směrem k Venouškům a Bohouškům "Vraťte nám vlasy!" anebo "Pryč s holiči!". Uniformovaná spodina zasáhla, soudruh prokurátor obvinil, a kat soudce zaříznul: "P. Matray byl odsouzen na osmnáct měsíců nepodmíněně, M. Maryška na 8 měsíců nepodmíněně, dalších pět mladistvých na 4 až 12 měsíců nepodmíneně," ryčel a zajíkal se blahem nějaký (vp) v článku Výtržníci potrestáni. Rok 1967 na dohled.
Lísalové režimu z řad karikaturistů k tomu namalovali krásné a vtipné obrázky do Dikrobrazu, co jistě náhodou zrovinka vyšel. K zblití, jak režim ohýbal charaktery.
"Faktem je, že reakce většinové společnosti na tuto komunistickou kampaň byla příznivá. Tolerance vůči menšinám tehdy nebyla velká," řekl historik Petr Blažek.
BIGBÍTOVÝ BOOM
V roce 1967 se už bigbítilo všude po republice. Nesmělé začátky, kdy se hráli více SHADOWS jak BEATLES, nedejbože ROLLING STONES, vystřídala britská invaze s mnoha dalšími kapelami, jejichž repertoár hraný amatérsky, ale se zápalem, ovládl tančírny od Aše po Košice. ANIMALS, TROGGS, MANFRED MANN, THE WHO, to byla nová jména na scéně.
Svou výsadní pozici ztratil i Laxík, muzika se do ČSSR dostávala už nejenom na krátkých a středních vlnách, ale i na singlech a elpíčkách. V movitějších rodinách se objevily magnetofony, jichž se samozřejmě zmocnili náctiletí, kteří díky přenášení třináctikilových Sonetů při každém mejdanu anebo nahrávacím session z pásu na pás posilovali své bicáky, sebevědomí i samčí pižmo.
Rozporuplnou dobu přibližuje ukázka z knihy Jana Trávníčka, zakladatele zlínských OZVĚN, Zlatokopové z Pragokoncertu:
"V šedesátých letech dospívala mladá generace v době, kdy do jejich pubertálního věku jako bomba vtrhla big beatová vlna, která měla za následek, že se spousta mladých mužů zbláznila do muziky Beatles a jiných kapel té doby. Muziku ovšem nechtěli jenom poslouchat (v době, kdy byl magnetofon ojedinělým luxusem, ani nebylo z čeho), ale i hrát a pokud možno také jako vzory vypadat.
V Novotného režimu se už leccos mohlo, ale holdovat muzice, která byla šmahem ocejchovaná za produkt buržoazní kapitalistické společnosti, a tím pádem nevhodná pro socialistickou mládež, se rovnalo tisíci a jednomu dobrodružství. Od divokých honiček příslušníků VB na mládence, jejichž délka vlasů přesahovala tehdejší gagarinovskou normu, až po zakázaná vystoupení jejich big-beatových skupin.
V době, kdy v obchodech s hudebními nástroji byly k dostání pouze harmoniky, dechové nástroje a pár kytar zvaných španělka, byla šílená sháňka po elektrických kytarách a jakémkoli zařízení, které zesílí zvuk. K tomu často sloužily amatérské výrobky všech možných všeumělů a taky neumětelů, takže občas bylo docela nebezpečným dobrodružstvím na taková zařízení hrát. Všechno se podstupovalo nejen z lásky k hudbě, ale také proto, že to bylo v módě, a hlavně, kvůli holkám. Bylo povznášející stát v úzkých džínách s vlasy sčesanými do čela – jejichž délku stále určovali rodiče anebo učitelé ve škole, takže byla naprosto nedostatečná – na jevišti, přes rameno mít přehozenou kytaru a řvát do mikrofonů nevalné kvality všechny ty skvostné fláky, které proletěly světem a které kopírovali bez jakékoli hudební průpravy.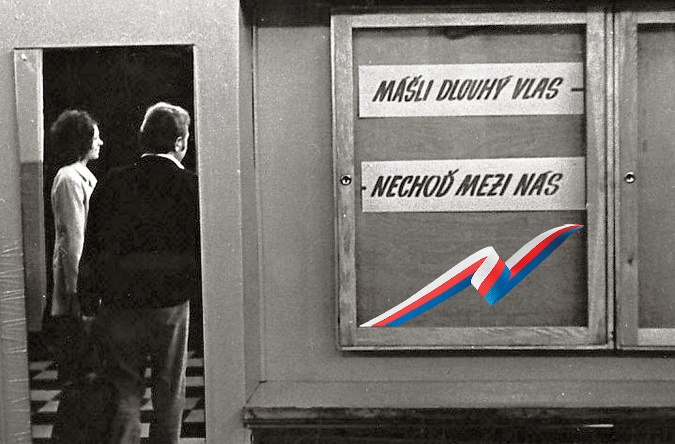 "If dér saniting det jú von, if dér saniting aj kén dú" zpívali jazykem podobným angličtině, nemajíce ani v nejmenším páru, co tahle slova znamenají, ale Beatles to tak zpívají, takže musí být všechno v pořádku. Zájem a obdiv koček byl vlastně jediný honorář, který v té době začínající big-beatoví muzikanti dostávali, seriózní hudební svět tuto primitivní hudbu odmítal."
Jan Trávníček (edit JM) www.travniczech.cz/ozveny60/
CHCEME SVĚTLO! CHCEME STUDOVAT!
Inteligence byla vždy pro režimy postavené na bázni, hlouposti a nízkých pudech nebezpečná, jakkoliv ji pro své přežití de facto potřebovaly. Kdo přemýšlí, ví a umí, nezbaští kdejaké ideologické lejno. A pro tehdejší mladé studenty, vysokoškoláky, to platilo dvojnásob, přidaly se generační i kulturní rozdíly.
Když 31. října 1967 večer opět zhasla světla na strahovských kolejích, šlo o onu pověstnou poslední kapku, jíž vyvrcholily dlouhodobé problémy s naprosto nevyhovující kvalitou ubytování vysokoškoláků, byť samotný areál v sousedství gigantického spartakiádního stadionu byl poměrně nový, ovšem s řadou fatálních vad Made in Šlendrián. Zejména elektroinstalace a topná síť byly poddimenzovány.
Hloučky naštvaných studentů se během několika desítek minut proměnily za mihotavého svitu svíček v dvoutisícový proud zpívající a skandující mládeže, vydavší se směrem na Pohořelec a pak Nerudovou ulicí k Malostranskému náměstí, kde kolem 22. hodiny narazil na bariéru hlídkových vozů VB, která se dala do pohybu proti davu. Za ocelovým vozatajstvem postupovali rozdychtění molodci, co si vždycky rádi praštili pendrekem do bezbranných. "Tu máš světlo!" a bác ho, a znovu a znovu. Nějaké "Fuj!" anebo ironické "Ať žije SNB!" je nemohlo zastavit, ba naopak. Mlácení nebyly ušetřeny ani dívčiny. Kolem jedenácté večer byli studenti zahnáni zpět do prostorů areálu.
Když se mezi mládeží rozkřiklo, že někteří jejich vrstevníci byli zatčeni, vydali se studenti znovu směrem k Dlabačovu, kde už na ně ale čekaly posílené policejní jednotky. A začal opravdový masakr, zběsilí rudí pronikli až do samotných kolejí, dobývali se i do dívčích pokojů, přetrvávající tmu v areálu považovali ve své tuposti za taktiku svých obětí jak jim ztížit zákrok. Výsledkem bylo pět vážně zraněných studentů a desítky potlučených. Několik odvlečených bylo propuštěno až nad ránem.
SNB a KSČ ale podcenily již tak zjitřenou náladu ve společnosti, která se pozvolna nadechovala k jaru 1968. Na stranu studentů se postavili nejenom tradiční spojenci, umělci, spisovatelé, ale také část tisku (Mladá Fronta) a hlavně, představitelé akademické obce, v čele s rektorem Českého vysokého učení technického, Josefem Kožouškem, byť dost opatrně a alibisticky. Své sehrálo samozřejmě i to, že událost se stala v Praze, kde bylo i přes tmu na vše více vidět.
Strahovské události se staly bodem zlomu ve vývoji tuzemského studentského hnutí. To, co signalizovaly majálesy – že mladí už nejsou rozjásanými budovateli přehrad, ale svébytnými, svéhlavými a svobodomyslnými individualitami – stvrdil Strahov.
Hned ráno 1. listopadu se studenti sešli v menze, a po odpovědných orgánech žádali vysvětlení k pogromu, jak akci SNB označili. Rozkol nastal i uvnitř ČSM, kdy studentské výbory mládežnické organizace vydaly k zásahu bulletin, jehož šíření naopak blokovaly městský a ústřední výbor Československého svazu mládeže. KSČ začala naopak zkoumat "nepřátelskou činnost v naší zemi" a šetřit studenty "kteří zneužili události k vyhrocení nesprávných protistranických a protisocialistických nálad," jak stojí v usnesení ÚV KSČ z 28. listopadu 1967.
A METR NA NĚ MÁME!
Nejenom v Praze se na přelomu 1966/67 děly věci. Vypůjčil jsem si pro dnešní díl název flusčlánku z gottwaldovské Naší pravdy, čti "Jejich nepravdy", který nejen nadpisem, ale zapšklostí a nenávistností charakterizuje onu dobu.
Šlo o památné vystoupení místní bigbítové skupiny OZVĚNY v nedalekých Želechovicích, kam se 20. 8. 1966 sjela půlka Zlína. Rozjařená mládež posílená alkoholem se poprala a trochu rozklížila inventář sálu. O incidentu, jaký se do té doby odehrával v každé druhé české hospodě bez povšimnutí, se plamenně rozepsaly zmíněné regionální noviny, vydávané okresním výborem KSČ.
Hanopis nesl název…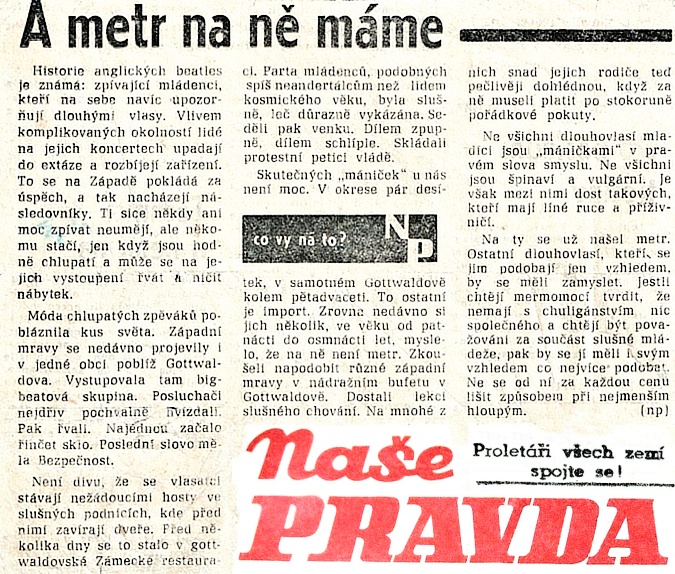 "Historie anglických beatles je známá: zpívající mládenci, kteří na sebe navíc upozorňují dlouhými vlasy. Vlivem komplikovaných okolností lidé na jejich koncertech upadají do extáze a rozbíjejí zařízení. To se na Západě pokládá za úspěch, a tak nacházejí následovníky. Ti sice někdy ani moc zpívat neumějí, ale někomu stačí, jen když jsou hodně chlupatí a může se na jejich vystoupení řvát. A ničit nábytek.
Móda chlupatých zpěváků pobláznila kus světa. Západní mravy se nedávno projevily i v jedné obci poblíž Gottwaldova. Vystupovala tam big-beatová skupina. Posluchači nejdříve pochvalně hvízdali. Pak řvali. Najednou začalo řinčet sklo. Poslední slovo měla Bezpečnost.
Není divu, že se vlasatci stávají nežádoucími hosty ve slušných podnicích, kde před nimi zavírají dveře. Před několika dny se to stalo v gottwaldovské Zámecké restauraci. Parta mládenců, podobných spíš neandrtálcům než lidem kosmického věku, byla slušně, leč důrazně vykázána. Seděli pak venku. Dílem zpupně, dílem schlíple. Skládali protestní petici vládě.
Skutečných "mániček" u nás není moc. V okrese pár desítek, v samotném Gottwaldově kolem pětadvaceti. To ostatní je import. Zrovna nedávno si jich několik, ve věku od patnácti do osmnácti let mysleli, že na ně není metr. Zkoušeli napodobit různé západní mravy v nádražním bufetu v Gottwaldově. Dostali lekci slušného chování. Na mnohé z nich snad jejich rodiče teď pečlivěji dohlédnou, když za ně museli platit po stokoruně pořádkové pokuty.
Ne všichni dlouhovlasí mladící jsou "máničkami" v pravém slova smyslu. Ne všichni jsou špinaví a vulgární. Je mezi nimi dost takových, kteří mají líné ruce a příživničí.
Na ty se už našel metr. Ostatní dlouhovlasí, kteří se jim podobají jen vzhledem, by se měli zamyslet. Jestli chtějí mermomocí tvrdit, že nemají s chuligánstvím nic společného a chtějí být považování za součást slušné mládeže, pak by se jí měli i svým vzhledem co nejvíce podobat. Ne se od ní za každou cenu lišit způsobem při nejmenším hloupým. (np)."
Citace je včetně pravopisných chyb (rozkošně příznačné je malé b v názvu Beatles a velké B ve slově Bezpečnost).
Elaborát měl fatální dohru. OZVĚNY byly exemplárně potrestány vyhazovem z Pionýrského domu, z ČSM, a byla jim zakázána jakákoliv veřejná činnost. Kapela se poté protloukala, jak se jen dalo, spíše nedalo, zkoušela v garážích a jen párkrát se jí podařilo vystoupit, už nikdy však ne na samostatném koncertu či zábavě. Nakonec rafinovaně změnila jméno na THE RESONANCES.
OSTRŮVKY POZITIVNÍ DEVIACE
Vlasatci, máničky, hároši, hipísáci, vysokoškoláci, studenti, vyberte si, nebyli primárně žádnými politickými aktivisty, v podstatě se chtěli jen bavit a poslouchat svou muziku, bigbít. Politiku z hudby a vlasů udělali komunisti, nikdo jiný, to je potřeba stále dokola zdůrazňovat! Zatímco ve světě šlo vesměs maximálně o mezigenerační konflikt, s výjimkou protiválečného hnutí, kdy se na přirozeně protiválečně orientovanou mládež nalepila kdejaká levicová sebranka, počínaje anarchisty a konče třebas Angelou Davisovou.
Ani naivní představy o nějakých tehdejších drogových excesech neobstojí. Dnes se na každé základce každý rok vyhulí víc marjánky než v sedmašedesátém v celém Československu, tím jsem si jistý.
O hippies se v ČSSR onoho Léta lásky moc nevědělo, nicméně pár fotek ve 100+1 a dva články v Mladém světě měly velkou odezvu, aspoň tedy co se týče ještě větší délky vlasů a divočejšího oblečení "co dům a babiččina truhla daly".
Roztomilé beatlesovské patky a vlasy na límec a do půli uší max, byly u odvážných průkopníků vystřídány pravými řepami, za něž by se dnes nestyděl ani ten nejdrsnější podpódiový hrozič.
Bolševik měl (a má) zkrátka hrůzu ze svobodných a svobodomyslných. Dokud byl u moci, dával to prostřednictvím svých Kojzarů, Reicinů, Urválků, Ondráčků. ale i malých slouhů a užitečných idiotů všem nesouhlasícím tvrdě najevo.
A proto: Už nikdy více!