Nic netrvá věčně a platí to i pro tělesa těžší než vzduch. Potenciál každého takového zařízení se postupně vyčerpá a bez patřičné údržby se jeho životnost nezadržitelně snižuje. Let se proto stává čím dál tím víc nekontrolovatelným a začíná hrozit strmý pád.
Do podobného stavu se dostala skupina Led Zeppelin ve 2. polovině 70. let. Svůj podíl na tom určitě má závislost Jimmyho Page na heroinu a tragická událost v rodině Roberta Planta. Každopádně následník desky Presence spatřil světlo světa až v roce 1979, tedy v době, kdy Anglii zaplavily punkové kapely, jejichž estetické vnímání hudby bylo od představ jejich předchůdců vzdáleno desítky světelných let.  A do této atmosféry vychází deska In Through the Out Door, osmé studiové album Led Zeppelin. Jaké tedy je?
Úvodní skladba In The Evening je sice obalena do klávesového hávu, ale nepostrádá výrazný kytarový riff, zajímavou melodii a typické neandrtálské bicí. Plantův hlas má stále tu sílu se posluchači zařezávat do uší, zvláště ve vyšších polohách. Příjemný začátek. Píseň South Bound Saurez působí dosti kolovrátkovým dojmem, což asi bude tím klavírem. Page zde sice vystřihne sympatické sólo, ale to výslednou reputaci písně u mě nezachrání. Snad se to zlepší další skladbou. Tou je píseň se sympatickým názvem Fool In The Rain, jejíž střední pasáž má schopnost posluchače přenést někam na festival samby. Že by inspirace Santanou? Následuje píseň Hot Dog, country rock, jakých existují mraky a jenž v podání Zeppelin nic nového nepřináší. Novotou však hýří nejdelší skladba na albu, skoro jedenáctiminutová Carouselambra, která jako jediná asi naznačuje, kam se tvorba skupiny mohla ubírat v následující dekádě. I když na můj vkus je tam těch syntezátorových zvuků nějak mnoho. Výsledek je příliš rozvleklý a po několika minutách nudící, dokonce otravující. Škoda. Dojem příliš nespraví ani skladba All My Love. Neustále se opakující motiv a zbytečně mnoho klávesového balastu. Nezachrání to ani skvělý zpěv. Na závěr zazní nejpomalejší kousek, baladická I'm Gonna Crawl, u které mě pokaždé napadne, jestli by nezněla ještě lépe, nebýt tam ty syntetické smyčce, ale když píseň končí, tak si vždy řeknu, že to tak asi mělo být. Plantův hlas zde dokonale souzní s kytarou Jimmyho Page. Slušná tečka na závěr.
Jaká mohla být další nahrávka Led Zeppelin, to se díky známým událostem z roku 1980 nikdy nedozvíme. Osobně si myslím, že rozhodnutí ukončit po úmrtí Johna Bonhama činnost bylo správné. Vzducholoď přistála a pevně ukotvena čeká v hangáru, zda tři pozůstalí lodivodi ještě někdy najdou sílu k dalšímu letu. Sám tomu moc nevěřím a možná je to i dobře. Nechme legendu odpočívat, neboť ta už nikomu nemusí nic dokazovat.
SKLADBY:
1. In The Evening (6:48)
2. South Bound Saurez (4:11)
3. Fool In The Rain (6:08)
4. Hot Dog (3:15)
5. Carouselambra (10:28)
6. All My Love (5:51)
7. I'm Gonna Crawl (5:28)
SESTAVA:
Robert Plant – lead vocals
Jimmy Page – electric & acoustic guitars
John Bonham – drums
John Paul Jones – bass guitar, mandolin, keyboards, synthesizer, piano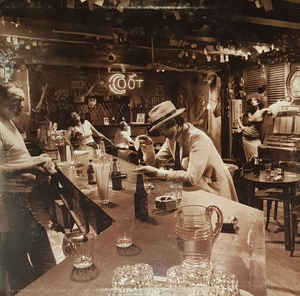 In Through the Out Door
Led Zeppelin
Hard rock
Swan Song
1979
LP, CD
7