Album Led Zeppelin II považuji za jeden z vrcholů produkce kapely, ale také za jeden ze zásadních albových pilířů konce šedesátých let. Velmi nadějný nástup prvního alba signalizoval, že skupina vlastní nejen vynikající instrumentální potenciál, ale i mimořádnou schopnost dosáhnout dokonalosti nejen na koncertních pódiích, ale i v nahrávacích studiích. 
Spojení elektrického blues s rockem, posléze definovaným hardrockem, zde slavilo triumfální útok a bylo zřejmé, že jejich těžkotonážní hudba zásadním způsobem promluví do příští dekády. Jejich kořeny sice vyrostly z šedesátých let, ale hudební produkt se svým pojetím přesouval do let sedmdesátých a bylo zjevné, že jejich sound bude určovat běh věcí příštích, inspirovat a ovlivňovat dění v daném žánru. Když se stala zeppelinovská Dvojka posléze i mým vlastnictvím, adoroval jsem ji jako oslavný rockový epos nejen jako disc-jockey, ale i jako jejich věrný obdivovatel a šiřitel její slávy mezi mými vrstevníky. Od začátku do konce na albu nenajdete jedinou slabší, nebo průměrnou skladbu. Ona vzácná vyrovnanost z alba přímo čiší.
WHOLE LOTTA LOVE – Úderný, snad nejslavnější, nebo jeden z nejslavnějších riffů vůbec otevírá úvodní skladbu na albu. Bonhamovy bicí nástroje jedou v hypnoticky přesném rytmu, sledovány důraznou Jonesovou basovou linkou. Page nahrál výtečné kytarové téma a další část v psychedelizujícím duchu za zvuků simulujících atmosféru závodní dráhy automobilů, vytvářenou i vyluzovanou Pagem na kytaru a Plantovým výkřikem, vnese do skladby výrazné vzrušení. Máme tu opakující se schéma, do něhož vkládá Bonham svoje zemité bubenické přechody. Plantův hlas ve velkém emocionálním vkladu vstupuje svým řeřavým hlasem do prostoru a skvělé dynamické přepětí demonstruje úžasnou atmosféru rockového rebelantství a špatně skrývaných erotických vášní. Mistrovský hardrockový kousek!
WHAT IS AND WHAT SHOULD NEVER BE – Po drsném startu přichází subtilnější baladický úvod, vzápětí ovšem hudba získá na větším důrazu a jako sopečná erupce vyvrhne z vulkánu svůj žhavý obsah. Úžasná proměnlivost nálad. Page nám nabídné svoje krásně snivé klouzavé tóny, aby skupina vzápětí opět explodovala a nabídla další proměnlivé podoby jejich hudebního vyjádření. Bluesová forma je sice potlačena, zůstává ale zastoupena ve vynikajícím pěveckém projevu. Agresivní akordy ve stereofonním efektu zprava doleva a zpět dodávají další energií sledované činely a gongem. Znova dusající a šlapající rytmikou až do konečného odeznívání.
THE LEMON SONG – Syrové zkreslení kytarového riffu provází úder na gong a dusající rytmická figura, do které Plant vkládá nekompromisní porce pocitů do daného schématu, v němž je blues vnímáno jako prostředek, ale ne jako forma. Vzápětí se hudba rozběhne v dravém rockandrollovém modelu. Vnímáme suverénní kytarový výkon sólujícího Page, ale také výtečné basové modulované tóny Jonese. Ten také zvolí prostor pro vystavění basového sóla pod Plantovy hlasové exhibice stojící na půl cesty mezi vykřikovanými pocity a syrovým zpěvem. Bonhamova bicí baterie drží rytmické základy s občasnými akcentovanými proměnami. Page sice hraje kytarové vyhrávky, ale drží se poněkud jakoby v ústraní. Vzápětí je ovšem vyprovokován pokřikujícím Plantem k většímu výpadu a vzájemná odpovídání kytary a hlasu mají silný náboj. To už se ovšem protrhla stavidla a divoká rockandrollová jízda se zase opakuje do závěrečného plantovského výkřiku a doznívání zkreslené elektrické kytary. Jedinečný příspěvek!
THANK YOU – Kytarový úvod stupňované harmonie elektrické dvanáctistrunné kytary propojené s akustickou kytarou udělá prostor majestátním hammondkám, na které hraje multiinstrumentalista John Paul Jones. Kytarové rozklady nakonec skladbu ve středním tempu rozbíhají vpřed a my vnímáme krásnou baladu s výtečnými harmonickými proměnami, kkterá působí hladivě a něžně. Pageovo sólo na akustickou kytaru je trochu ovlivněno španělskými mistry, ale možná více vnímáte vynikající pěvecký projev Planta, který zde přesvědčuje o svých mimořádných pěveckých kvalitách. Dokáže zpívat velmi křehce a něžně, na druhé straně drsně a syrově nekompromisně. Je to prostě pan Zpěvák každým coulem. Varhanní preludia v pozadí upomenou spíš na církevní prostředí barokního chrámu ve své velebnosti a prostorovosti. Velmi působivý příspěvek.
HEARTBREAKER – Důrazný a syrový kytarový riff (opět jeden z neslavnějších vůbec) zde prezentuje výtečné unisono kytar a baskytary za přesného bubenického doprovodu i Plantova hlasu ostrého jako cirkulační pila. Fascinují jsou ale také výtečně modulované basové tóny Jonese. Skladba jde do výraznější gradační polohy, aby se odmlčela a prostor dostane Page. Pohrává si s tóny své kytary ve velkém rockovém stylu. Rychlostí blesku vymění tónové polohy do detailního zvolnění a Led Zeppelin se opět rozjíždějí vpřed jako závodní stroj. Jak bývá jejich dobrým zvykem – na plný pyn. S výtečným prokreslováním jednotlivých fází skladby. Údernost riffu však náhle končí a přechází do další skladby.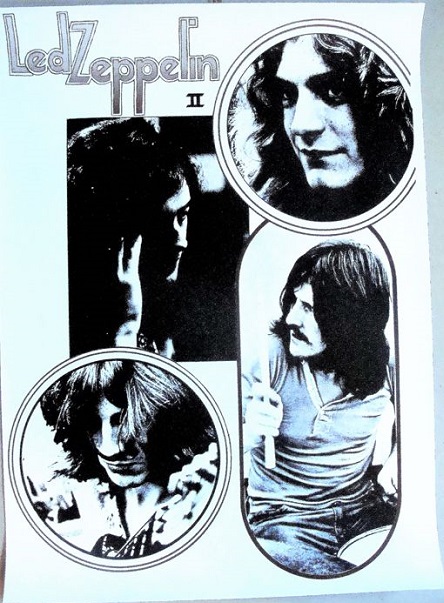 LIVING LOVING MAID (SHE'S JUST A WOMAN) – Rychlé tempo dusající rytmiky nabídne skladbu s dalším vynikajícím riffem. Akcentování jednotlivých dob a důraz na dynamické odstíny společně s krákorajícím hlasem výtečně frázujícího Planta neskrývá svůj erotický náboj a podtón, ale důrazné kytarové téma s basovými attacky a hřmícími bicími nástroji jsou určujícími aspekty kompozice. Nemá nějakou složitou harmonii, ale dobře proaranžovaná melodická linka zajistí skladbě jízdenku do kupé první třídy se zrychleným vlakem.
RAMBLE ON – Zajímavý akustický kytarový doprovod v úvodu začíná poněkud subtilně, ale hned nato se skladba zase divoce rozbíhá vpřed v klasickém tempu pumpujících bicích a důrazných basů. Zajímavé lyricky pojaté klouzavé sólo kytary vás k sobě přitáhne jako magnet a vy vnímáte jednotlivé odstíny celého tématu. Zatímco Plant ve slokách napůl deklamuje a napůl zpívá. V refrénu dokáže z hrdla vyrazit pořádný energický nápor, který vás srazí k zemi. Zvukové efekty s jeho hlasem vás přesvědčí, že jeho hlas není ve skupině vnímán jen jako zpěvný aspekt, ale i jako samostatný hudební nástroj a v zeppelinovské kariéře si to budeme připomínat docela často.
MOBY DICK – Perkusivní zvuky bicích, zvonců a dusavá baterie bicích nástrojů zahájí plnotučné rockové téma, které je ovšem jakýmsi úvodem, chcete-li předobrazem skladby, kterou si napsal sám pan Bubeník a také nám předvede holými dlaněmi a pěstmi, jakým způsobem se s vymezeným prostorem vyrovná. Jeho bubenické sólo se stalo slavným instrumentálním opusem, které svádělo k napodobování. Bonham využívá všech možností svých hráčských dovedností v divokých breacích, v úderných nástupech a přechodech, při práci s činely. V epilogu se nám opět vrací úvodní téma, aby udělalo tečku za touto legendární exhibicí.
BRING IT ON HOME – Poslední skladba je ryzí blues v přetransformované podobě a dokazuje, jak úzký vztah k této hudební formě měli Plant a Page. Plantův hlas je zastřen a deformován, aby se přiblížil k černošským interpretům mississippské delty. Nezapomene přitom hrát ve stylotvorném pojetí hry na foukací harmoniku. Šamansky tajemné, zakouřené, matné a jakoby v přítmí – zní úvodní téma skladby. Do centra ale Led Zeppelin vloží syrové hardrockové téma, v němž perlí playbackované elektrické kytary, zajímavé basové modulace a bubenická jízda v rychlých obratech a opakujícím se schématu. Hra s přímým tahem na bránu bez příkras s patřičnou úderností riffů a rytmických akcentů patří mezi klasický model hudby daného žánru. V závěru se ovšem opět v zastřeném pojetí vrátíme k původní bluesové formě a člověku nezbývá než zalitovat, že je naše jízda u konce. Famózní zážitek, ze kterého se vám budou třást kolena desítky let, tak jako mně samotnému, ale tohle myslím mohou odpřisáhnout i další posluchači, se kterými jsem během jízdy seděl v jednou virtuálním kupé jedinečného alba.
Do oslavných ód legendárního díla ale vstoupím (subjektivně, ale i objektivně) s připomínkou. Patřil jsem mezi ty rockery, kteří záhy prozkoumávali překlady zpívaných textů písní svých oblíbených skupin. Později jsem dokonce spolupracoval s firmou Vigneta Print, která zajišťovala překládání jednotlivých alb a tisk ve formátu bookletu, a tak vkusná knížečka mohla tvořit součást CD, kam se vedle bookletu vešla. Přiznám se, že jsem byl tehdy velmi nemile překvapen, že přeložené texty pro mne nebyly rockovou poezií, ale spíše nahodilými metaforami a zhmotněnými pocity bez ladu a skladu, bez nějaké hlubší a zásadnější koncepce.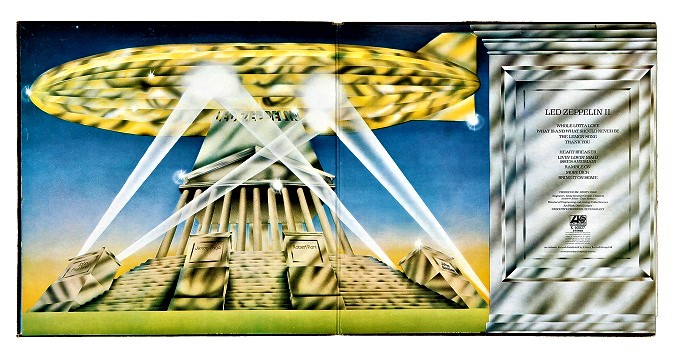 Naštěstí patřím mezi ty posluchače, kteří dokáží hudbu poslouchat komplexně a tento aspekt mi zásadně nevadí v tom, abych si dané album (skupinu) pustil do duše. Řekl bych, že rockoví autoři nebyli většinově nějakými literáty a básníky. Samozřejmě, že o jistém druhu poezie se dá hovořit ve spojení se jmény jako Bob Dylan, Jethro Tull, King Crimson, Emerson Lake And Palmer, Genesis, Lou Reed, Pink Floyd, Yes, The Doors, The Beatles (zhruba od alba Revolver po Let It Be), Roy Harper, Donovan, Van Der Graaf Generator, Joni Mitchell…
Úroveň textů byla před lety důvodem k mediální přestřelce mezi Ianem Andersonem a Robertem Plantem. Plant se hájil vysokými prodeji jejich produkce, se kterou se Jethro Tull nemohli srovnávat a Anderson kontroval, že úroveň textů je příklad vysušeného intelektu textové základny, což ješitného Planta pobouřilo. Tohle je možná jediným "kazem" na dokonalosti jejich písní, které ovšem jinak desítky let přesvědčují o své mimořádnosti.
Album je pro mne vrcholným uměleckým opusem daného stylu a proto plný počet hvězdiček je samozřejmou věcí!
SKLADBY:
1. Whole Lotta Love (Page/Plant/Jones/Bonham) 5.34
2. What Is and What Should Never Be (Page/Plant) 4.44
3. The Lemon Song (Page/Plant/Jones/Bonham) 6.19
4. Thank You (Page/Plant) 4.47
5. Heartbreaker (Page/Plant/Jones/Bonham) 4.14
6. Living Loving Maid (She's Just A Woman) (Page/Plant) 2.39
7. Ramble On (Page/Plant) 4.23
8. Moby Dick (Page/Jones/Bonham) 4.21
9. Bring It On Home (Page/Plant) 4.20
Originally released as Atlantic 8236 on October 22, 1969
Recorded in January – August 1969 at London (Olympic Studios & Morgan Studios), Los Angeles (Mirror Sound) and New York (A&R Studios, Juggy Sound Studio & Atlantic Studios)
Mixed at A&R Studios, New York, with Eddie Kramer
Engineered by George Chkiantz (1 & 2), Chris Houston (3 & 8), Andy Johns (4) & Eddie Kramer (5-7, 9)
Produced by Jimmy Page
Executive producer: Peter Grant
SESTAVA:
Jimmy Page – acoustic guitar, electric guitar, pedal steel guitar, backing vocals
Robert Plant – vocals, harmonica
John Paul Jones – bass guitar, organ, backing vocals
John Bonham – drums, backing vocals
Led Zeppelin II
Led Zeppelin
Hard Rock, Blues Rock
Atlantic
1969
LP
9