Chick Corea, jazzový hráč na klávesové nástroje, založil jednu z kľúčových skupín 70. rokov, ktorá hrala dravú fúziu jazzu a rocku. Svoje hudobné predstavy sformoval na základoch, ktoré položil Miles Davis na konci 60. rokov, a ktoré vyústili do jazz-rockového hybridu na albume Bitches Brew. Podobne sa inšpirovali skupiny Weather Report a Mahavishnu Orchestra. Aj ďalšie skupiny v tej dobe kreatívne hľadali nový smer pre jazz a ako ho zatraktívniť pre veľkú časť rockových fanúšikov. 

Na začiatku kariéry Return to Forever (RTF) bola jazzová skupina s prvkami latino. No Corea, ktorého veľmi ovplyvnil John McLaughlin a jeho Mahavishnu Orchestra, a tiež britské progresívne skupiny (Yes, EL&P), posunul zameranie RTF viac k rocku. Tým dosiahli výraznejší komerčný úspech. Neskôr sa preorientovali na bigbandový štýl, aby sa v 21. storočí opäť vrátili v najpríťažlivejšej zostave "romantických bojovníkov" (romantic warriors).
Corea založil skupinu RTF na jeseň r. 1971. Vtedy hral v skupine Stana Getza. Obidve formácie využívali niekoľko spoločných hráčov. Prvú zostavu RTF ďalej tvorili Stanley Clarke na basu, Joe Farrell na flautu a píšťalu, spolu s jeho manželkou a perkusionistkou Airto Moreira, a speváčka Flora Purim. Corea napísal ešte pod svojim menom hudbu na album s názvom Return to Forever, potom tento názov dal aj svojej skupine.
V novembri 1971 RTF debutovali na koncerte v nočnom klube Village Vanguard (New York). Prvý album s rovnakým názvom nahrali vo februári 1972. Corea, Clarke a Moreira opustili skupinu Stana Getza a sústredili sa len na RTF. V takej zostave koncertovali v Japonsku, potom v Londýne nahrali druhý album Light as a Feather. Tu zaradili niekoľko starších skladieb, ktoré Corea zložil a nahral s Getzom, napr. 500 Miles High a Spain.
Dovtedy zneli RTF viac latino jazz ako fusion, no na jar 1973 Farrell odišiel a Corea ho nahradil rockovým gitaristom Billom Connorsom (zo Spiral Staircase). Moreira a Purim tiež odišli, aby založili vlastnú skupinu. Po príchode bubeníka Steve Gadda a perkusionistu Mingo Lewisa do RTF, v apríli 1973 hrali s novou zostavou v nočnom klube Bitter End (New York). Pustili sa do nového albumu, no ukázalo sa, že Gadd nemá záujem o turné. Corea ho nahradil Lenny Whiteom (z rockovej grupy Azteca), čo výrazne zmenilo sound.
V auguste 1973 sa vrátili do štúdia a znovu nahrali potrebné časti. Album vyšiel v októbri s názvom Hymn of the Seventh Galaxy. RTF sa ním definitívne priklonili k progresívnemu rocku a fusion. Corea prvý raz použil rozsiahly súbor syntezátorov. Album mal veľký komerčný úspech a strávil niekoľko mesiacov v top rebríčkoch.
V r. 1974 Connors odišiel z RTF a pre turné ho hneď nahradil Earl Klugh. Trvalou náhradou sa stal 19-ročný Al Di Meola, ktorý kvôli tejto významnej životnej udalosti zanechal štúdium na Berklee School of Music. V lete 1974 nahrali štvrtý album Where Have I Known You Before, vyšiel v septembri. Podporili ho rozsiahlym turné. LP zakotvila v Top 40 a zotrvala tam dlhšie ako 5 mesiacov.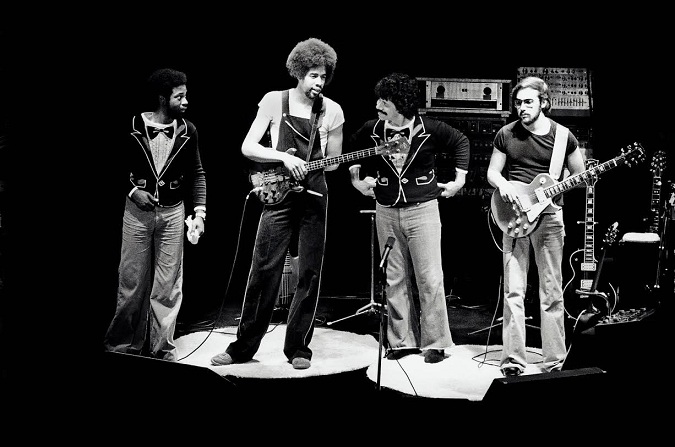 RTF sa vrátili do štúdia v januári 1975 a v krátkom čase nahrali piaty album, vo februári vyšiel s názvom No Mystery. Tiež dosiahol Top 40, hoci iba na tri mesiace. No album získal cenu Grammy 1975 v kategórii "Best Jazz Performance by a Group". Vtedy Corea podpísal zmluvu za RTF s Columbia Records, pričom on sám ako sólo umelec zostal zmluvne s Polydor. S ďalším, v poradí 6. albumom Romantic Warrior (vyšiel v marci 1976), dosiahli najväčší úspech – okrem Top 40 aj zlatú platňu. Tomuto albumu možno pokojne dať prívlastok "perla art-rocku s prvkami fusion".
No po nahratí Romantic Warrior, Corea rozpustil skupinu a opäť zmenil štýl. Ponechal si Stanleyho Clarka (basa, bas gitara), prizval svoju manželku Gayle Moran (ex Mahavishnu Orchestra) s vokálmi a klávesami, vrátil sa Joe Farrell, prišiel bubeník Gerry Brown. Dychovú sekciu tvorili trúbkári John Thomas a James Tinsley, na trombón Jim Pugh a Harold Garrett. V tejto zostave RTF nahrali 7. album Musicmagic, vyšiel v marci 1977. Bol to ich štvrtý album v Top 40, kde zotrval 4 mesiace. Na kocertné turné ešte pribrali trombonistu Rona Mossa.
20.-21.5.1977 RTF nahrali koncertný album v Palladium Theater (New York), vyšiel pod názvom Live ako jedna LP platňa. Kompletný koncert vydali neskôr ako 3LP s názvom Live: The Complete Concert a ešte neskôr ako 2CD. Po turné Corea rozpustil definitívne skupinu.
V roku 1983 Chick Corea znovu zostavil RTF  len pre koncerty (plus Clarke, di Meola a White).
Po 25 rokoch, 29.5.2008 sa RTF znovu obnovili v najznámejšej zostave (Corea, Clarke, di Meola, White) a 7.8. v Austine (Texas, USA) začali koncertnú šnúru po Severnej Amerike a Európe, ktorá obsiahla asi 50 koncertov v tom roku.
Ako dôkaz ich fantastickej zrelosti, invencie a hudobnej geniality na týchto koncertoch sú live 2CD Returns a DVD Live At Montreux 2008.

Corea, Clarke a White odohrali akustické turné v r. 2009. Ako hostia sa zúčastnili Bill Connors, Chaka Khan a Jean-Luc Ponty. Z toho v r. 2011 vydali koncertné 2CD Forever.
Od februára 2011 skupina pokračovala vo svetovom turné v Austrálii. Zostavu skupinu tvorili  Corea, Clarke, White, Ponty a spoluzakladateľ Chick Corea Elektric Band, gitarista Frank Gambale. To bola ďalšia skvelá správa pre priaznivcov – Return To Forever s prívlastkom "IV" je opäť na scéne!
Počas takmer roku dlhého koncertovania sa na pódiu často stretali so skupinou  Dweezila Zappu. Ten vystupoval s programom Zappa Plays Zappa (syn hral otcove skladby). Na radosť fanúšikov a ako dôkaz dobrých kolegiálnych vzťahov, Corea na klávesách si príležitostne zahral jednu-dve skladby ako hosť v Zappovej skupine. A tiež huslista Jean-Luc Ponty hral v niekoľkých skladbách, ktoré pôvodne hrával ešte v skupine Franka Zappu.
Podľa slov na oficiálnej stránke skupiny, RTF v poslednej "inštalácii" kombinuje prvky hudby zo svojej bohatej histórie a vzrušujúcu víziu budúceho jazzu.
Oficiálna web stránka Return to Forever.
DISKOGRAFIA:
Štúdiové albumy
1972 – Return to Forever
1972 – Light as a Feather
1973 – Hymn of the Seventh Galaxy
1974 – Where Have I Known You Before
1975 – No Mystery
1976 – Romantic Warrior
1977 – Musicmagic
Live albumy
1977 – Return to Forever, Live
1978 – …Live: The Complete Concert – 4 Record Set
2009 – Returns (2CD)
2009 – Live At Montreux 2008 (DVD/CD)
2011 – Forever (2CD)
2012 – The Mothership Returns (2CD+DVD)
Boxy, výberovky
1980 – The Best of Return to Forever
1996 – Return to the Seventh Galaxy: The Anthology
1996 – This Is Jazz, Vol. 12
2008 – Return to Forever: The Anthology
2011 – Return to Forever: The Complete Columbia Albums Collection
ZOSTAVY SKUPINY RETURN TO FOREVER:
1971-1973: Vplyv latino
Chick Corea: klavír, klávesové nástroje
Stanley Clarke: basa
Joe Farrell: flauta, saxofóny
Airto Moreira: bicie a perkusie
Flora Purim: spev
1974 – 1977: Elektrické kvarteto
Chick Corea: klavír, klávesové nástroje
Stanley Clarke: basa, bas gitara
Lenny White: bicie
Bill Connors: gitara (na Hymn of the Seventh Galaxy)
Al Di Meola: gitara (na ostatných albumoch)
1977 – 1978: Big Band
Chick Corea: klavír, klávesové nástroje
Stanley Clarke: basa, bas gitara
Joe Farrell: flauta, saxofóny
Gayle Moran: spev a organ
Gerry Brown: bicie
John Thomas: trúbka
James Tinsley: trúbka
James Pugh: trombón
Harold Garrett: trombón
2008: Návrat legendy
Chick Corea: klavír, klávesové nástroje
Stanley Clarke: basa, bas gitara
Lenny White: bicie
Al Di Meola: gitara
2009: Koncertné akustické trio (s hosťami)
Chick Corea: klavír, klávesové nástroje
Stanley Clarke: basa, bas gitara
Lenny White: bicie
2011: Elektrické kvinteto (RTF IV)
Chick Corea: klavír, klávesové nástroje
Stanley Clarke: basa, bas gitara
Lenny White: bicie
Jean-Luc Ponty: husle
Frank Gambale: gitara