Comus (též Komos), v antické mytologii bůh zábavy a hýření, syn Dionýsův (též Bakchus). Rovněž titul dramatické básně slavného anglického básníka 17. století Johna Miltona. A v neposlední řadě britská acid folkrocková skupina, která je dodnes vzývána jako příklad elitářské rockové progrese raných 70. let.
Náctiletí studenti Roger Wootton a Glenn Goring začali někdy na přelomu 1968/69 po klubech předvádět neobvyklé akustické verze skladeb Velvet Underground. Po čase se připojil klasicky vzdělaný houslista Colin Pearson. Trio trávilo dlouhé hodiny domáckým jamováním a společným ujasňováním dalšího hudebního směřování. Sestavu brzy posílili baskytarista Andy Hellaby, pozounista Rico Rodriguez, jamajský foukač Michael Bammi Rose a Mike Briefly, poslední dva ale záhy Comus opouštějí. Přichází Rob Young, klávesák přeškolený na hobojistu a flétnistu. A když mládenci jednou slyšeli zpívat dívčinu Bobbie Watson, okamžitě se o ni ucházeli. Úspěšně.
Jedním z velikých fanoušků začínajících Comus se stal i David Bowie, kapela díky němu zakrátko stála na festivalovém jevišti vedle Strawbs a Bridgety St. John. Dokonce to vypadalo na přímou spolupráci, zkušební nahrávky prý ale vinou Davida nedopadly dobře a tak Comus skončili jako support skupiny Love. Získali vysoký kredit především ve vysokoškolských klubech.
Po předvedení tří demáčů sepsala s Comus smlouvu RCA. Produkci připravovaného alba dostal na starost Sandy Robertson (mj. Keith Christmas, Sheila McDonald, Steeleye Span).
Manažer kapely Chris Youle, který shodou okolností u RCA už rok pracoval, po nahrání skladby Prisoner od firmy odchází i se svými chráněnci. Některé z "opuštěných" nahrávek byly použity v softpornografickém filmu "Permissive" kanadského režiséra Lindsaye Shonteffa. Comus s ním spolupracovali i na "Big Zapper" v roce 1971, a samostatně po rozpadu skupiny na projektech "Zapper's Blade of Vengeance" (1973) a "Spy Story" (1975).
Roger Wootton (autor většiny písní), Glenn Goring, Colin Pearson, Bobbie Watson, Rob Young a Andy Hellaby tak opět především přehrávali naživo a po svém Velvety. Venus In Furs prý zrychlili desekrát.
Vše v červnu 1970 vyústilo v novou smlouvu s Dawn (odnož Pye Records), Comus se podařilo vyvázat ze závazků s RCA. Novým producentem se stal Barry Murray (mj. Mungo Jerry) a Comus začali kompletně přepracovávat původní záznamy. Na maxi singlu byly v roce 1971 vydány z těchto session tři skladby (Diana / In The Lost Queen's Eyes / Winter Is A Coloured Bird), kritiky ale byly zdrcující.
Texty Comus jsou temné, plné násilí, erotiky, mytologie, mučednictví. Drsný chapmanovský hlas Rogera Woottona zprostředkuje pocity zmaru a hysterie s nebývalou silou, vyznění jeho písní se tak ještě více umocňuje. A když k tomu přičteme záměrně disharmonické tóny kapely, bolanovsky vlezlý zpěv Glenna Goringa, andělský i rozervaný vokál Bobbie Watson, máme před sebou novotvar, překonávající svou odvahou rané crimsonovské experimenty. Je jasné, že Comus nebyli žádný libozvučný hippie pugét v psychedelickém celofánu, ale drsná tvrdá akustická avantgarda pro silné povahy.
Až zrůdný obal First Utterance (1971) Evena Woottonse evokující In The Court Of Crimson King varuje každého, kdo jen jde kolem. Nikdo po poslechu vyšokovaný tedy nemůže říct: já nevěděl, já netušil… věděl a mohl tušit už od pohledu!
Alba se prodalo jen 7000 kusů, při jeho posluchačské náročnosti není divu.
O to více se Comus soustředili na koncertování. Rob Young je v polovině roku 1971 nahrazen fagotistkou Lindsay Cooper. Vystoupení na festivalu Weeley jim zkomplikovali Barclay James Harvest, kteří přetáhli svůj set, takže Comus mohli odehrát jen jednu skladbu, The Prisoner. Navíc vypadla elektrika, ovšem kapela vycepovaná dřívějším neamplifikovaným hraním předvedla takový výkon a sklidila tak bouřlivý ohlas, že zaskočení BJH raději zrušili už dohodnuté předskakování na turné.
Comus se ale cítili být připraveni na ještě vyhraněnější projekt než byl debut, akustickou Malgaard Suite, složenou ze dvou 15 a 20minutových dílů. Bohužel, manažeři labelu nebyli na takovouto svojskou muziku připraveni. V roce 1972 Comus na čas končí.
O dva roky později hledala nová značka Virgin (ta, co vydělala spoustu peněz na Oldfieldových "Zvonech") slibné projekty a tak Comus dostali ještě jednu šanci. Bohužel, firma natlačila kapelu mimo její přirozenost, směrem k mainstreamu.
Album To Keep From Crying (1974) s četnými hostujícími muzikanty tak sice vzniklo a vyšlo, pro náročné posluchače však bylo krokem zpět, pro širší masy naopak stále příliš vyhraněné. Comus končí.
Kupodivu ne napořád. Na jaře 2008 se Comus vrací na pódiu švédského festivalu Melloboat v takřka autentické původní sestavě. Jen na místě Roba Younga je Jon Seagroatt, od r. 2003 manžel Bobbie.
Katalyzátorem neuvěřitelného reunionu byl Mikael Åkerfeldt z metalových Opeth, který je hudbou Comus posedlý. Společně s promotérem Stefanem Dimlem oslovili Glenna Goringa, tomu se podařilo aktivovat dávné přátele, včetně Chrise Youlea a původního tour managera Wilfa Wittinghama.
Příběh tedy ještě nekončí…
Obsazení:
Roger Wootton (sólový zpěv, akustická kytara) A B
Andy Hellaby (baskytara, zpěv) A B
Bobbie Watson (zpěv, perkuse) A B
Glenn Goring (kytary, perkuse, zpěv) A
Colin Pearson (housle, viola) A
Rob Young (hoboj, flétna, perkuse) A
Keith Hale (klávesy) B
Gordon Caxon (bicí, perkuse) B
hosté:
Lindsay Cooper (fagot, hoboj) B
Philip Barry (perkuse) B
Didier Malherbe (saxofon) B
Tim Kraemer (cello) B
Diskografie:
EP Diana/In The Lost Queen's Eyes/Winter Is A Coloured Bird (Dawn, 1971)
LP First Utterance (Pye/Dawn, 1971) A
LP To Keep From Crying (Virgin, 1974) B
2CD Song To Comus: The Complete Collection (Castle Music, 2005), kompilace shrnující celou tvorbu Comus
Komentář ze Zapomenuté hudby (www.lege.cz):
Vynikající britská kapela, o níž se plným právem tvrdí, že předběhla svou dobu. Jejich první album je skutečně ojedinělou záležitostí, řadící se k znamenitostem typu Faust či Slapp Happy. Těžko popsatelná hudba Comus v sobě integruje prvky rocku, folku, jazzu i vážné hudby v guláši, vzdáleně připomínajícím jakýsi acidický jam Marka Bolana a Jeana-Luca Pontyho se Samla Mammas Manna.
Jaromír Merhaut pro Rock+ 2010
P. S. 2020: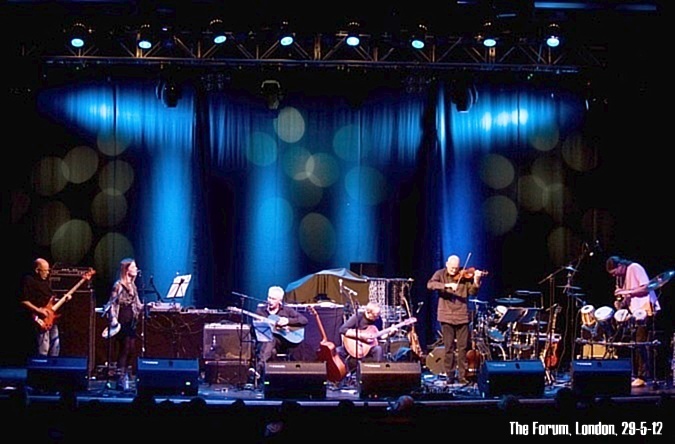 AKCE: Po dlouhých 37 letech se Comus během třídenního festivalu Equinox v londýnské Conway Hall představili i domácímu publiku (13. 6. 2009). V příštím půltuctu let v Londýně vystoupí ještě několikrát (HMV Forum, The Borderline, The Forum, Islington Assembly Hall), vrací se i do holandského Tilburgu na tradiční festival Roadburn (2010-14) a do finských Helsinek (2011 a 2012), hrají mj. v Norwichi (Arts Centre), Tokiu (2012), na festivalu Villa Manuela v Madridu (2014)… Poslední zaznamenanou koncertní aktivitou Comus je vystoupení v norském Oslu 23. 5. 2015.
ALBA: Na konci dubna 2011 vyšel záznam první reunionové akce, k mání je i na vinylu pod názvem East of Sweden s podtitulem Live at the Melloboat Festival 2008.
Duben 2012 přinesl očekávané album Out of the Coma (CD Cargo Records, LP Rise Above Records). Obsahuje trojici nových skladeb: Out of the Coma, The Sacrifice a The Return, plus živou nahrávku z nerealizovaného koncepčního díla Malgaard Suite z blíže neurčené univerzitní akce v r. '72 a komentář Rogera Wootona.
Sestava: Roger Wootton (zpěv, akustická kytara), Glenn Goring (kytary, perkuse, zpěv), Bobbie Watson (zpěv, perkuse), Andy Hellaby (baskytara), Colin Pearson (housle, viola), Jon Seagroatt (flétna, klarinet, saxofon, perkuse).
Začátkem r. 2013 vychází v Japonsku živák Live In Japan 2012, k dispozici je i DVD.
Comus na Tidalu: K poslechu v CD kvalitě jsou dvě řadová alba, First Utterance ve verzi BMG/Sanctuary (2018) a Out Of The Coma (2012) od Rise Above Records.