Ako začať?
Škoda, že AFK Vršovice (Bohemians Praha), môj obľúbený futbalový klub z Čiech, nevycestoval do Austrálie aj v 70. rokoch minulého storočia, ale iba v roku 1927. Možno by odtiaľ Antonín Panenka priniesol albumy kapely Buffalo a potom by to bolo v Československu iné "pozdvižení". Tak len, po vyše 30 rokoch akože informačnej slobody, neveriacky krútim hlavou nad nezáujmom o tento hard rock, o akom sa mnohým známym menám môže akurát snívať…
A o čom je Only Want You For Your Body?
Austrálsky buldozér s anglickým šoférom nás gniavi už od úvodnej skladby I'm A Skirt Lifter, Not A Shirt Raiser. Čo zdobí Buffalo? Hutnosť, údernosť, tvrdosť, skrátka – najlepšie hard rockové korenie. Muzikanti idú naplno až do konca a ja si to užívam spolu s nimi. Nebudem to naťahovať a onanovať nad každou zo siedmich piesní, pretože keď som to skúšal pri Volcanic Rock, nikto si to moje "sebaukájanie" aj tak nevšimol. Preto ušetrím ruku a na pomyselný vrchol orgazmov k už spomínanej úvodnej rockovici priradím ešte trojku Dune Messiah, šestku Kings Cross Ladies a záverečnú United Nations. Toto je hudba, akú milujem.
Vlastním iba pirátske vydanie CD na značke Minority Records, ktorá to odkopírovala od berlínskej firmy Second Battle, takže spolu s Only Want You For Your Body sa tu nachádza aj album Volcanic Rock. V čase, keď som túto kompiláciu kupoval, boli originály od Aztec Music prakticky nezohnateľné a ďalšie detaily je zbytočné uvádzať, bolo by to nadlho. Dnes už to neriešim, úprimne – je mi to fuk – užívam si muziku.
…Je pre mňa záhadou, že táto skvelá úderka má na Spotify iba necelých sedem a pol tisíca fanúšikov. Osobne radím prvé 3 LP "buffalobijcov" k tomu najlepšiemu, čo hudobný prečinok HARD ROCK doteraz ponúkol. V mojom rebríčku je tretia štúdiovka na 2. mieste, iba o prsia za Volcanic Rock a tesne pred Dead Forever…. 

LONG LIVE BUFFALO!!!!!
SKLADBY:
1. I'm A Skirt Lifter, Not A Shirt Raiser 4:48
2. I'm Coming On 3:36
3. Dune Messiah 4:18
4. Stay With Me 3:32
5. What's Going On 3:55
6. Kings Cross Ladies 7:08
7. United Nations 5:51
All tracks written by Tice/Baxter, except track 2 (Alvin Lee)
NOTES:
Originally released June 1974, Vertigo 6357 102
Recorded at United Sound, Sydney, 1974
Produced and engineered by Spencer Lee
ZOSTAVA:
Dave Tice – lead vocals
Peter Wells – bass
John Baxter – guitar
Jimmy Economou – drums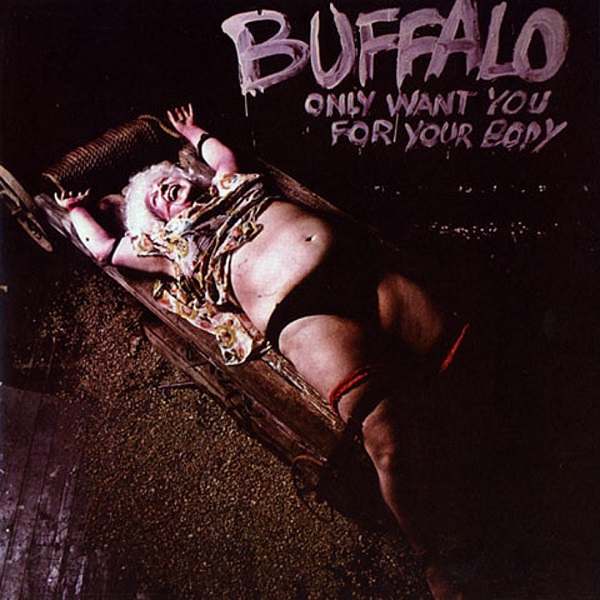 Only Want You For Your Body
Buffalo
Hard Rock
Vertigo
1974
LP
7
CD - Minority Records, 2007