Pred šesťdesiatimi dvoma rokmi sa rock'n'roll nachádzal v zúfalej situácii. Elvisa Presleyho osud zahnal do Európy, aby sa tam v rovnošate za volantom preháňal vo vojenskom džípe. V tom istom roku sa Jerry Lee Lewis oženil s trinásťročnou dcérou svojho bratranca a vzápätí ho farizejsky sa tváriaca tlač i ňou poštvané publikum začali bojkotovať. 3. februára 1959 zahynul pri leteckom nešťastí Buddy Holly – privčas na to, aby sa mohol stať spojivom medzi rock'n'rollom a neskoršou rockovou hudbou, na čo mal nesporné predpoklady. Koncom roka 1959 uvrhol rasisticky zaujatý súd Chucka Berryho na dva roky do väzenia na základe veľmi chabej obžaloby – vzal so sebou protizákonne neplnoleté dievča z jedného spolkového štátu do druhého. A nakoniec, 17. apríla 1960, došlo k nehode, pri ktorej bol počas turné v Anglicku ťažko zranený Gene Vincent a jediný suverénny talent spomedzi Elvisových nasledovníkov, Eddie Cochran, prišiel pri nej o život. Už roku 1957 Little Richard po turné v Austrálii zahodil svoje brilianty do mora, spevácku kariéru zavesil na klinec a vstúpil do kňazského seminára adventistov, k čomu ho údajne podnietilo zlovestné znamenie neba.
"Je nesporné, že rock'n'roll v roku 1958 dosiahol všetko, čo sa v rámci jeho pôsobenia dosiahnuť dalo. Priniesol so sebou nový, mladícky typ interpreta, ktorý premenil obyčajný koncert na divadelné predstavenie, a tým prekonal estetickú priepasť medzi platňou a poslucháčom. Interpreta, ktorý sa stal pre svojich rovesníkov, ako aj pre príjemcov populárnej hudby v budúcnosti, legitímnym predstaviteľom ich záujmov, ich reči, hudby, vystupovania, oblečenia a správania. Interpreta, s ktorým sa mohli merať ako so svojím idolom i priateľom, na ktorého sa obracali o radu, pomoc, ktorého uznávali ako autoritu, ako božstvo namiesto bohov, čo stratili svoje veriace stádo," píše Wolfgang Tilgner v knihe Elvis Presley.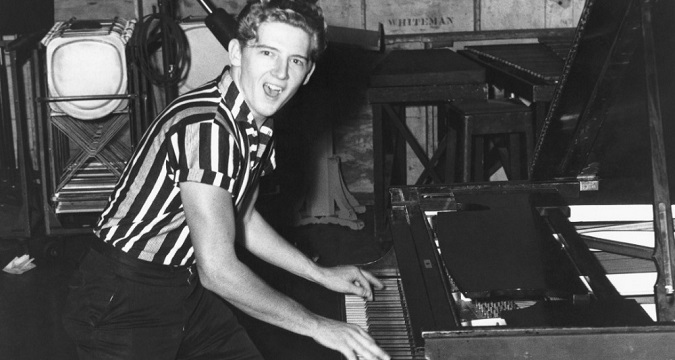 JERRY LEE LEWIS: Životopis Jerryho Lee Lewisa, je metaforou škandálov aj tragédií, ale predovšetkým fantastického rock'n'rollu. Tento americký klavirista, skladateľ a spevák (ale aj herec), je typickým príkladom pravého rock'n'rollového hudobníka, žijúceho na doraz a nekontrolovane. Jeho hudobný talent, pôsobivý hlas a excentrické vystúpenia s údernou hrou na klavíri mu vyslúžili prezývku "The Killer" (Zabijak).
Jeho rodičia z Ferriday v Louisiane patrili k väčšine amerického juhu, ktorá vyznávala legendárneho generála Roberta Edwarda Leeho z čias vojny Juhu proti Severu. V rodine mali plno hudobníkov a náboženských fanatikov a Jerry sa zmietal medzi oboma vplyvmi. V mladosti sa súčasne potácal medzi pokáním a opilstvom, kázaním a hraním v miestnych bluesových kluboch. Vyrástol podobne ako Elvis Presley na speve kresťanskej gospelovej hudby zjednotených južanských Svätodušných cirkví a kázania. Medzi Presleym ("Rock'n'roll je vo svojich koreňoch gospelom alebo gospelovou hudbou zmiešanou s rhythm and bluesom," poznamenal Elvis v roku 1968 v jednej televíznej šou) a Lewisom je podobnosť aj v tom, že obaja uznávali kresťanské evanjelium, ale žiaden z nich nebol schopný odovzdať sa úplne tomu, o čom bol v hĺbke duše presvedčený, že je správne. Na roky svojho detstva si Lewis spomína: "Ja a môj bratranec Jimmy Swaggart sme sa motali okolo černošského nočného klubu Haney's Big House. Počúvali sme blues, ktoré tam vo vnútri spievali. Počúvali a učili sa. Počuli sme B. B. Kinga a ostatných známych bluesových spevákov. I hrací automat, keď nechali otvorené dvere. Boli v ňom samé rhythm and bluesové gramoplatne. Páčilo sa nám to, a potom sme išli domov a snažili sa to zahrať na klavíri." To ale nebola jediná hudba, ktorou mladý Lewis nasiakol. Už vtedy, tak ako ostatných mladých ľudí, ho pobláznil country štýl, Hank Williams, Jimmy Rogers či neskôr Johnny Cash.
Kým si vyjasnil, čo chce v živote robiť, oženil sa: ako 17-ročný si v roku 1952 vzal dcéru baptistického kazateľa Dorothy Bartonovú – zrejme spolu intenzívne študovali bibliu a ona z toho otehotnela. Manželstvo vydržalo rok a neposedný Jerry sa vrhol do ďalšieho manželstva. Nebol ešte ani rozvedený, už si vzal Jane Mitchamovú a zároveň prišiel na to, čím chce byť – spevákom rock'n'rollu. V Louisiane to bola diabolská hudba, ale Jerrymu to neprekážalo. Jeho matka ho zapísala na fundamentálnu Southwestern Assemblies of God University v meste Waxahachie (štát Texas) v domnienke, že jej syn bude spievať svoje piesne pre Pána. Legenda hovorí, že Lewis v tretí mesiac štúdia, hnaný túžbou hrať to svoje boogie-woogie, zahral v tomto štýle pred zhromaždením v kostole aj známy hymnus My God Is Real. Predstavení školy ho okamžite vylúčili. "Jednu dobu som bol kazateľom. Každý zbor som vydesil k smrti," uviedol neskôr Jerry Lee Lewis.
Bezbožnosť života, ktorý Jerry Lee viedol, bola dlhé roky viditeľná z ostrého kontrastu ku kariére jeho bratranca Jimmyho Lee Swaggarta, jedného z najznámejších televíznych evanjelistov v Amerike. Swaggart bol tiež jedným z najvášnivejších odporcov rock'n'rollu až do konca svojej činnosti v osemdesiatych rokoch. Swaggart rozpráva ich príbeh ako príbeh dvoch chlapcov, ktorí vyrastali spolu, sedeli vedľa seba v kostolnej lavici a oboch Boh požehnal darom hry na klavír. Lenže, zatiaľ čo Swaggart zasvätil svoj dar Bohu, Lewis to urobiť nechcel alebo nemohol. "Vychovávali ma ako dobrého kresťana, ale nestal som sa ním. Povedal by som, že som nebol asi dostatočne silný," poznamenal Lewis v sedemdesiatych rokoch pre časopis Rolling Stone. "Nechcem zomrieť a prísť do pekla. Ale myslím, že som sa nevydal správnym smerom… Mal zo mňa byť kresťan, ale na evanjelium som veľmi slabý. Som chlap, čo hrá rock'n'roll. O súdnom dni sa všetci budeme spovedať Bohu." Hudobný kritik Robert Palmer poznamenal, že sila a napätie v hudbe Jerry Lee Lewisa vychádzala zo skutočnosti, že "od začiatku vedel, že sa kvôli rock'n'rollu dostane do pekla, ale rovnako neprestal a hral ďalej".
Debutoval bez väčšieho úspechu s hitom Raya Pricea Crazy Arms, a pretože sám, podobne ako Elvis, v počiatkoch kariéry nekomponoval, musel čakať, kým sa nájdu pesničky, ktoré by vyhovovali jeho dynamickému naturelu. Lewisov osobitý štýl je kombináciou boogie-woogie, rhythm and bluesu, gospelu a country hudby. Zlučoval žánre rovnakým spôsobom, akým synkopoval svoje rytmy na klavíri: jeho ľavá ruka hrala spravidla boogie, zatiaľ čo štýl hry pravej ruky vo vysokých tóninách sa vyznačoval prepracovanosťou a okázalým prejavom. Na raných koncertných upútavkách bol Lewis uvádzaný ako "Jerry Lee Lewis a jeho pumpujúci klavír" (jeho frenetický divadelný štýl bol zachytený vo filmoch High School Confidential a Jamboree). Už roku 1957 naspieval v Sun Records svoj prvý miliónový hit Whole Lotta Shakin' Goin' On, po ktorom nasledovali ďalšie superhity Great Balls of Fire, Breathless a High School Confidential.
Lewis bol, podobne ako ďalší vynikajúci rock'n'rollový klavirista Little Richard, vyslovený šoumen. Kto si dnes pozorne vypočuje ich nahrávky, cíti, že mu na nich niečo chýba, niečo, čo súčasníci obidvoch spevákov pociťovali a prežívali na ich koncertoch – optický dojem. Lewis pri klavíri a s klavírom stváral také parádne kúsky, že divákov pravidelne ohurovali a ktoré sa nekončili inak než všeobecnou trmou-vrmou. "Bol som schopný zahrať tak rýchle pasáže, ako nikdy predtým. Vyzeralo to, ako by sa ma zmocnila nejaká sila prichádzajúca zvonka a začala ovládať moje telo. Prsty mi doslova lietali po klaviatúre. Keď som skončil, začal hrať Jerry Lee a publikum reagovalo rovnako,"spomína v životopise To Cross a River (Prekročiť rieku) Jimmy Lee Swaggart. Americký publicista Howard Lucraft Lewisove neuveriteľné kúsky za klavírom popisuje veľmi farebne: "Vrútil sa na javisko. Zaútočil na klavír ako podráždený býk. Zhlboka sa nadýchol a zajačal do preexponovaných zosilňovačov tak, že som sa zatriasol. V búrke šialeného revu spustil Great Balls of Fire, Whole Lotta Shakin' Goin' On a ďalšie majstrovské diela. Dievčatá pišťali, ako keď zabíjajú prasa."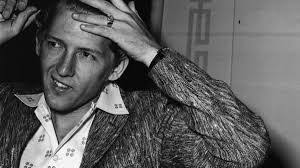 Isteže, boli to huncútstva, keď Jerry Lee ako absolvent konzervatória jednou rukou prebehol ľahko po klávesoch alebo brázdil svojimi typickými glissandami po celej klaviatúre a zároveň si druhou rukou afektovane pričesával vlasy. Aj v neskorších rokoch si zachoval spontánnu, anarchistickú povahu a nesmiernu chuť vystrájať, predvádzať sa, hrať. Zdalo sa, že ho už nič nezastaví. A vtedy urobil osudný krok, ktorý ho poslal priamo do pekiel: rozviedol sa a tretíkrát sa oženil. Neuvedomiac si mentalitu konzervatívnych Angličanov, Jerry Lee sa po americky rozhovoril o svojej búrlivej mladosti, prvom i druhom manželstve a to stačilo na to, aby anglické hudbymilovné publikum ochladlo a Lewisove prvé vystúpenia boli zároveň aj poslednými. Pod dojmom škandálu zrušili jeho koncerty, obchodníci odmietali predávať jeho nahrávky a rádiá ho nehrali. Znamenalo to koniec kariéry, návrat k chudobe a vyhrávaniu po lacných krčmách. Tu by sme jeho príbeh mohli pokojne skončiť a poukázať na to, že predsa len mal viac študovať bibliu a menej hrať na klavíri, ale Jerry Lee Lewis bol "Killer" a zúrivo bojoval s osudom. Spieval a hral stále lepšie, starostlivejšie si vyberal repertoár, vystupoval, nahrával a začal aj skladať pesničky (End of the Road, High School Confidential, Lewis Boogie atď.).
Jeho nahrávky pre Sun Records sú nepochybne vynikajúce, ale ťažisko jeho kvalít tkvie vo vystupovaní pred publikom. Album Live at the Star Club, vydaný – spoločne s britskou rockovou skupinou The Nashville Teens – iba v Nemecku (z dôvodu právneho obmedzenia nebol v USA vydaný vôbec), je považovaný za jeden z najlepších živých rock'n'rollových koncertných albumov všetkých čias. Hudobný kritik Stephen Thomas Erlewine napísal: "Live at the Star Club je neobyčajný, najčistejší, najsurovejší a najtvrdší rock'n'roll…" Lewis v ňom dokázal, prečo tento koncert – odohral sa v Hamburgu v roku 1964 – dostal prezývku "Najväčšia šou na Zemi": Jerry Lee hľadá v piesňach niečo z ich "škaredej pravdy", vo svojich skatoch hovorí to, čo sa slovami povedať nedá. Vrchol je v jeho verzii Charlesovej What'd I Say – to jačanie, to je najhlbší obraz ľudských sklamaní a bolestí.
Napokon sa vrátil k láske svojej mladosti – k country and westernu. Zatiaľ čo stále vychádzali reedície jeho rock'n'rollových hitov, pokúšal sa preraziť v inej oblasti. Nevyšla mu však ani jeho herecká kariéra, o ktorú sa pokúšal v rock'n'rollovom broadwayskom muzikáli Catch Your Soul podľa Shakespearovej drámy Othello. Nikdy sa už nedostal do hitparád, ale stala sa z neho legenda. Na koncertoch zhadzoval klavíry z pódia. Organizátori ho preto nenávideli, ale publikum milovalo. Začal piť a drogovať, pre pitie mu praskol žalúdočný vred a takmer – začiatkom júla 1981 – zomrel. Jeden jeho syn sa – 24. apríla 1962 – utopil v bazéne a druhý – 13. novembra 1973 – zabil na aute. Jedna manželka spáchala samovraždu (Jaren Elizabeth Gunn Pateová sa 8. júna 1982 utopila v bazéne) a ďalšia sa predávkovala drogami (pitva pri záhadnej smrti piatej Lewisovej manželky Shawn Michelle Stevensovej z 24. augusta 1983, iba sedemdesiatosem dní po svadbe s Jerrym Lee, ukázala, že príčinou smrti bolo predávkovanie metadonom. Veľká súdna porota nenašla nijaký dôkaz na podozrenie z vraždy napriek širokému záujmu masmédií – pozn. autora).

Takýto život by uťahal aj koňa, nie však Jerry Lee Lewisa. Nosil pri sebe pištoľ a vyťahoval ju pri každej príležitosti. Raz postrelil svojho kontrabasistu (Lewis v deň svojich 41. narodenín náhodne postrelil Normana Owensa do hrude, keď guľkami prevŕtaval dvere svojej kancelárie), po druhýkrát išiel zastreliť priamo Elvisa Presleyho. Lewis bol Presleym 23. novembra 1976 pozvaný do jeho rezidencie Graceland, čo však ochranka rezidencie netušila. Na dotaz, čo pohľadáva pri vstupnej bráne, vytiahol Lewis zbraň a zo žartu odvetil, že prišiel zabiť Presleyho. Tento incident ho dostal dočasne za mreže, aj napriek tomu boli s Presleym priatelia a kolegovia. Presley o Lewisovi povedal: "Keby som vedel hrať na klavír ako Jerry Lee Lewis, prestal by som spievať!"

Jerryho Lee Lewisa dnes už málokto pozná. Narodil sa do času, keď populárna hudba hľadala nový zvuk a všetko ostatné bolo bokom. Svojou neskrotnosťou a súkromnými ťažkosťami si narobil zbytočné problémy a trvalo mu celé roky, kým si získal fanúšikov opäť na svoju stranu. Aby to dokázal, musel sa stať disciplinovaným interpretom štýlu country and western.
Článok patrí k časopisu Nový Populár: Číslo 2/2018.
ĎALŠIE ČLÁNKY:
JERRY LEE LEWIS & MYRA GALE BROWNOVÁ * PRVÝ ŠKANDÁL ROCK'N'ROLLU