Jeden z najznámejších románikov na rock'n'rollovej scéne
V dnešnej digitálnej dobe nie je ťažké dozvedieť sa o nových škandáloch známych osobností každý týždeň. Televízne hviezdy urobia naozaj veľa, aby dosiahli svojich pätnásť minút slávy – často pomocou akýchkoľvek potrebných prostriedkov – čím šokujúcejších, tým lepšie. Tých škandalóznych pätnásť minút slávy nie je v niektorých prípadoch tak úžasných, ako sa zdá. Opýtajte sa napríklad Myry Gale Brownovej-Lewisovej, ktorá zažila, aké to je ocitnúť sa v strede mediálneho cirkusu. 
V roku 1958, dávno pred sociálnymi sieťami a smartfónmi, manželstvo iba trinásťročnej Myry a bratranca jej otca, vychádzajúcej rock'n'rollovej hviezdy Jerryho Lee Lewisa, spôsobilo dokonalú senzáciu. "Čo si ale nikto neuvedomil, bol fakt, že pätnásť minút slávy sa zmenilo na tridsať až štyridsať rokov," hovorí Myra. Ich manželstvo vyvolalo rozsiahlu diskusiu počas obdobia, keď hudba rock'n'rollu bola už aj tak pod veľkým tlakom, a verejný rozruch zasadil smrteľnú ranu pre Lewisovu kariéru, ktorá sa ocitla na čiernej listine v mnohých rozhlasových staniciach. "Bol to skutočne prvý škandál rock'n'rollu," spomína. "V tej dobe sa rock'n'roll stával čím ďalej tým silnejším. Kazatelia ho nenávideli. Rozhlasové stanice, ktoré ho nehrali, ho nenávideli. Hovorili mu diablova hudba. Bolo to hrubé, drzé a smiešne, hlavne čo to robilo s tínedžermi. Vôbec nevedeli, čo sa z toho vyvinie. Bolo to jednoducho iné, bola to novinka, ktorá vzala svet útokom. A na to ľudia ešte neboli pripravení."
"Niekto raz povedal, že hľadali miesto, kde by mohli vraziť nôž do rock'n'rollu, a Jerry im dal príležitosť. Teda ja, keď som otvorila ústa. A Jerry za to zaplatil." Myra sa o svojej minulosti nebojí otvorene hovoriť. Ľuďom poskytla pohľad do vnútra svojho búrlivého manželstva s Jerry Lee Lewisom (tajne sa zosobášili 11. decembra 1957) vo svojej knihe Great Balls of Fire, ktorú vydala v roku 1982, a ktorá sa stala inšpiráciou pre film s rovnomenným názvom (natočený o sedem rokov neskôr), s Dennisom Quaidom a Winonou Ryderovou v hlavných úlohách. Myra však nie je fanúšikom knihy ani filmu. Vysvetľuje, že obe boli ideou niekoho iného o tom, ako by mala byť táto časť jej životného príbehu vyrozprávaná. Výsledky mali podľa nej ďaleko od reality. Pred dvoma rokmi sa rozhodla zverejniť celý príbeh svojimi vlastnými slovami v nových memoároch The Spark That Survived (Iskra, ktorá prežila), v ktorých opisuje detaily jej trinásťročného manželstva s Lewisom, ale aj oveľa viac.
V priebehu piatich rokov Myra zhmotnila svoj talent rozprávania príbehov do diela, v ktorom opísala svoje životné skúsenosti a zážitky, ako keď sa v štrnástich rokoch prvýkrát stala matkou a potom znova v sedemnástich, o tragickej strate syna, ktorý sa nešťastne utopil, Lewisovej drogovej závislosti, o sebe samej ako obeti zneužívania, rozvode a skoku do nového manželstva. "Tá kniha je výpoveďou toho, čo sa skutočne stalo, ako som sa s tým vysporiadala a že som teraz tu," poznamenáva. "Nielen že som to prežila, som vďaka týmto skúsenostiam lepšia, prešla som si tým. Som silnejšia a vážim si veci v živote, ktoré iní ľudia berú ako samozrejmosť… Myslím, že som si tým prešla ako skúškou ohňom. Vyjdete z ohňa a viete, že ste to zvládli." Nie je to príbeh, ktorý by niekedy upadol do zabudnutia. "Niekedy keď poviem niečo o Jerrym, ľudia reagujú: ,Nie je to ten, ktorý sa oženil s malým dievčatkom?' A ja poviem: ,Počkať, práve sa s tým malým dievčatkom rozprávate – rozmyslite si, čo poviete. Nikdy som sa nezbavila svojej prezývky ,trinásťročná detská nevesta'. Neviem, či to nemám náhodou napísane aj v rodnom liste! Nemyslím si, že som tú prezývku niekedy nenávidela kvôli sebe – nenávidela som ju kvôli tomu, čo spravili Jerrymu. Neubližovalo mi to, ale ubližovalo to niekomu, koho som milovala. Videla som, ako niekoho trestajú kvôli môjmu veku, kvôli mojej existencii, a ja som sa proste len chcela postaviť a obhájiť ho."

Pred šesťdesiatimi dvoma rokmi, keď bol Elvis Presley povolaný do armády, mal Jerry Lee Lewis našliapnuté stať sa najväčšou rockovou hviezdou. So svojimi hitmi Whole Lotta Shakin' Goin' On a Great Balls of Fire, spustil turné po Anglicku, ktoré malo jeho slávu vystreliť do celého sveta. "Jud Phillips zo Sun Records, brat producenta Sama, Jerrymu radil, aby ma nebral so sebou do Anglicka, pretože britská tlač bola známa tým, že sa snažila Američanov znemožniť, zdiskreditovať. Veď práve tam začal bulvárny žurnalizmus. Jerry mu na to povedal, že ,ak nejde Myra, nepôjdem ani ja'. A tak som išla," spomína. Keď však Lewisova skupina 22. mája 1958 pristála v Londýne, tlač chcela vedieť, kto je tá mladá tínedžerka po jeho boku. "Nikto sa so mnou neporadil. Ak by ku mne prišla čo i len jedna osoba a povedala: 'Myra, máš v rukách potenciálnu bombu. Ak povieš novinárom, kto si, zničíš Jerryho.' Nikto mi nič nepovedal. A viete prečo? Buď pretože som bola hlúpe dieťa, alebo sa Jerryho báli, báli sa spraviť niečo za jeho chrbtom, pretože očividne nemal v pláne prísť domov a povedať mi to. Keby predsa, mohla som byť naoko chorá, alebo by som mohla sadnúť na ďalšie lietadlo. Bolo to také jednoduché. Bolo by tak ľahké urobiť správnu vec."
Netreba dodávať, že bomba vybuchla a pozornosť sa obrátila na Myru, ktorá to vôbec nečakala. "Naozaj nie, vtedy som si samozrejme myslela, že som dospelá žena. Bola som tak hlúpa," dodáva so smiechom. "Pokojne som mohla povedať: ,Som dcéra J. W. Browna. Toto je môj mladší brat, toto je moja mama.' Pretože taká bola pravda! Žiaľ, v takejto situácii nemyslíte na to, čo prinesie zajtrajšok." A pokračuje: "Takže keď sa ma novinár opýtal, Kto si?', bola som to ja, kto to vytáral." (Pred zúčastnenými na letisku Heathrow vyhlásila aj to, že doma nie je mladá na to, aby sa sobášila v 15 rokoch: "Môžete sa zosobášiť aj v desiatich rokoch, ak si nájdete manžela," uviedla.) "A zrazu to prišlo ako tsunami – nemohlo sa to stať v horšom čase na horšom mieste. Všetko sa to zrazu nabalilo a nastal výbuch."

Britská bulvárna tlač sa senzácie rýchlo chytila a Lewisa označila za "zlodeja kolísok" či "únoscu detí", kritizujúc jeho výkony na pódiách a dožadujúc sa bojkotu jeho koncertov. Viacero novinových redakcií zašlo dokonca tak ďaleko, že žiadali spevákovu deportáciu z krajiny. Po troch odohraných koncertoch (z 37) Jerry zvolal na londýnskom letisku vzdorovitú tlačovú konferenciu, na ktorej obvinil Britov, že sú "iba úboho žiarliví". Na to Lewisovci opustili Spojené kráľovstvo.
Pokiaľ však stihli prekročiť oceán a vrátiť sa do USA, na svete bola ďalšia senzácia (ktorá spečatila stopnutú spevákovu kariéru priamo na jej vrchole) – zistilo sa, že Myra je dcéra bratranca (a kontrabasistu v skupine) Jerryho Lee, J. W. Browna, a že 22-ročný Jerry je stále oficiálne ženatý s jeho predošlou manželkou, Jane Mitchamovou (Lewis sa do roku 1957 stihol oženiť dvakrát, jeho druhú manželku Jane Mitchamovú si zobral dvadsaťtri dní pred tým, než sa rozviedol so svojou prvou manželkou Dorothy Bartonovou). "Bol som práve v Anglicku, keď utiekli z krajiny," hovorí americký country hudobník, spevák a herec Kris Kristofferson, "a prišlo mi to hrozne neférové, pretože Lewis netušil že robí niečo zlé. Zo dňa na deň sa stal chlapcom, ktorý zarábal 10.000 dolárov za noc, na chlapca, ktorý nevedel za jednu noc zarobiť ani 100 dolárov."
Podľa Myrinho názoru veľa príbehov, s ktorými prišla anglická tlač, nebolo pravdivých. "Keď sa toto všetko v Londýne prevalilo, tlač začala pracovať na plné obrátky. Písalo sa, že Jerry hral na poloprázdnych koncertoch, že ho ľudia vypískali, a to nebola pravda. Fanúšikovia boli tak nadšení, že ho vidia, že najväčším problémom bola jeho ochrana. ,Nevieme ako vás ochrániť,' hovorili nám ľudia zo Scotland Yardu, veliteľstva metropolitnej polície v Londýne."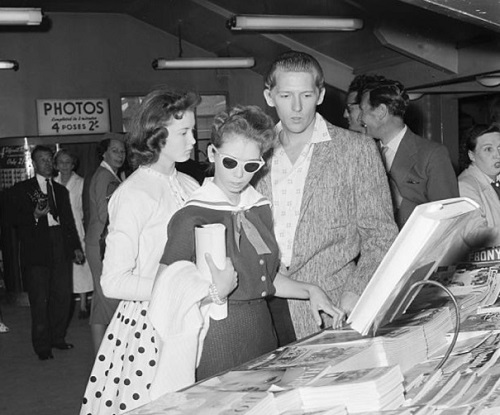 Myra vraví, že nikdy nesnívala o tom byť stredoškoláčkou – vždy túžila byť matkou a ženou v domácnosti. Napriek tomu, že bola tínedžerkou, spomína si, že Jerry Lee bol vo svojich dvadsiatich rokoch viac dieťa ako ona. "V tej mojej maličkej mysli som bola dospelou ženou. Mala som iba trinásť rokov, ale ľudia hovorili, že som viac vyspelá ako Jerry. Uvažovala som naozaj seriózne, hovorím napríklad: ,Musíme sa postarať o toto a o tamto', a Jerry stále ,Kde je klavír?' To bol naozaj on." Podľa jej slov nebola typickou tínedžerkou. "Moja generácia bola naučená sa skryť pod školskou lavicou vždy, keď nás strašili atómovou bombou, takže ste mali stále v podvedomí, že váš život sa môže kedykoľvek skončiť. Jediné čo som chcela, bolo dieťa v náručí, dom, manžel, kuchyňa, v ktorej by som mohla variť a dvor, v ktorom by rástli ruže. Môj mladší brat sa narodil, pretože som uprosila rodičov, keď som mala desať rokov. Volali ma jeho ,vice-mamou'; len som ho zobrala a starala sa o neho. Taká som bola, a Jerry bol zaneprázdnený hudbou, bol naozajstným zabávačom."
O Lewisovi hovorí tak, ako bývalá trinásťročná manželka, opisujúc ho ako tvrdohlavého a nie niekoho, kto by dodržiaval pravidlá, kto ju vždy volal "dievča". Súčasne priznáva, že útek od rodičov v trinástich rokoch bola šialená myšlienka, čo ju k tomu teda prinútilo? "Bolo toho veľa, ale najpravdepodobnejší sa javí byť ten spomínaný pocit dospelosti. A naozaj som Jerryho milovala. Milovala som jeho talent, ale mala som ho rada aj ako muža."  Iba niečo vyše 150 cm vysoká dáma z mesta Duluth v Minnesote – dnes 75-ročná Myra žije už viac ako tridsať rokov so svojím manželom, podnikateľom s nehnuteľnosťami, Richardom Williamsom – chcela pôvodne nazvať memoáre "Don't Shoot the Piano Player, Let Me!" (Nestrieľajte na klaviristu, nechajte mňa!) Ak by mohla cestovať späť v čase, akú radu by dala svojmu trinásťročnému ja? "Povedala by som svojmu mladšiemu ja, že život nebude vždy taký."
A pokračuje: "Keď sme sa vrátili späť domov, celá krajina sa tvárila nevraživo a Jerrymu nadávala ,Hanba ti, zlý chlapec!' Veľa ľudí malo trefné poznámky. Bolo to niečo, čo poznačilo Jerryho na celý život. Mysleli sme si každý rok, každého pol roka, že to ustane, že ľudia o tom prestanú rozprávať, ale to sa proste nestalo. Nás to ale s Jerrym veľmi zblížilo, a prežili sme po tom krásnych desať rokov. Boli sme ako malý tábor napadnutý nepriateľom a držali sme sa jeden druhého, nehľadiac na to, kto čo spraví, boli sme pripravení stále bojovať. Jerryho sláva a peniaze sa vytratili skoro kvôli ničomu, bolo to turbulentných desať rokov, ale boli to najšťastnejšie roky nášho manželstva."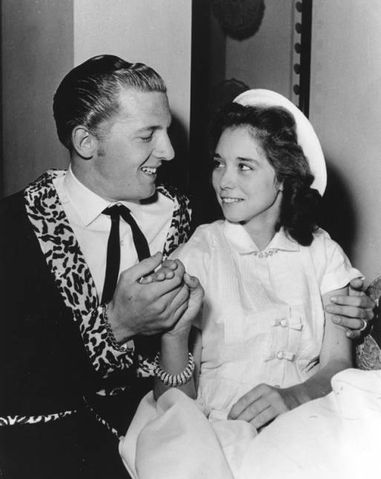 Jerry Lee Lewis sa verejnosti ospravedlnil a opätovne sa (9. júna 1958) slávnostne oženil s Myrou na obrade, o ktorom si myslel, že potvrdí ich vzťah, dokonca poslal oznámenie do Billboardu (v päťstranovom platenom inzeráte písal: "Dúfam, že ak ma odrovnajú ako speváka, nebude to pre túto zlú reklamu."), ale bezvýsledne. Pre neho bolo ťažké pochopiť toto pobúrenie: "Spevák si vzal dievča, no a?" (v skutočnosti sa presťahoval k rodičom Myry, keď sa s ňou oženil). Po tom, čo Elvis – ktorý sa neskôr zamiloval do štrnásťročného dievčaťa, Priscilly Beaulieuovej – odišiel do armády, sám povedal novinárom, že ak sú do seba zamilovaní, je to pre neho v poriadku. "Nebola to nikoho vec. Dobre teda, ak to predsa bola niekoho vec, nebola to každého vec. Bola to vec mojej rodiny, moja a Jerryho. Dobre, ak by ste mi teraz povedali: ,Je tu trinásťročné dievča ktoré sa chce vydaťʽ, povedala by som: ,Bože, prosím, nerob to dievčatko. Choď na vysokú, vzdelávaj sa, potom si to rozmysliʽ. Ale vtedy bol svet iný, veci sa menili tak drasticky. Možnosti, mentalita – tento svet sa za posledných šesťdesiat rokov tak radikálne zmenil, že je ťažké s ním udržať krok."
Po trinástich rokoch manželstva sa dvojica v roku 1970 rozviedla, keď Myra Jerryho Lee obvinila, že "bola obeťou každodenného fyzického a psychického týrania". Pripomeňme, že spoločne mali dve deti: syna Steva Allena Lewisa (pomenovaného po bývalom televíznom moderátorovi večernej relácie, Stevovi Allenovi), ktorý sa ako trojročný tragicky utopil, a dcéru Phoebe Allen Lewisovú, ktorá je momentálne spevákovou manažérkou a býva na jeho ranči v Nesbit v Mississippi. "Pravdepodobne by som svoj život žil trochu inak, ale nikdy som pred ľuďmi nič neskrýval… Noviny v Anglicku po mne naozaj išli, ale nikdy ma to netrápilo, naozaj. Naďalej som žil tak, ako obvykle," uviedol nedávno pre noviny Wall Street Journal Jerry Lee Lewis. Nuž aj jeden z najznámejších románikov na rock'n'rollovej scéne všetkých čias je súčasťou histórie tohto hudobného žánru!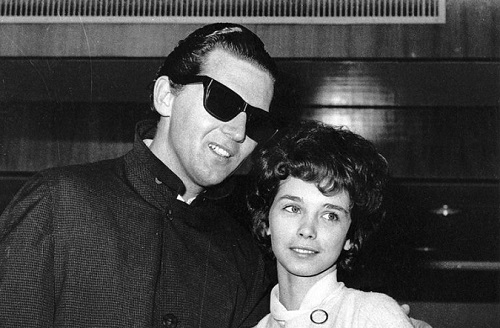 Článok patrí k časopisu Nový Populár: Číslo 2/2018.