CD Musea – FGBG 4122.AR  /1994/
Bigbít z Francie mě sotva štrejchnul a nikdy jsem se o něj nijak zvlášť nestaral (moře, víno, nebo sejra mám raději). Testoval jsem jenom pár těch úplně nejslavnějších kapel a zaujali mě především Mona Lisa a jejich jen o něco méně známí souputníci Carpe Diem. Prvně jmenované jsem pro snad až příliš okázalou teátrálnost vzdal, ale Carpe Diem mě drapli natolik, že jsem si koupil jejich první dvě alba z let 1976 a 77…
Skupina pochází z Nice, ležícím na turisty vyhledávaném Azurovém pobřeží. Založena byla v roce 1969 a ještě pod názvem Deis Corpus začínala jako Jethro Tull a King Crimson cover band. Postupem času došlo i na vlastní skladby a tak si změnila jméno na Carpe Diem, ovšem než získala svoji první nahrávací smlouvu uteklo pěknejch pár let. Tu podepsala s labelem Crypto, pro který během sedmé dekády minulého století natočila dvě alba a jak En regardant passer le temps (1976), tak Cueille le jour (1977) patří ke klenotům francouzské progresivní scény. Během přípravy třetí desky to mezi firmou a kapelou začalo jiskřit a šlus. S nástupem punku a nové vlny už o hudbu Carpe Diem přestával být zájem a tak se potichu rozpadla. Posledním zápisem do diskografie je comebackové album Circonvolutions (2015), které obsahovalo novej studiovej materiál a dva archivní kousky, zaznamenané live v roce 1978.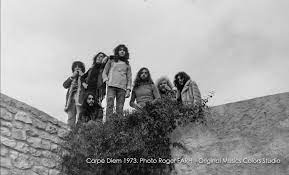 Pouhé čtyři skladby, 37 minut symphonic rocku říznutého canterbury. Jazzově neposedná a nepokojná rytmika (v těch "natlakovaných" pasážích mi to připomíná aj holanďany Supersister), velmi málo zpěvu (ve fránině!), instrumentální kejkle, pěkné a chytlavé melodie. Ve skladbě Jeux du siècle slyším podobnost s Caravan, ale Carpe Diem se liší daleko větším využitím dechových nástrojů, především saxofonu…
Úvodní Voyage du non-retour má jen necelé čtyři minuty, ale je to masírka v pekelném tempu a už od nekompromisního nástupu mi nedá vydechnout. Je chytlavá i strhující zároveň a tak jenom sedím, zírám s otevřenou hubou a čekám, co bude dál. Náplastí na zjitřené emoce je následující a příjemně uvolněná Réincarnation. Je to kompozice několika, postupně se odhalujících vrstev a na poměry Carpe Diem obsahuje suverénně nejvíc vokálů. Christian Truchi zpívá potichu, řekl bych až nesměle a jeho hlas je prohnanej nějakým efektem, ovšem ta jeho francouzština je k sežrání. Tohle miluju.
Ve skladbě Réincarnation si Christian docela zazpíval, ovšem v navazující Jeux du siècle už zase mlčí, jako zařezanej. Pár veršů je až v úplném závěru devět minut dlouhé a tím pádem především instrumentální pecky, ale co na tom. Já mám instrumentálky rád a tahle je parádní. Ve vlnách se přelévající syntezátory, táhlá kytarová sóla a vstupy flétny, nebo saxofonu mi připomínají nejenom Caravan, ale i německé symphonic rockové kapely (Flaming Bess, oder Novalis) z konce sedmdesátých let. Závěrečná Publiphobie by se dala rozdělit na tři, byť ne úplně stejně dlouhé kapitoly a ta první, jako kdyby navazovala na introdukci Voyage du non-retour. Je nemlich v tom samém, totálním nasazení a uhání v sebezničujícím tempu, které náhle opadne až teprve s nástupem sólo zpěvu Christiana Truchiho. Toho je tady znovu jen tolik, aby se neřeklo a zbytek skladby už je komplet v režii instrumentálních kouzel…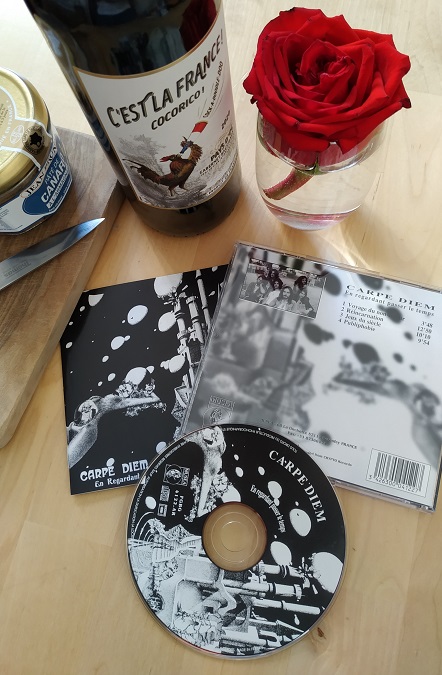 Muzika je to výtečná a pochválit musím nejenom brilantní zvuk, ale aj vydavatele. Cedlo je sice jen v obyčejném plastu, ale obsahuje parádní, dvanáctistránkový booklet napěchovaný fotografiemi a rozsáhlou biografií kapely. Takovej muzeální kousek z Musea Rec. si nechám líbit, a vy?
SKLADBY:
1. Voyage du non-retour (3:45)
2. Réincarnation (12:50)
3. Jeux du siècle (9:00)
4. Publiphobie (10:50)
SESTAVA:
Alain Berge – bass
Alain Faraut – drums, percussion
Gilbert Abbenanti – guitar
Christian Truchi – keyboards, vocal
Claude-Marius David – soprano sax, flute, percussion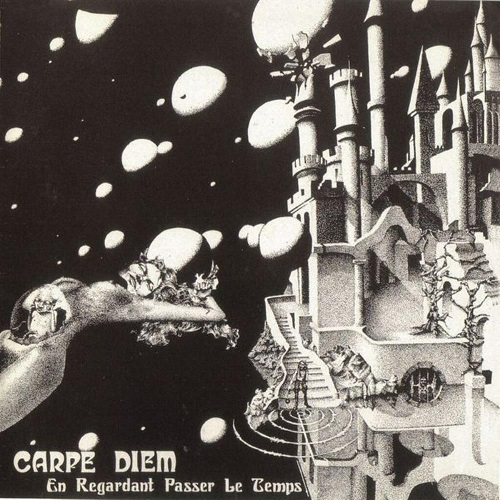 En Regardant Passer Le Temps
Carpe Diem
Prog Rock
Arcane
1976
LP
4
CD Musea - FGBG 4122.AR /1994/