Kořeny skupiny Janus sahají do střední Anglie roku 1968, kde odhodlaný týnejdžr s kytarou Colin Orr založil nadějnou kapelu The Washtub Blues Band, z níž po čase vykrystalizovala ještě nadějnější formace Dead Buzzard.
Orr: "Už jsme byli v kontaktu s několika společnostma, ale bylo nám mezi 17 – 18 lety a nevěděli jsme, jak tahle jednání zvládnout. Nakonec jsme se začali hádat mezi sebou a kapela se rozpadla. To byl ten důvod, který mě přivedl k rozhodnutí odejít do Německa a začít znovu."
Rozčarovaný z hudební scény ve Velké Británii tedy sbalil kufry a kytaru a odjel do Západního Německa. Usadil se v Krefeldu, kde přijal zaměstnání u NAAFI (firma obstarávající servis pro základny NATO) a místo kytaristy v právě utvářené formaci složené ze samých krajanů. Byli jimi Roy Yates (akustická kytara), Derek Hyett (zpěv), Bruno Lord (zpěv), Mick Peberdy (baskytara) a Keith Bonthrone (bicí), jehož příjmení se rozhodli použít pro název skupiny se zlomyslnou vírou, že ho Němci nebudou schopni správně vyslovit.
Orr začal přes den zásobovat vojsko potravinami a po nocích kapelu prvními vlastními songy, pro které se vžil termín "akustický rock", jehož průkopníkem se cítí být. Na rozpínající se krautrockové scéně vzbudili Bonthrone během roku 1971 značný rozruch a nabídky na vystoupení z klubů v širém okolí se jen hrnuly. Netrvalo dlouho a dorazila i pozvánka na schůzku se zástupci EMI. Jak se ukázalo, smlouvě s progresivním sublabelem Harvest stálo v cestě pouze jméno kapely, šestice mládenců se tak ocitla v prestižní společnosti značek Pink Floyd, Deep Purple, Edgar Broughton Band nebo Barclay James Harvest pod novým názvem Janus (ve hře byl i Amber Grunt), jenž v římské mytologii značí boha všech začátků a konců, obvykle je proto zobrazován se dvěma odvrácenými tvářemi.
Nabuzená sestava v lednu 1972 během dvou dnů ve studiích EMI Elektrola v Kolíně nad Rýnem vychrlila debutové album Gravedigger. První strana desky obsahuje čtyři čísla psychedelického hard rocku, druhou stranu ovládla pochmurná dvacetiminutová kompozice, která dala celému albu název. Místo nakonec nezbylo na Orrovu Yesterday Has Turned To Shapeless Life, které by to na albu slušelo najmě v instrumentální verzi (obě varianty se objeví v roce 1992 mezi bonusovým materiálem při druhé reedici na CD).
Kostra s cylindrem a bílou růži na obalu LP byla nápadem Iana Grovese, člena vedení EMI a velkého fanouška Janus, skelet zapůjčila fakulta anatomie Univerzity v Kolíně nad Rýnem, která patří k nejstarším v Evropě. Všeobecně velká očekávání ovšem album naplnit nedokázalo a dojem nenapravil ani následný singl I'm Moving On/I Don't Believe You.
Orr: "Sice bylo vzrušující slyšet naši hudbu na Radio Luxembourg, ale my jsme byli především hrubě nespokojení se zvukem desky. Firma byla taky hodně vlažná v podpoře a propagaci. Pokud si dobře vzpomínám, měli jsme jednu 'autogramiádu' v obchodě s deskama v Krefeldu, třídenní šňůr(k)u s Nektar a merchandise stánek na několika festivalech.
Ani kritiky nebyly moc příznivé, třeba hlavní německý hudební TV pořad Beat Club naši kapelu odmítl jednoduše proto, že se jim album nelíbilo. Bylo nám řečeno, že je to staromódní, zastaralý…"
Další ránu spokojenému žití Orrovy družiny v hippie komuně zasadila západoněmecká policie, pro kterou se Janus stali celkem snadným terčem. Předčasně ukončený koncert pod širým nebem byl posledním impulsem pro přesun do Holandska, kde našli základnu v opuštěném rekreačním středisku. Na přelomu let 1972-73 zde připravili čerstvý "halucinogenní" materiál, z něhož však zbylo (prozatím!) jen pár názvů jednotlivých skladeb jako Isn't It Strange?, The Devil Opera nebo Under The Shadow of The Moon, v jehož případě mělo jít o pětadvacetiminutové nadčasové dílo. O spolupráci s nedůvěryhodnou kapelou ale EMI již nestála a zájem neprojevila ani jiná společnost.
Orr: "Nakonec německé úřady rozhodly, že bez ohledu na příspěvek kapely v oblasti umění je toho chaosu kolem nás příliš a tak jsme byli vyzváni k opuštění Německa. A EMI zrušila smlouvu na všechny další nahrávky."
Zdecimovaní Janus se koncem roku 1973 vydali do Anglie, kde zvládli absolvovat několik univerzitních vystoupení, a postarali se o zápis do historie, když je pro přílišnou hlučnost a nevhodné chování vykázali z liverpoolského Cavern Clubu.
Orr: "Ve skutečnosti jsme v Cavern Clubu měli dva koncerty. Předstírali jsme, že jsme Němci a po prvním vystoupení byli všichni natolik spokojeni s naším výkonem, že nás pozvali znovu. To nás povzbudilo, tak jsme ještě trochu přidali na hlasitosti. 'Dobrý den, jsme Janus z Německa!', ale tentokrát jsme odehráli jen dvě skladby…"
Rok 1974 snad ani nemohl přinést nic jiného, než očekávaný konec kapely. Svým odchodem ho odstartovali Derek Hyatt a Mick Peberdy, Bruno Lord se vydal na sólovou dráhu, Roy Yates se začal věnovat studiové práci (Stone Alliance, Pat LaBarbera) a Colin Orr s Keithem Bonthronem chvíli hráli jen po barech. Orr nakonec začal úspěšně podnikat v zemědělství, což mu umožnilo vybudovat vlastní nahrávací studio, které však dlouhá léta leželo ladem.
Až v hektickém revolučním roce 1989 ho zkontaktoval dávný přítel s upozorněním na článek v britském hudebním magazínu Record Collector. Německý label SPM Records vydával album Gravedigger na CD a Janus zde byli prezentováni coby "zlomový bod v německé populární hudbě"!
Colin Orr místo zvažovaného právního sporu s vydavatelem zvolil možnost oživit kostru starého týmu a začátkem roku 1990 dal dohromady většinu spoluhráčů z původní sestavy. Záměr natočit nové album sice skončil fiaskem, přesto se rozběhnutý reunionový projekt nedal zastavit a v příštích patnácti letech rozšířil diskografii Janus o sedm regulérních alb.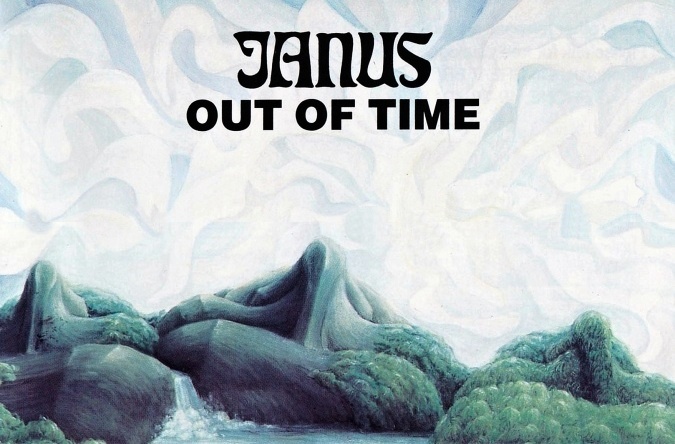 První vyšlo ještě v roce 1990 pod titulem Out of Time, zvoleným podle cover verze hitu Rolling Stones z poloviny šedesátých let, a bylo dílem tria Orr, Lord, Bonthrone, které nově doplnila čtveřice mladých hudebníků, irský baskytarista Dave Harrold, cellista Doug Boyes, syntezátorista Nick O'Connor a fenomenální vokalista Paul Phoenix, absolvent Royal Northern College of Music v Manchesteru.
S plnoletým debutem nemělo nové album mnoho společného, Orrův hlavní záměr se zhudebněním Agnus Dei však vyšel dokonale. Dvacetiminutové dílo o čtyřech částech s nadpozemským výkonem pěvce a povznášející atmosférou dokázalo uspět i na singlu, který obsadil 39. místo v nizozemské TOP 100, a prosadil se i v rádiu.
Ostatní skladby, povětšinou zahalené do hávu melodického AOR, zpestřila punková Situation Critical, jediná to připomínka materiálu, který se dochoval z prvního comebackového pokusu.
Nečekaný úspěch se promítl do dalších hudebních aktivit personálně nestálé formace. Rok 1991 přinesl převážně instrumentální album Journey, jež bylo z velké části zhudebněným příběhem Colina Orra Journey to the Underworld (Absent Friends), který byl otištěn v bookletu. Natáčení se zúčastnil známý čínský houslista anglického jména Rick Shaw, Bonthroneho doplnil perkusionista Toon Janssen a poprvé se v sestavě objevil také ostřílený kytarista Paul May (Dave Holland, Roy Wood, MC 5, A.N.D. aj.).
Úryvky některých skladeb sice často zněly v televizních pořadech po celé Evropě, album se ale prodávalo prachmizerně.
O dva roky později se Orr přesto rozhodl spolupráci s Mayem zopakovat. A dobře udělal. S dalším absolventem Royal Northern College of Music, vyhlášeným skotským violoncellistou Sandym Bartaiem, irským basistou Davem Harraldem a navrátivším se Lordem nahráli znamenité album Innocence, jehož středobodem byla upravená verze kultovního songu Gravedigger II, podle Orrova vyjádření teprve nyní odpovídající původnímu autorskému záměru. Na adresu jedenadvacet let staré "jedničky" dodal: "Z finálního mixu a producentských zásahů jsme tehdy byli upřímně zděšeni."
Atmosférické album Free Fall z roku 1994 vzešlo ze spolupráce dvojice Orr, Bartai s vedoucím nekonvenčního sanfranciského tělesa The Ensemble Janus, multiinstrumentalistou Barrym Hallem, v závěrečném songu Abo Habit se představil i bubeník souboru Richard Smith.
Na nejexperimentálnějším albu z dílny Janus dostal dostatek prostoru i Hallův nejoblíbenější instrument, 1.500 let starý australský domorodý dechový nástroj zvaný dydžerida.
Titul mimo kategorie.
V říjnu 1995 se na trhu objevila reedice alba Out of Time, tentokrát však pod komerčně zdatnějším názvem Agnus Dei, což jakoby předznamenalo návrat k tomuto konceptu.
Odehrál se o tři roky později za účasti nadmíru osvědčeného jádra souboru Orr, Bartai, May, k nimž přibyli jazzový saxofonista Dean Houston, talentovaná 16letá zpěvačka Natalie Brown a zpěvák Paul Pheonix, jenž se mezitím stal členem renomovaného vokálního souboru The King's Singers.
Album Agnus Dei 2000 vyšlo v listopadu 1998 a dnes již zaniklá holandská společnost Arcade Music odvedla při jeho propagaci dobrou práci. Éterické video k titulní písni bylo jen jedním z důvodů, proč se album dobře prodávalo v zemích tak rozdílných, jako je Tchaj-wan a Portugalsko, a proč bylo populární dokonce i v komunitě Inuitů na severu kanadské provincie Quebec!
Po úspěchu předchozího projektu trvalo další čtyři roky, než se Janus – tři desítky let po kultovním debutu – přihlásili s novým albem Sea of Sighs. Sestava se kupodivu tentokrát změnila jen minimálně, když Paula Maye vystřídal Dave Barry, nic dalšího už ale oba tituly nespojuje. Větší prostor dostala Natalie Brown, zpěvačka s báječným hlasem a absolutním sluchem, s níž si zapěli i Orrovy děti Julie, Rikki a Matt.
Album zachycuje události a nálady dob minulých, jak ale praví jedna z recenzí: "… je čerstvé jako dnešní noviny".
V roce 2005 měl Colin Orr pohromadě dostatek nového materiálu, na němž se podílela zbrusu nová sestava, jejíž věkový průměr kazila jen Lordova účast ve Speed Thrills. Album vešlo obecně ve známost jako The "S" Album, jelikož název každého songu začíná na "S", s výjimkou City of the Damned (který se tak alespoň čte), a je stále k dispozici zdarma ke stažení na webových stránkách Janus.
Na zdvořilou žádost o dar pro dětský hospic The Francis House v Manchesteru jen za první měsíc reagovalo 3.000 osob!
Orr: "Když mě v roce 2012 Gert Gliniorz z EMI (inicioval mj. i reediční vydání katalogu Eloy) požádal o remix Gravedigger_a, poslechl si několik nedávno dokončených nahrávek, k nimž mě "dokopal" kanadský publicista Ian Gledhill z Prog Sphere, a domluvili jsme se na dalším albu Janus pro EMI – 40 let po zrušení původní smlouvy! Tak jsem pracoval velmi tvrdě, abych ho dal dohromady."
Mírně zpožděné reediční vydání zvukově vymazleného debutového titulu (nově musela být natočena skladba I Wanna Scream) přineslo cenné bonusy v podobě jediného raritního singlu kapely ze sedmdesátých let I'm Moving On/I Don't Believe You na prvním disku (remaster) a dvojici dříve nevydaných staronovinek Suma Manatilly a Sinful Sally na druhém CD (remix).
A v dubnu 2013 se svého vydání konečně dočkal i materiál, jehož základ vznikal před čtyřmi desetiletími. Na realizaci se podíleli Orrovy dcery Rikki (klarinet, klávesy, zpěv) a Thea (tenorsaxofon), starý známý Dean Houston (altsaxofon) a nováček Ben Stafford (klávesy).
Zralé dílo Under The Shadow of The Moon s majstrštykem v podobě titulního jednadvacetiminutového opusu, v němž zazní i hlas JFK,  představuje veledůstojný závěr pozoruhodného příběhu jedné nevšední kapely a jejího duchovního otce.
Colin, nyní již Hanson-Orr, si hudební žití zpestřil i spoluprací s dívčím popovým duem Morgan Le Faye, drží palce svým dcerám, které založili vlastní skupinu The Daughters of Janus, a skládá hudbu pro BBC.
Bruno Lord s Davem Harroldem neodmyslitelně patří do sestavy žádaného revivalového bandu Physical Graffiti, který vystupuje převážně v Holandsku a Německu.
Z ostatních členů originální sestavy Janus se hudbě aktivně věnuje již pouze Keith Bonthrone, jenž v městečku Glossop bubnuje v místních souborech Cold Flame a Blues Busters.
Roy Yates pracuje v Londýně jako systémový programátor a na kytaru hraje dál jen pro své vlastní potěšení, Mick Peberdy a Derek Hyett pracují stranou hudebního byznysu v Liverpoolu.
Z řady dalších Orrových spoluhráčů, kteří v Janus působili, zaujme osud Paula Maye, který několik posledních let strávil jako oddaný křesťan, zatímco Doug Boyes vybudoval vlastní nahrávací studio ve Wilmslow, Sandy Bartai se vrátil do světa klasické hudby, Paul Phoenix je vytížený v The King's Singers a Dean Houston i Natalie Brown vystupují sólově po celé Británii.
DISKOGRAFIE:
1972 – Gravedigger (EMI Harvest)
1990 – Out of Time (SPM/WorldWide)
1991 – Journey (Friends Records)
1993 – Innocence (SPM/WorldWide)
1994 – Free Fall (SPM/WoldWide)
1998 – Agnus Dei 2000 (Arcade Music)
2002 – Sea of Sighs (SPM/WorldWide)
2005 – The "S" Album (Free internet download)
2013 – Gravedigger (EMI Harvest, 2-CD)
2013 – Under The Shadow of The Moon (EMI International)
2016 – Gravedigger House Calls (Afraid of Sunlight Records)