Dnes bych všem fandům poctivého big beatu a tvrdé rockové hudby rád představil all-stars projekt složený ze zkušených harcovníků rockové scény, které spolu svedla láska k muzice i spoluúčinkování na prvních dvou deskách Ozzyho Osbourna. Dotyčnými osobami jsou basák Bob Daisley a bubeník Lee Kerslake, které si kdysi madman vybral k nahrávání svých prvních dvou sólových desek, Blizzard Of Ozz, respektive Diary Of A Madman.
Právě z těchto dvou desek se na debut Living Loud použilo šest písní, u nichž byli oba muzikanti spoluautory a kterým prý Ozzy, jen tak mimochodem, léta nepřiznával tantiémy. U zbývající pětice už patří autorství celé kapele, s vyjímkou Dona Aireyeho, který platil pouze za nájemného studiového hráče. Kytaru obsluhuje čarostřelec a velký sympaťák Steve Morse, za mikrofon si stoupnul Australan s dynamitem v hrdle Jimmy Barnes.
Celá deska je pak plejádou prvotřídního hardrockového řemesla. Ať už to jsou Ozzyho energicky vystavěné předěly, či skladby vlastní, všechny poskytnou posluchači top kvalitu a to správné rockové "žrádlo".
Už při letmém pohledu do playlistu je člověku mapujícímu Ozzyho tvorbu jasné, kde se bere u mistra a kde naopak z vlastních zásob. Předělávky originálů z počátku let osmdesátých komentovat nebudu, osobně mám rád jak originály, stejně tak tyto verze upravené. Avšak kdybych vybírat opravdu musel, prst by ukázal směrem k Over The Mountain – která je v podání Living Loud o kategorii energičtější jízdou do samotného pekla. Kdo moc nemusí Ozzyho zpěv (autor recenze osobně) může konstatovat, že tyto perly konečně dostali kvalitní vokální náplň.
Pozastavím se hlavně nad vlastní tvorbou Living Loud. Z předložené pětky mi mezi naprosté rockové drahokamy vypluli skladby Every Moment A Lifetime (vzletná nadýchaná polo-akustická pecka s nedostižnou Morseho technikou), orientem načichlá a velice, velice muzikální In The Name Of God, a k novodobému soundu Deep Purple jemně se klonící jízda Pushed Me Too Hard.
Zbývají nám tedy ještě dvě skladby. První je tepavá úvodovka Last Chance a především pak božská Walk Away – energií nacucaná šlupka tvrdá jako žula, ve které decentní orchestrální aranžmány spolu s riffující kytarou vytvářejí neuvěřitelně smyslné pnutí, v protikladu k maximálně nabroušenému Barnesovu vokálu. Rock jak řemen.
Vlastně celá tato deska je jeden velký rockový kolos, který byl skut z těch nejlepších, léty prověřených rockových ingrediencí, doplněný šťavnatými skladbami dneška. No a kdo Ozzyho jako zpěváka zkrátka nemusí, třeba ho podobná sonda dovede mile překvapit, tak jako mne.
SKLADBY:
01. Last Chance /Barnes, Daisley, Kerslake, Morse/ 3:57
02. I Don't Know /Daisley, Osbourne, Rhoads/ 4:20
03. Every Moment A Lifetime /Barnes, Daisley, Kerslake, Morse/ 7:11
04. Crazy Train /Daisley, Osbourne, Rhoads/ 5:35
05. In The Name Of God /Barnes, Daisley, Kerslake, Morse/ 3:35
06. Flying High Again /Daisley, Kerslake, Osbourne, Rhoads/ 5:21
07. Pushed Me Too Hard /Barnes, Daisley, Kerslake, Morse/ 5:48
08. Mr. Crowley /Daisley, Osbourne, Rhoads/ 4:27
09. Tonight /Daisley, Osbourne, Rhoads, Kerslake/ 5:16
10. Walk Away /Barnes, Daisley, Kerslake, Morse/ 5:12
11. Over The Mountain /Daisley, Kerslake, Osbourne, Rhoads/ 5:15
SESTAVA:
Jimmy Barnes – vocals
Bob Daisley – bass
Steve Morse – guitar
Lee Kerslake – drums
+
Don Airey – keyboards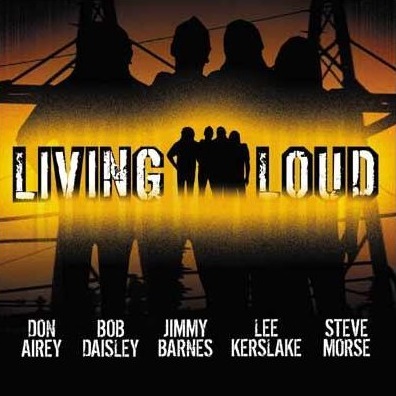 Living Loud
Living Loud
Hard Rock
EMI
2004
CD
11