Kevin Ayers se v roce 2005 rozhodl, že by mohl vydat další studiové album. Možná ho trochu přestalo bavit jen si užívat poklidný život stárnoucího muže na jihozápadním francouzském venkově; těžko říct, já tam s ním nebyl. Rozhodl se po hodně dlouhé odmlce – předcházející řadová nahrávka Still life with guitar je z roku 1992. Album The Unfairground se bohužel stalo jeho posledním počinem, v únoru 2013 zemřel.
V roce 2005 začal psát písně, postupně si pozval na zhruba třicet(!) hostujících hudebníků, včetně např. canterburských kamarádů Roberta Wyatta a Hugha Hoppera. Trochu paradoxní tak je, že dva roky skládání a nahrávání, s tolika lidmi a po takové pauze vyústily do nahrávky, která trvá pouhých 34 minut. Ale znáte, co se říká: méně je někdy více. Někdy.
Většina fandů Ayerse má ráda zejména jeho první tři, čtyři alba. A tato nahrávka, řekl bych, se směle může považovat za jejich důstojného následníka. Dá se o tom polemizovat, ale já to tak cítím.
Ne, není to promakaný, sofistikovaný artrock, fusion music, není to hard. Fandům tvrdší hudby to může dokonce zavánět popíkem. Jsou to krátké, tříminutové písně, se zvláštní, nostalgicky melancholickou (ale ne depresivní) atmosférou, jakou prostě umí navodit jen Kevin Ayers. "Velmi reflektivní album," jak se k albu vyjádřil sám Ayers v roce 2007 pro Sunday Times, kde ho i zajímavě popsal. Už úvodní Only heaven knows vás hned praští karnevalovou melodií a nikam nespěchajícím tempem. V následující písni Cold shoulder Kevinovi vypomohl Robert Wyatt: z karnevalu se tak dostáváme k melancholické baladě. Píseň Wide awake začíná jako z nějakého alba Beatles z druhé poloviny šedesátých let a vlastně i tak trochu podobně zní. Text je ovšem smutný. Baladické ladění písní pokračuje…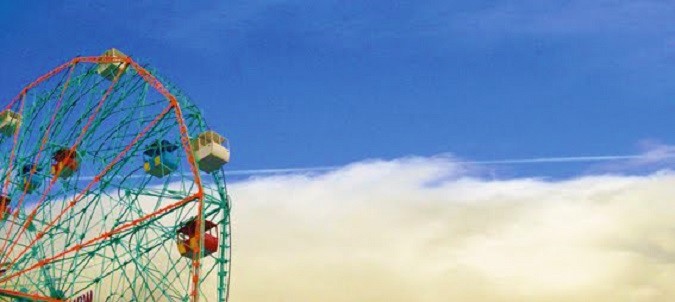 Na první poslech to zní jako obyčejné písničky, jenže když se to album naposlouchá, může se vám (taky samozřejmě nemusí) stát, že si začnete říkat: tohle nic obyčejnýho ani průměrnýho není… Proplujeme lovesongem Baby come home s naprosto parádními trumpetami – jako byste leželi někde v Karibiku u moře a vyhrávala vám místní rozverná kapela. A jak ta hudba zaleze do hlavy, jéje. Trochu progrocku se nám přece jen dostane v písni Brainstorm – hudebně se toho v ní děje docela dost. Po ústřední, předposlední písničce jsme v závěru, který se ne úplně povedl – tak trochu už opravdu popík, který horko těžko skousávám.
Musím se také přiznat, že se mně moc líbí barva hlasu a způsob Kevinova zpěvu. Je mi vždycky příjemnější slyšet chlapa zpívat hlubším hlasem, než naopak. Navíc mi jeho způsob zpěvu připomíná Ricka Wrighta z Pink Floyd (což bylo kdysi to úplně první, co mě napadlo, když jsem Ayerse slyšel), takže u mě ihned nastalo jakési pocitové souznění, tušení větší tolerance(?), nebo jak to pojmenovat.
Canterbury scéna dokázala a dokáže nabídnout celou řadu originálních osobností a skupin. Původně jsem chtěl napsat recku k albu Daevida Allena Who's afraid? z roku 1992 (a dostala by pět bodů), ale nakonec jsem se rozhodl pro Kevina Ayerse a dané album – je prostě radost takovouto hudbu poslouchat, a v češtině (a předpokládám i slovenštině) si o něm zrovna nikde moc nepočteme.
SKLADBY:
01. Only Heaven Knows (2:47)
02. Cold Shoulder (3:09)
03. Walk on Water (3:14)
04. Friends and Strangers (3:35)
05. Shine a Light (3:47)
06. Wide Awake (2:53)
07. Baby Come Home (2:35)
08. Brainstorm (4:31)
09. Unfairground (3:51)
10. Run Run Run (3:37)
SESTAVA:
Kevin Ayers – lead vocals, guitar, co-producer
+
Robert Wyatt
Phil Manzanera – guitar
Robbie McIntosh – guitar
Jeff Baron – guitar
Norman Blake – guitar and backing vocals
Dave McGowan – pedal steel
Joe McGinty / keyboards
Graham Henderson – accordion
Gary Olson – trumpet, co-producer
Julian Koster – singing saw
Bill Wells – bass
Hugh Hopper – bass
San Fadyl – drums
Francis MacDonald – drums
Tucson Philharmonia – strings
Heather McIntosh – double bass & cello
Peter Nicholson – cello
Kellie Sutherland – brass
Tara Shackell – brass
Isobel Knowles – brass
Gus Franklin – brass
Bridget St. John – vocals
Francis Reader – backing vocals
Candie Payne – backing vocals
Euros Childs – backing vocals
Daisy Martey – backing vocals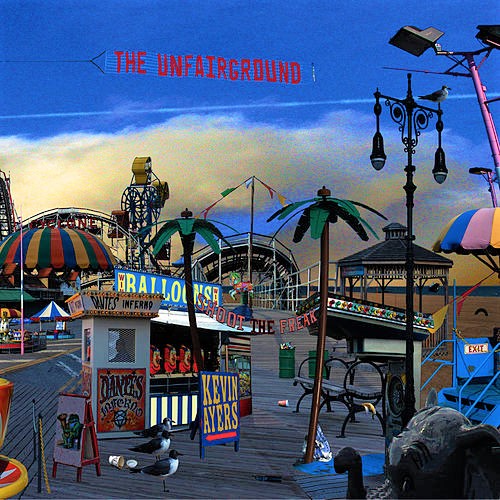 The Unfairground
Kevin Ayers
Alternative Rock, Folk Rock
Lo-Max Records
2007
CD, LP
10