S oficiálnou diskografiou HAPPY THE MAN to nie je také jednoduché a jednoznačné, ako sa to píše na prog rockových serveroch a v rockových almanachoch. Kapela skutočne vydala celkove šesť štúdiových a jeden živý album, ale tak, ako je to štandardné – s novým materiálom, s istým vopred ohláseným termínom, s istou propagáciou vydavateľskej firmy a promotion – sa to stalo len v 70. rokoch pri vydaní prvých troch albumov (a len tieto vyšli aj vo vinylovej verzii) a v prípade práve albumu The Muse Awakens.
Albumy Beginnings (včasne raná tvorba), Death's Crown (špecifický epický experiment) a Live (klasický koncertný materiál z prvých dvoch kultových albumov) vyšli istým spôsobom "posmrtne", teda v období 90. rokov, keď HAPPY THE MAN neboli funkční. Sú produktom a bežnou vydavateľskou filozofiou amerického labelu Cuneiform Records, ktorý sa vlastne špecializuje aj na skôr nahraný, no dosiaľ nevydaný, archívny a "šuplíkový" materiál významnejších (jednoznačne nie mainstreamových) kapiel minulosti i súčasnosti.
Album The Muse Awakens je naplánovaným produktom reunionu HAPPY THE MAN v roku 2000. Skupina vtedy bola headlinerom na druhom ročníku legendárneho NEARFEST-u a vydal ho v tom čase asi najagilnejší prog rockový label Inside Out Music. V kapele definitívne chýba Kit Watkins, ktorého za klávesami nahradil David Rosenthal (Rainbow, Steve Vai, Billy Joel, Robert Palmer), za bicie, ktoré boli a sú u HAPPY THE MAN postom s najväčšou migráciou, zasadol Joe Bergamini. Trio Frank Wyatt (klávesy, saxofón, dychové nástroje), Stanley Whitaker (gitary, spev) a Rick Kennell (basa) je stabilným personálnym obsadením počas celej histórie HAPPY THE MAN.
Album The Muse Awakens obsahuje jedenásť songov, z toho desať je inštrumentálnych, jedine v skladbe Shadowlites môžete opäť počuť precítený a dramatický spev Whitakera. Skladateľsky trochu prekvapivo dostal priestor v troch kompozíciách Rosenthal, pod tromi trackmi je podpísaný aj Wyatt, autorsky dominuje Stan Whitaker s piatimi zárezmi. Obsahom albumu sú sofistikované skladbičky s typickou minutážou pre túto kapelu a nepochybne so snahou plynule nadviazať na éru, keď HAPPY THE MAN boli HAPPY THE MAN, teda na roky 1977/79.
Je na nekonečnú polemiku, do akej miery sa to podarilo, ale album The Muse Awakens bol prijatý zainteresovanou verejnosťou veľmi vrele a pozitívne. Každý song má svoju špecifickú atmosféru a tempo, evokuje iný odtieň nálad a emócií. Štartovacia Contemporary Insanity je asi najviac rozmarné jazz rockové cvičenie gitary a dvoch rôznorodých klávesových registrov v svižnom tempe a prvý skladateľský príspevok Davida Rosenthala v drese HAPPY THE MAN. Titulná The Muse Awakes sa rozbieha v pomalšom, melancholickom opare je to už klasický track kapely a razantné pripomenutie toho, čím boli HAPPY THE MAN v 70. rokoch. Autor je Stan Whitaker, ale nevediac tento údaj, tipoval by som skôr Franka Wyatta, saxofón tu kúzli dominantné akordy.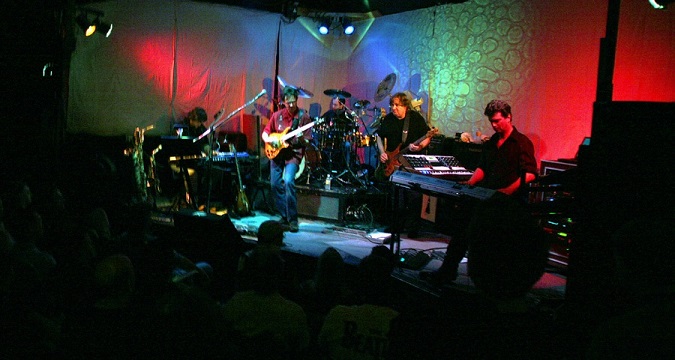 Stepping Through Time je už skutočne produktom Franka, staccato flauty a hry kláves. V druhej polovici skladby si zasóluje aj Whitaker, ale spád a striedanie motívov i dominujúcich inštrumentálnych nástrojov je tradičným poznávacím znamením tejto kapely. Názov Maui Sunset jasne dáva najavo istú exotičnosť západu slnka, výborný príspevok Davida Rosenthala, ktorý týmto spôsobom ukazuje , že je schopný "náhradník" Kita Watkinsa a má aj jeho skladateľské schopnosti. Whitakerova Lunch At The Psychedelicatessen pôsobí rozmarne a veselšie, ale v strednej pasáži je to klasický HAPPY THE MAN, plný hudobných farieb a pasáží s protirytmami.
Slipstream je Wyattova klavírna etuda, samozrejme zaodetá v háve svojej materskej kapely a v adekvátnom aranžmá. Toto môžete pokojne večer pustiť aj svojej partnerke v očakávaní romantického pokračovania. Barking Spiders – opäť Whitaker a viac hravo/bláznivá skladbička, ako to nepriamo naznačuje aj jej názov. Gitarové "hrátky"… Adrift – krása jemnej, zasnenej melanchólie, saxofón a akustická gitara a úplne odlišná tvár Whitakera, ako v predošlom songu. Shadowlites, jediná spievaná záležitosť na albume s ľahkým dramatickým drajvom, dáva do pozornosti, že HAPPY THE MAN stále majú aspoň jedného (občasného) speváka, ktorého farba hlasu je v skutočnosti nesmierne príjemná. Vzhľadom na kratšiu minutáž si to viem predstaviť aj ako rádiový (ale veľmi kvalitný) produkt. Žeby hit?
Kindred Spirits – najlepší Rosenthalov príspevok, vlastne už klasický HAPPY THE MAN song, celkom evokuje "školu Kita Watkinsa", s ktorého hrou, kompozičnou a harmonickou formou sa týmto asi definitívne stotožnil. Paráda. Il Quinto Mare, Wyattov epilóg, najdlhšia kompozícia, má jasne charakter symfonického progu. Úspešná gradácia tohto nepochybne vydareného a veľmi dobrého albumu…
…ale predsa. Títo páni už nemajú niečo cez dvadsať, sedemdesiate roky sú definitívne pasé a svet a vývoj progresívnych foriem rocku je zase inde. Ani rapídny posun, najmä v technológii a v možnostiach variability hry a zvukových farieb klávesových nástrojov a s nimi súvisiacimi doplnkovými efektami nedokážu to (aj pri takejto forme sofistikovanej hudby), čo doba a globálna atmosféra umožňovala a dávala vtedy. Invencia, nadanie a espirit sú ako tečúca rieka…
SKLADBY:
01. Contemporary Insanity (3:24)
02. The Muse Awakes (5:36)
03. Stepping Through Time (6:31)
04. Maui Sunset (5:10)
05. Lunch At The Psychedelicatessen (4:59)
06. Slipstream (4:43)
07. Barking Spiders (4:11)
08. Adrift (4:04)
09. Shadowlites (3:52)
10. Kindred Spirits (5:26)
11. Il Quinto Mare (7:22)
Total Time: 55:18
ZOSTAVA:
Stanley Whitaker – guitars, vocals
Frank Wyatt – keyboards, saxes woodwinds
David Rosenthal – keyboards
Rick Kennell – bass
Joe Bergamini – drums, percussion
The Muse Awakens
Happy The Man
Prog Rock, Jazz Rock
Inside Out Music
2004
CD
11